I was up at 7 am (that's early for me these days on a weekend) to run the Rock and Read 5K, which benefits the Charlotte Mecklenburg Public Library.
It was mighty chilly this morning so both Brad and I bundled up and opted to leave Rascal at home. This was the second time I've ran this race (you can read last year's experience here).  Check out what I wore last year versus this year. That's the difference in temperature from mid September to early November in Charlotte.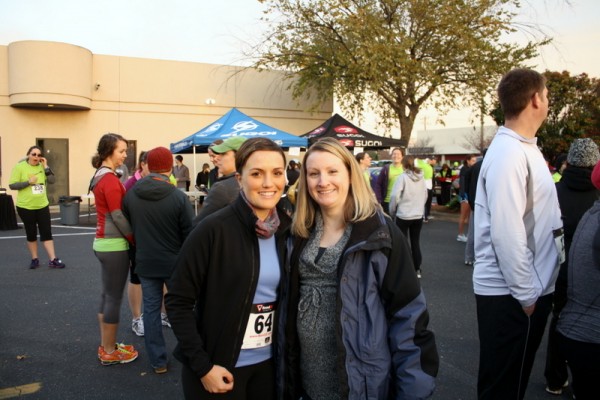 This race is on the small side, so it took about 3 seconds before I started spotting my friends.
Brittney is such a good sport.  She came along just to cheer us all on.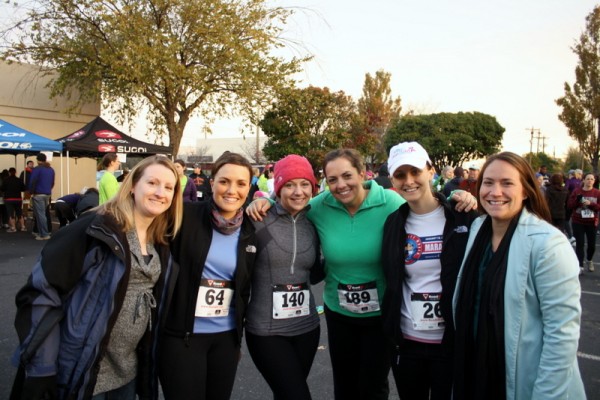 There were plenty of obligatory group shots of running friends and spectating friends.
From left to right: Brittney, me, Michelle, Cindi, Caitlin, and Tanya — runners with two cute pregnant spectator bookends.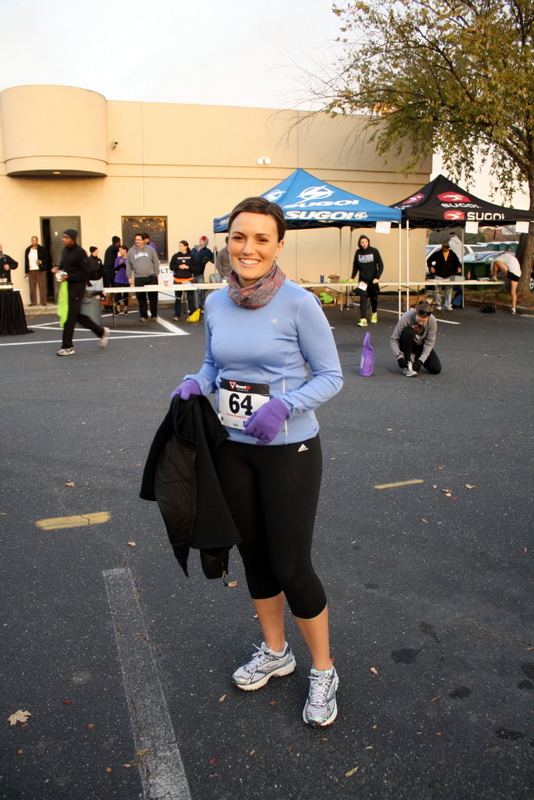 De-robing, er jacketing (?) before the race
During this shot, Brad was trying to tempt me to dance to the Cha Cha Slide that was playing over a loudspeaker.
No chance, pal.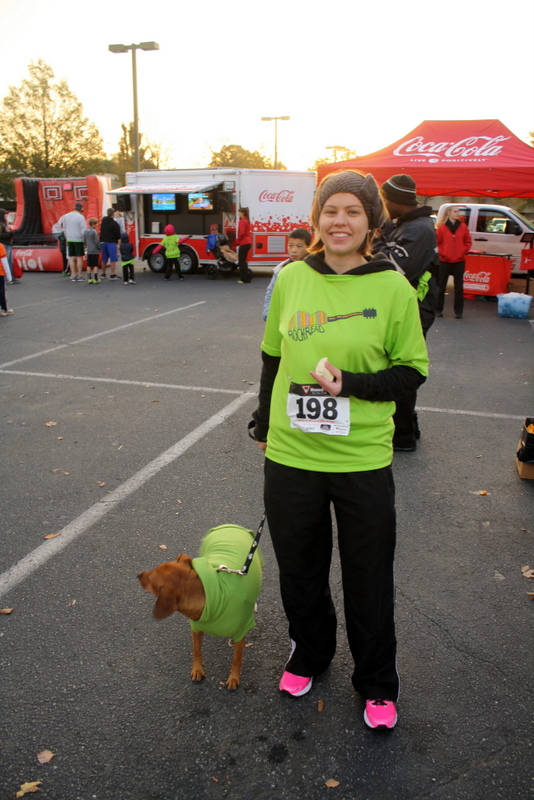 And this is what happens when you leave your camera with your husband — he takes photos of complete strangers.
In his defense, the dog with the green hoody was so adorable.  He ran the whole race.  What a good boy!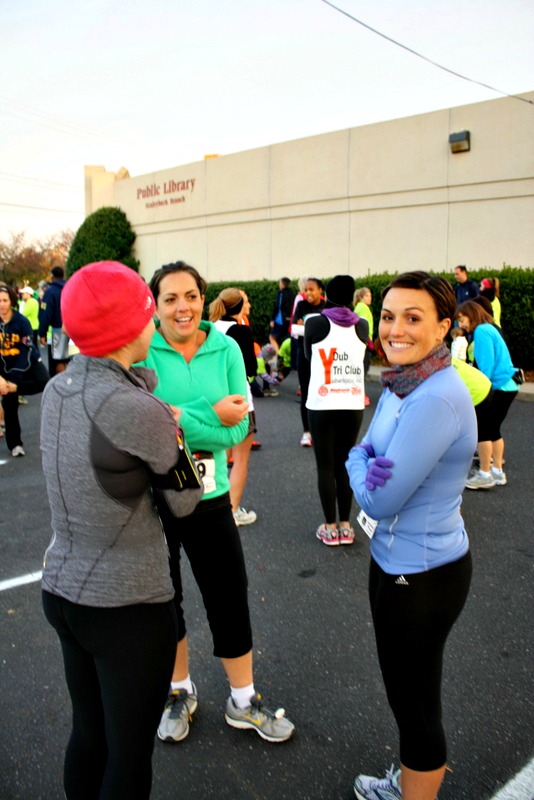 We all lined up but almost missed the start because we were yakking like girls do when they get together.
The race course was killer, even though it was only 3.1 miles.  I was in waaaaay better shape last year when I ran this and didn't remember the steep hills.  Well, I definitely remember them now.  I stuck with Michelle throughout the whole race and we chatted and b*tched about the hills.  About 30 seconds in to the race, I realized that I completely forgot to get my race chip.  #fail You would think it was my first race or something.
At about five hills left in the race, I started hoping that I was running the very last hill.  Michelle verbally echoed my thoughts.  I was a little winded during the third mile.  I've had a nasty cough for the past five days and haven't ran since this past Monday.  I used to have asthma as a child and have felt a familiar tightness in my chest a few times during the past week.  But I finished it and even though I didn't have an amazing time, I'm still glad I did it.  It's always fun to participate in a race with a bunch of people you know.
Brad got a shot of everyone crossing the finish line.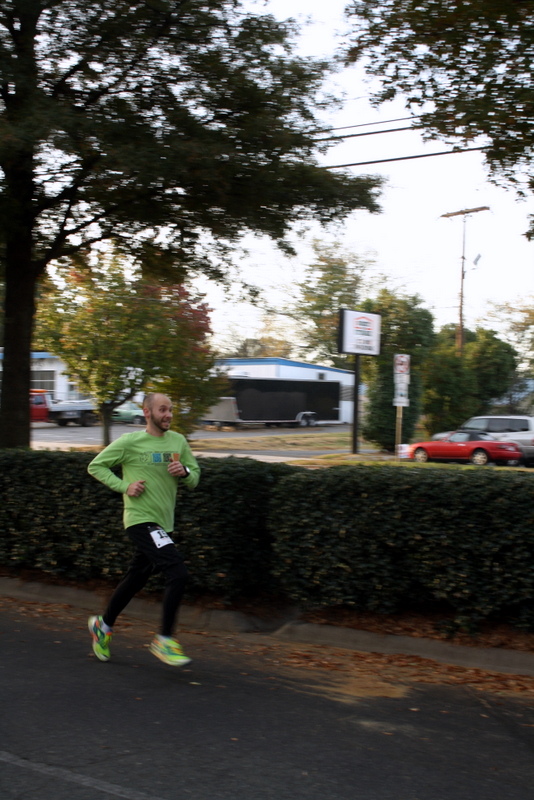 First up, was Tanya's husband, Alex.  He's super speedy.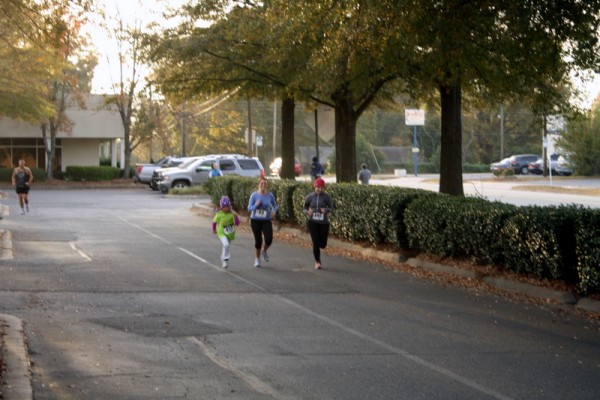 Then came Michelle and I…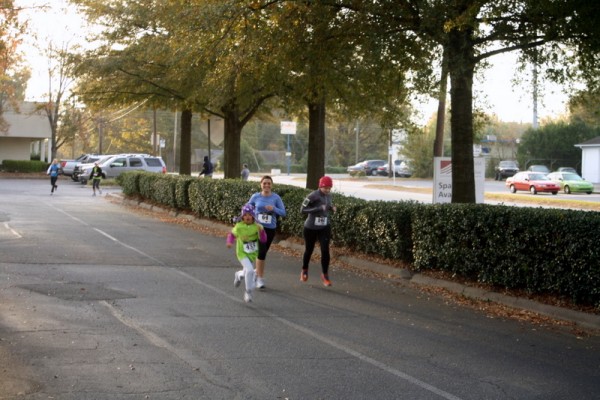 …plus this really cute little girl.  I told her she could beat us.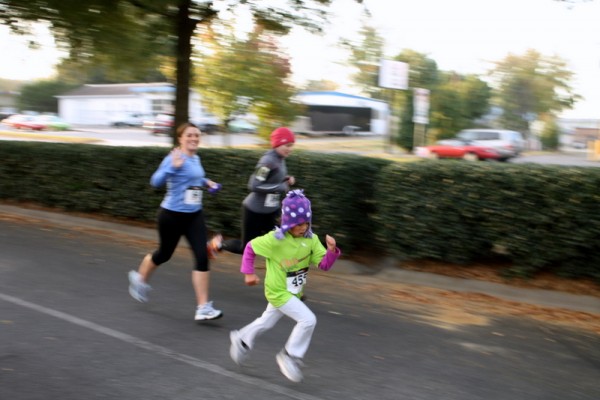 And she did!
(I'll post our time when I find out.)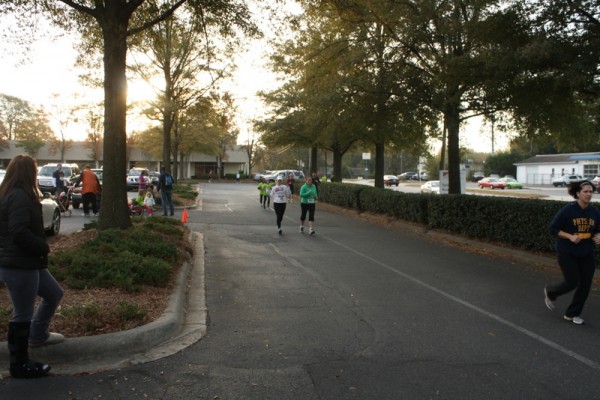 Then came Caitlin and Cindi.
This was Cindi's first 5K and she did a great job! Way to go Cindi!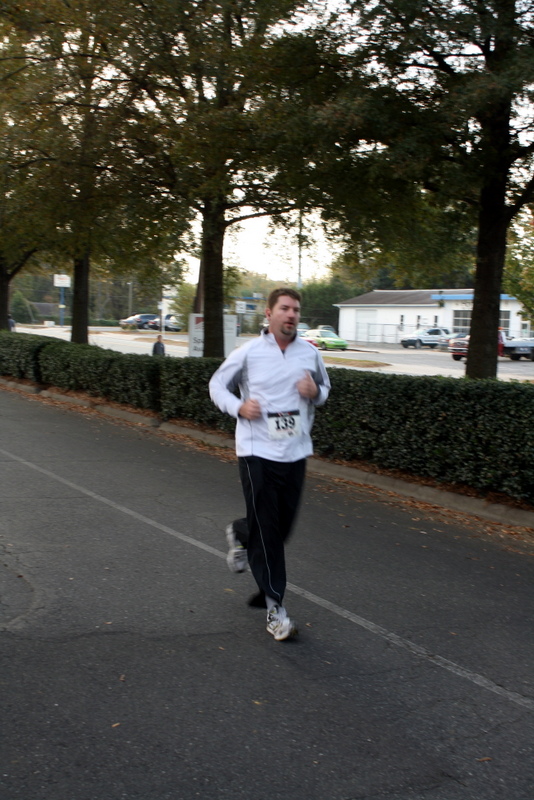 Then came Ben, Michelle's husband, finishing strong.
The plan was the to go to breakfast at Bad Daddy's, which offers breakfast, NOT brunch, from 8-11.  We lucked out and it was not packed for the first time in the history of Bad Daddy.  Apparently Saturday morning is the best time to visit them.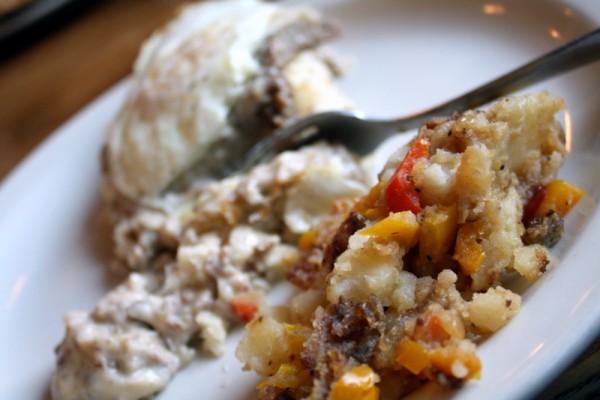 Brad and I split this.
Gravy over biscuits with sausage and two over-easy eggs, with a side of breakfast potatoes (this is half the portion — it's huge!).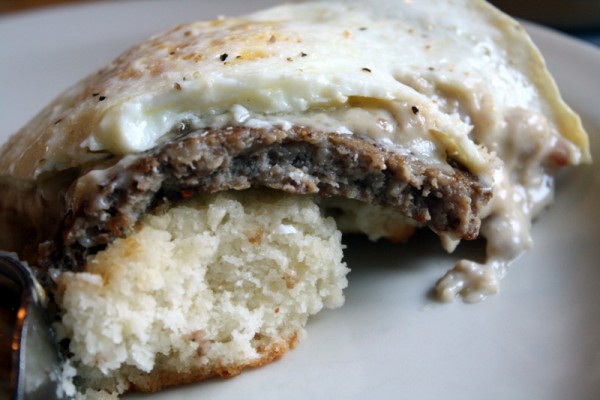 Sometime in the past few years I have become a gravy and biscuits girl after never eating them in my entire life.  I've only ate them twice (this was the second time) since this new affinity started, but both of those times have been life changing.
I practically licked my plate clean, except for the potatoes, which I forgot about and then was too full to finish.  (You can read my full review of Bad Daddy's breakfast experience here.)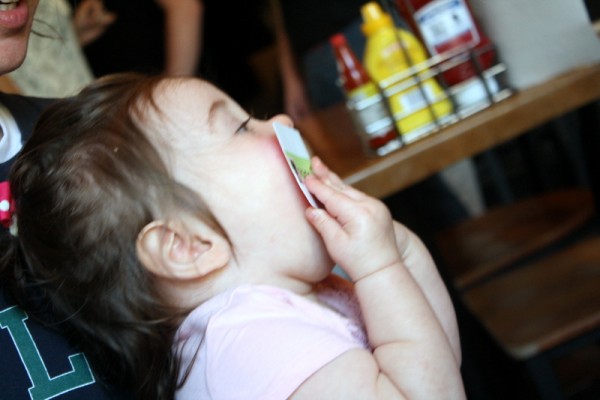 We met, Chrissy, a coworker of Ben's at breakfast and her little girl, thought my Foodie Fresh business card was very tasty.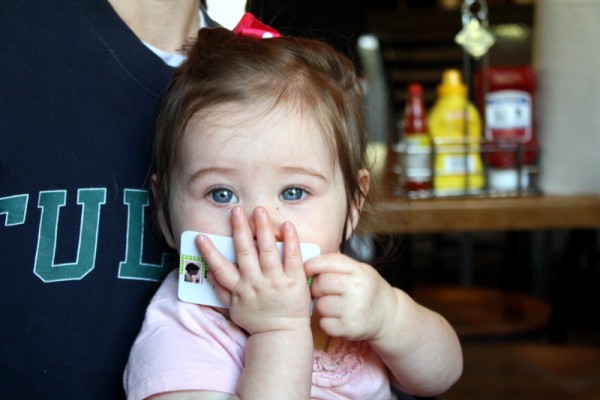 Which makes me wonder if flavored business cards are a good idea. haha.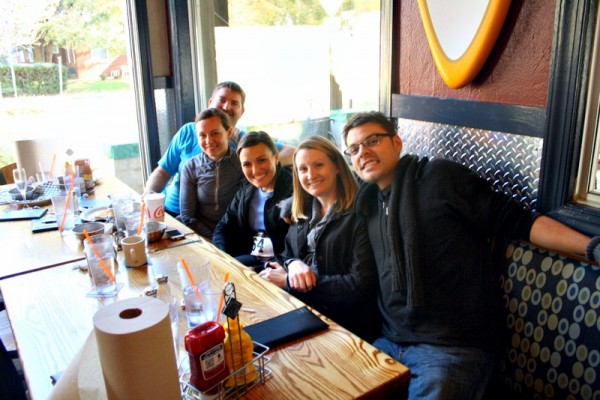 We left with full happy bellies.  Bad Daddy's is a great option for breakfast on Saturdays, whereas most restaurants don't offer brunch until 11 am on Sunday in Charlotte.
Many thanks to the Friends of the Charlotte Mecklenburg Library for giving me two free passes to their race — one to keep and one to giveaway.  And thanks for a great (and challenging!) race course.  I had a great time and definitely plan to continue keeping this fun race on my calendar.
And a special thanks to Brad for working on my blog until 2 am last night, then getting up at 7 am to watch me race.  He's been busy making an exciting change to my blog that I can't wait to show you all soon!
***
I've had a few requests to post the video showing my teams' appearance on Charlotte Today.  It has been added to the blog post about the taping experience, which you can find here (scroll to the end).
***
I couldn't let one more blog post slip by without saying how incredibly sorry I am for the people affected by the hurricane in the northern part of the country.  There was a lot of talk over breakfast about the NY Marathon being canceled.  I feel incredibly bad for the people who have lost loved ones and/or who are suffering  in the aftermath of the hurricane and I also feel really bad for the people who have trained for months and traveled to NY to race, only to find that it was canceled.  The whole situation is just so incredibly horrible for all parties involved.
Please keep these people affected in your thoughts and prayers.