I had such a wonderful time this weekend.
It's been a tradition for the past several years that our friend Riley and Megan visit us to attend Oktoberfest.  Well, last year, Megan surprised us with news that she was pregnant when her and her husband made the long trek from Greenville, NC to Charlotte.  I was so happy for her, but yet felt sorry that she would have to deal with the debauchery that always ensues every Oktoberfest, seeing how she couldn't partake.
I promised her that this year would be different.  The guys would go to Oktoberfest, and she and I would do more tame things with the baby.  And so we did, with a fun trip to Total Wine and Whole Foods.  Megan loves fresh, healthy, seasonal food just like me, so finding things for us to do was no problem.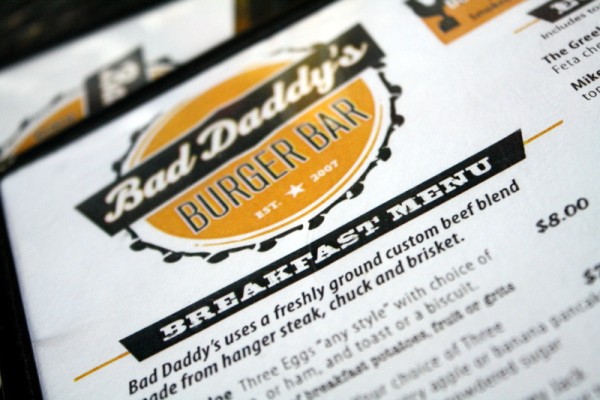 This morning, we decided to try out Bad Daddy's breakfast.  It's within walking distance of our house.  Gotta love a walkable neighborhood! Also, we're a big fan of Bad Daddy's (formerly known as Big Daddy's).  (See here, here, and here as evidence, besides all the other times not documented that I've savored their burgers)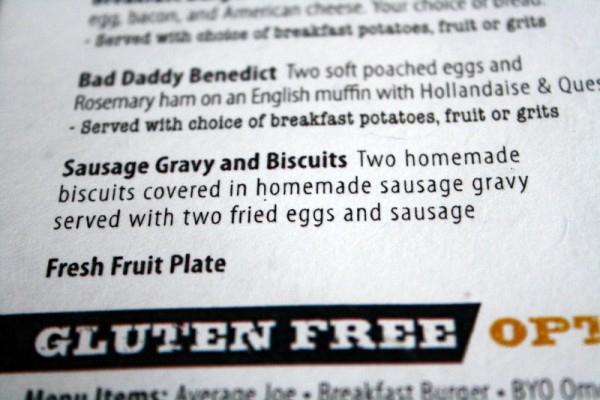 We chose a table outside in the corner that would accomodate baby Thad's running stroller. I bounced back and forth over menu choices up until the very last moment.
I really hesitated over the sausage gravy and biscuits.  I grew up in a family where sausage gravy and biscuits were readily available, but didn't warm up to the dish until a few years ago on New Years Day.  Now, I find it's something I love, but rarely cave into.
I was this close to ordering it, but it was the shear size of it that deterred me.  Two WHOLE biscuits, plus two eggs AND sausage?!  I know myself too well to think I would only eat half of that.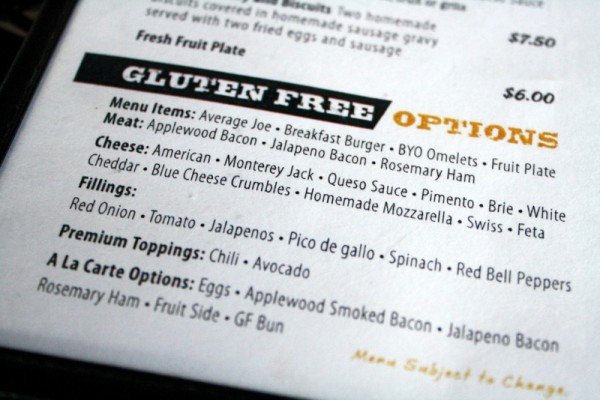 I thought it was really nice that Bad Daddy's highlighted the gluten Free options.  I don't avoid gluten but it's always great to see a restaurant with a wide arrange of healthy menu items for various diet needs.
While waiting for our food, I snapped a few photos.  Here's one of Riley and Thad.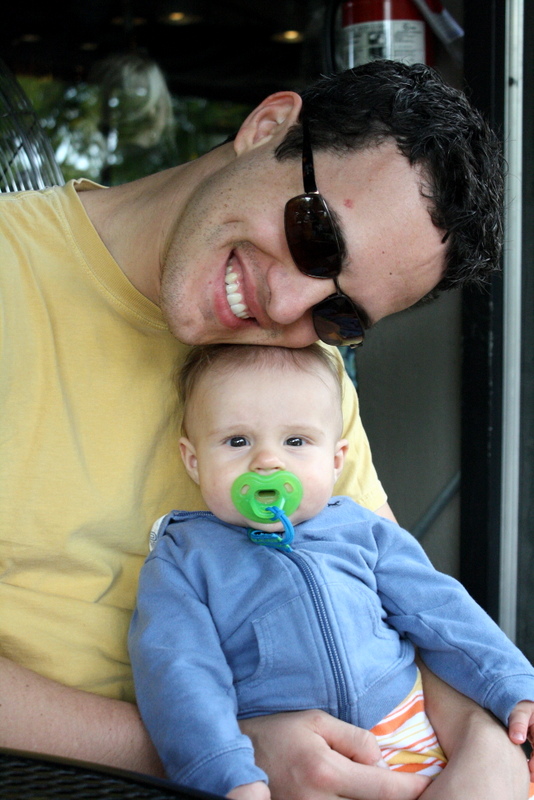 Precious! Thad is such a good baby and I had such a wonderful time entertaining him, kissing him, and snuggling him. 🙂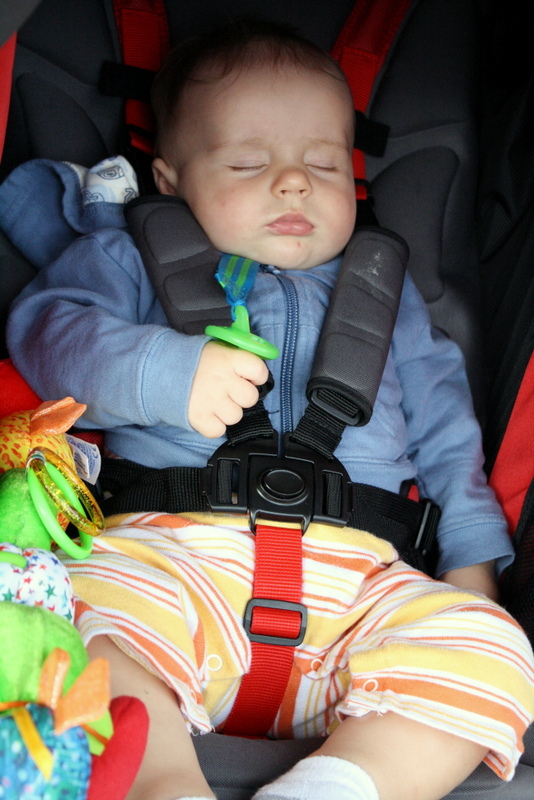 Megan and I chatted while Brad and Riley took Thad around the block in his stroller, which lulled him to sleep.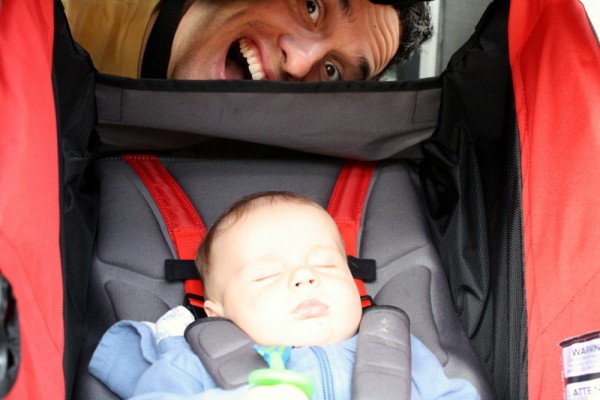 I love these people.  Such a fun group.
They even put up with my photo taking.
I asked them to take a photo of Brad and I.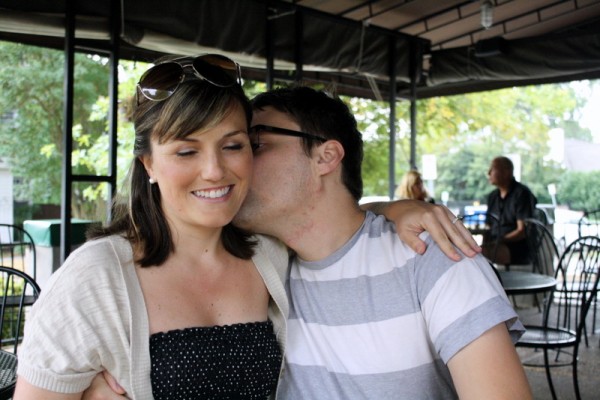 Take one.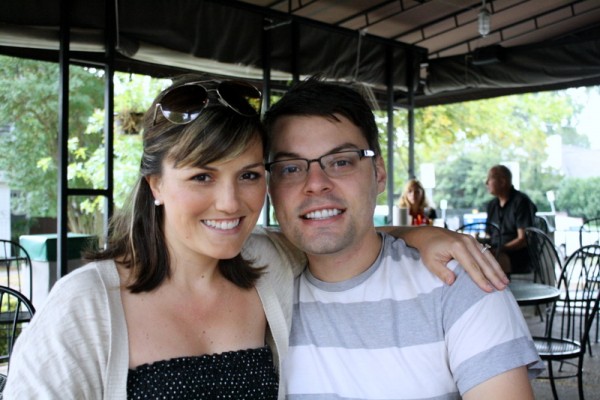 Take two.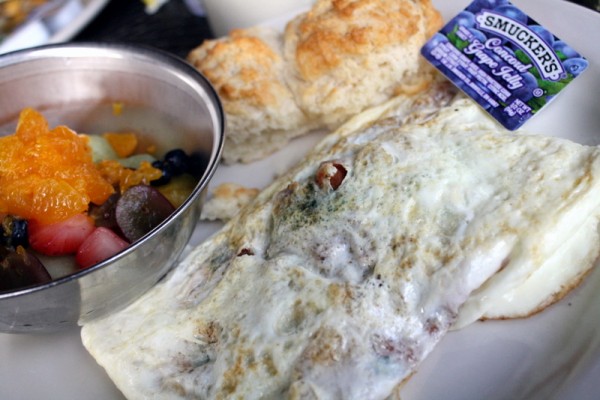 Our food came out within 15-20 minutes.
I ordered a build your own omelette with egg whites, Brie, applewood smoked bacon, tomatoes, and spinach, with biscuits and fruit cup.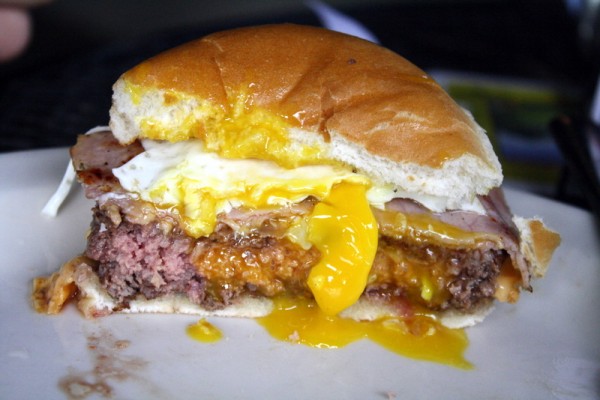 Brad and Megan split the Breakfast Burger — basic burger with fried egg, American cheese, bacon, and ham.
They opted for an over easy egg, their burger was medium, and they subbed the bacon for the jalapeno bacon.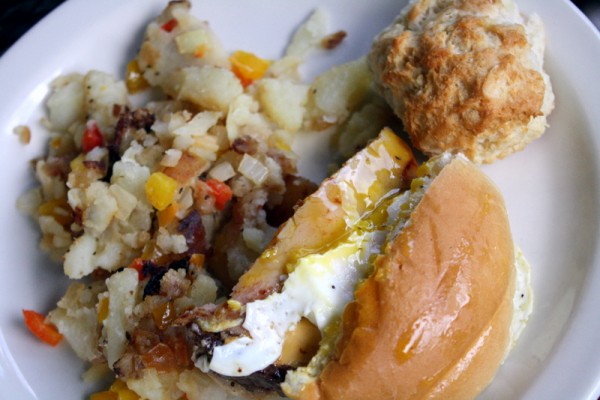 They also ordered a side of biscuits (two small biscuits) on the side and Megan got the breakfast potatoes, which had peppers and onions.
They both loved it and agreed that splitting it was for the best.  The burger was much too large for either one of them and by splitting it they could enjoy the other sides that came with the meal without feeling overly full.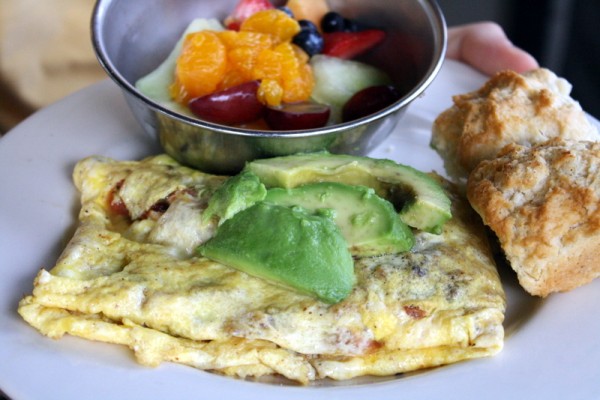 Riley ordered a build your own omelet too with pimento cheese, jalapenos, and avocados.
I can't remember his meat but I'm guessing bacon.
He also loved his choice.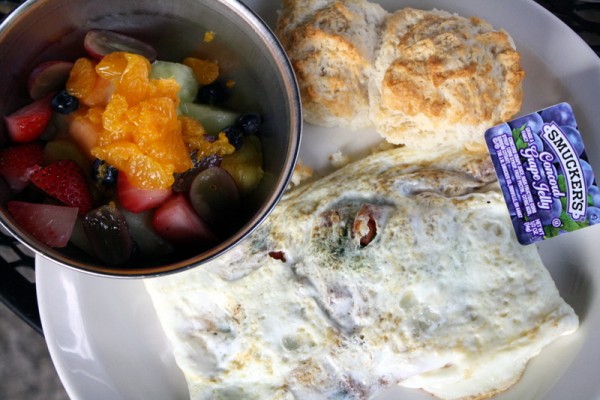 My breakfast was perfect.  As much as I love whole eggs, I typically ask for egg whites with an omelette because it's a healthy substitute that I don't miss in the least. The fruit cup was one of the most generous I've ever eaten.  It wasn't a cup as much as a bowl.  The biscuits were crusty and fluffy and just gorgeous — like butter clouds on my tongue.
This breakfast was perfect.  By offering a build your own omelette, Bad Daddy's takes all of the guess work out of figuring out a healthy option.  They also have an a la carte menu for those wanting lighter fare.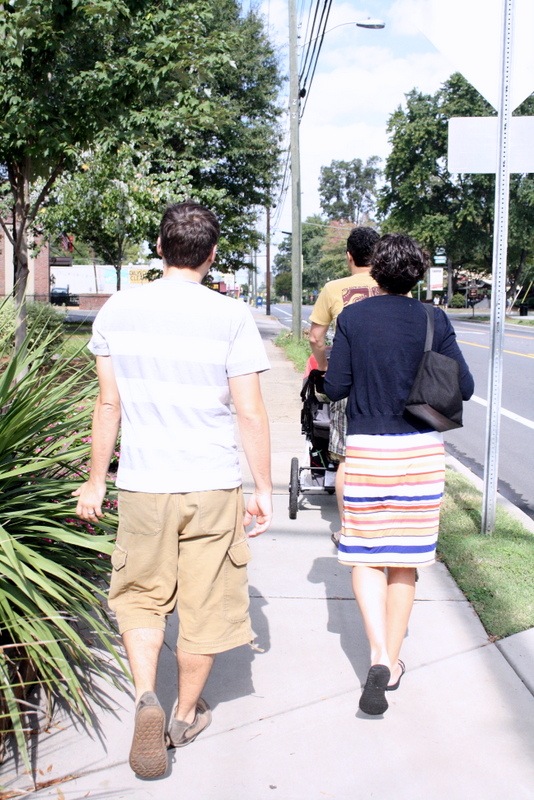 Plus, they're in my neighborhood so we had a nice 20 minute walk before and after our breakfast, before telling our friends goodbye.
What a wonderful Sunday morning!