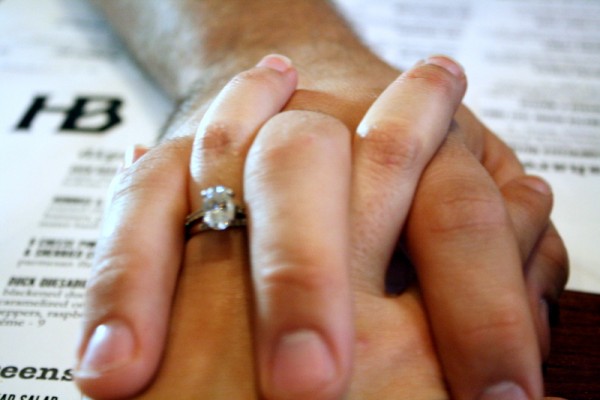 I'm one of those girls that needs a good date night every once in a while.  Brad and I go out with friends A LOT.  And it seems like I get asked to attend all kinds of fun events, so it's not like there's a lack of outings.  But sometimes, it's nice to go out, just me and my guy.
Last night was one of those nights.
After a few missteps — showing up to a beer tasting that wasn't happening and walking down North Davidson in NoDa in the wrong direction for several blocks — we found ourselves at Heist Brewery.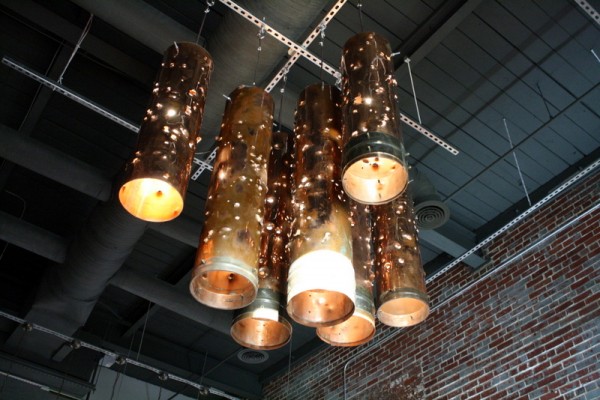 Heist is a new brewery located in the historic Highland Park Mill, which used to be a cotton mill in the early 1900's and is now mostly condos.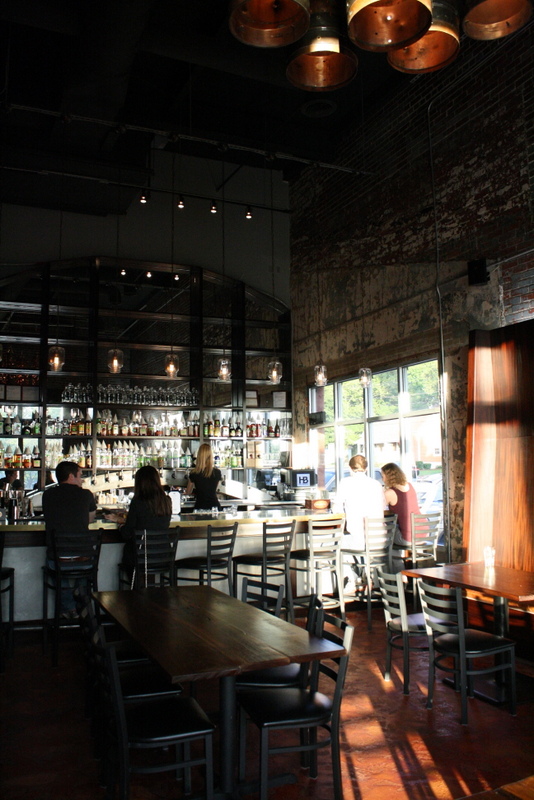 I have to hand it to their architect and interior designer.  The restaurant and brewery is rustic urban chic.  It's a truly beautiful space.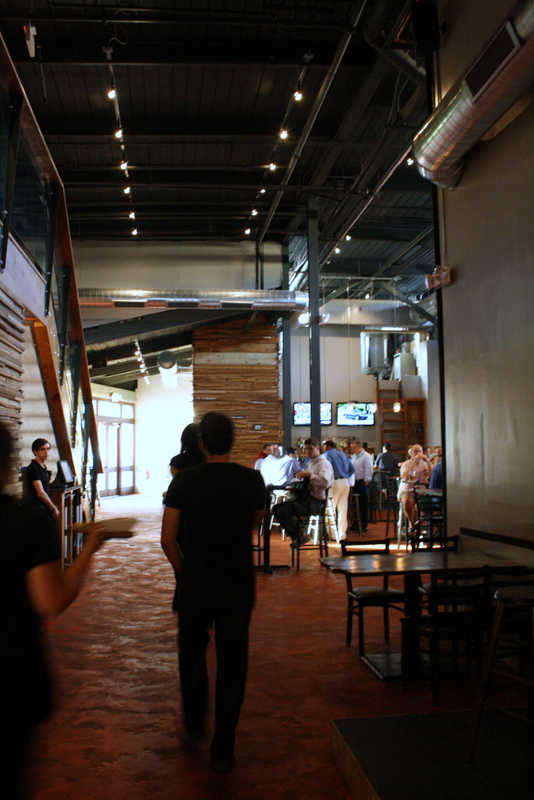 Spacious and intimate at the same time.  This is one cool place.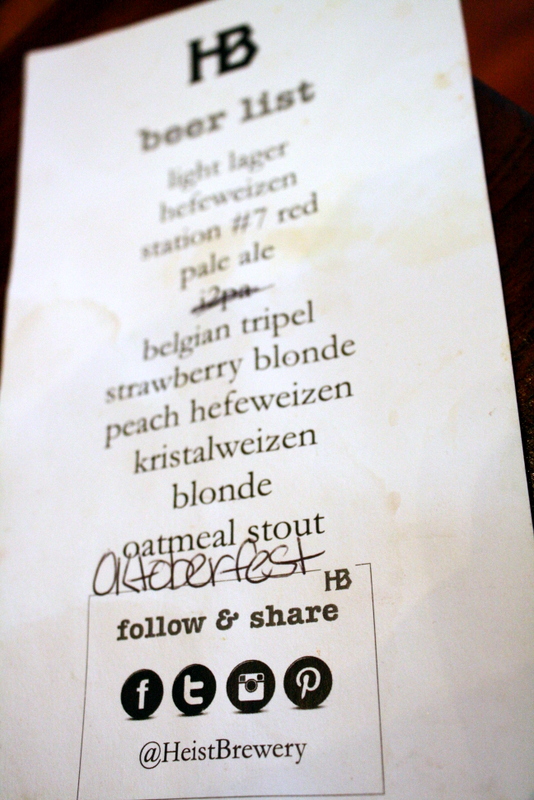 Heist also has quite an extensive beer menu compared to many of the other breweries in town.
And another thing…they have food!
Most of the other breweries rely on the ever-growing number of food trucks to feed their patrons.  Heist is a one stop shop for drinks and eats.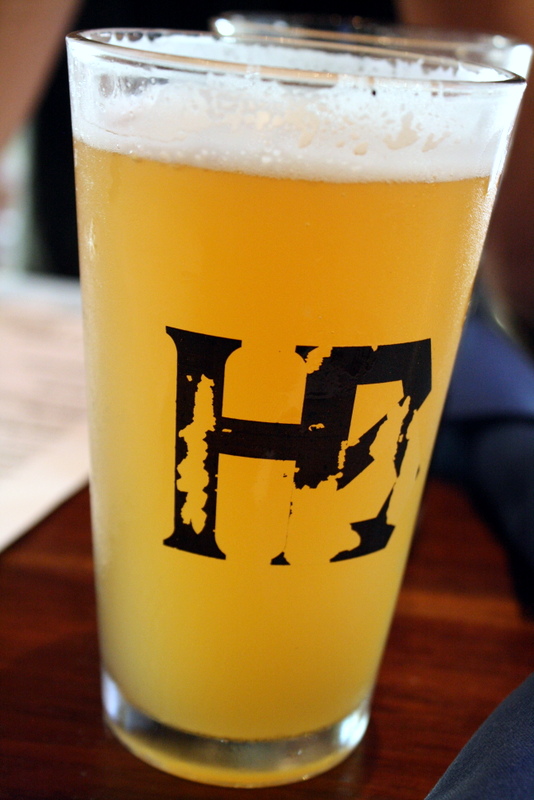 I started with their Hefeweizen.  I'm a huge fan of these and loved Heist's take on this Belgian style beer.  Light and crisp with a sweet finish and just enough bitterness to give it some bite.
Brad ordered the oatmeal stout.   There's something about "oatmeal" in the name of a drink that reminds me of a cement mixer.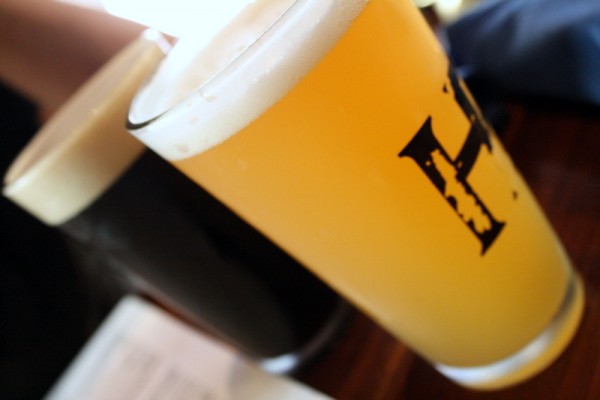 For those of you who escaped your early 20's without the cement mixer experience — this drink is a really disgusting shot that gets very thick (hence the name), made up of Bailey's Irish Creme and lime juice.  Yuck.
Not, that the oatmeal stout tasted anything like that — it was actually very tasty — but for some reason my brain always goes there when I hear "oatmeal stout".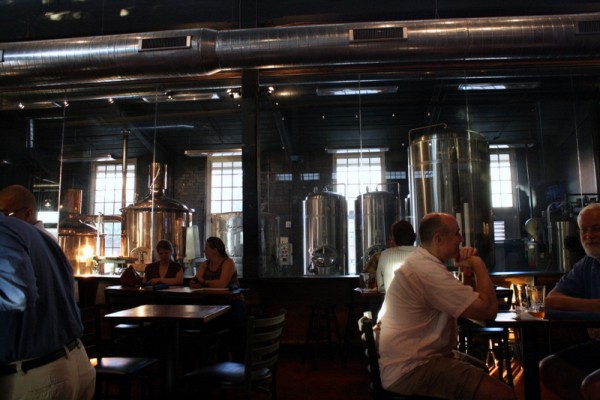 We sipped our beers and admired the decor of Heist.  Besides the typical steel tanks for brewing, they also use pretty copper tanks (on the left).
Heist also has an outdoor seating area, but it was so hot and muggy last night (where did fall go!?) that we opted to sit inside the sleek interior of the brewery.
Our first menu selection was the 6 Cheese Pimento & Sherried Crab Dip with parmesan flatbread.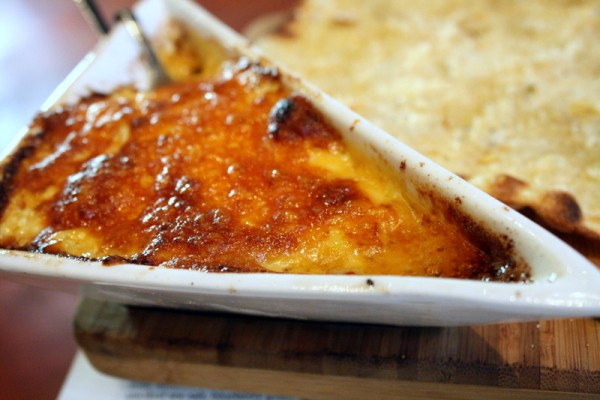 The dip was creamy with the slight spice of the pimento and generous amounts of lump crab meat.  The parmesan flat bread was delicious and the perfect vehicle for enjoying the rich dip.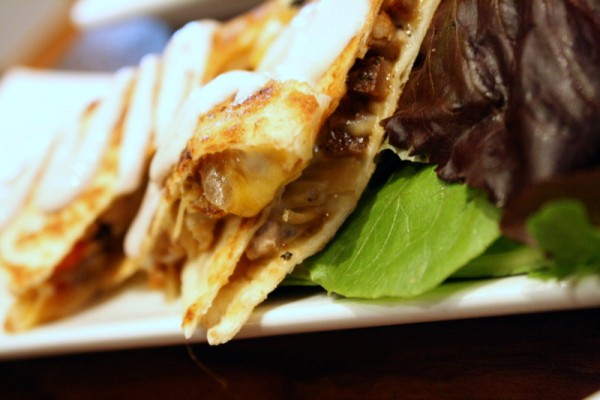 The second small plate we ordered was the Duck Quesadillas — blackened duck breast, caramelized onions, roasted peppers, raspberry-chipotle creme. 
This second dish was good, but I felt like something was missing.  Maybe it needed more duck?  I felt like the duck kind of got lost in the quesadilla, so that I couldn't tell if I was eating duck or pork.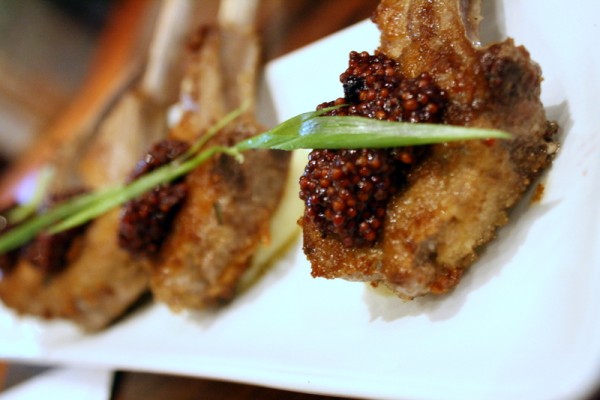 Our third pick the Lamp Tomahawks were a beautiful presentation — rosemary and scallion crust, yukon potato puree, blueberry grain mustard. . 
My favorite part was the crusty exterior of the lamb and the blueberry grain mustard.  However, the lamb itself could have used some additional seasoning and the potato puree was very bland.  I think they accidentally left out the salt.  We told our waiter and he was extremely polite and told us that he would let the chef know.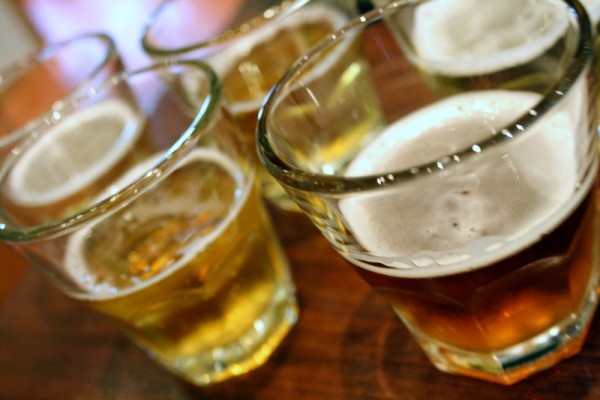 We finished the night by sharing a flight of several beers : Light Lager, Station #7 Red, Belgian Tripel, Kristalweizen,  and the Blond.
In my opinion, these paled in comparison to the Heferweizen.  It was the best, by far.
I would definitely try Heist Brewery again.  It has been my experience that some of my favorite restaurants have taken some time to come into their own with their menus and they were well worth the wait.  I'm curious to try the different beers featured on tap as they change with the seasons.
The creative use of ingredients in their menu is promising and shows a lot of hard work and effort to make this much more than a place to enjoy a good brew.  I'm excited to see how their menu develops with time and experience.
If I were to return, here are my I wish I would have ordered top picks:
– Pipe Smoke Salmon – salmon, forest mushroom and snow pea cream, fried shallot, yukon potato puree
– Karubuta Pork Belly Corn Dogs – milk and honey braised pork belly, root beer bbq
– HB Squiggle Nutz – chocolate and bacon studded waffle cone with candied pecans