Saturday morning was the day of the Rock and Read 5K . I had seven miles on my training schedule (it was a step back week for me), so I got up at 5:30 and hopped on the treadmill for four quick miles before scarfing down breakfast #1 and heading to the race.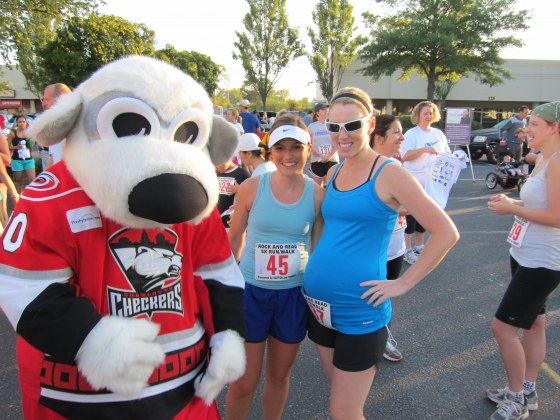 After getting my bib and time clip, I met up with Jen, who won the race pass I gave away last Saturday. The race organizers were so nice to give me a free race entry and one lucky reader, which was Jen.  We couldn't resist posing with the Checkers' ( a local hockey team) mascot.
She is 27 weeks along in her pregnancy and we joked that she got a 2-for-1 deal when she won the pass.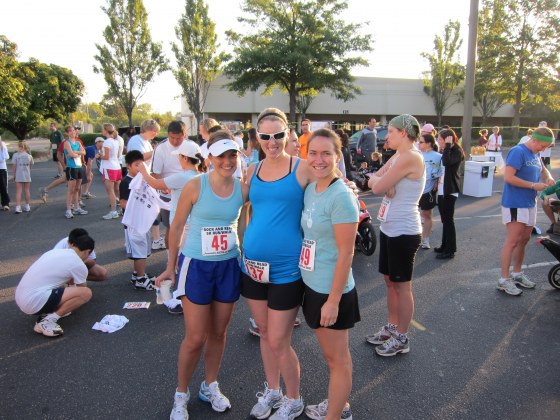 I was super excited for the chance to hang out with Tanya too who I haven't seen since we left HLS.  She was one of three awesome roommates.
Most of the decent race photos you see are courtesy of Jen.  Something was up with my camera, but unfortunately I didn't figure out which setting was off, until we were on our way to breakfast.
I have to give you all some sort of explanation before I show you this…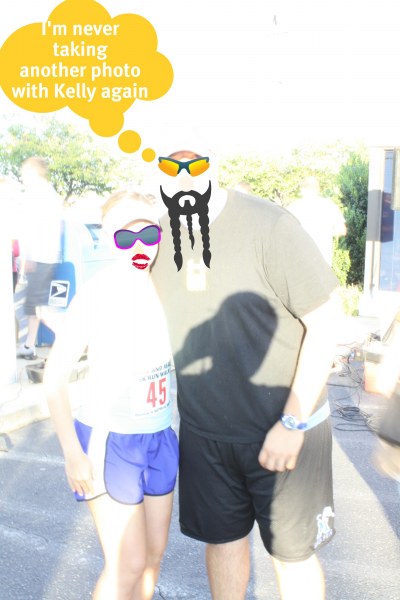 My friend, Bobby DeMuro, was also there and somehow the sunlight coupled with my jacked-up camera settings completely washed us out.
Our missing faces presented itself as the perfect opportunity to have a little fun with photo editing.
Bobby, don't hate me.
In reality, Bobby does not have a braided beard.  Although I triple-dog dare him to grow one just to prove that he can. 🙂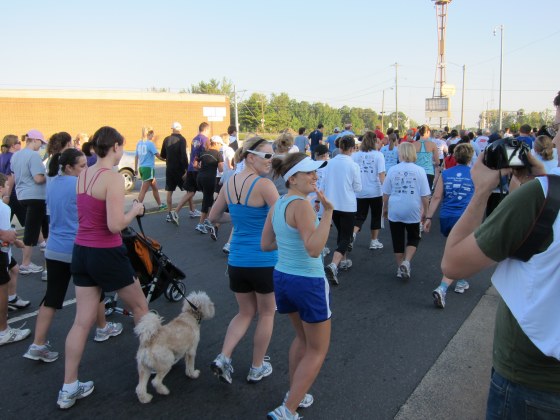 Jen and I ran the entire 5K together and I was so impressed with her speed.
The course started at the Scaleybark Library in south Charlotte and took us through residential neighborhoods.  The course was well-marked and a bit hilly.  Jen and I chatted up a storm the entire race.  Neither one of us was attempting to PR, but just enjoying the ride. We talked babies, jobs, stay-at-home mothering, working moms, and most importantly– running strollers. 🙂
I'm trying to absorb as much baby information I can before I'm ready to have one of my own, which means picking the brains of my mommy friends.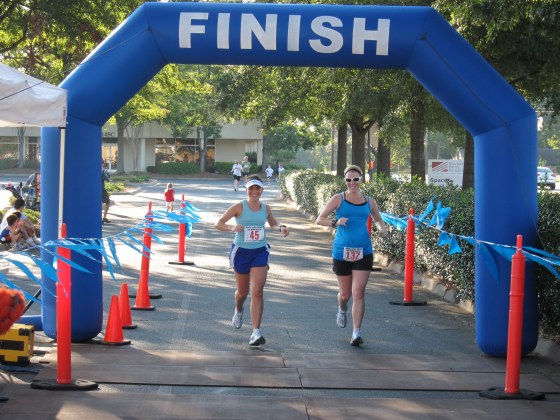 I would absolutely love to be able to run while I'm pregnant, but I'm pretty sure my pace will be more like a peppy waddle.  Jen can still seriously run! Our time was 26:48.
Confession: This is the third time we ran across the finish line.  Neither Brad nor Jen's husband, Jeff, got a good shot of us the first time.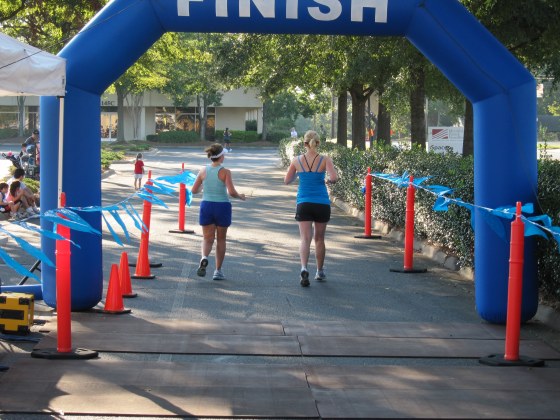 Proof!
It was all for the good of the blogs. Ha!
Thank to Jen for being such an awesome racing buddy and for giving me big dreams of a running-with-child. 🙂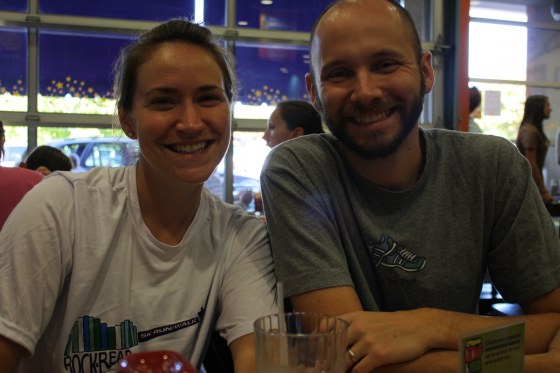 After the race and an obligatory mimosa, we were off with this fun couple to brunch!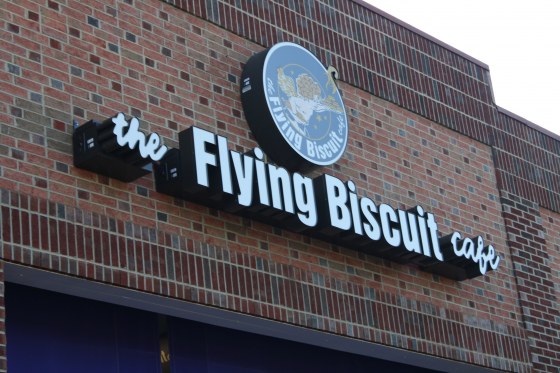 We brunched at The Flying Biscuit Cafe, which was my first time.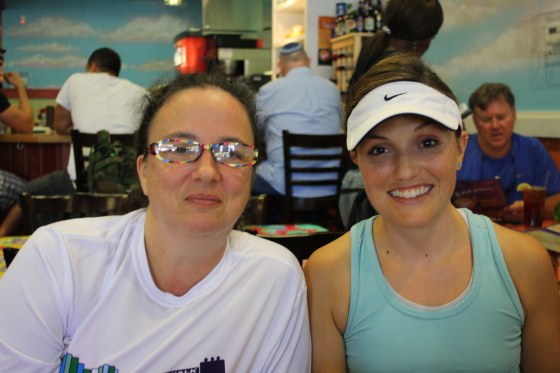 Tanya's friend, Shannon, also joined us. She was Tanya's running buddy during the race.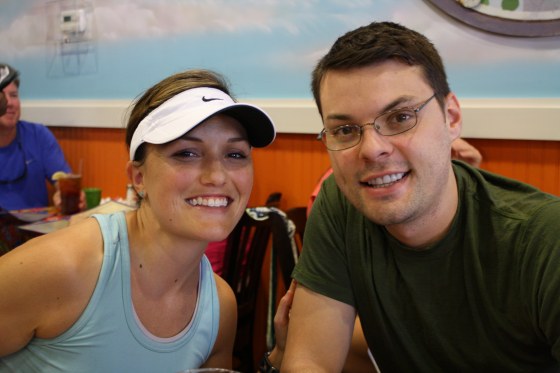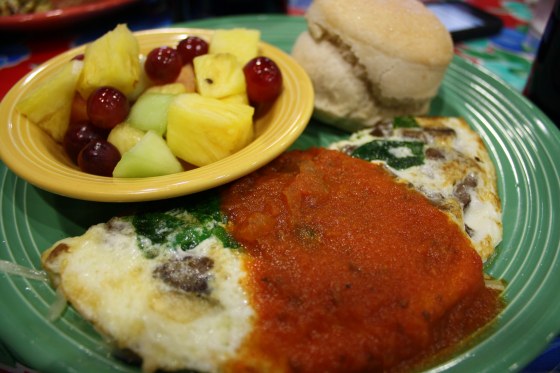 I ordered the Hollywood omelet which is egg whites with mushrooms, spinach, and cheddar cheese with a tomato coulis (i.e. sauce).  It came with fruit and a biscuit.
Everything was very yummy and had it not been breakfast #2, I would have been able to polish it off.  I picked at my biscuit, ate most of the omelet, but didn't touch my fruit.  I hate pineapple and everything it touches.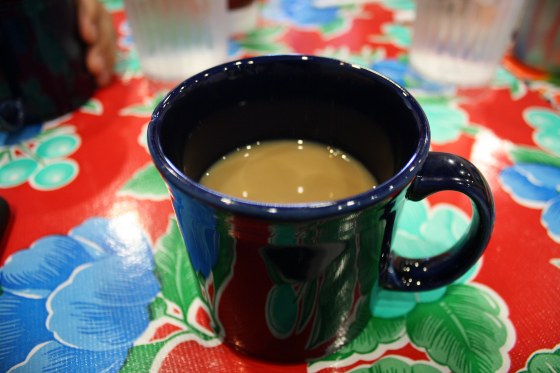 Plenty of coffee was consumed.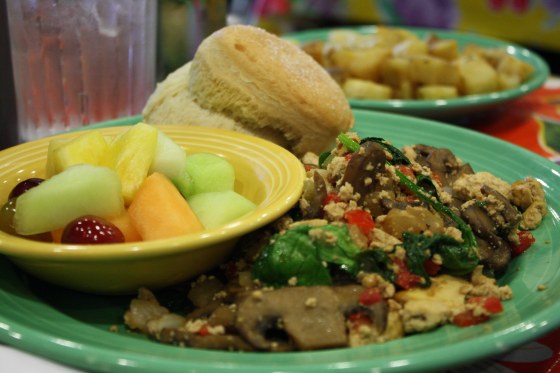 I also admired the tofu scramble that everyone but Brad and I ordered.  I'm a big fan of these both at restaurants and at home.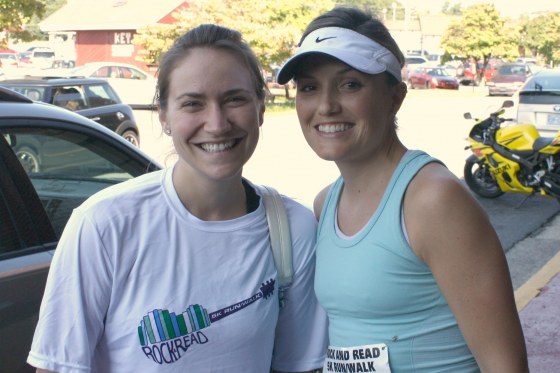 Tanya and I said goodbye after breakfast.  She lives in an adjacent county, so she's practically a local, but not so close that it's easy to see her.
I have to come up with some good excuses to lure her to Charlotte.  Maybe in the form of vegan peanut butter coconut bars.
After breakfast, I dropped Brad off at the condo and headed to Trader Joe's to do some grocery shopping. At this time I would like publicly apologize for the patrons of the TJ's at Metropolitan between the hours of 10:30 and 11 am.  One should never run seven miles, sit in sweaty clothes during breakfast, then run errands all over town. I smelled like a dirty hippie.
Thanks so much to Jon, who organized the Rock and Read 5K, and hooked me up with free passes and everyone who made the 5K possible.  As a frequent user of the public library system and a runner, it was so fun to participate in an event that brought these two favorite past times of mine together.