Did you know that Charlotte has a new vegetarian restaurant?
We have needed one for quite some time.  It has always surprised me that with the number of local vegetarians I know, no one has dared to create a veg-friendly dining spot (except for Luna's which is raw vegan and takes it to a whole other level).
This new restaurant is called Fern, Flavors of the Garden and is located in the Plaza Midwood area on Central Ave.  If you're a Charlottean, you probably recognize its sister restaurants, Something Classic Cafe and Halcyon Flavors of the Earth.  I know from experience that Halcyon, although not vegetarian, features extremely delicious, fresh, and unique food.  After such a great experience at Halcyon, I was excited to try Fern.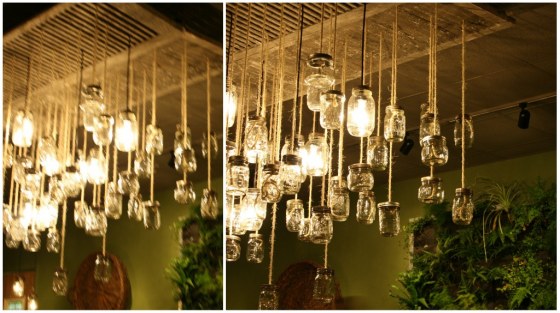 The restaurant space is small, but very "green", and homey.  I adored their mason jar chandelier.
My dinner companion that evening was Jenn, a fellow foodie who, like me, is not a vegetarian, but is a food adventurest.  I'll try anything.  She'll try anything.  We're great foodie friends.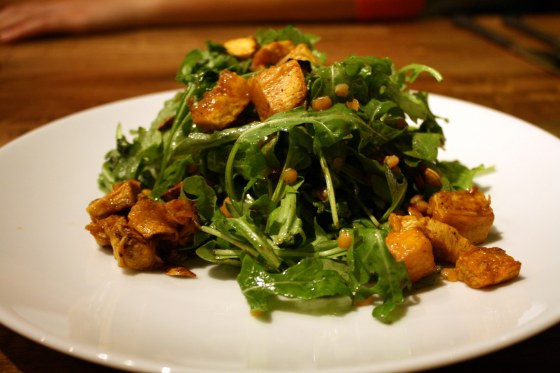 Jenn and I decided to get the most tastes for our buck and shared several of Fern's small plates, starting with the Arugula Harvest Salad.
Warm Roasted Pumpkin, Lentils, Spiced Pumpkin Seeds, and Pomegranate Vinaigrette
This salad was light and delicious.  Autumn cuisine is often heavy and hearty so I loved this refreshing seasonal salad.  It was different and something I would love to recreate at home, maybe with a bit of tofu for protein.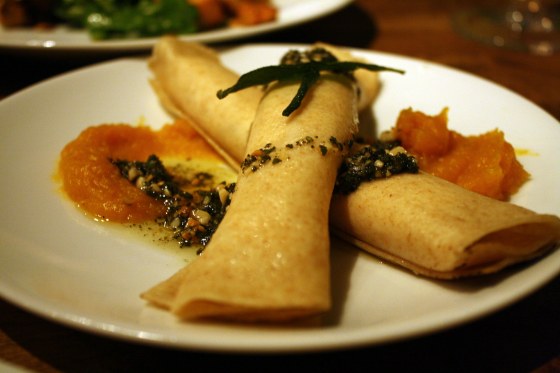 Next, Jenn and I shared the Goat Cheese Cannelloni.
Freshly-Made Whole Wheat Pasta Stuffed with House-Made Goat's Milk Ricotta, Butternut Squash Puree with Sage and Unfiltered Olive Oil
The Whole Wheat Pasta was more crepe-like in consistency than what I would traditionally consider pasta to be, but yummy, nonetheless.  The goat's milk ricotta was so creamy and delicious.  I can only think of about a thousand ways I could use it, including eating it directly with a spoon.  This dish was so interesting and creative.  It was the perfect sized appetizer — just enough food to wet my appetite.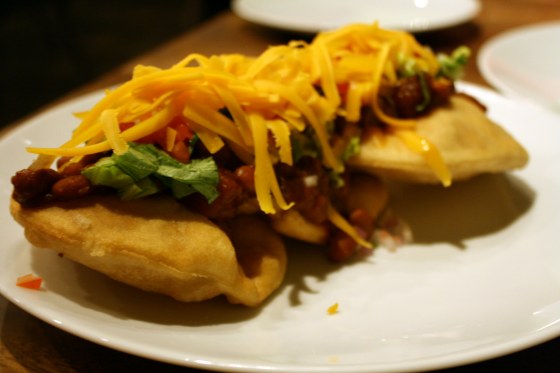 Last, but not least, we shared a heartier dish — the Indian Fry Bread.
Traditional Fry Bread Topped with Pinto Bean and Squash Chili, Fresh Tomatoes, Onions, Crisp Lettuce and Local Sharp Cheddar. 
I had never tried fry bread until this moment and I'm already a fan.  The bread was more chewy and puffy than doughy Indian naan.  Being a huge fan of beans, I really enjoyed the flavors in this dish.  It rounded out the meal after two light dishes and was very satisfying.
As you probably noticed, Fern really caters to the seasons so their menu changes regularly.  It's a fantastic place to share a meal (read: romantic) but it is also very suitable for dinner with a great gal pal.  The restaurant is very small and probably has only 10-15 tables inside, plus a few outside, so you should definitely check this out before the masses find out and take over.  Although their website isn't up and running yet, you can check out their menu on their Facebook page.
I can't wait to see what they come up with next.  Gosh, I love seasonal menus.