Even though one of my New Year's Resolutions is to cut back on alcohol, I would be remiss if I didn't tell you about one of my new favorite places in Charlotte.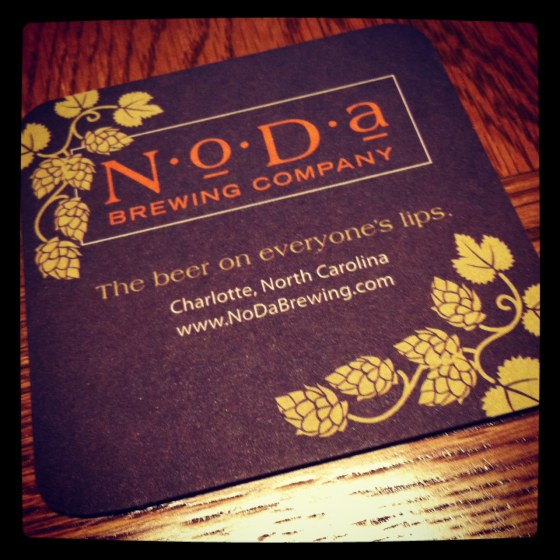 NoDa Brewing Company has only been around a few short months, but has already established quite the cult following.  Brad and I have become some of their biggest fans as well.
Their space is in an old warehouse on North Davidson Street.  Coming from Uptown/277 its on the left, just before you get to Amelie's.  Don't miss it.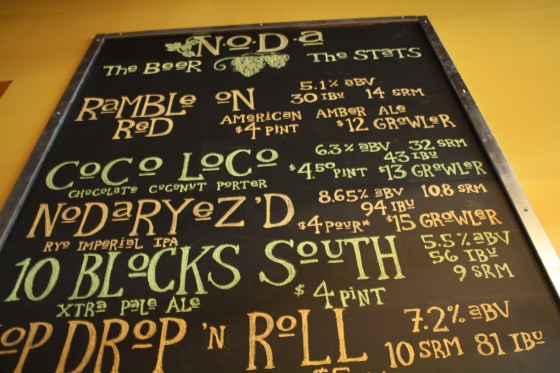 Their menu usually showcases five different beers, including what is probably their most popular, the Coco Loco.  Coco Loco is a chocolate coconut porter and although porter's aren't my personal favorite, Brad loves it.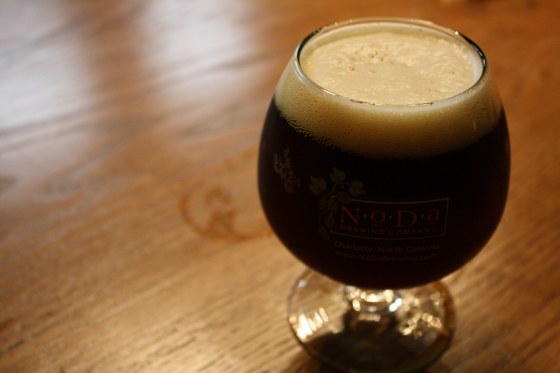 The perfect time to go visit NoDa Brewery is on Tuesday evenings when they feature a small batch craft brew.  That's how I found my new favorite, the Chai Brown.
Spiced with organic vanilla beans, fennel seeds, coriander, cloves, cinnamon sticks, black pepper and whole nutmeg for a modest chai spice in a slightly sweet, low hopped English Brown ale. (source)
Yummy, yum yum.  It was fantastic.
It tasted more like creamy chai tea than it tasted like beer.  I loved it. And that's coming from someone who actually likes the taste of beer.
You can read more about the special craft beers offered every Tuesday on the NoDa Brewery website.  But be forewarned: they sell out of the craft beers fast.  So if you plan to visit on a Tuesday, get there early.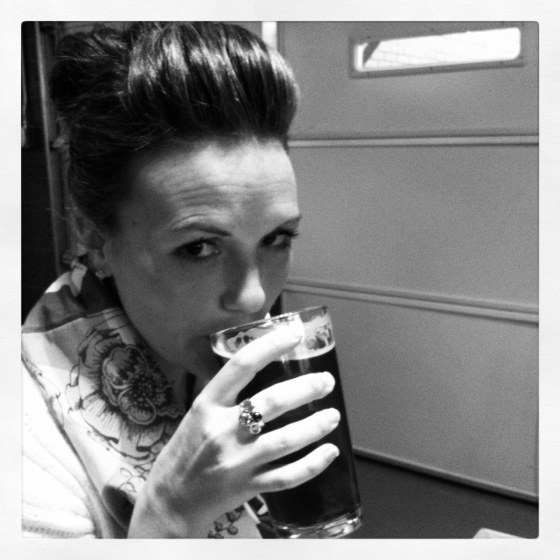 Recently, Brad and I dropped by on a week night while we were both off for the holidays to grab a pint (I feel so European when I say that..haha).
It was a Tuesday night and the place was packed, but not in that "get me out of here; there's too many people" kind of way.  We spotted a friend and chatted a bit, proving that NoDa Brewery is winning over not just us, but our circle of friends as well.
I love the kind of place that you just pop into haphazardly and run into friends. That's exactly the kind of place NoDa Brewery is.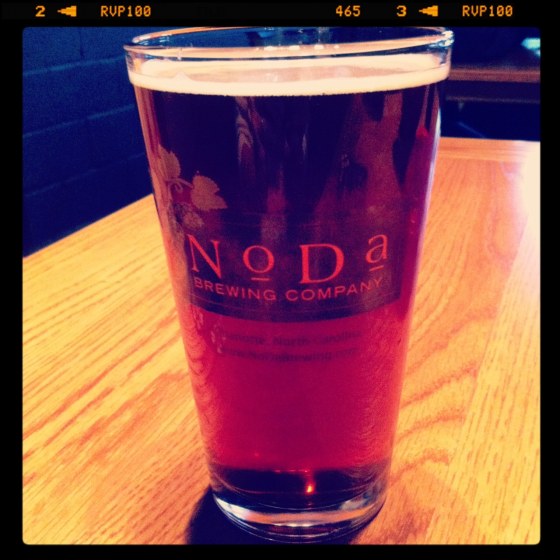 But let's get back to the beer.
That time around, I had the Santa Baby, a holiday spiced ale.
It tasted like cinnamon and cloves; just right for this time of year.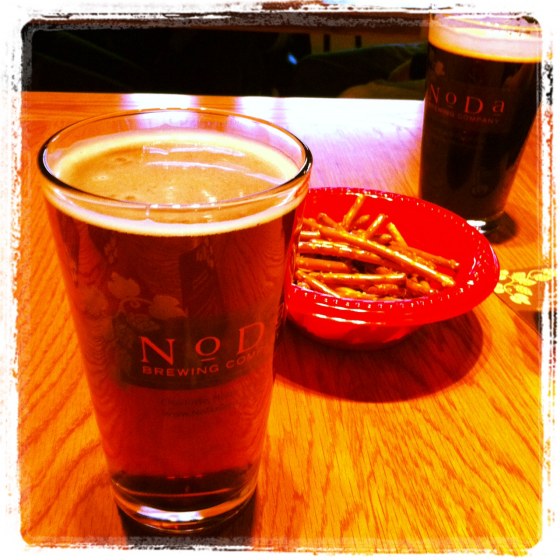 One of the things that NoDa Brewery is lacking is food. Although they will refill your pretzel bowl over and over again, they have no kitchen.
Brad and I came up with a solution for this.  We fancy ourselves independent restaurant consultants so we're always discussing what might make a restaurant/brewery/coffee shop better.
Well NoDa Brewery read our minds.  Starting January 10, every Tuesday, Friday, and Saturday, food trucks are parked outside the brewery and available to anyone who wants to grab a quick bite with their brew.
A little bird told me that the food trucks have vegetarian options as well.
Other things of note:
Growlers are available for purchase.
Guest taps feature beers from other breweries. (As of Jan. 7  Carver Sweet Potato Lager is featured)
You can find NoDa Brewery's beers, not just at the brewery, but all over town.
NoDa Brewing will be at the Queen City Brewers Festival in February (but tickets are sold out…so sad :().
They're open until 8 pm most nights, except Sunday when they close at 5 pm and Monday when they're closed.
Brewery tours are offered regularly. Brad found their tour to be the most interesting in which he's ever participated.
So if you're a beer loving Charlottean or just passing through the area, you have to check out NoDa Brewery.  And tell them I sent you…maybe they'll pay me back in free beer.