Yesterday afternoon I ran a quick 4.4 miles,  but not before digging into this bag of deliciousness.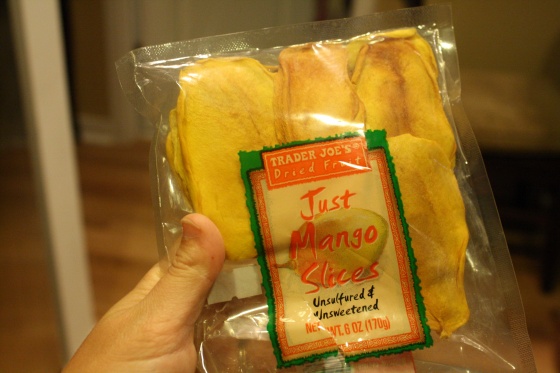 I totally forgot that I bought these a few weeks ago.  Talk about instant energy! These things are so sweet, but naturally of course.
I then quickly took a shower, dried my hair without washing it (love love love short hair!), swung by the ABC store to pick up a birthday gift and headed over to The Liberty to celebrate my friend Gibson's birthday.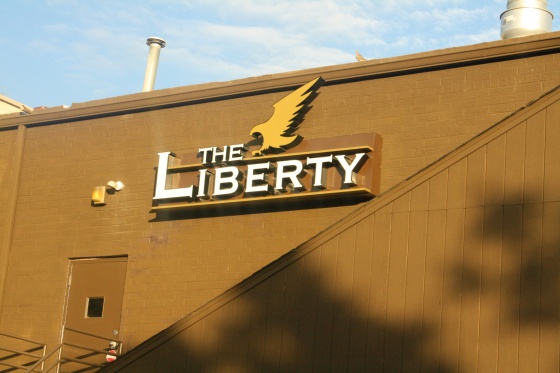 I underestimated my ability to get ready in a time crunch and arrived to the restaurant before anyone else.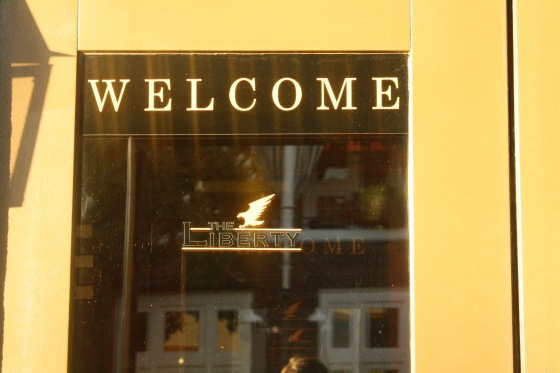 Lucky for me, this was optimal photo taking time.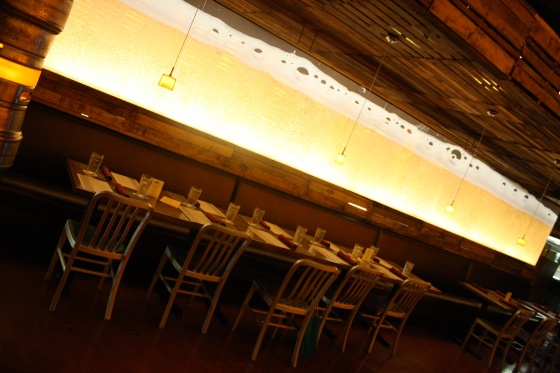 Notice that the wall looks like it is filled with beer. The Liberty has a substantial beer list.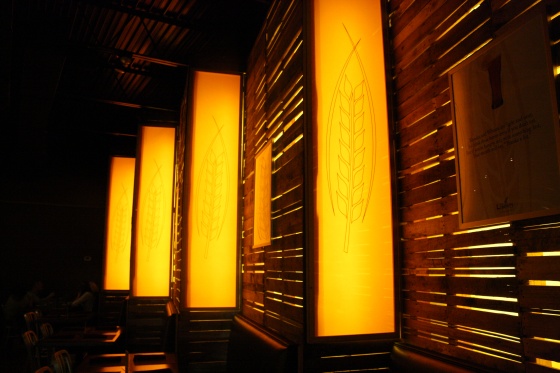 Wheat lights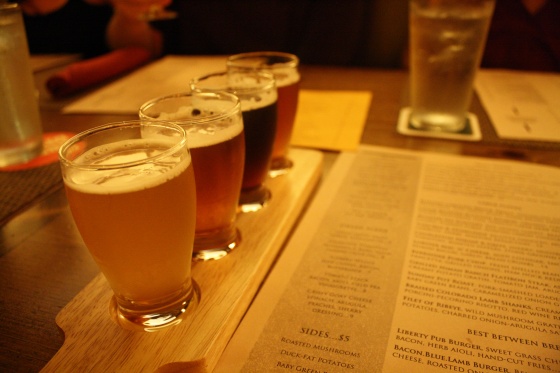 Beer flight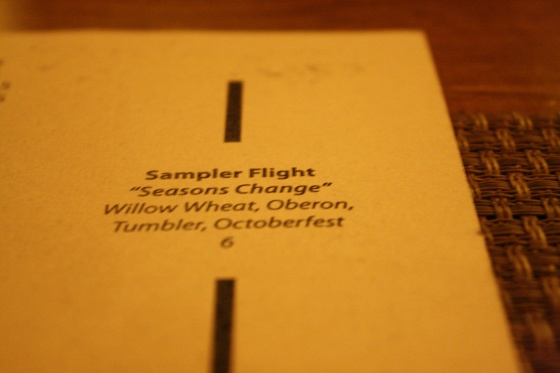 Willow Wheat was my favorite, but it was also my first and I was very thirsty.  Doesn't beer taste better when you're really thirsty?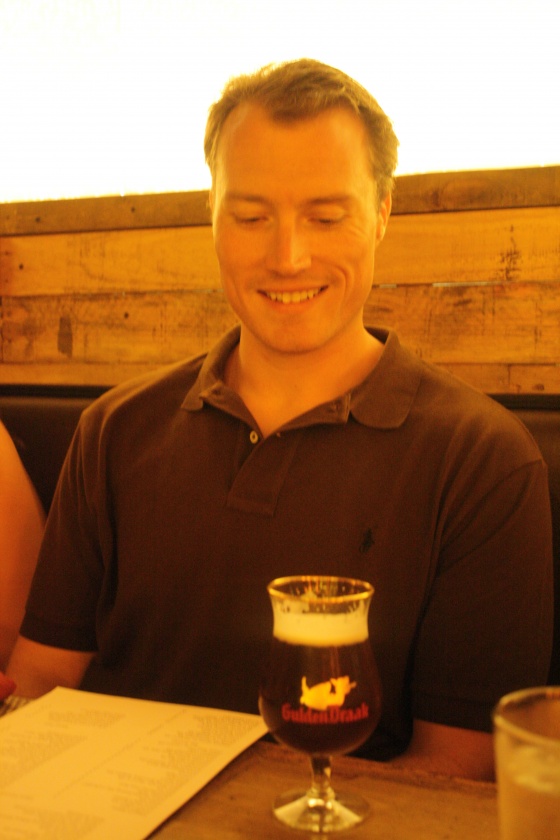 The  birthday boy admiring his beer in a fancy glass.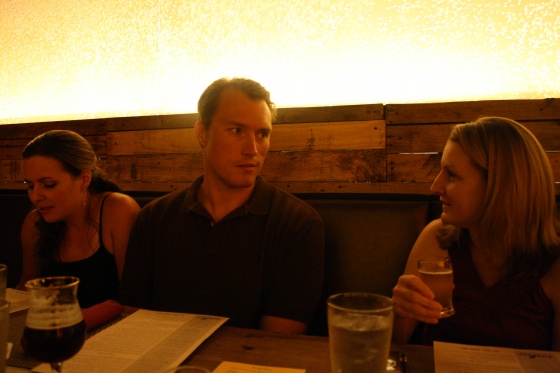 Chloe, Gibson and Brittney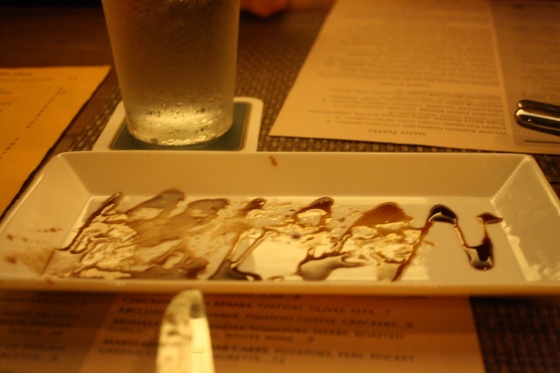 The remnants of the order of Devils on Horseback I ordered for the table.  This is an appetizer of dates, stuffed with blue cheese, wrapped in bacon, baked, and then drizzled with a sweet balsamic sauce and topped with arugula.
Obviously, we hated them.
The combination of sweet, salty, and rich flavors are magical.  I see a recreation in my next dinner party's future.  There were four dates which was perfect for sharing at our table of four.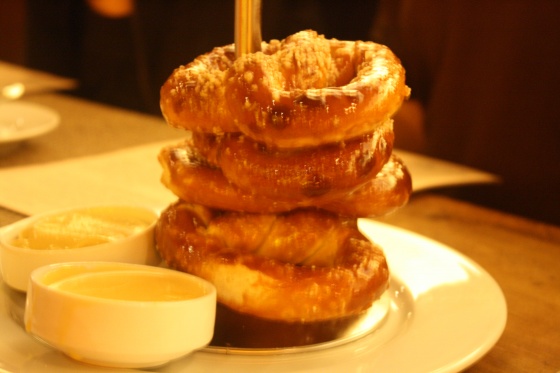 Gibson ordered a pretzel tower for the table.  I shared one with Brittney and then later ate 1/6 of another (there were six of us at this point and we shared the last pretzel six ways).
Brittney and I shared the rest of our meal.  I ordered the heirloom tomato salad which had arugula and mozzarella, with cold pressed olive oil.  Britt ordered the fried goat cheese salad which had salad greens, peaches, and a big dollop of goat cheese breaded and fried with a vinaigrette.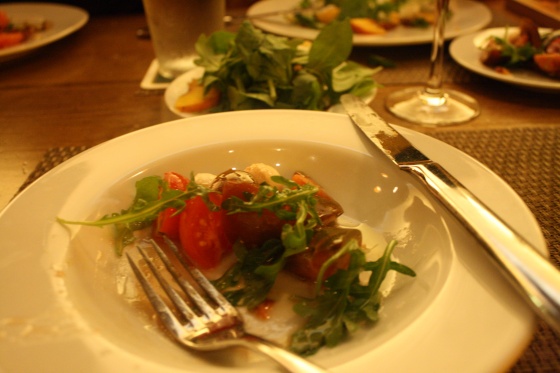 My share of the heirloom tomato salad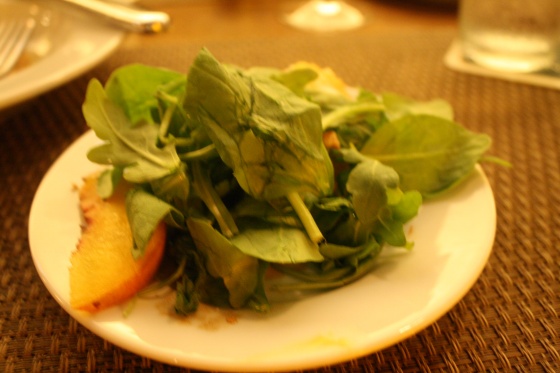 My share of the fried goat cheese salad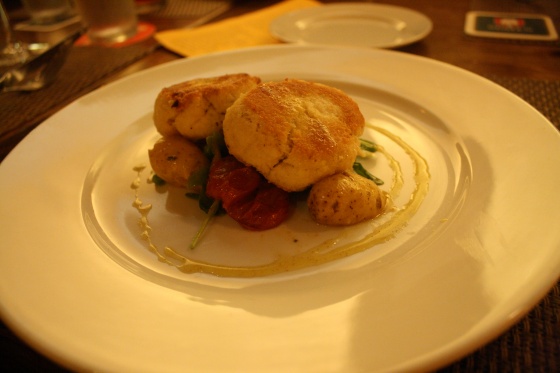 Next, we shared the crab cakes.  So yummy, but nothing compares to my mother-in-law's quarter pounder sized crab cakes made with fresh crabs from their dock with minimal breading.  Still, these were pretty delicious with their light curry sauce.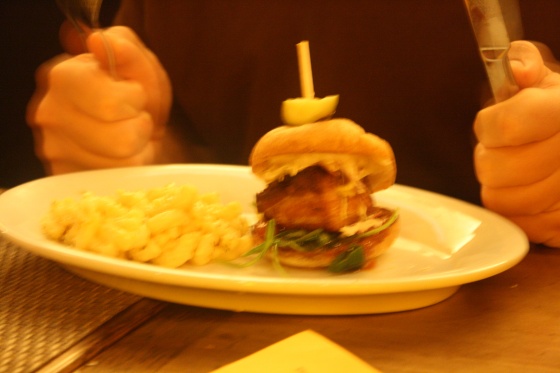 It's a blurry photo, but it had to be shown.  This is Gibson's meal of macaroni and pork belly sliders.  I've had these sliders before and they are out of this world delicious.  Sweet and smoky.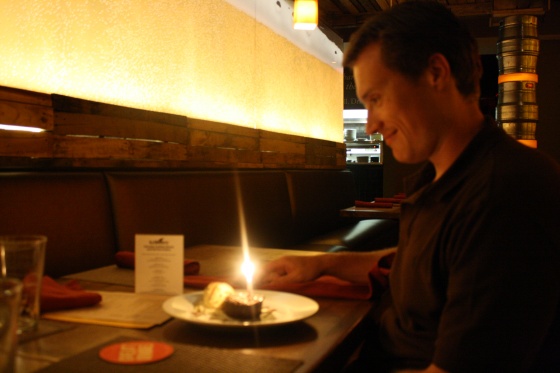 By the end of the night I had ordered a glass of wine from Montepulciano reminiscing of my time in Italy.  Meanwhile Gibson and Chloe ordered the molten lava chocolate cake, complete with a candle.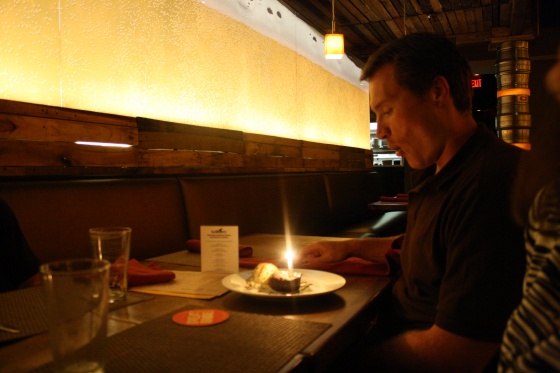 I won't keep you in suspense, he blew the candle out on the first try.
I didn't taste the molten chocolate cake, but it looked delicious and chocolaty.  Who doesn't like chocolate and butter oozing out of their food?  I felt bad because another couple with us ordered the same thing but didn't get any molten lava with their cake.  The waitress explained that sometimes it doesn't ooze out.  I thought that was pretty much a standard of a molten lava cake (?).  Oh well, no cake went to waste.
Liberty has became one of my favorite places in  Charlotte.  It's laid back, has a delicious menu that is always evolving, and has a great selection of beers and wine.  Maybe one of the best in Charlotte.