I had an awesome 10 mile run this morning!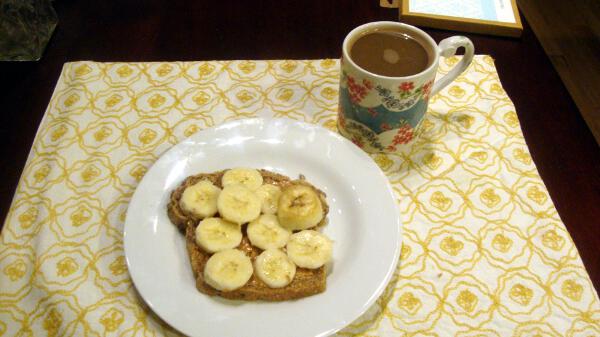 I started off with a thin slice of Dakota bread with some PB & banana and even had enough time for coffee.  I like to drink coffee before long runs because I drink it every morning and I don't think you should do anything too outside your regularly scheduled programming.  However, sometimes before early races, I don't have time for coffee.
Like I said, the run was great!  I ran with Jen and it was wonderful to have someone to talk to for 10 miles.  As we chatted, the time just flew by.  Before I knew it we had covered 5, then 8, then 9 miles! The last mile was a big hill, but we got through it and pounded out the last few tenths of a mile on flat terrain.  It was great!  The weather was just perfect.  A little humid but the temperature was only in the 70's.  Such a nice change from the high temperatures we've been experiencing early in the morning.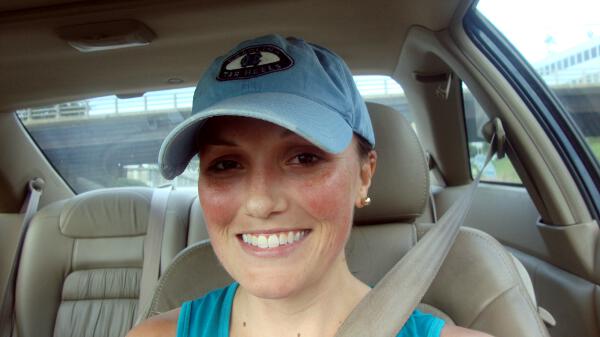 My face gets really red when running.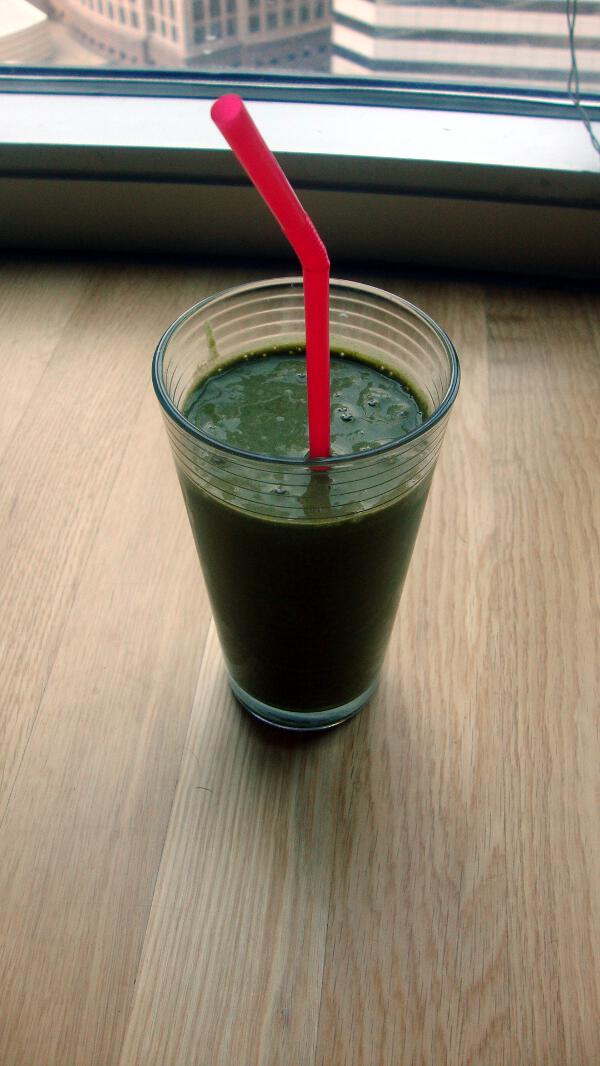 When I returned my sweet guy made me this green monster for breakfast #2.
1/2 frozen banana
1 scoop chocolate Amazing Meal
1/2 scoop chocolate whey protein
1 cup frozen spinach
1 cup almond milk
5 mint leaves
It was delicious!  I'm experimenting with putting mint leaves in my smoothies.  I think I'll try more next time.  I don't want it to be too minty so I'm trying it a little at a time.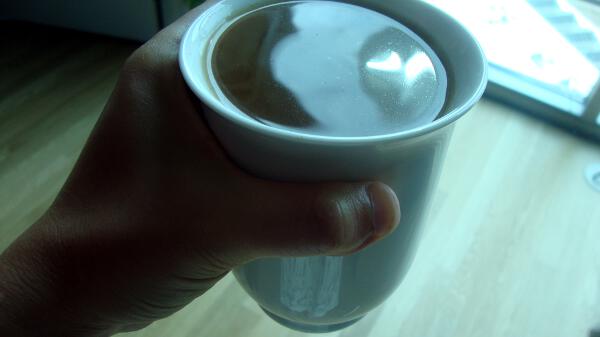 Coffee #2 was a must! Have you heard that coffee might possibly help muscle recovery after runs?  I first heard about it in a Runner's World article, which you can read here.
After getting ready, it was time for my bridesmaid luncheon.
I held a luncheon in honor of my bridesmaid at 300 East in Charlotte.   They were really easy to work with.  Picking my menu was super easy because I love their simple but delicious food.  Their pastry chef even called me personally to give me a consultation on what she could do.
The Menu
Appetizers:
Hummus plate with veggies and pita chips
Housemade Pimento Cheese with crackers and veggies
Guacamole with salsa and tortilla chips
Entrees:
Sonoma Salad ~ Red Potatoes, Avocado, Grape Tomatoes & Dijon Dressing over Baby Greens, with Grilled Chicken, Grilled Shrimp, or Lump Crabmeat
Fig and Prosciutto Pizza ~ with Gorgonzola & Grilled Fruit
Grilled Chicken and Pesto ~ with Roasted Red Peppers and Provolone on Focaccia
Grilled Portobello Sandwich ~ Gorgonzola, Arugula, Red Onion, Tomato Salad & Sherry Vinaigrette on an Onion Roll
Special Drinks:
Peach Bellinis, Mimosas, Honig Saugvignon Blanc
Dessert:
Key Lime Pie with Raspberries and Raspberry Sauce
I had a great time picking out this menu! 🙂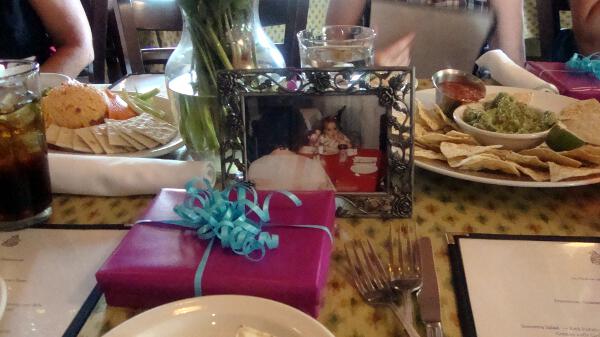 The table with one of the bridesmaid's gift and a photo of me.  My aunt found this photo of me a few days ago.  I was two years old and it was taken at her bridesmaid luncheon 25 years ago.  If you could see it more closely, you know notice that I used to be a blonde!  Funny, because my hair is almost black now.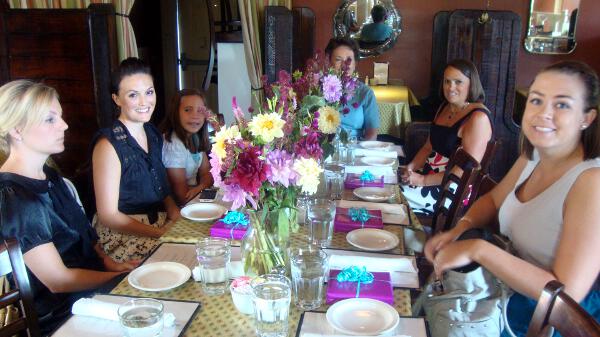 Some of the girls and my family before everyone arrived.
While appetizers were passed around, I had a club soda with a splash of cranberry juice.  I also drank a full glass of water to rehydrate.  Don't worry, I enjoyed myself.  I soon switched to a peach Bellini.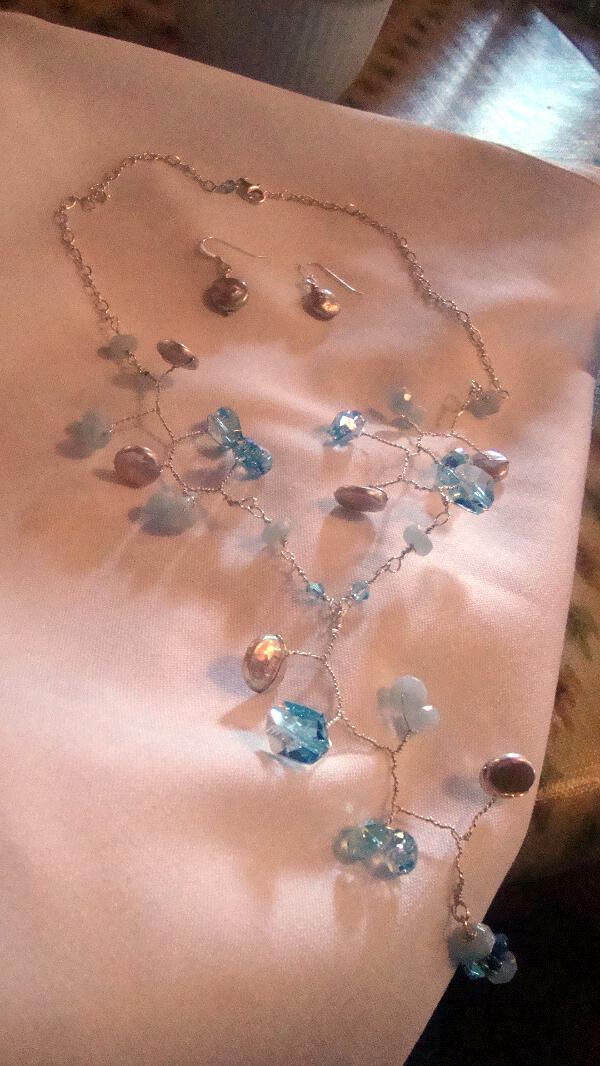 The bridesmaids' gifts were a necklace and earring set I handmade.  I took a class to learn how to make the "branch-style" necklace, but made each necklace differently.  The one pictured above is Candace's set.  I used sterling silver wire, hooks, and chain, topaz, Swarovski crystals, and mother of pearl.  The earrings are mother of pearl to match.  I'm really proud of these necklaces because I have never done anything like it before.  It was really important to me to give them something nice and something that reflects myself.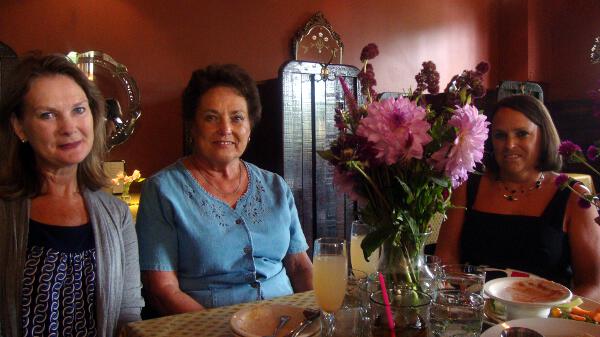 My (3rd) cousin Marie and wedding director, my grandmother, and my aunt.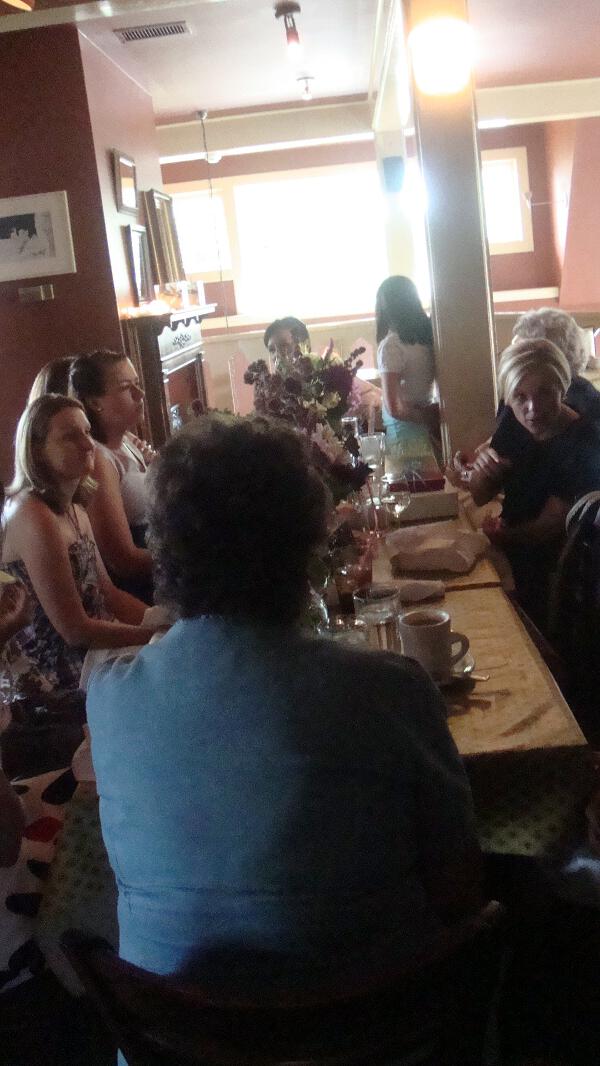 A candid photo of the table.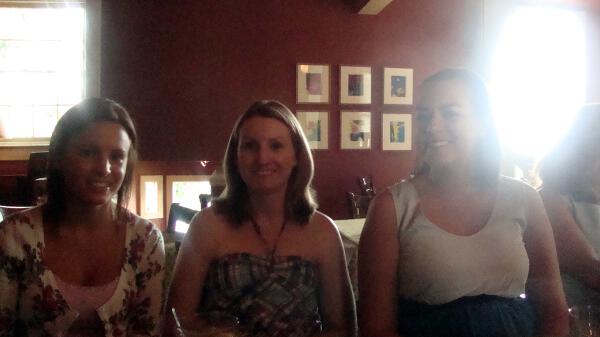 My cousin April, Brittney, and my sister-in-law Jen.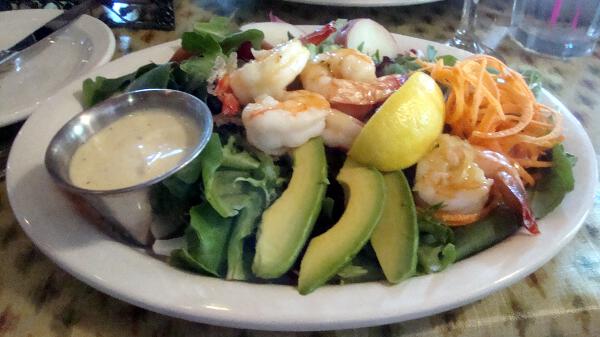 I somehow missed taking shots of the apps, but let's move on to the entrees.
I ordered the Sonoma Salad with shrimp.  I always eye this salad, but have never ordered it.  I'll pretty much eat anything with avocado on top.  I also had a glass of the Honig at this point in the meal.  I chose this wine because Brad and I visited Honig winery on our day-long trip to Napa.  It is our top recommendation to anyone going to Napa.  Small and intimate, they give you a lot of attention and we absolutely love d it.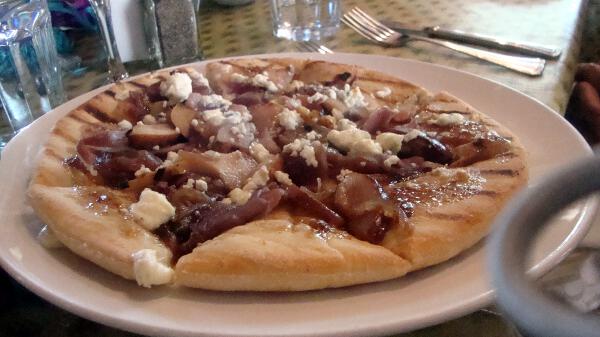 Candace (my matron of honor) ordered the fig and prosciutto pizza, as did a lot of people.  If you try 300 East, you've got to try this.  It's one of my favorite things on their menu.  Salty sweet combos are always my favorite!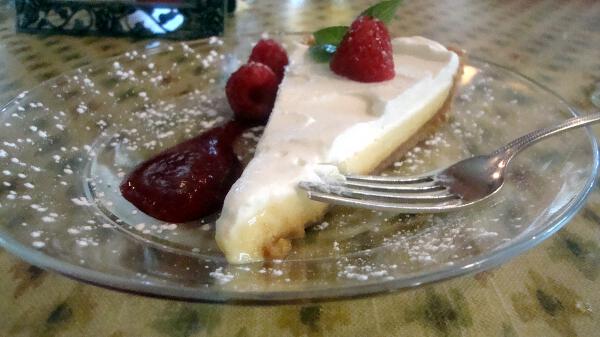 I had about 1/2 of my key lime pie.  It was the perfect balance of sweet and tart.  Scrumptious.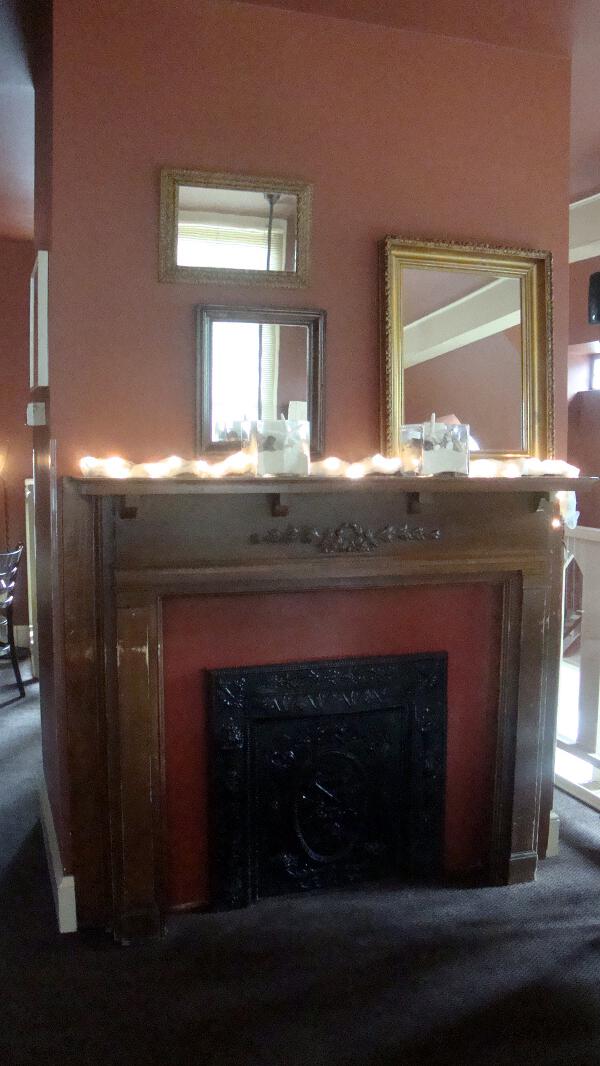 300 East is so cute!  I love the fireplaces with iron fronts, all over the old house turned restaurant.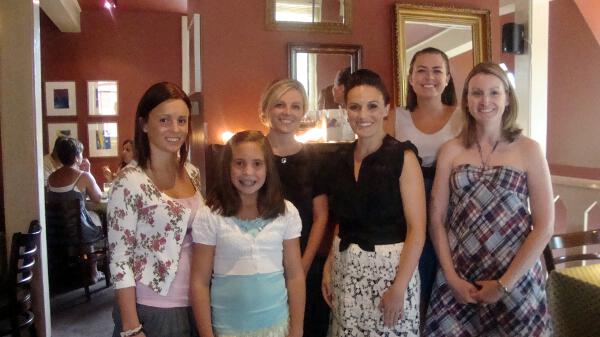 Just the bridesmaids (and me!): April, Ashlyn, Candace, me, Jen, and Brittney.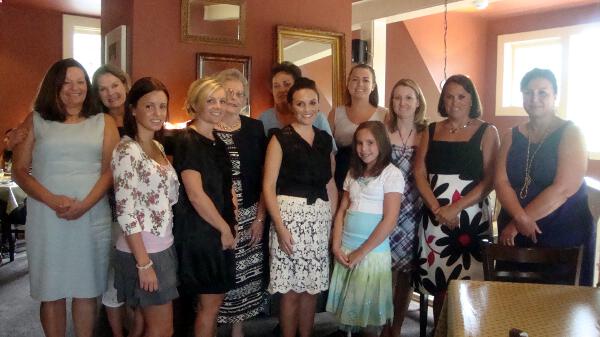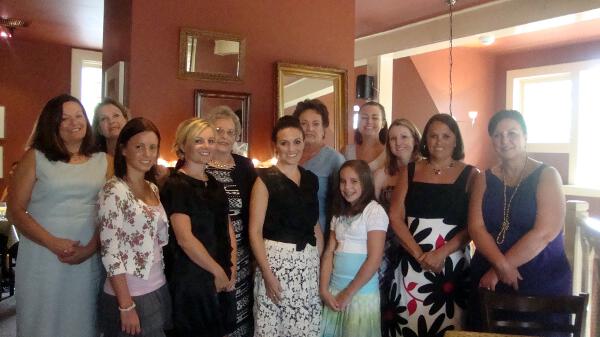 Two shots of the whole group.
I had a really nice time talking to everyone and involving Brad's mom and grandmother into getting to know the women in my family and my friends.  Each of my bridesmaids are so special to me, so honoring them and the commitment it takes to be a bridesmaid was very important to me.  It was also really nice to have a wedding festivity that didn't center around me.  I prefer to be the hostess way more than the guest of honor.
300 East was a dream to work with.  The food was perfect and the staff was extremely helpful and hospitable.
After the bridemaid luncheon we all hit up this super cute consignment boutique around the corner, called Sweet Repeats, which has really swank, barely used stuff.
It was a great day to celebrate with the women I love! 🙂