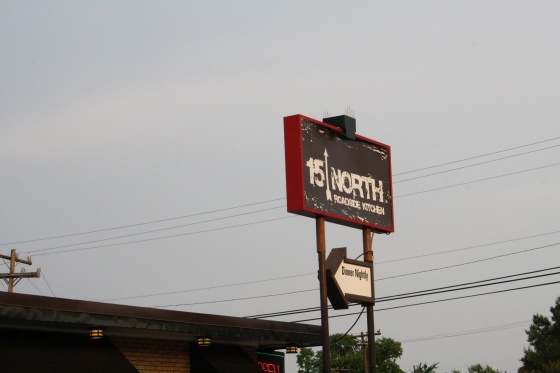 Yesterday evening, I met a few of my good girlfriends at 15 North Roadside Kitchen for a wine pairing meal.   I planned the event , getting input from my friends and working with the Executive Chef to set our menu for the evening.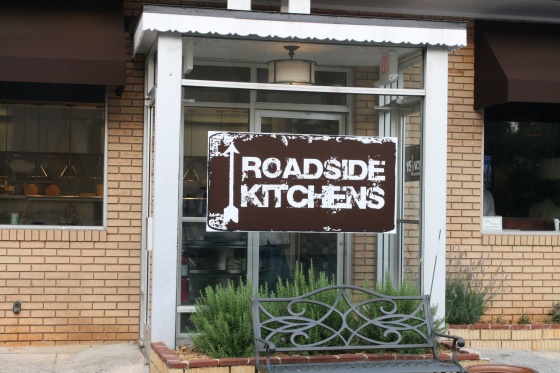 15 North is one of those restaurants that doesn't look like much on the outside, but proves thatlooks can be deceiving.  Inside, it is minimalist chic: clean straight lines, shades of gray, sophisticated, and masculine.
Perfect for a lady's night out.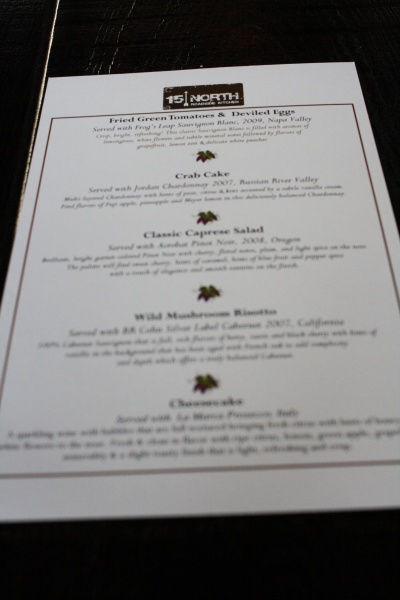 Our menu was made up of five different courses, each paired with a complimentary (very generous) half glass of wine chosen specifically to compliment the paired dish.
15 North took the care to print our menu for each place setting.  They are all class.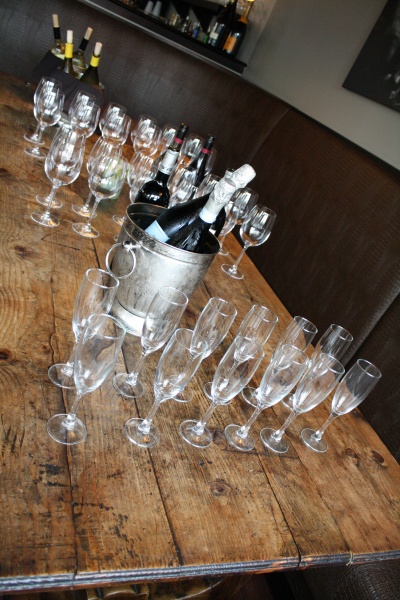 To the right of our table, our waiter had all of our wines and glasses set out and ready to go.
When new and old friends get together, some of whom have never met, there is plenty to talk about before dinner.
1st course: Fried Green Tomatoes served with a red pepper sauce, bacon, and a handsome scoop of pimento cheese.
If you know my husband at all, then you know that I had the remaining pimento cheese boxed to take home to him.  The pimento cheese was delicious; and actually didn't contain any mayo, according to the chef.  The fried green tomatoes were perfectly crispy and not greasy, which some restaurants find difficult to accomplish.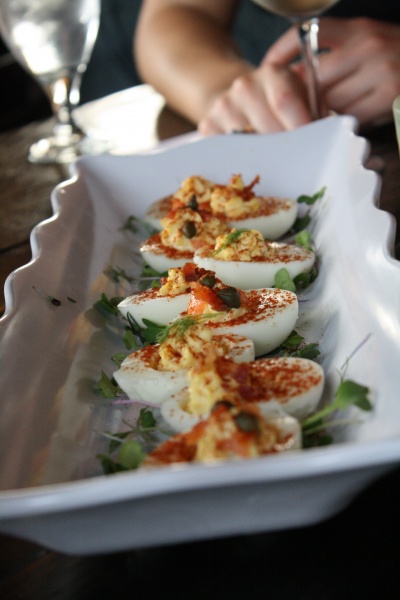 Also part of the 1st course: Deviled Eggs with smoke salmon and capers or topped with bacon.
Wine pairing: Frog's Leap Saugvignon Blanc, 2009, Napa Valley
The saltiness added by both the salmon and the bacon was a nice compliment to the creamy eggs.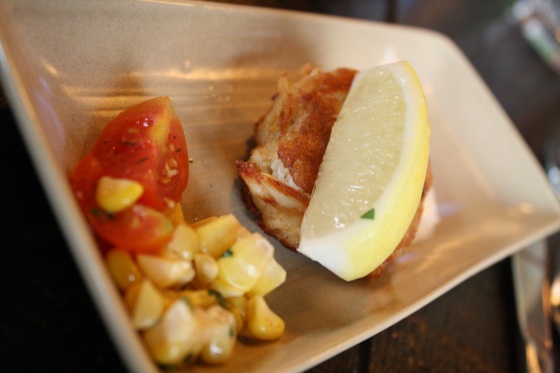 2nd course: Crab Cake with corn cut straight from the cob and cherry tomatoes.
Wine pairing: Jordan Chardonnay 2007, Russian River Valley
I'm typically not a huge fan of Chardonnays but I liked this one because it was oaky, not buttery.  The crab cake was chock full of lump crab meat, light on the breading.  Just perfect.
Third course: Classic Caprese Salad with a sweet balsamic reduction.
Wine pairing: Acrobat Pinot Noir 2008, Oregon.
Mmmm, one of my favorite salads ever.  So simple, yet so tasty.  The combination of basil, mozzarella, and juicy tomato is such a nice summery treat.  It's almost like I'm back in Italy again every time I get a taste of crispy basil.   Also, Pinot Noirs from Oregon are exceptional, in my opinion.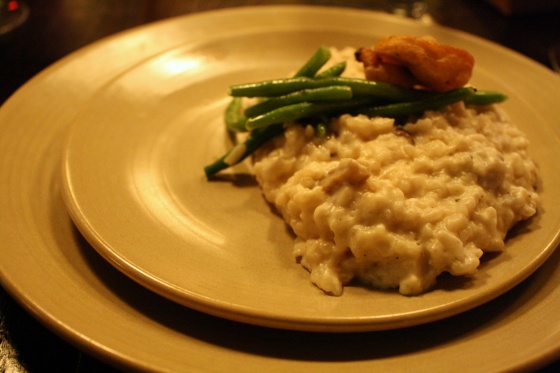 Fourth course: Wild Mushroom Risotto with hericot vert and a fried crispy shroom.
Wine pairing: BR Cohn Silver Label Cabernet 2007, California
Just when I thought things couldn't get better, the chef wowed me with this dish.  I usually like risotto at restaurants, but never as much as my own homemade risotto.  This risotto blew mine away. It was better. Hands down.  It was so creamy and luxuriously rich.  I'm thinking the secret ingredient is heavy cream.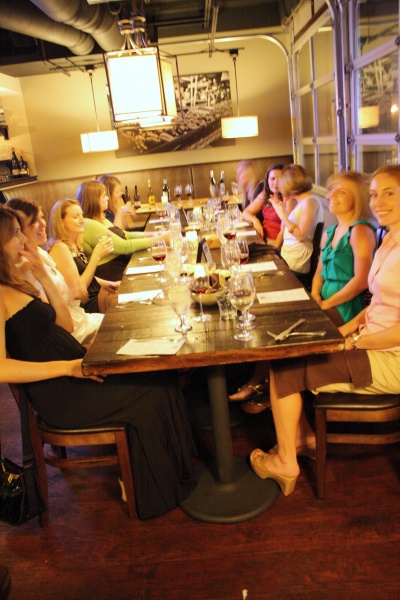 There was no shortage of good food, good wine, and good company during our meal.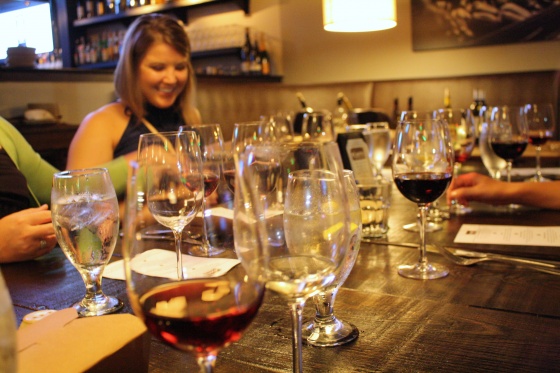 There was also no shortage of glasses.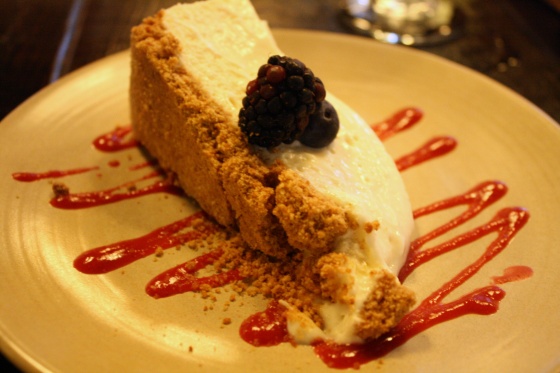 And finally dessert was served!
Fifth course: Cheesecake topped with blackberries and served with a raspberry sauce.
Wine pairing: La Marca Prosecco, Italy
The cheesecake was creamy and a little lighter than some of the heavy dense cheesecakes I've eaten.  I loved that this was paired with prosecco.  Prosecco reminds me of my honeymoon in Italy and I just love how crisp and bubbly it tastes.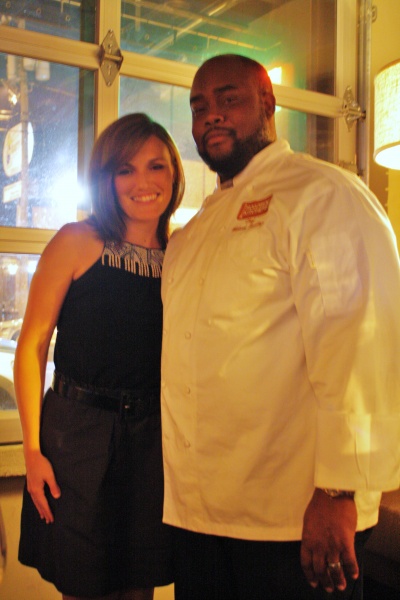 At the end of the meal,  I took a photo with Executive Chef Michael Bowling, who truly went all out to make our dinner wonderful.
Chef Bowling, thank you so much for treating us to your wonderful talents and accommodating our every request.  We had such a wonderful time!
15 North Roadside Kitchen treated us so well, and they will do this for anyone.  Prices for our five course wine pairing dinner were $35 a person and we left feeling like we had been given the royal treatment.  How perfect would a dinner like this be for a celebratory occasion or a nice evening with good friends?
If you're a Charlottean who enjoys good food and being treated well, this is definitely a must-try.
And just like that, my night did a complete 180 from high-class dining to doing the vocals for Rock Band until 3 am. 😉