Friday night, I was invited by Gwen to try out Eez Fusion and Sushi in Birkdale Common north of Charlotte.  Of course, I jumped at the chance.  I love sushi and Gwen (who is in marketing) is so nice to include me in trying out her client's restaurants and services.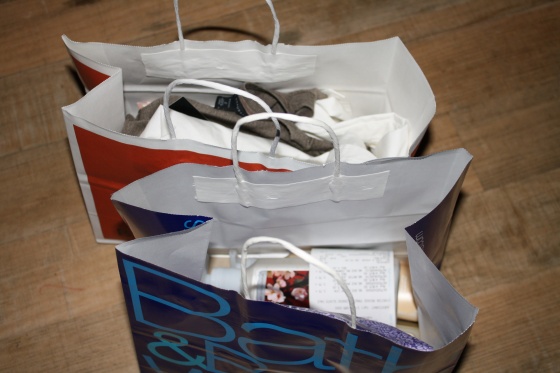 Before dinner, Brittney and I took advantage of Birkdale's shopping.  I didn't buy anything exciting: a much needed white button-up from Banana Republic and a tan cardigan (I always need those), some soap from Bath and Body Works, and my first Christmas gift of the year.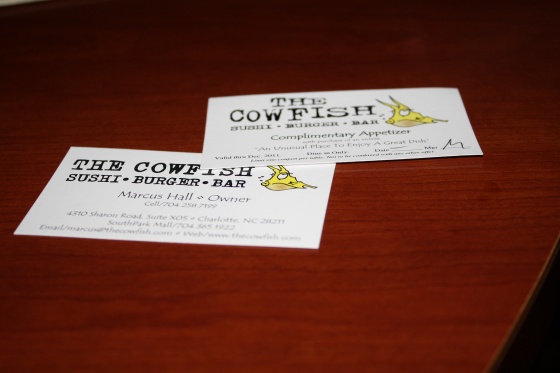 Marcus Hall, the owner of Eez invited us because he is about to open a really unique restaurant in the South Park area of Charlotte.  The new restaurant, Cow Fish, will be both a burger bar and sushi restaurant.  This was an opportunity for several other bloggers and I to get to know the owners and the feel of their restaurant, so we would be eager to try Cow Fish once it opened.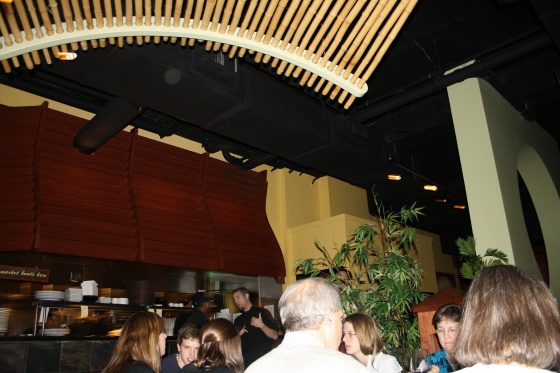 The decor was Asian inspired but also modern.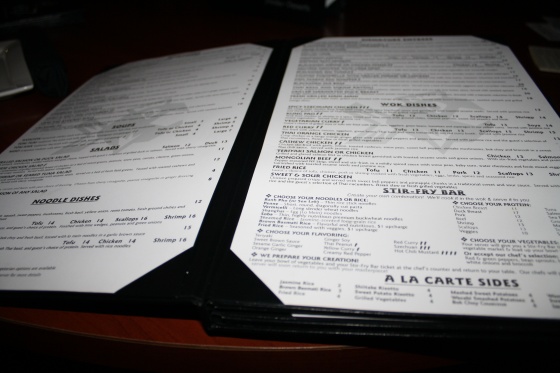 The menu was expansive, to say the least.  They even have a choose-your-own sushi ingredients.  I have never heard of such a thing!  Very unique.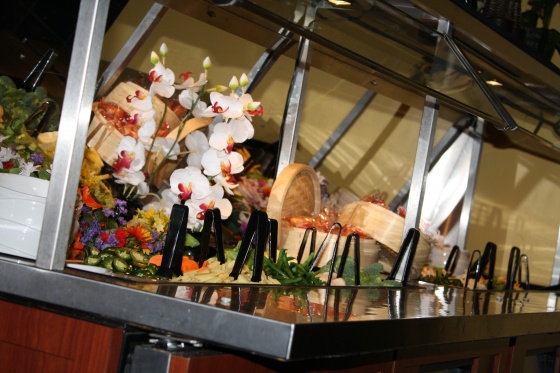 They also had a build-your-own stir-fry bar. I love restaurants that allow for customization, because I know what I like.  Normally, I would jump at the chance to make up my own dinner, but the menu items at Eez sounded so delicious, I thought I would try out the most popular dishes for my first time.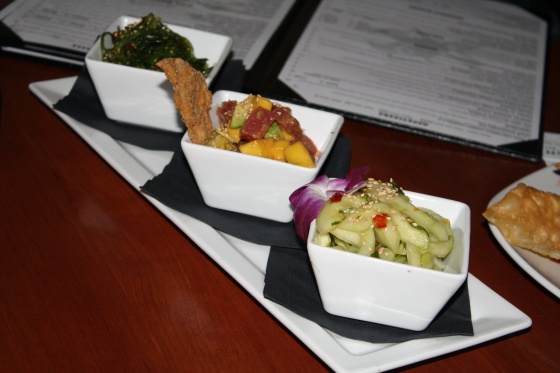 Marcus was way ahead of me.  He chose several beautiful appetizers to send out to the table.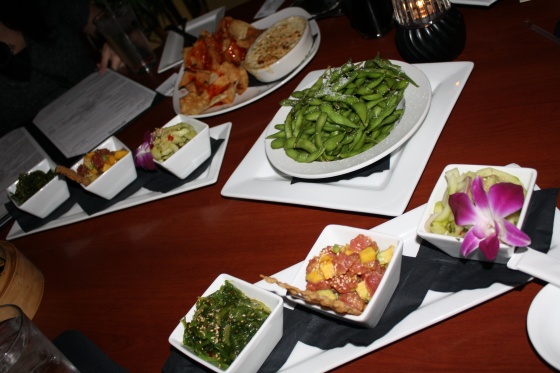 Seaweed salad, raw ahi tuna and mango salad, cucumber and onion salad, and edemame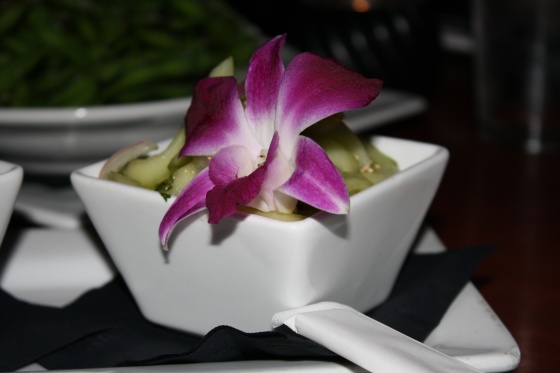 Little touches like this, make all the difference to me.  I love the care some restaurants put into making their food pleasing to the eye as well as the palate.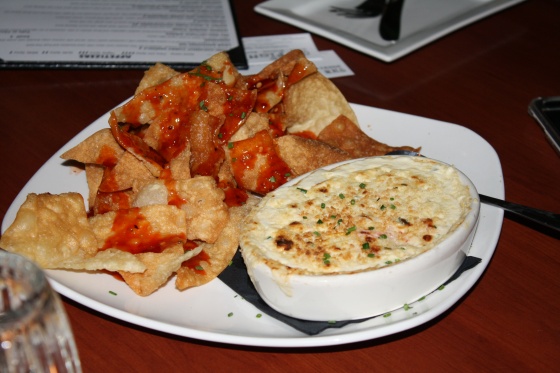 Then there were wontons with a sweet sauce and crab dip.  Yum is all I can say.  This dip reminded me so much of the crab dip Brad's mom often makes.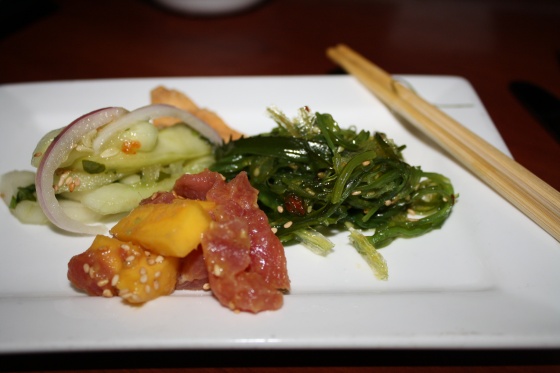 I had a bit of everything.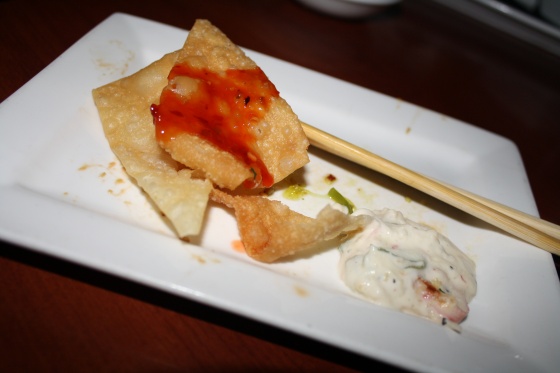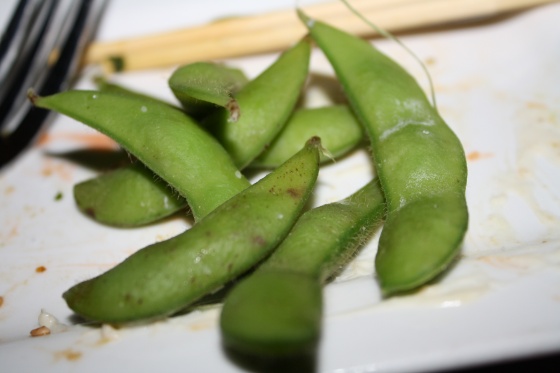 Plus one more bite of the crab dip.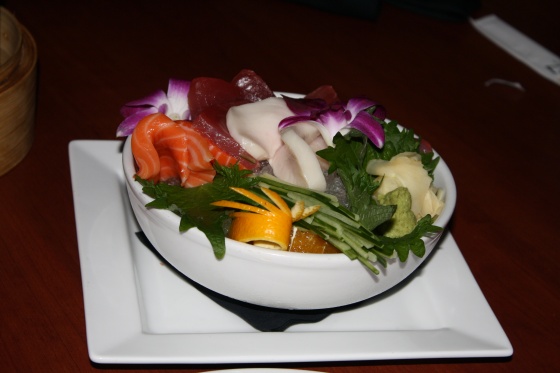 Then, even more appetizers arrived at our table.  This was a bowl of sashimi: tuna, red snapper, salmon and white fish.   I was the only person who really like sashimi, so I was in sashimi heaven.  Britt was adventurous and tried some as well.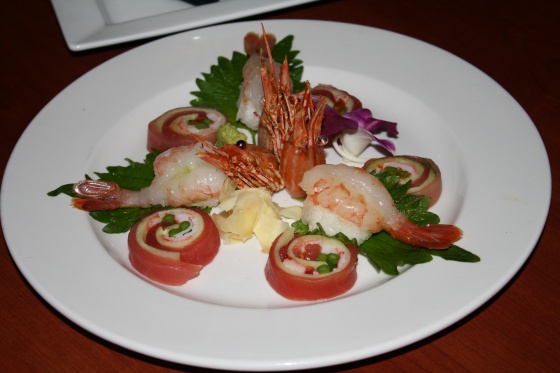 I tried some items from this plate as well: shrimp nigiri and an interesting roll, which I think featured ahi tuna (?).  There was crawfish/crayfish/crawdads (depending on where you're from) in the middle for decoration.
I  probably could have stopped at this point and went home perfectly full.  BUT, it was time to choose entrees and I just had to try one of their fusion rolls.  Plus I planned to run 16 miles in the morning, so I needed to do some carb loading to pull off a successful run.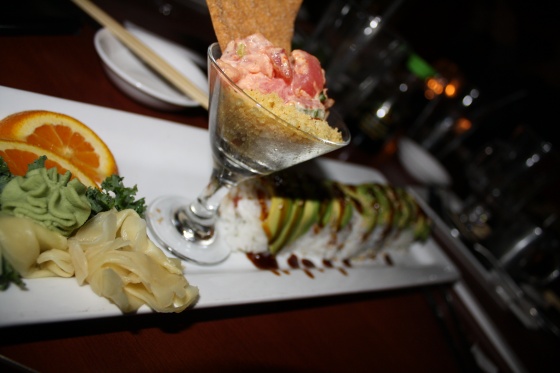 Enter the Little Miss Moffet roll.  Oh man was this good.  It featured a little bitty martini glass with ahi tuna, a wonton, and tempura flakes.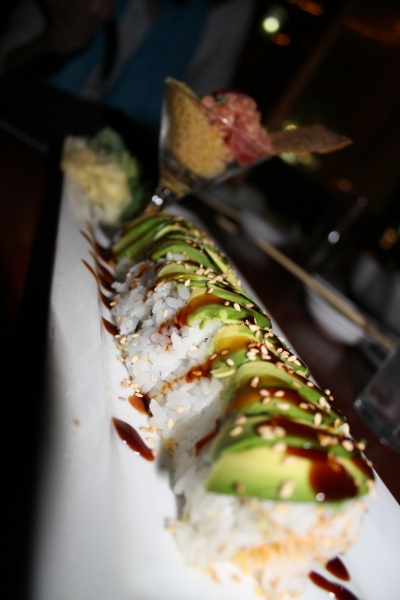 Then, spicy tuna with rice, sesame seeds, avocado, and eel sauce.  Eeeeel sauce.  Yum.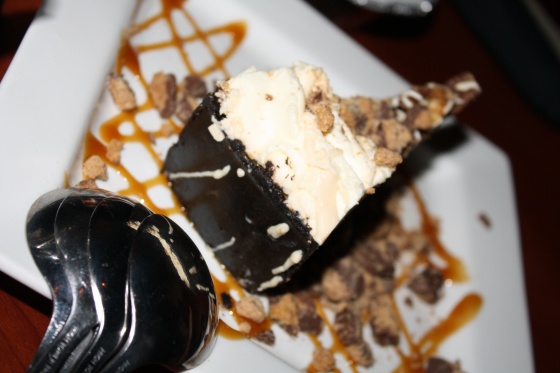 Someone decided to order dessert while I was in the restroom.  I think Katie made the ultimate choice; a girl after my own heart.  She ordered the peanut butter pie in an oreo crust.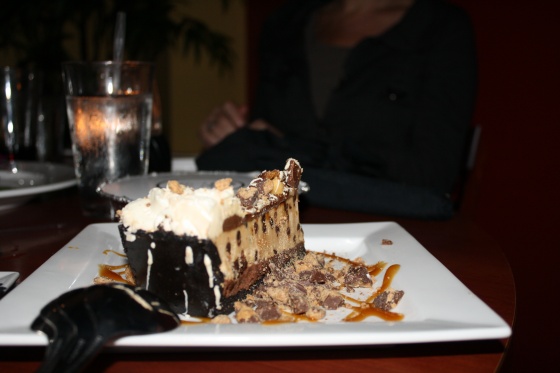 Oh my geez, this was good.  It actually reminded me so much of a pie experiment Brad and I did over a year ago that featured a PB filling, PB Reeses cups, and an oreo crust, just like this.  I had two life changing bites, then sat on my hands to keep from reaching again for the spoon.  Of course, there's always the classic pie eating method of face down in the pie with no utensil.  But we were in a restaurant so I saved my pie eating talents for another occasion.
Four happy bloggers with our bellies full: me, Brittney, Katie, and Lindsay, who I met for the first time that night.  After such a delicious experience at Eez, I can't wait to see what happens when they throw burgers in the mix.  I'll definitely be checking out Cow Fish soon when it opens (slated for Fall 2010 so very soon).
Thanks so much, Marcus and Gwen, for a wonderful night out and the staff at Eez for taking such great care of us!