Last night, I met up with some lovely ladies to try out Georges Brasserie for the Queen's Feast Restaurant Week.  I love restaurant week, which happens two times a year in Charlotte.  You get three courses for only $30 a person at some really fabulous restaurants.  Last year we went to Customshop and Fiamma, which were both wonderful experiences.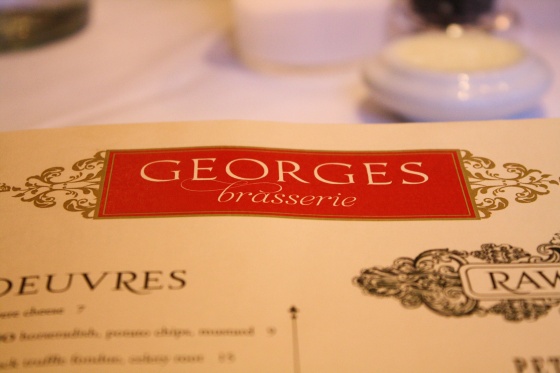 I actually suggested Georges Brasserie because I really love French food.  My best French food experiences have been in Canada (Montreal and Vancouver) because I've never actually been to France. 🙁  I was excited to see what Charlotte had up it's sleeve when it came to French food.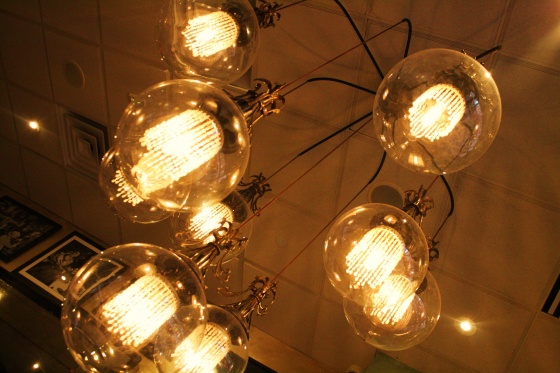 The decor was cozy and romantic.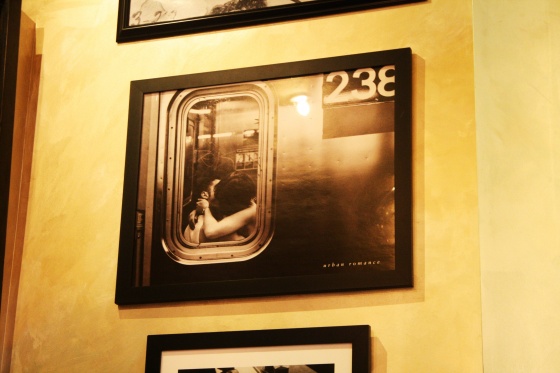 When we sat down at our table, someone commented, "I feel like I'm in a Valentine's Day card" and I concurred.
The menu is set at restaurants during Restaurant Week but most offer abotu 3-4 choices per course.  Here's the menu: what would you have chosen?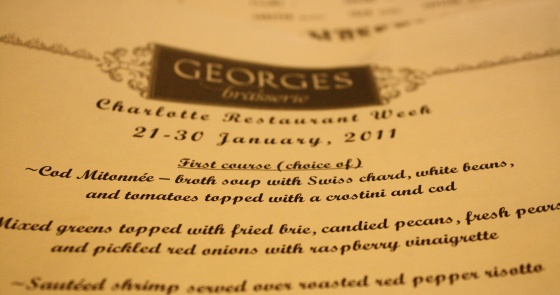 First Course – I chose the mixed greens with fried brie (you know the fried brie got me).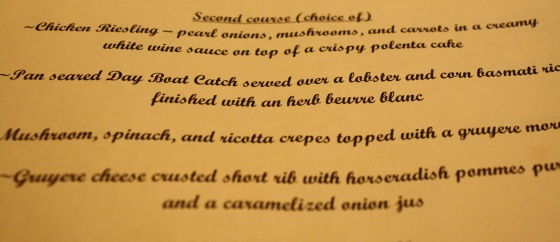 Second course: I chose the chicken Riesling with the polenta cake.  I usually don't order chicken in restaurants but I was in a chicken mood.  Plus some of the best chicken I've ever had has been in French restaurants.

Third course:  I chose the bittersweet chocolate mousse.  I am so predictable. 😉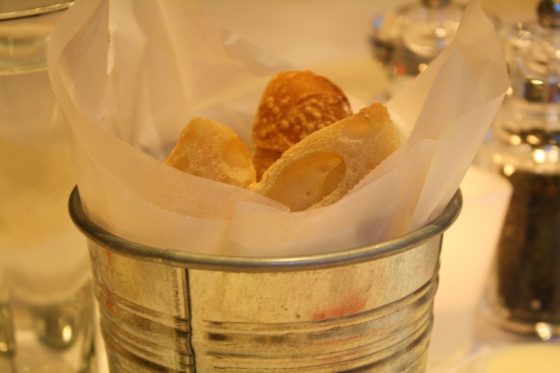 Of course, there was crusty bread…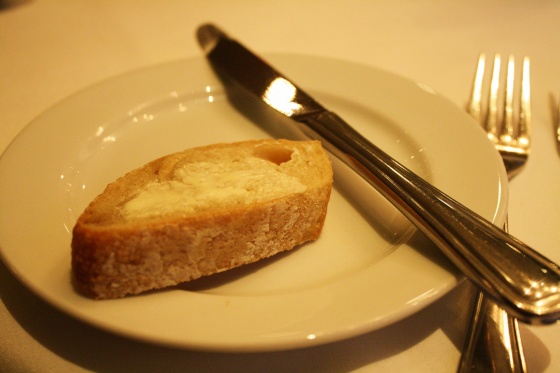 …with butter sil vous plait.
Creative water bottles add such a special touch to a table. I forgot to grab some water after my run, so I think I ended up drinking at least two of these bottles.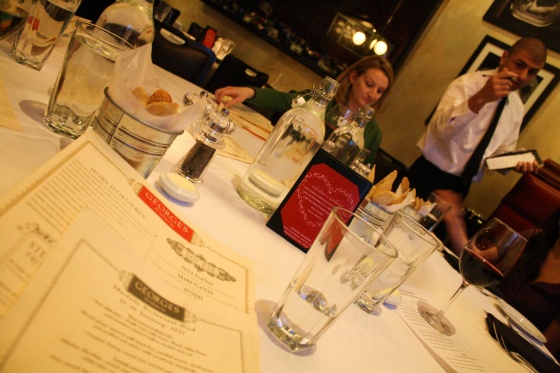 The conversation was great as we waited on our first course to arrive.  Our waiter's name was Sahid, which all of us past Lost watchers picked up on immediately.  He was very accommodating and was a good sport.  A bunch of foodies can make for a difficult or entertaining table.  Hopefully, he thought we were entertaining.  Thankfully, the restaurant was also notified that we were bloggers so we were seated near the window for easy access to natural light and nobody seemed surprise when everyone whipped out gigantic DSLR cameras.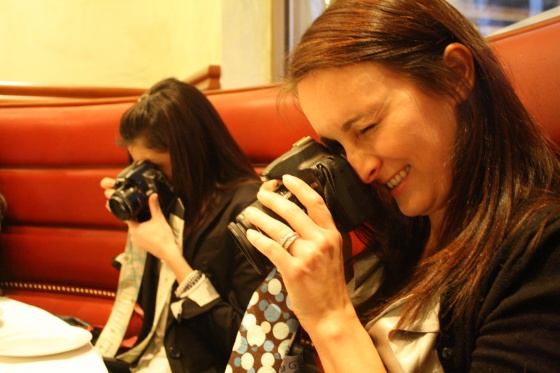 Which happened as soon as our first course came out.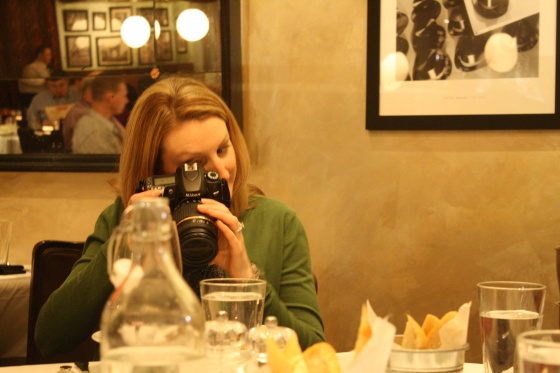 Eating with other bloggers is always so much fun.  There are safety in numbers.  Nobody can pick on our photo-taking when there is a whole herd of us. 🙂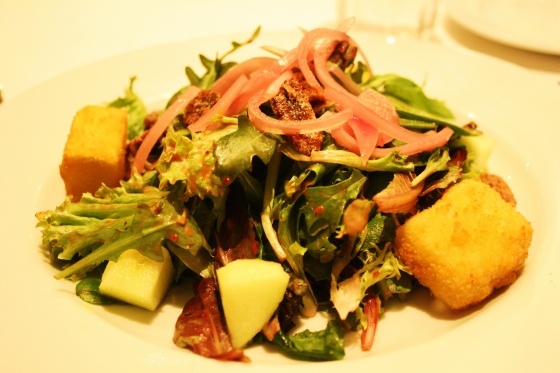 My mixed green salad was delicious, but actually came with green apples instead of pear (which they notified us before we ordered).  The fried brie was so delicious.  The only thing I regretted was not ordering my salad dressing on the side, which was completely my mistake.  I tend to like less dressing than restaurants serve dressed on a salad.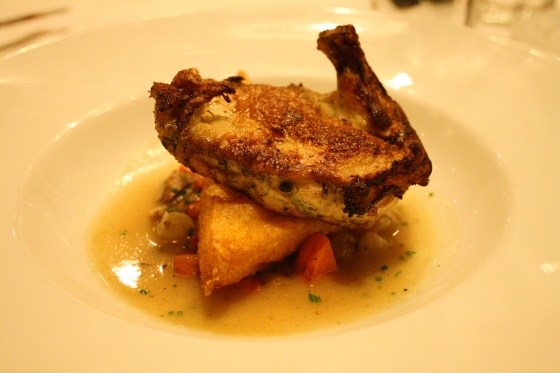 Somehow I missed that the chicken was crispy, which meant that it still had on the skin.  It was delicious, but the polenta cake was even better.  This reminded me that I haven't made polenta in a very long time.
I also took advantage of taking photos of my neighbor's plates.  Caitlin chose the spinach and mushroom crepe.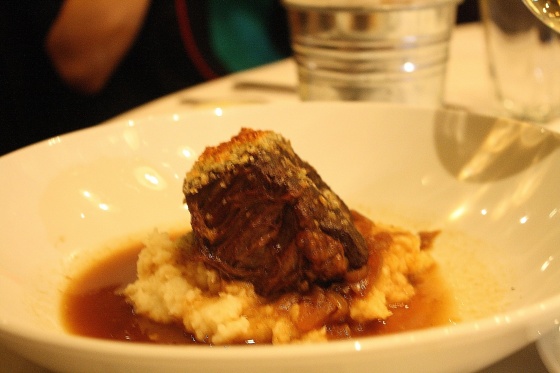 Diana chose the short rib.  Both looked absolutely amazing.  Brittney and I found out that we actually ordered the exact same thing!  We were sitting far across the table from each other so we didn't know until our food came out.  This is so typical of us.  We do this all the time, which makes us good sharing buddies when we're able to sit beside each other.

Brittney, Jaclyn, Heather, Caitlin, me, Diana and Brittany.
You didn't think I forgot about dessert, did you?  I asked our waiter to bag mine up so I could take it home.  My stomach wasn't feeling 100% and I actually contemplated saving this until tomorrow.  I think it sat in the fridge all of five minutes when I got home.  I brought it home to share with Brad, so I whipped it out while we enjoyed the latest Jersey Shore.
Georges Brasserie was excellent.  Somewhere I will definitely try again even if it's not Restaurant Week.  It was really nice to meet Jaclyn and Heather and enjoy some girl time. What a nice way to enjoy the end of the weekend!
What was the funnest thing you did this weekend?
***
Don't forget to enter my Tropical Traditions Coconut Peanut Butter giveaway!