As soon as picked up my free mash potatoes from Earth Fare yesterday, I knew just what I wanted to do with them.  Something new…something I've never made before…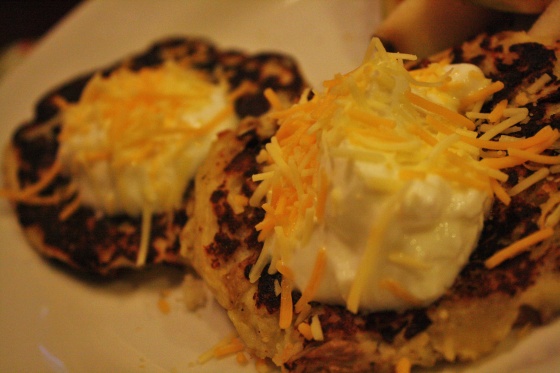 Mashed potato pancakes!
Mashed Potato Pancakes (serves 2)
1 1/2 cups leftover mashpotatoes
3/4 cup skim milk
1 1/2 Tbsp. unbleached all purpose flour
1 tsp. Garlic Gold (or garlic powder)
1/2 tsp. salt (may need to adjust depending on the amount of salt in the mashed potatoes)
1/4 cup egg whites
Combine all ingredients and mix well.  Scoop about 1/4 cup of mixture out and put on a well-oiled (or buttered) pan at medium  high temperature (cast iron works best).  Once pancake is easy to lift with a spatula (~4 minutes), flip and cook the other side.  Repeat until all of the potato mixture is used.
This makes about six small pancakes.  I actually made four small pancakes and one that was too big.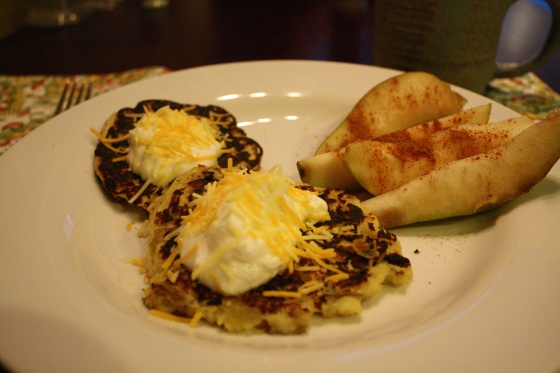 I ate mine with Greek yogurt and a little bit of shredded cheese.  I also had 1/2 sliced pear with cinnamon on the side.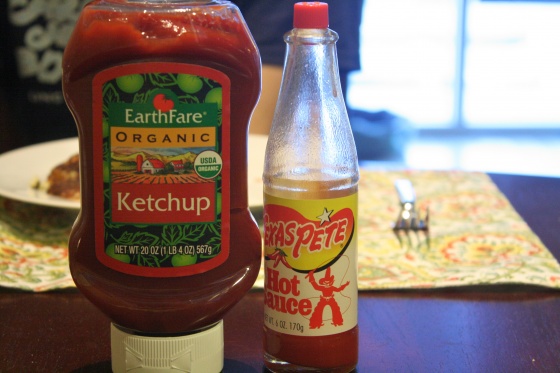 Brad ate his with his favorite condiments.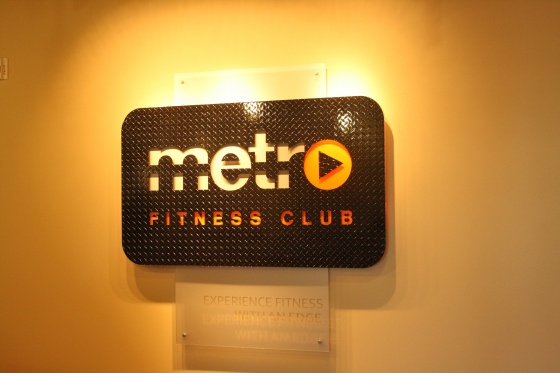 After breakfast, I headed over to Metro Fitness Club to go to a Turbo Kick class I was invited to attend.  I'm not a member of Metro, but I wish I was.  It is a super nice facility.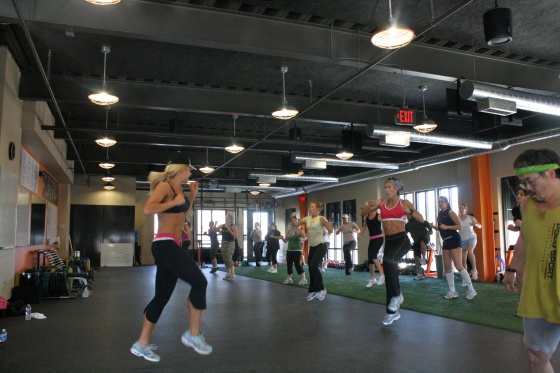 The Turbo Kick class is not regularly taught at Metro and it was a whole new experience for me.  The leader of the class was Anna Koiman, a local TV morning show personality.  I've taken her bootcamp classes before, so I was excited about this class.  A group fitness leader can really make or break your workout and Anna is super peppy and fun.  I had a great time!
Besides the fact that I love working out with Anna, I also attended because I'm working on a series of articles for CLTBuzz.  I'm calling the series "New to Me Fitness" and I'm so excited to be writing for them.  After class, I was approached by some ladies from Charlotte Roller Derby.  They asked if I would like to attend a workout class they have on Sunday mornings. I was a little disappointed that no skates are involved, but it sounds like a lot of fun.  I secretly want to be in roller derby.  I'm a good skater and I obviously can take a fall.
After Turbo Kick, I headed next door to Fabo Cafe for a quick coffee and look what I found…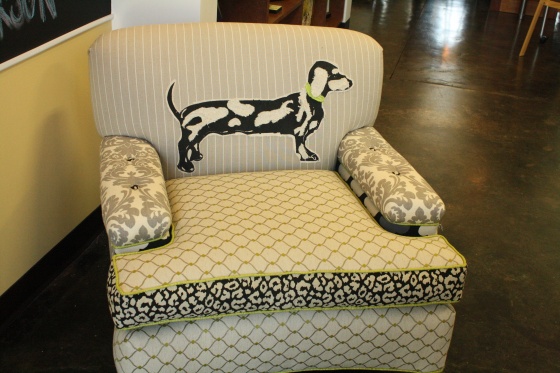 A dachshund chair!  How cute!  Everyone loves a sweet weiner dog.  I should have checked out the price tag.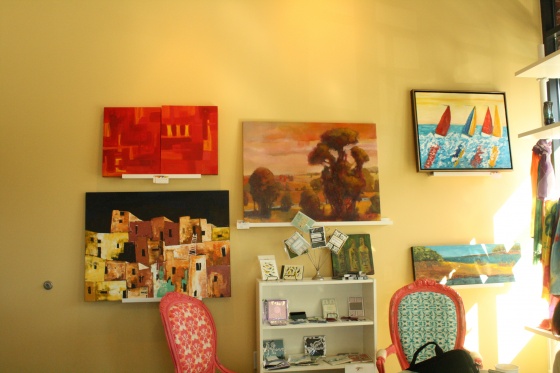 Fabo not only has coffee and cute chairs for sale.  They also display the works of local artists.
Crafts, pottery, and jewelry for sale are displayed all over the cafe.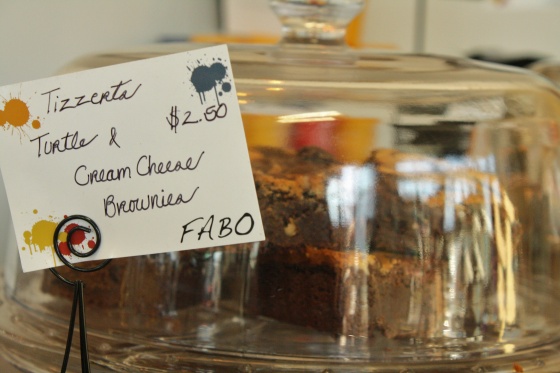 More importantly, they have a lot of delicious goodies, like turtle and cream cheese brownies.
I restrained myself, got my coffee, and hit the road.  I swung by the condo, showered, and headed over to Phat Burrito to meet Brad for lunch.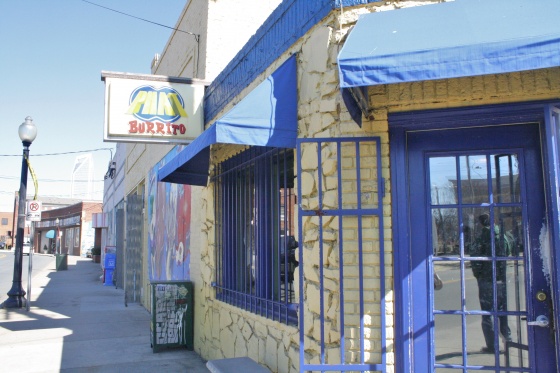 Phat Burrito looks a bit eclectic and has possibly the best quick Mexican food in town.   Yes, maybe even better than Chipotle.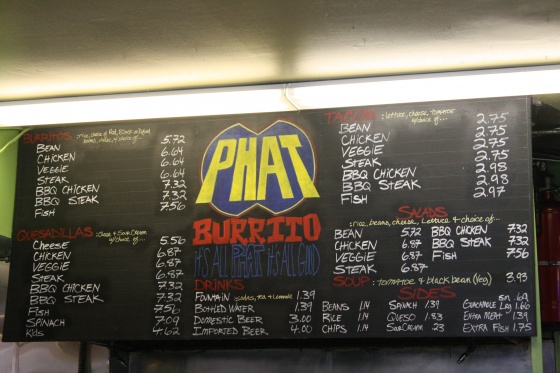 There's a lot of options on their menu.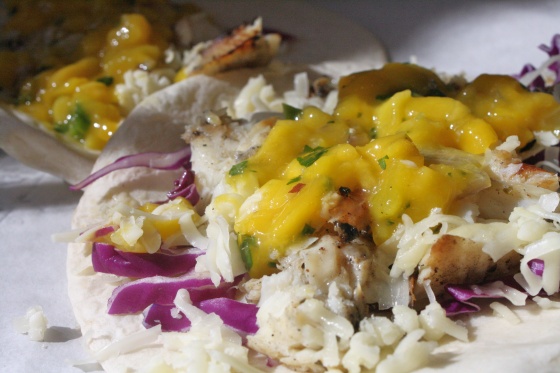 But I always stick to two fish tacos with mango salsa.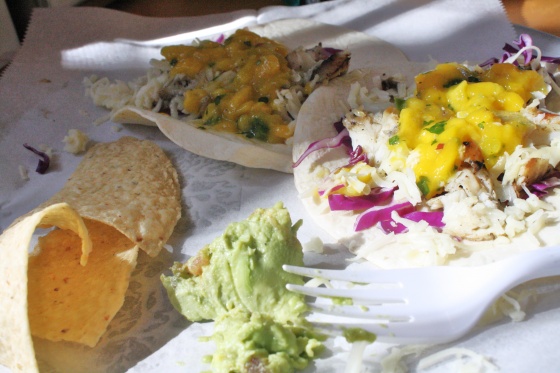 Brad also shared a few chips and his guac with me.
Some friends also joined us for lunch.  It was a quick meal so I had time to swing by American Apparel down the street before moving on to my afternoon plans.  I've never really spent any time in that store but I really liked it.  I got a couple of cute things on sale that will be perfect for warmer weather.
Come on warmer weather!
Hope you enjoyed your Saturday!