Brad and I have wanted to try Coco Osteria, a little Italian cafe, for as long as I can remember.  It's one of the cute little Uptown restaurants that cater mainly to business people on week days, so it's often not open when I'm around.  We finally tried it today for lunch.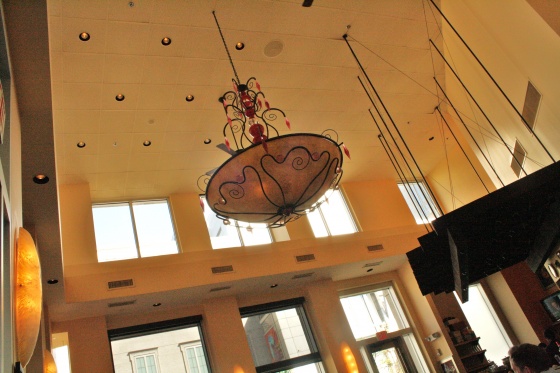 The restaurant is in a very small space, but the ceiling is so tall.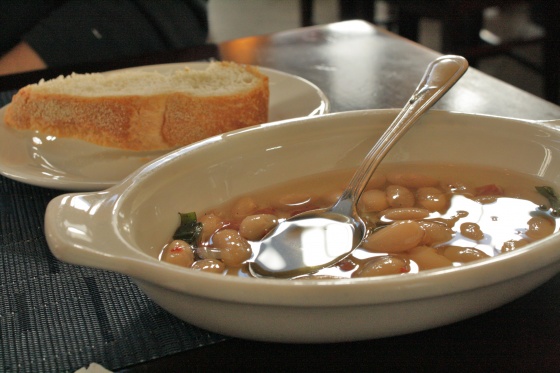 Our waiter brought out a mixture of cannellini beans, olive oil, basil, tomato, and onion to spread on Italian bread.  Brad absolutely loved it and immediately asked if I could recreate it.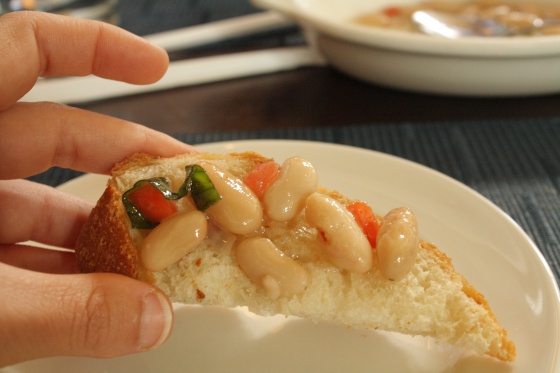 I had just a couple of bites.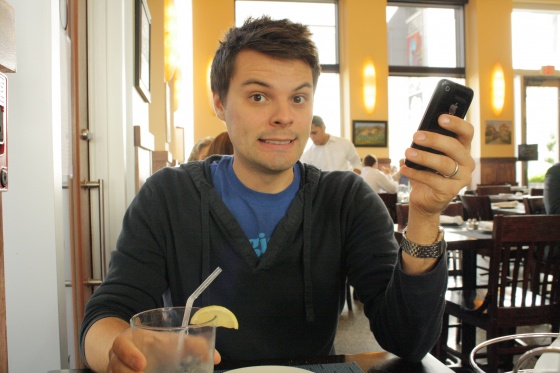 Brad with his other appendage.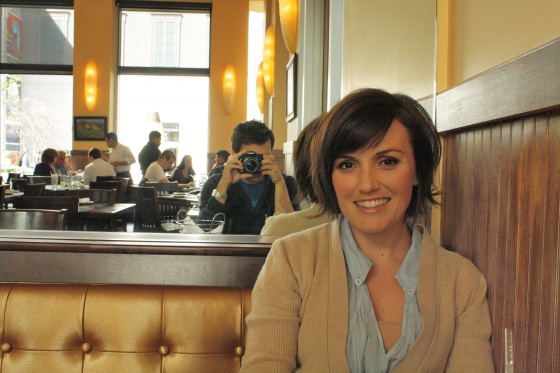 Mirrors always make for more interesting photo opportunities.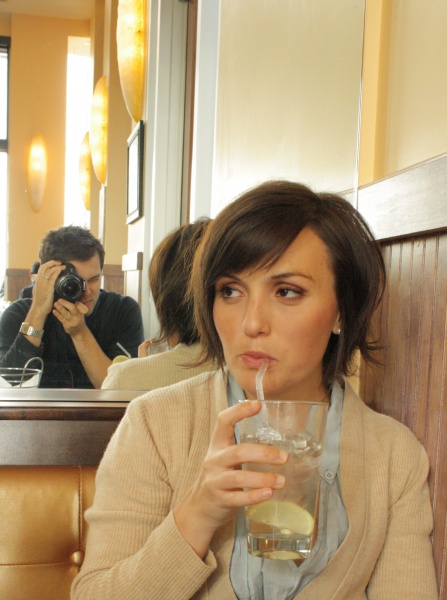 Caught off guard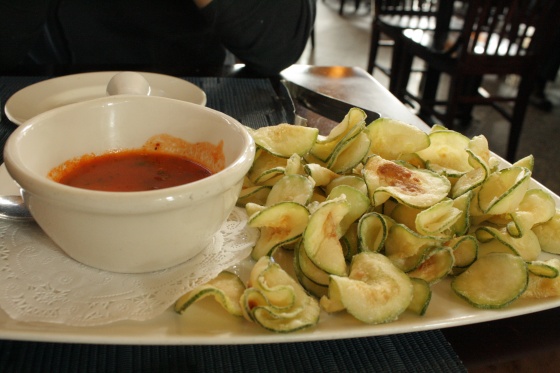 Brad also ordered the zucchini chips served with maranara.  I liked these but they were a tad greasy and a little too salty.  I had a few bites.  I pretty much like anything dipped in maranara.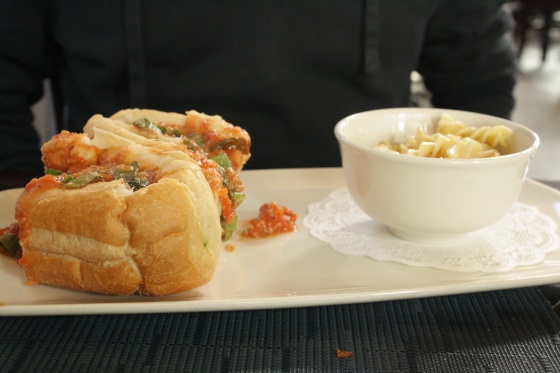 Brad ordered the meatball sandwich with pasta salad.  I had a bite.  It was pretty good and the bread was very soft and fluffy which is best for saucy sandwiches.  Soft bread really soaks up the sauce so it's less messy.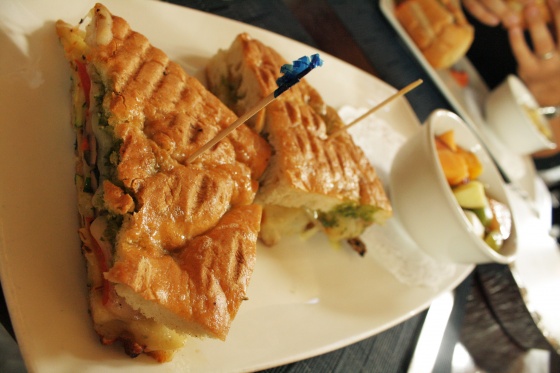 Brad found the vegetariano panini and told me he thought it sounded like something I would like.  He was right. 🙂
It had mozzerella, pesto, zucchini, red pepper, and eggplant.  Right up my alley. 😉
I had some of the best fruit salad on the side.  Why was it the best?  Because it had nectarines, kiwis, and only one small piece of pineapple.  Everyone thinks I'm crazy, but I really do hate pineapple.  It's pretty much unavoidable in restaurant fruit salads, so I count one piece as a success.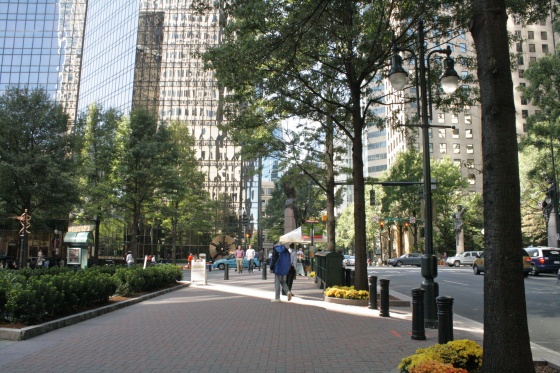 Outside, Charlotte looked like fall and felt like fall.  We had a cold front come through last night so hopefully the 80 degree weather is so over.  I'm so over it anyway.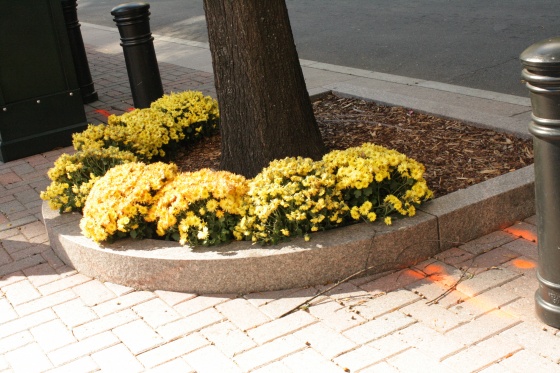 After lunch, Brad told me I could have my choice between fresh flowers or 10 hot dogs.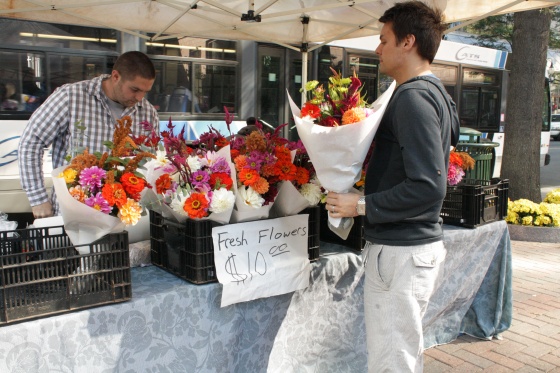 I chose the fresh flowers of course. 😉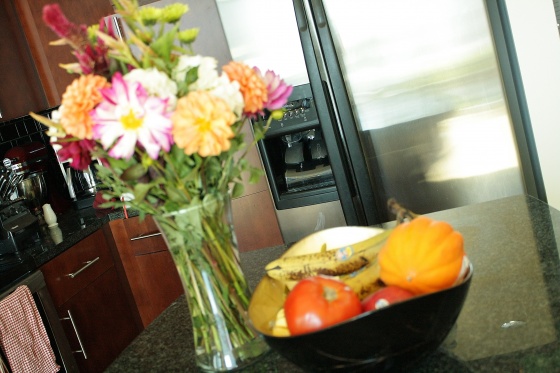 Flowers and fruit (and a vegetable) make my counter top so pretty.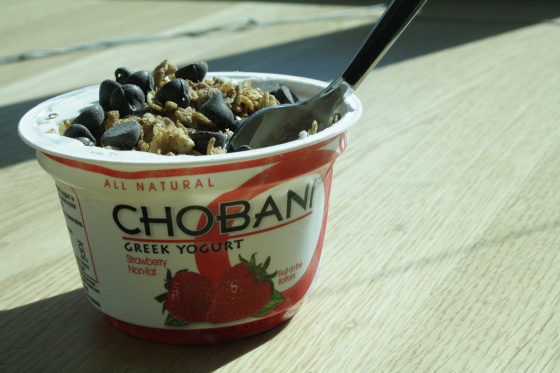 I ate half of my panini because I've had a ravenous sweet tooth today and knew an afternoon snack was a necessity.  Enter strawberry Chobani, a sprinkle of Uncle Sam's Cereal for crunch, and chocolate chips of course.
If anyone is keeping score, this is my third serving of chocolate today.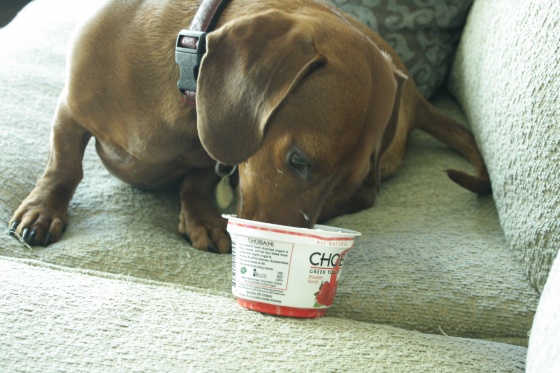 Rascal can't have chocolate but he sure loves Chobani.  Don't worry Brad, no couch was harmed in the making of this post.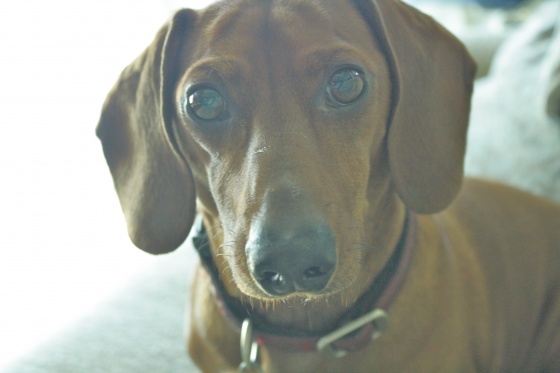 Can you spot the leftover yogurt on Rascal?  You should have seen him from a side profile. Long snouts were not made for cups of yogurt.