…to say the least.
I'm going to fast forward a little because in order to cover all of the main events of this weekend, none of the little details are going to fit into this post.
I worked really hard on my surprise for Brad all Saturday, eight hours to be exact, then rushed off to dinner with friends, leaving my wallet behind.  Thank goodness for friends who cover your tail when you need them to and waiters who know that I'm over 21 and need a drink.  🙂
Halfway through my breakfast this morning, I got a phone call from my mom.  She told me that my aunt's house had been broken into and she and my younger cousin Ashlyn had actually came home to find this guy in their house. Everyone was okay.
I jumped in my car and headed to their house about thirty minutes away.  There I learned the whole story.  This guy broke into their house while they were camping and stayed there overnight.  Without getting into too much detail, he completely ransacked their house.  I just missed the police standoff by minutes, where they forced him out of my family's house. Needless to say, he is not a well and competent person.
I spent the morning cleaning with the rest of my family.  They're pretty shook up, but everyone is okay.  And that's what really matters.
I returned home and made lunch for myself around 1:30 pm.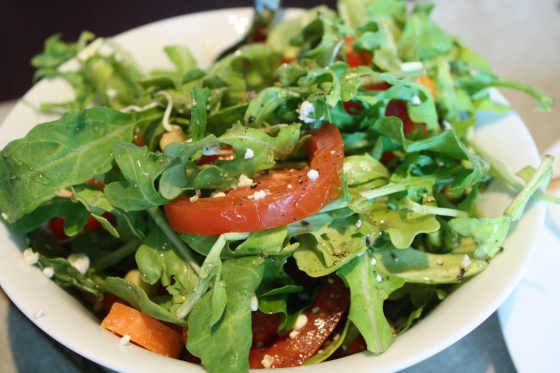 Salad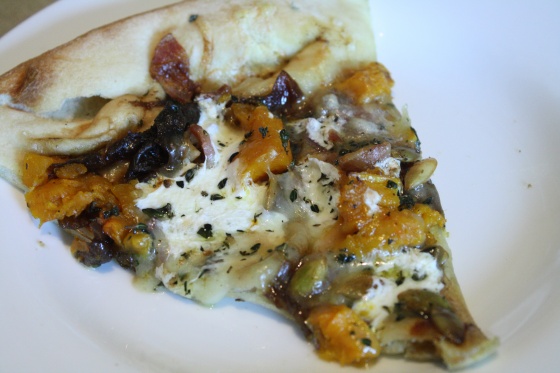 Leftover butternut squash, goat cheese, and bacon pizza (holy smokes this is delicious!) from 300 East.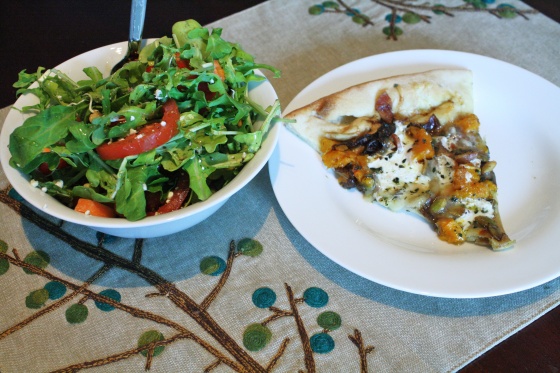 After lunch, I headed off to meet Caitlin, Nicole, and Jen for coffee, which also turned into a trip to Yoforia.  I apologize for the lack of photos.  I felt kind of zonked out from the day's events and the photographer in me just didn't want to come out.
Finally, Brad arrived home from his bachelor party in Savannah.  I asked him to pick up Rascal then swing by the house.
He was so surprised when he drove up to find that I had tilled, seeded, and fertilized the front and back yard!  Okay, so maybe my dad helped some too. 😉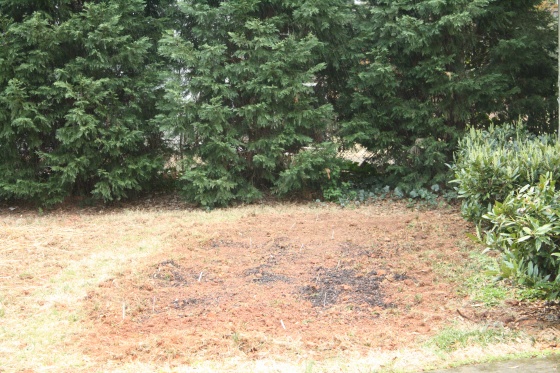 I also planted a garden!!!
How long have I wanted a garden?!?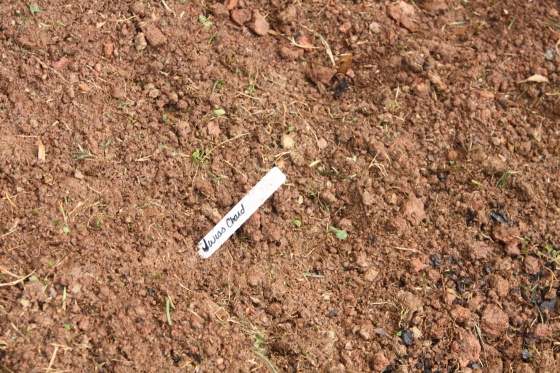 I planted…
– Swiss Chard
– Spinach
– Broccoli
–  Carrots
– Zucchini
– Squash
– Basil
– Watermelon
– Eggplant
– Tomatoes
– and Bell Peppers
The last three are actually in little pots at our condo.  According to the back of the seed packets, you are supposed to sprout them in little pots and then plant them.  Jen was an angel and helped me plan and plant my garden.
She also helped me plant a lavender bush and 20 ivy plants on the little hill in our front yard the leads down to the sidewalk.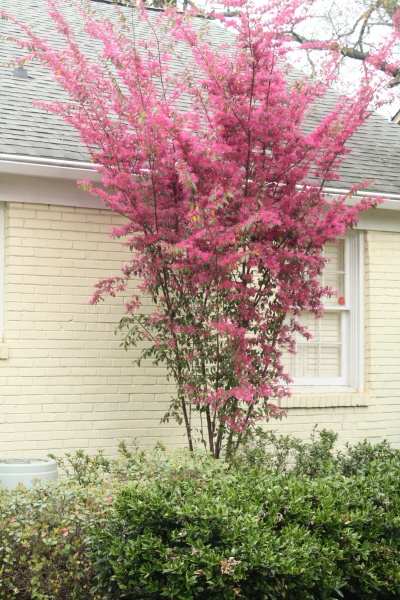 I have a lot of other plans for our yard too.  Hardly any of the bushes are flowering bushes, except for this gorgeous tree that I can't identify in the back yard.  It kind of reminds me of a crape myrtle, but it's not a crape myrtle.  Anyone know what it is?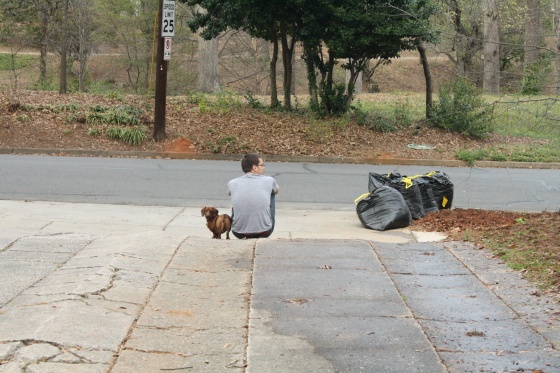 Did I mention that I also raked and bagged seven bags of leaves?
It's no wonder my left arm is feeling kinda funny today.
Brad and I turned on the sprinkler that I bought yesterday and went for a walk while the front yard was watered.  Then we returned, moved the sprinkler to the back yard, and headed over to Dilworth Neighborhood Bar and Grille for dinner.  We are slowly making our way through our collection of Groupons and DNBG was on our list of places to try.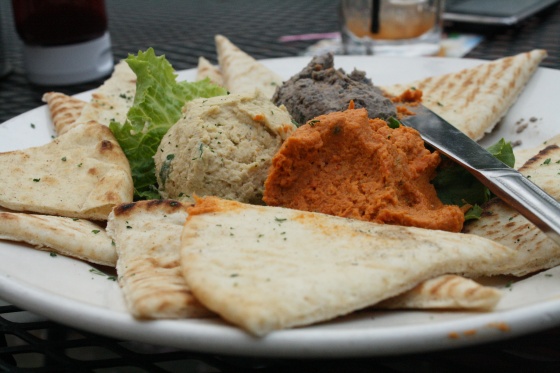 We ordered the hummus trio which was a lot prettier before I dug my knife into it.  The sundried tomato was my favorite.  The others were traditional and black bean.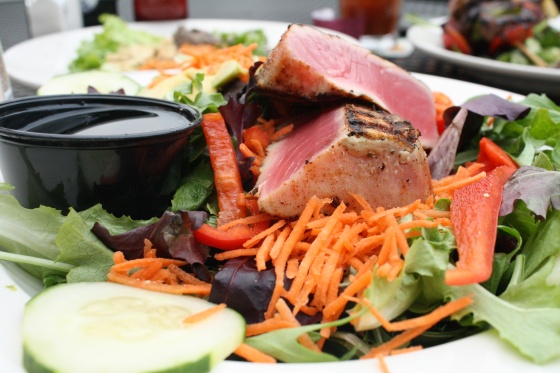 I ordered the ahi tuna salad cooked medium rare.  The tuna was perfect but the dressing was just so-so…a little on the tasteless side.  I also would have preferred a little more avocado, but was thrilled to see so many great veggies on my plate.  I love a restaurant that isn't stingy with the red bell pepper.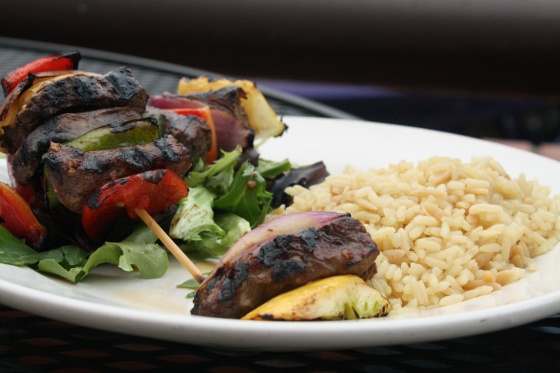 Brad ordered steak kabobs, which came with a rice pilaf.  I had a bite and it was very tasty.
We will definitely be heading back over to DNBG again, especially since they're within walking distance and extra especially since they're a Carolina bar.  Go Heels! 🙂
After heading back to the house to turn the sprinkler off, we went home to the condo to watch a bit of television on Netflix.
I am going to sleep so well tonight.  I'm hoping for a nice and easy Monday to help me recover from this weekend.  Getting to spend time Brad was definitely the best part. 🙂
How did you spend your weekend?  Any crazy stories to accompany mine?  Anyone else planting a garden this year?