Jen's birthday is on Thursday so last night a bunch of us got together to celebrate her birthday at Cowfish.
As much as everyone I know has raved about Cowfish, I had yet to try it.  Cowfish is a burger and sushi bar — quite an eclectic mix, no?  I have been to several sushi places in Charlotte and have never been very impressed with the quality of the fish or the selection of sushi.  That is, until I tried Eez Fusion and Sushi in Huntersville, which just happens to be owned by the same people who own Cowfish.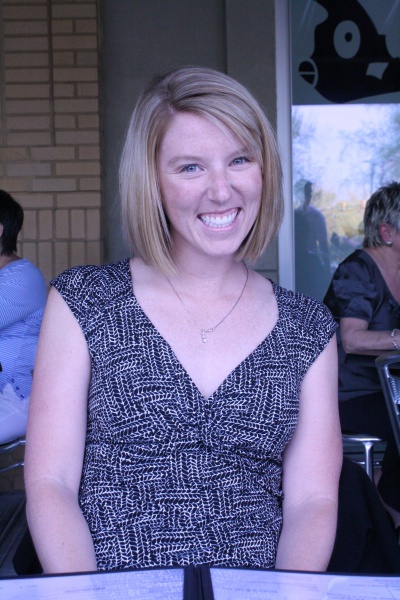 The birthday girl all smiles 🙂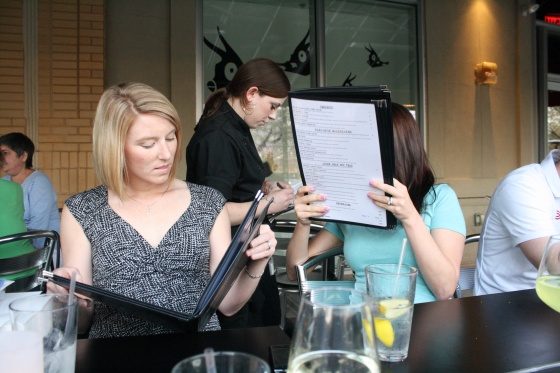 As soon as we sat down we got started by looking at their huge menu.  There are so many choices!  The cool thing about Cowfish is that you can go and enjoy your sushi and bring your picky friends and family along that won't touch sushi.  They can order a burger, a bento box, or about a million other things that are not sushi.  Of course, you can order these things too, but I like to stick to good sushi when it's available.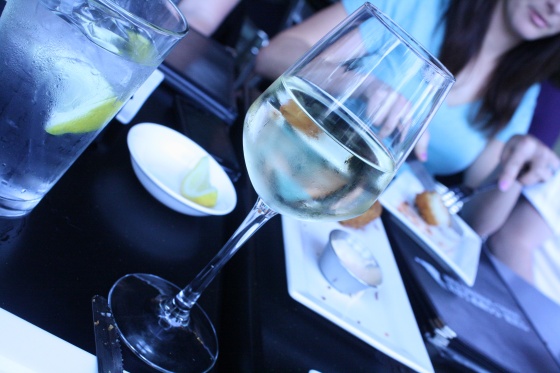 Cowfish has a lot of great drink specials on a regular basis.  Last night was $5 martini night.  I have bad luck with martinis (they're always too sweet or too strong for me), so I stuck with a pinot grigio.  Everyone else loved their martinis though so maybe I'll be more adventurous next time.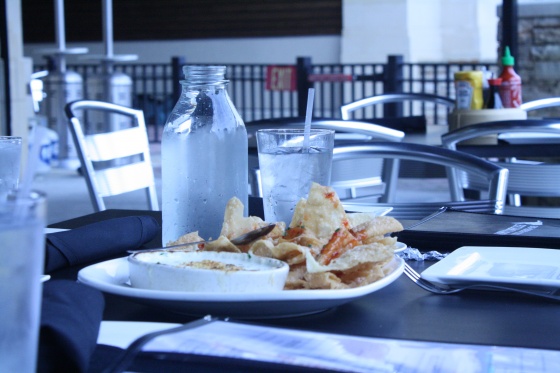 Diana and Dan ordered the crab dip with wontons and shared with the table.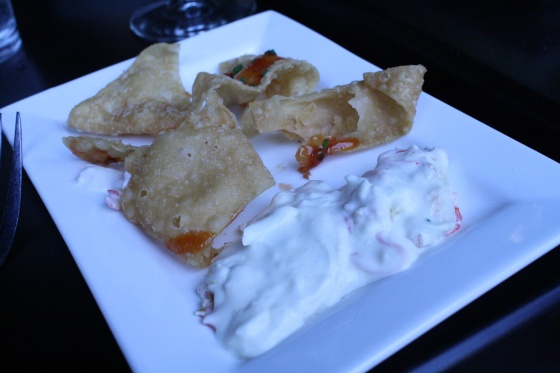 Brittney and I split this plate of the appetizer.
Caitlin and Christian ordered the coconut onion rings (like coconut shrimp!).  Oh em gee this was good.  Like amazing good.  I only had half of one but I could have eaten the whole plate and died happy.
The conversation was lively, as usual. 🙂
See Brittney's day glow yellow drink?  It looked like Mountain Dew in a wine glass, but it was actually some kind of martini made with Medori.  I can't go near that stuff after spring break junior year of college. 😉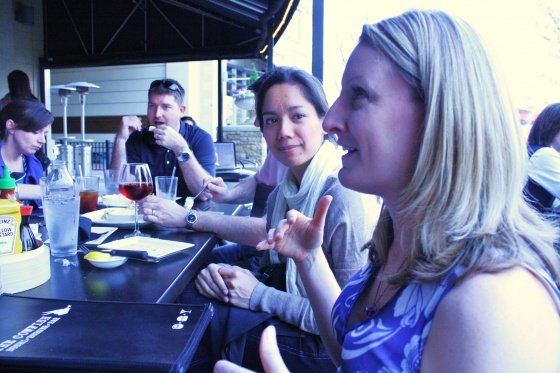 Brittney, in the middle of a very interesting story 🙂
We were each other's dates for the evening, since both of our other halves are away for work.  We also shared dinner.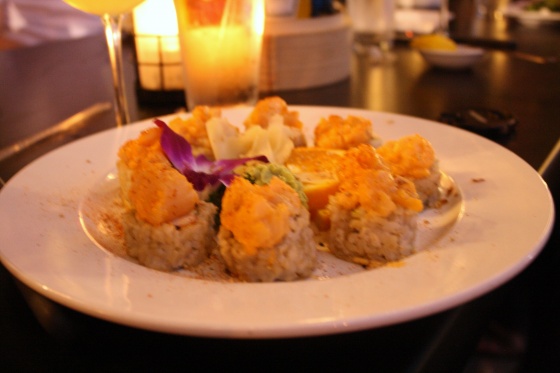 We ordered the baked scallops that always kind of look like sushi topped with mac and cheese, no matter where you order them.
I talked Brittney into ordering them with brown rice.  She had a bad experience with brown rice sushi at TJ's once, but I assured her that all TJ's sushi is disgusting.
TJ's, I love you, but your sushi is the worst.
We also ordered the Miss Moffit's Roll.
Spicy tuna, scallions and crispy tempura flakes rolled inside, topped with thin slices of fresh avocado, then drizzled with sweet eel sauce
We also split this same roll at Eez.  As much as I love to try new things, this roll is so good.  It would be silly of me to say it's the best on the menu because I've had so few of their rolls, but I can't imagine any of them being any better than this.
Cowfish also has customizable rolls.  I've never seen that before at a sushi restaurant!  That is especially awesome for people who have particular sushi preferences, have dietary restrictions, allergies, or just love being creative.  I have to create my own next time for the full Cowfish experience.
Jen's husband Jeff brought vegan cupcakes and our waitress brought them out to us.  I was all ready to sing Happy Birthday when the wait staff broke into their own happy birthday song.
This is your birthday song
It's not very long
Gooooonggggg (they struck a big gong)
Very funny!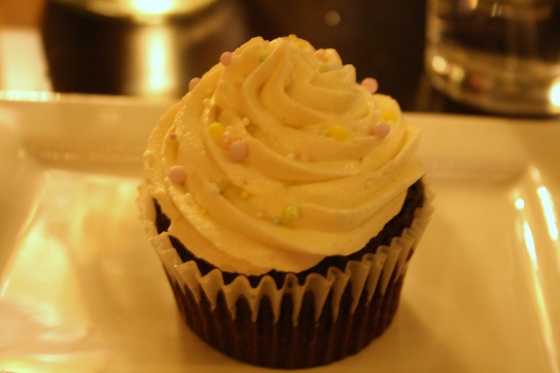 The cupcakes came from Cupcrazed in Fort Mill and my were they good, especially for a vegan cupcake.  I could have eaten half and been satisfied, but instead I licked my plate clean.  Afterall, I don't get cupcakes everyday. 🙂
I had a great time at Cowfish celebrating Jen's birthday with Brittney, Diana, Katie,  –Michelle, Caitlin, and their husbands/boyfriends.  Cowfish blew me away and I can't wait to go back and bring Brad along.  He would love it!
Thanks Cowfish for being so great to us and thanks friends for such an awesome evening! 🙂