Since we've been out of town, pickings are slim when it comes to food.  While I was being productive during my work's two hour delay yesterday morning, I started thinking of dinner ideas.  I know I needed a protein and beans are hard to pass as a protein when I'm cooking for Brad, so I grabbed some extra firm organic tofu out of the fridge…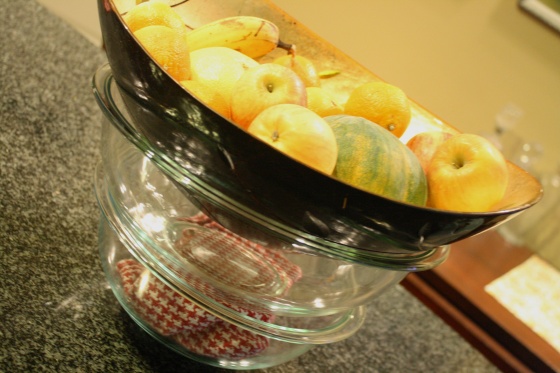 and pressed!
I've shown how I do this  before, but in case you missed it, I drain the water from the package of tofu, then I wrap it in a kitchen towel.  I put the tofu in my medium sized mixing bowl, put the large mixing bowl on top of the tofu, then sit something heavy on top.  Usually I use several cookbooks, but a full fruit bowl works just fine too.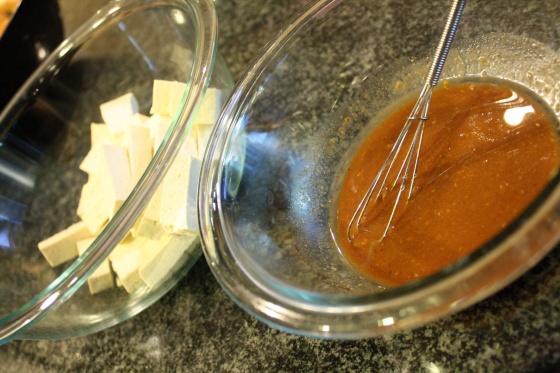 Let the weight on the tofu do it's think for about 15 minutes while you put together a marinade.  For me, anything goes when I'm making a tofu marinade.  Whatever tastes good on meat will also work well with tofu.  For this particular marinade I mixed together:
-3 Tbsp. Stubb's barbecue sauce
-1 Tbsp. liquid aminos (soy sauce will work too)
-1Tbsp. Tropical Traditions coconut oil
-1 Tbsp. Dijon mustard
-1 Tbsp. Worcestershire sauce
After you're done pressing your tofu, put it on a cutting board and slice into cubes.  Try to make them all uniform so they cook evenly.
I've found that the perfect cooking method for tofu (IMO) is baking them at a high temperature, then for a while at a lower temperature.  I baked these at 400 degrees F for 25 minutes, then on 250 degrees F for fifteen minutes.
Cooking on a high temp for too long will burn the sauce, but if you take it out after 25 minutes on a high temp, you don't get that meaty texture and the tofu stays a little too spongy my preference.
I did all of the tofu baking this morning, while blogging and other tasks around the house.  Making tofu might take a little while longer than other protein products, but most of it is wait time, not prep time, which makes it very easy to make.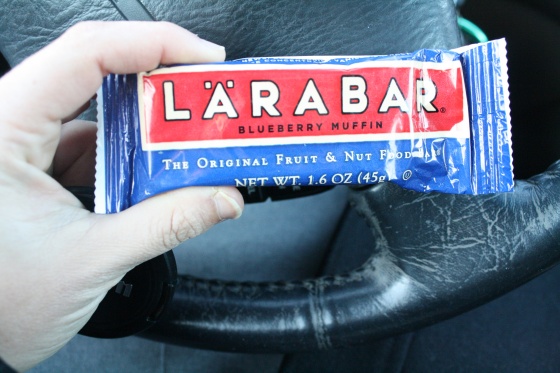 On my way home from work, I broke out another one of my blueberry muffin Larabars.  I'm still amazed at how much it tastes like a real blueberry muffin.  The date flavor isn't very strong and the blueberry flavor is just perfect.  Love it!
It's  been challenging, to say the least, to follow through with my January Challenge.  A lot of unforseen things happened beyond my control, like getting sick and having weird stomach issues for several days.  I don't believe in taxing the body when it's trying to ward off a bug, so besides my marathon and all the walking I did at Brad's half marathon (which was a lot), I haven't been able to really do the challenge since last Tuesday. 🙁
But last night I was ready to get back in the swing of things.  I also wanted to make sure I didn't overdo it since I did just run a marathon three days before.  I spent 30 minutes on the elliptical at level 10 on the "random" setting for incline.  Then I did the three arms/chest/shoulder machines in my condo's gym; 2 sets of 15 reps each.  I followed that up with one song (~4 minutes) of stomach exercises: scissors, bicycles, and crunches.
This was just enough to make me really sweaty. 🙂
After a quick shower with Rascal (Rascal has been taking showers with me since I first got him at least once a week :)), I whipped together dinner.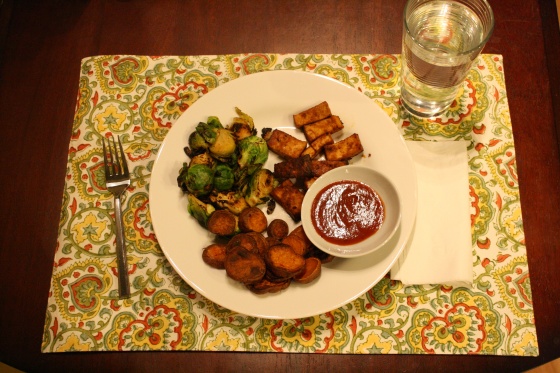 I reheated my tofu I made that morning and also made some sweet and spicy brussels sprouts.  I had sliced and baked some sweet potatoes the week before, so I popped these under the broiler at 400 degrees while I was in the shower (~15 minutes) and they came out just right.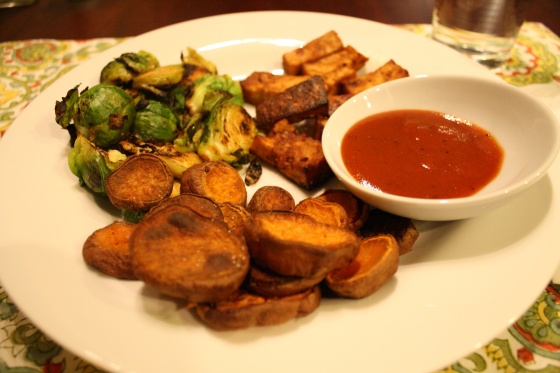 Extra Stubbs on the side for dipping. 🙂
Tofu used to be one of those things that I just couldn't figure out what to do with it.  I liked it in restaurants but never thought I would start making it at home.  Now I love it and think it is so easy to make! I actually like my versions better than any I've ever had in a restaurant.
What is one of your cooking fears you have overcame? Or what is something you thought would be super complicated that turned out to be very easy?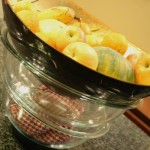 Ingredients
Directions