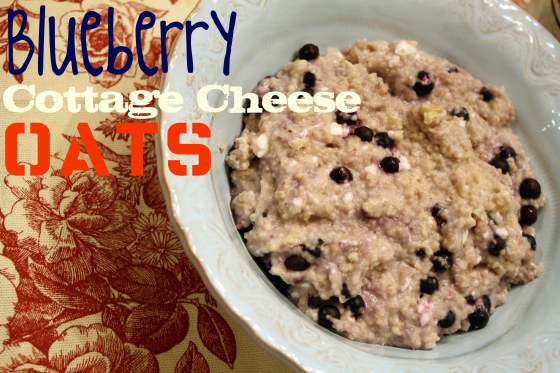 I've enjoyed oats made with cottage cheese for quite some time since discovering its deliciousness a year or two ago.  I've found that it's a great alternative to the traditional way I make oatmeal with bananas and jam.
While I'm sugar detoxing, this is my go-to breakfast.  It's hearty, delicious, and has much less sugar than my traditional bowl of oatmeal.
Most mornings at 10 AM, I'm starting to feel hunger pains after a breakfast long forgotten.  But this hearty bowl keep me full from 7 am to 12 noon when I typically have lunch.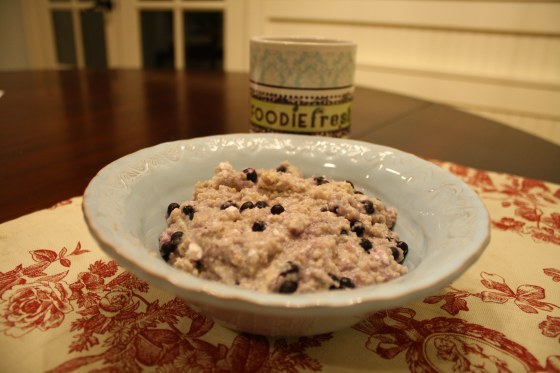 I like it best with oat bran, but you can use regular rolled oats or steel cut oats too (sub 1/4 cup instead of 1/2 cup for steel cut).
Blueberry Cottage Cheese Oats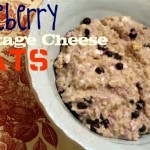 (

Serves 1

)
Ingredients
1/2 cup oat bran
1/2 cup unsweetened almond milk
1/2 cup water
1/3 cup fat free cottage cheese
1/4 cup or 2 egg whites (optional)
1/3 cup frozen blueberries (or 1/2 cup fresh)
1/2 teaspoon vanilla extract
Directions
1. Bring almond milk and water to a boil in a small saucepan with the oat bran (usually takes less than five minutes).
2. Lower the heat so that oat bran simmers.
3. Stir the egg whites in quickly.
4. Add cottage cheese, blueberries, and vanilla extract and stir to combine.
5. Continue to stir until blueberries are unfrozen (if using frozen).
6. Add 1/4 cup more water or almond milk if a thinner consistency is desired (optional).
7. Spoon into a bowl and serve.*
*Can be kept up to three days if covered and placed in the refrigerator or several months in the freezer.
Suggested toppings: 1 Tablespoon of your favorite nut butter with no sugar adde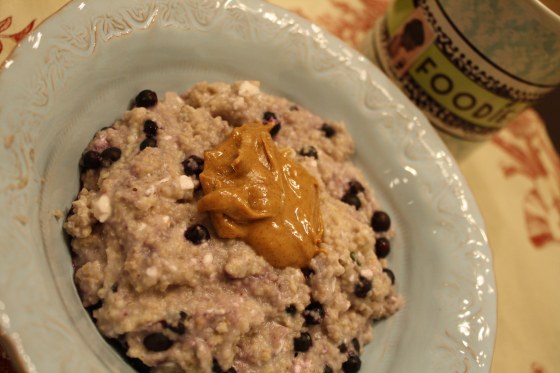 I chose Trader Joe's unsalted creamy almond butter.
Oh yeah.  That's good stuff.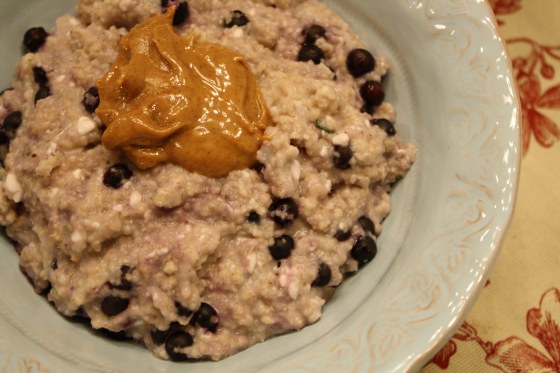 While not entirely sugar free (because almost nothing is), using cottage cheese and blueberries over bananas and jam takes my oatmeal from 18.8 grams of sugar to 12.3.
I <3 my traditional bowl of oatmeal, but it's just nice to change it up a bit now and then.
Side note: Are any of you planning to run the Cooper River Bridge Run? I'm itching to sign up for a race and despite it's popularity, I've never ran this race before.
What are some simple swaps you make to lessen the calories or sugar in your favorite recipes?