I don't mean to be melodramatic, but I made something last night that received so much praise from my two dinner companions that it warrants such a title.
Two weeks ago, I actually threw a spaghetti squash in the garbage because it went bad. When do spaghetti squash go bad, I ask you? Acorn squash lasts for months after purchase. Apparently, I bought a rotten apple, so to speak.
Then I bought another one. This spaghetti squash would be different. I would use it and I would use it well. It was not going to rot under my nose. It would be the centerpiece of a delicious meal.
And I was true to my word.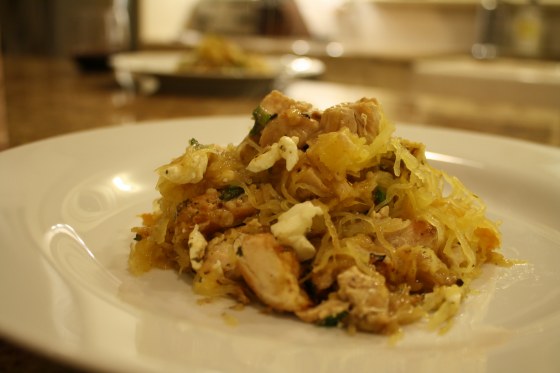 Chicken Florentine Spaghetti Squash Bake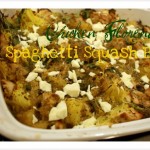 (

Serves 4

)
This dish won't leave you missing pasta. It's hearty and filling, so not only will you be satisfied but you can feel good about how good this meal is for you. It tastes awfully decadent for a meal made up of mostly vegetables and lean chicken.
Ingredients
1 spaghetti squash
1 lb. chicken breast (or chicken tenders)
1 teaspoon extra virgin olive oil
3 cloves garlic, minced
2 Tbsp. butter
1 cup vegetable or chicken stock
1/2 cup skim milk
3 tablespoons all purpose flour
1/2 teaspoon sea salt
3 cups raw spinach
1 teaspoon dried parsley
1 teaspoon dried ground sage
1/3 cup feta cheese, crumbled
Directions
Cut spaghetti squash in half and cook (cut side up) at 400 degrees for 30 minutes. Allow to cool for at least an hour (I usually make mine the day prior). Use a fork to remove the seeds of the spaghetti squash and discard. Use a fork to pull the flesh away from the skin into a large bowl. Scrape the skin well so that you remove as much squash as possible. Set squash to the side.
Preheat oven to 350 degrees.
Warm the olive oil in a pan on medium heat. Add chicken and cook until chicken is browned well on each side (about 8 minutes on each side). Remove chicken and set to the side.
Add minced garlic to the same skillet as you used to brown the chicken. Cook until garlic begins to brown. Add butter and allow to melt completely while stirring. Add stock and skim milk, and salt stirring well. Turn heat to medium high. Add flour one tablespoon at a time while whisking quickly to mix the flour into the liquid. Once flour is completely dissolved into liquid, remove from heat.
Chop chicken into bite size pieces and add to bowl of spaghetti squash. Add spinach. Pour brown sauce into the bowl as well. Use a large spoon to stir all of the ingredients together. Pour squash and chicken mixture into a 9 x 11 casserole dish. Sprinkle parsley and ground sage on the top of the mixture. Bake for 30 minutes.
Remove casserole dish from oven and top with feta cheese. Broil at 500 degrees for 5 minutes and remove from oven. Plate and serve immediately.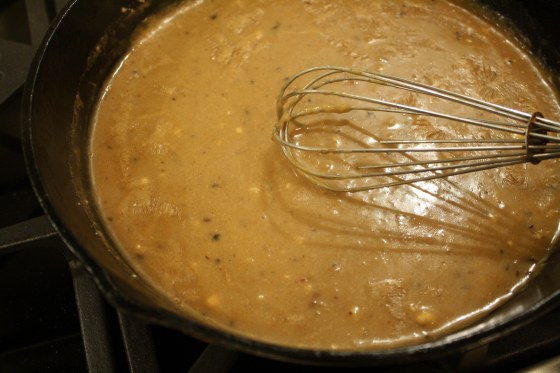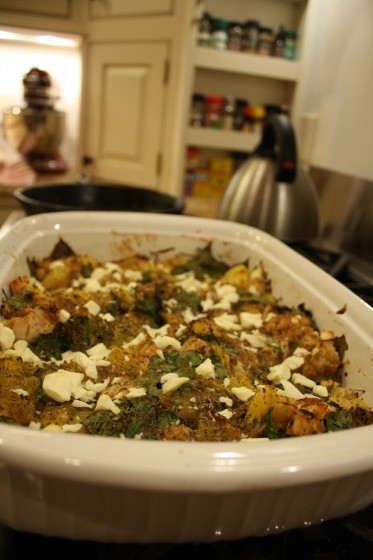 This meal was such a joy to cook. I got to share the wonder that is spaghetti squash with Jenn, who popped by to see the new house as I prepared dinner. Spaghetti squash isn't a food staple in Australia so it was so much fun to share with someone who is so curious and knowledgeable about food. Then our good friend Thomas came by to help Brad with a project in the basement. Of course, I asked him to stay for dinner and sample the experiment going on in my kitchen.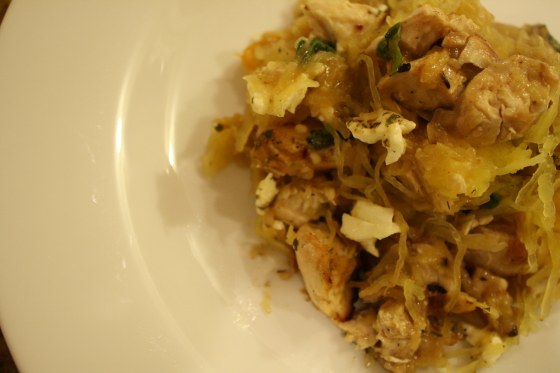 This meal was so well received. I wasn't sure what Thomas' experience was with spaghetti squash but I won Brad over last autumn, so I knew he was at least up for trying it.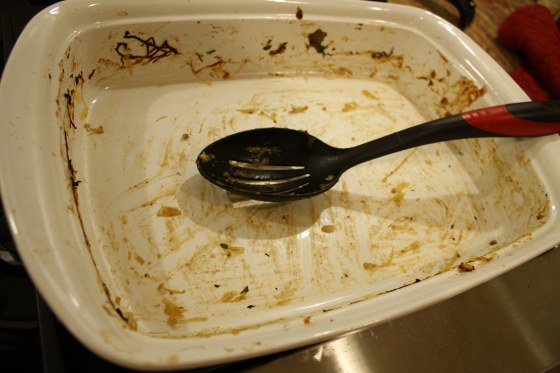 They loved it.
Brad's words were, "You have to make this again. Did you write it down? You have to blog about it immediately after dinner so you don't forget the recipe."
That's when I know he's serious…when he brings blogging into the equation.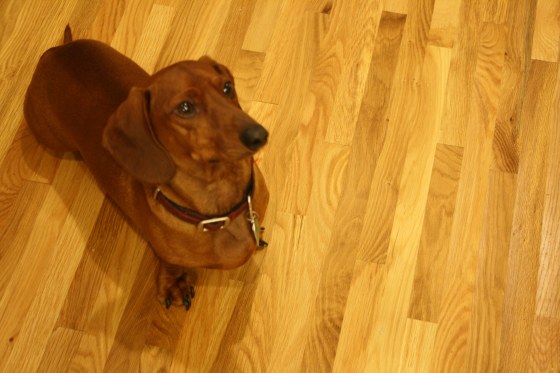 Of course, Rascal loved it too…
At least he enjoyed the minuscule amount he got to lick off our plates.
Are you a fan of spaghetti squash? I don't think of it as a low carb option, but as an opportunity to incorporate more veggies into my meal.