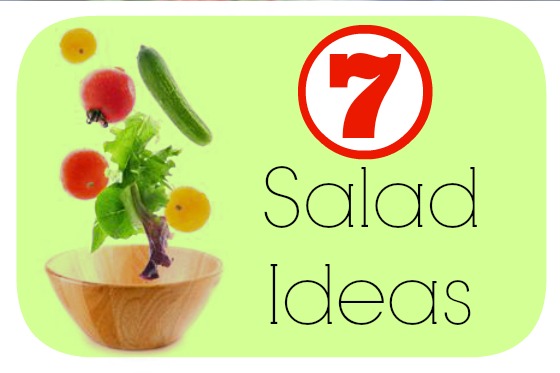 Salads are my go-to meal in the summer, even for dinner.  Plus, they're a great way to feel like the day isn't a total bust when you've over-done it or you look back on your day and don't see a single vegetable.  A lot of times my salads are whatever happens to be in the fridge — leftovers, whatever veggies are on hand, and often some kind of cheese and a haphazard salad dressing.  But sometimes they're more planned out — they actually look like something you would serve to guests.  Easy, elegant, and delicious, those are the salads I want to share with you today.
Here are seven salad ideas that you can be proud to put on your table.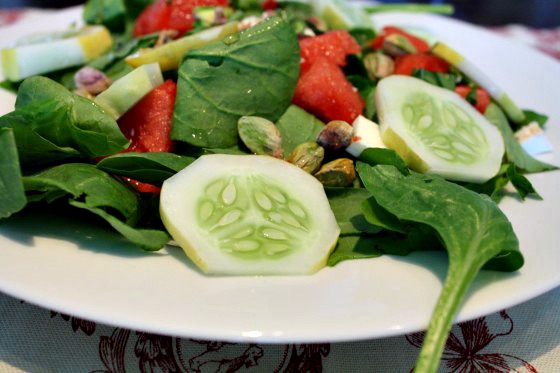 Watermelon, Pistachio, and Spinach Salad
This salad uses my very favorite summer fruit and one of my very favorite nuts.  It's light and refreshing and can also be used as a nice side salad at a summertime cookout.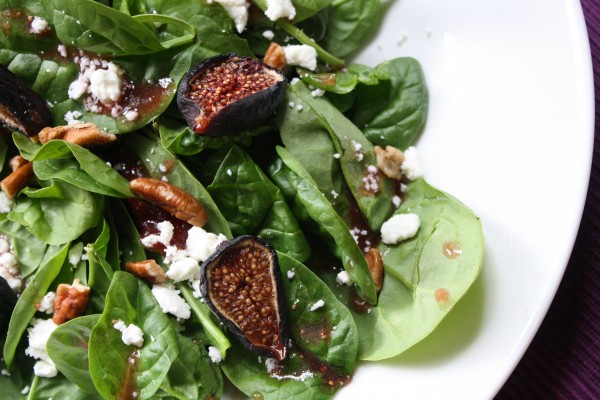 Oven-Dried Figs and Spinach Salad

This salad is so very fall, but you don't have to wait until the weather cools to try it.  Simply substitute the oven-dried figs for dried figs, which are easy to find all-year round.  But when figs are in season, you must try the real thing.  The texture of the oven-dried figs are my favorite part.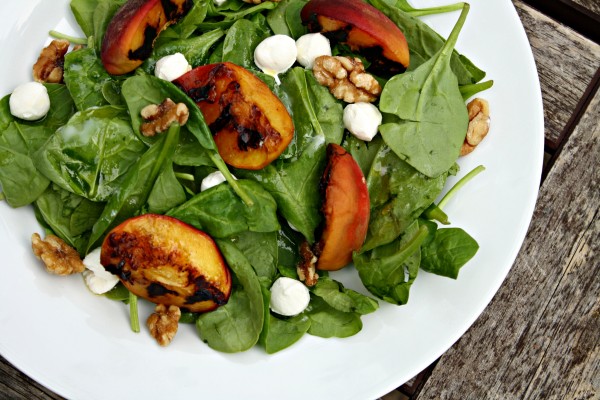 Grilled Peach Salad

Another fruity summertime salad perfect for this time of year.  Add protein to make it an entree salad or simply serve it as part of a larger menu or at a potluck.
There is a healthy way to enjoy pulled pork, and this is it.  I love that the pork practically makes itself in the crockpot.  And if you need that smokey flavor, add a bit of liquid smoke when you cook it.  With the flavor of avocado and all those crisp summer vegetables, you won't miss the bun a bit.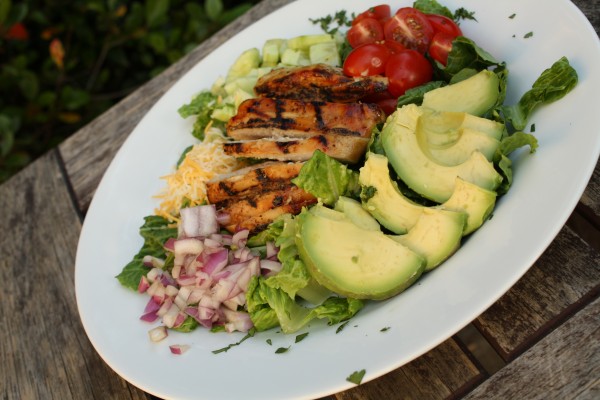 Spring Green Salad with Honey Bourbon Chicken
I often sautee or grill some chicken to go on salads throughout the week and do nothing but sprinkle them with salt and pepper.  I like the taste of very-plain chicken this way, but when you give it a little more attention (like with bourbon infused honey), you can make your salad so much more flavorful.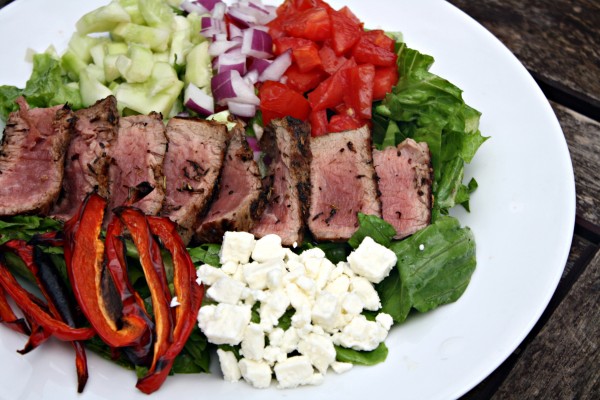 Mediterranean Steak Salad

Mediterranean salads are typically served with chicken, but serving it with steak is a delicious twist and makes it a little more special, don't you think?
Roasted Squash and Maple Tofu Spinach Salad
This salad is definitely more fall than summer, but it's so delicious, you'll want to be able to enjoy it anytime of year.  I love the mixture of warm roasted squash with the cool spinach, which wilts a bit when you combine the two.  If you can't find a winter squash to roast this time of year, substitute with sweet potato for a very similar effect.
Which of these salad ideas is your favorite? Do you love salads this time of year?