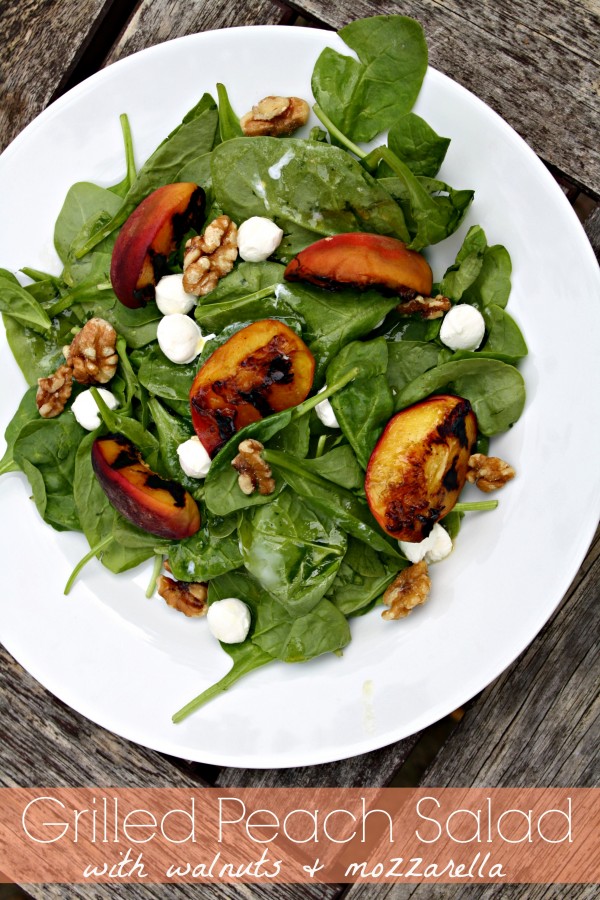 Boy this salad was easy!
Which is a very good thing nowadays.  I'm so stinkin' tired and it's so aggravating.  The third trimester symptoms are really cramping my style. Just doing normal everyday things makes me need to lie down for hours.  So easy cooking is the only way to go, else Brad and I have to survive off of hummus and frozen Morning Star burgers.
This salad is way better.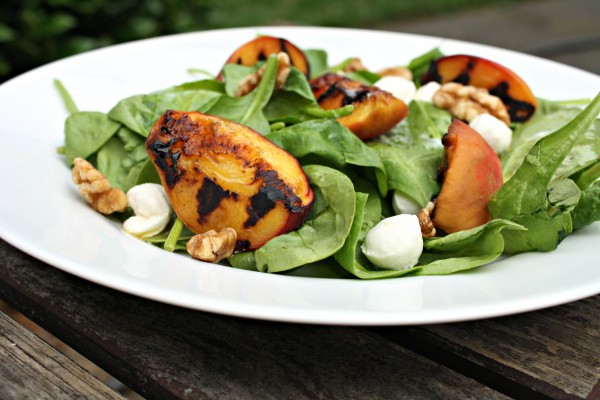 Grilling the peaches brings out their sweetness in an earthy way that I love.  They're definitely the shining start in this meal and aren't overpowered by the mild mozzarella or the walnuts. I pared it all with a honey champagne vinaigrette to match the sweetness of the peaches with some acidity for contrast.
The results were a summery salad that is both easy and delicious. Even the mister approved — he said he wouldn't change a thing about this salad (the highest of compliments).
This salad is great as a meal for two, but will also serve four as a side.  Maybe serve it with some grilled fish and corn on the cob? Now we're talking.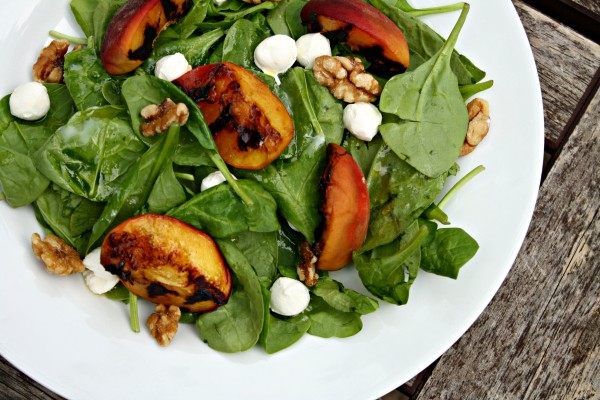 Grilled Peach Salad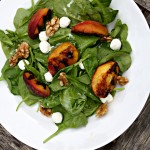 (

Serves 2 as a meal, 4 as a side

)
A summery salad that comes together lickety split.
Ingredients
2 small peaches (about 1/2 pound total)
4 cups fresh spinach
2 ounces mozzarella balls
1 ounce walnut halves
non-stick spray (optional)
Honey Champagne Vinaigrette:
2 Tablespoons Extra Virgin Olive Oil
2 Tablespoons Champagne Vinegar
1 1/2 Tablespoons Honey
Pinch of Salt (~1/8 teaspoon)
Directions
Heat a grill or grill pan (medium heat) until warm. Wash and slice peaches into fourths, discarding the pit. If using a grill pan, spray some non-stick spray liberally on the pan. Place peaches, flesh side down and cook for 2-4 minutes or until dark grill marks appear. Use tongs to flip peaches so that the other side of their flesh is touching the grill and cook until dark grill marks appear.
Combine spinach, mozzarella, and walnuts into a medium bowl.
Whisk together the vinaigrette mixing all ingredients well. Pour over salad and use tongs to toss evenly.
Plate salad evenly, based on the number serving. Distribute peaches evenly among the plates. Serve immediately.