Cooking fish seems to be one of those things that confuses people.  I hear questions and statements of confusion about fish all the time.
I don't know what to do with fish.
I don't know what to do with this type of fish.
I'm afraid to undercook fish.
I like fish, but I never cook it at home.
In my opinion, cooking fish is easy.  It tends to cook faster than other meats, and in my opinion, is safer when it comes to undercooking than chicken.  Sashimi (raw fish) is a perfectly acceptable and a safe thing to eat (if sushi grade), while you can die from eating raw chicken.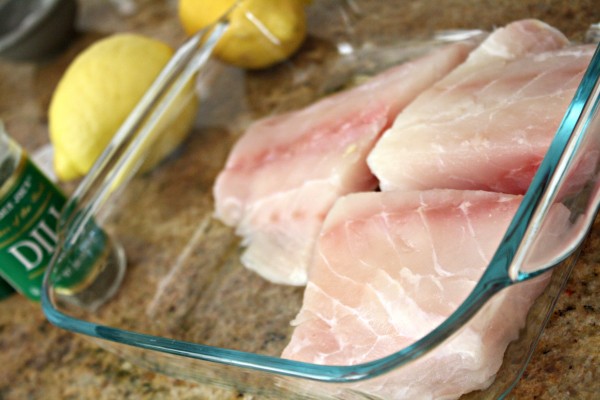 But all fish is just a bit different, which can confuse cooks when it comes to flavors.  You might learn how to cook a fish dish or two, but then you see something unfamiliar on sale at the grocery store, and you're not sure how you would flavor it.
I'm here to help.
I have a fool-proof way to flavor and cook most any fish.  This particular flavor combination of spices goes so well with fish.  I use it with every new fish, unfamiliar fish, or fish I just want to cook simply and easily.  The only fish I would not use this on is Ahi Tuna (the dark flesh tuna).  It might not be bad, but I think of this type of fish as the "steak" of the fish world, so I prefer to use different flavors when cooking it.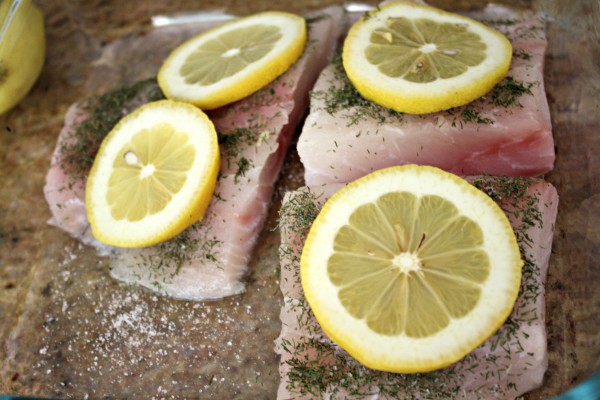 My winning combination involves four very simple ingredients: salt, pepper, dried dill, and lemon.  I bake it, which evenly cooks the fish and allows me to throw it in the oven and forget about it until the timer goes off.
If you Google "fish cooking times", you'll get a lot of different answers, because fish texture differs so much.  Fish fillets that are light and flaky like tilapia might only take 10 minutes to cook, while something meatier like grouper (which is what I used) will often take longer to cook, even if it's the same thickness.  That's why I typically start out guessing how long my fish will take and using the "flaking" method to determine if it's done.  For thin cuts of flaky fish (flounder, cod, tilapia), I'll cook it at 400 degrees for 10 minutes and then check it.  Because this fish was meatier and about 1 – 1 1/2 inches thick, I started out by setting the timer for 20 minutes.
I made two quick videos to show what I mean by the "flaking" method, so you can see for yourself.
Video 1:

My piece of fish was just under a pound and I cut it into three servings — a big serving for Brad, plus two smaller servings.  The smaller servings were basically equivalent in size (which is why I only tried to "flake" one of them).  Brad's larger piece was thinner so it was done before the two smaller pieces.
Video 2:

After removing the large thin piece, I continued cooking the thick smaller pieces for five additional minutes until they flaked as well as the first piece.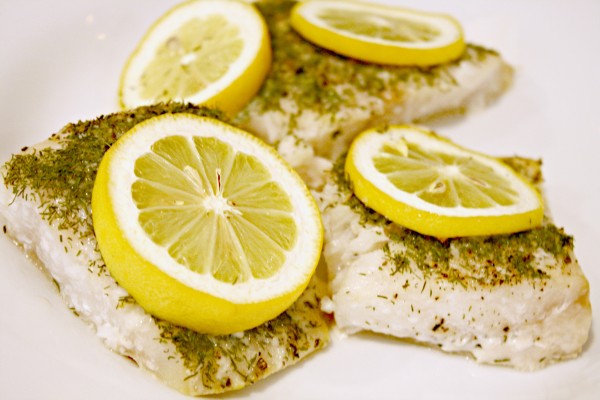 Other things to note:
– Fish flesh is almost translucent, so you're looking for it to become more opaque as it cooks thoroughly.
– Meatier fish don't "flake" as easy as lighter fish, but even these meaty fish should flake some when it's thoroughly cooked.  When cooking lighter flesh, use your fork delicately so as not to break up the entire fillet.  With meatier fish, you have to try a bit harder to get it to flake.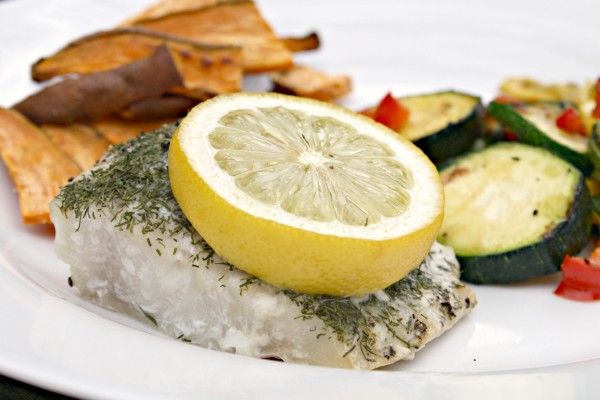 Lemon Pepper Dill Fish
(

Serves 3-4

)
A delicious and easy way to prepare most any fish.
Ingredients
About 1 pound of the fish fillet of your choice
3/4 teaspoon salt
1 teaspoon dried dill
fresh ground pepper
4-5 thick slices of fresh lemon
Directions
Preheat oven to 400 degrees.
Cut fish into preferred serving sizes. Sprinkle each piece evenly on one side with salt and dill. Grind pepper over each piece of fish (two turns). Place fish into a baking dish. The side with herbs and spices should be facing up. Place lemon slices on top of fish fillets, according to size (large pieces will need 2 slices, small pieces will need 1 slice). Bake on 400 degrees until fish flakes easily and flesh is opaque.
Serve fish with lemon slices for garnish but don't eat the lemon. Remove lemon before eating.