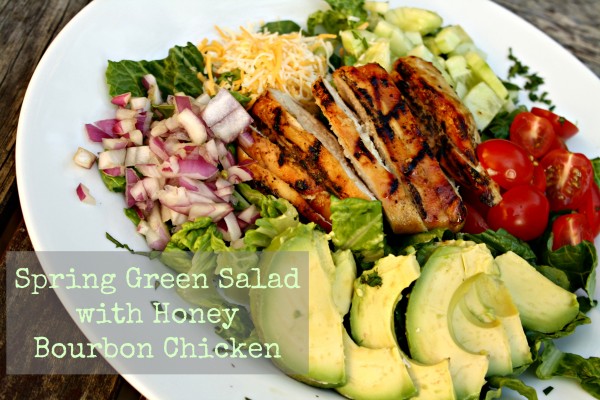 One thing that is remarkably different about the second trimester versus the first, is that I actually want to eat salads.  But I don't want to eat a salad full of lettuce, vegetables, and more vegetables.  I want good stuff in my salad.  Creamy stuff.  Flavorful stuff.  Delicious stuff.
I want stuff like bacon, eggs, creamy dressing, avocado, and plenty of cheese.  This salad has some of those things.  However, sometimes my salads have all of those things.
Whatever. The lettuce totally cancels out all that stuff.
One of the star ingredients in this salad is Cloister Honey Bourbon Honey.  I've been using this stuff to marinate all kind of meats 1) because Brad is in love with this stuff and I think it's pretty awesome too and 2) because I'm now doing social media for Cloister Honey and I'm pretty sure they'll give me as much as I want.  This stuff is amazingly good.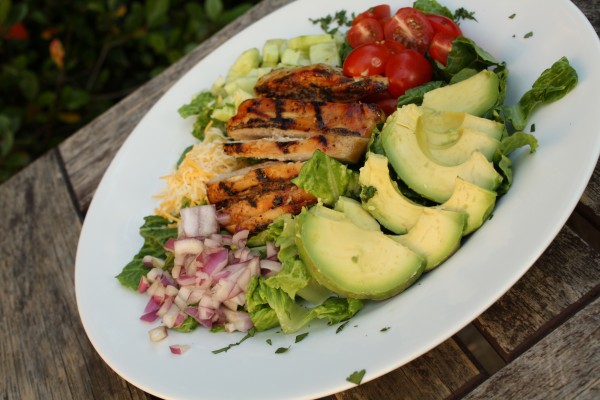 Spring Green Salad with Honey Bourbon Chicken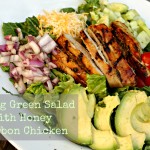 (

Serves 2

)
This fresh and tasty salad is full of flavor and protein. It's all you want in an entree salad when the weather turns warm.
Ingredients
8 oz. chicken breast (cut into 2 pieces)
1/4 teaspoon salt
1/4 teaspoon pepper
1/4 cup Cloister Honey Bourbon Honey
2 Tablespoons Dijon mustard
1 cloves garlic, minced
6 cups romaine lettuce, chopped
1/4 cup cilantro, chopped finely
1/2 cup cucumbers, peeled and diced
1/2 cup grape tomatoes, halved
1/3 cup cheddar cheese, shredded
1/2 avocado, sliced
Directions
Sprinkle chicken evenly on both sides with salt and pepper. Mix honey, mustard, and garlic together and brush on one side of the chicken. Place chicken sauce side down, on a hot grill or a pan with 1-2 teaspoons of oil and brush with honey mixture on the remaining side. Cook chicken until completely cooked through and browned well on both sides, or dark grill marks appear.
Place half of the romaine on each plate with half of the cilantro cucumbers, tomatoes, cheese, and avocado. Slice chicken and place half on each plate. Top with your favorite salad dressing.
NOTES:
Dressing suggestions: ranch dressing (my personal favorite right now), Green Goddess dressing (Brad's favorite), citrus vinaigrette, red win vinegar + extra virgin olive oil
You can purchase Cloister Honey Bourbon Honey here.