A few of you have mentioned wanting to know the details of my gender reveal party. I don't want to disappoint, but there aren't many details to share, except that if it wasn't for my in-laws showing up early, I wouldn't have been able to put this party together.  I had a few games planned and other cute things I wanted to do.  But Brad and I ended up spending the entire day at the vet and then driving to another vet where Rascal received two x-rays and an ultrasound to find out why he had been vomiting for the past week.
We finally got home at 3 pm and just had enough time to throw ourselves together and work with Brad's parents to prepare our make-your-own taco bar.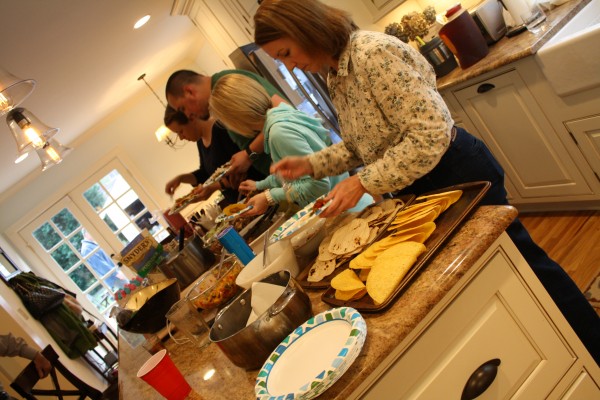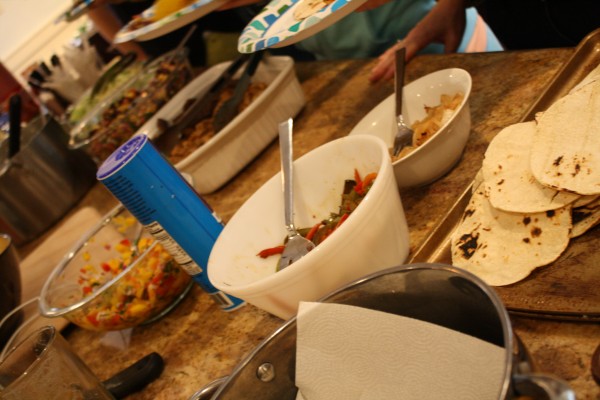 On the menu:
– Chicken*
– Steak*
– Soft flour tortillas
– Soft corn tortillas
– Crunchy corn tortillas
– Black bean and corn salsa*
– Mango salsa*
– Guacamole*
– Cilantro lime rice*
– Mexican cheeses
– Sour cream and Greek yogurt
– Medium and mild salsa
– Sauteed onions and bell peppers*
– Iceburg lettuce
– Spicy chipotle sauce*
*homemade/prepared in-house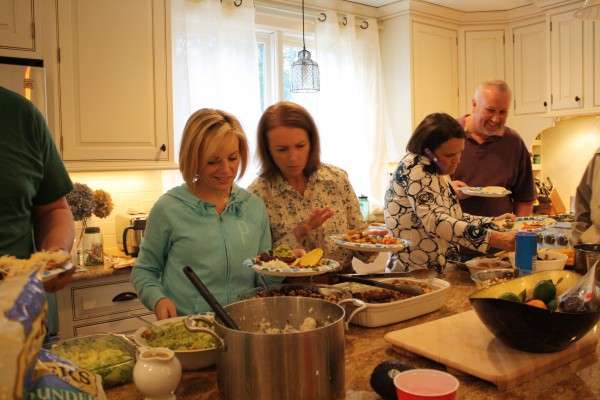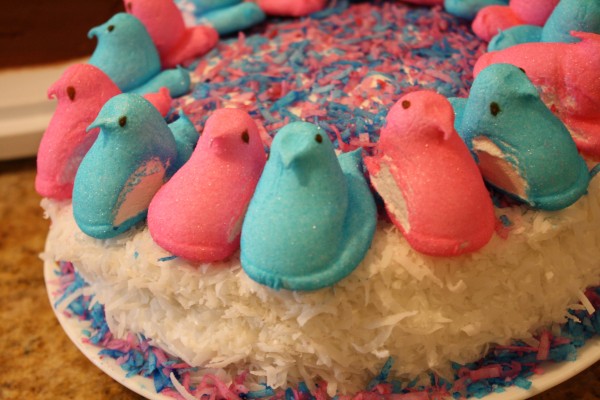 My aunt made this adorable coconut cake, which had both a pink and blue layer in the center.  People chose a piece of cake based on whether they thought I was having a boy or girl.  People who chose boy got a blue Peep and those who chose pink received a pink Peep.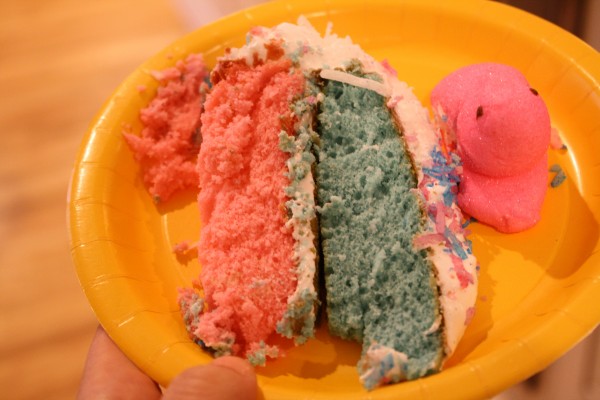 I must be missing that sixth sense that some soon-to-be-mommies have because I was on the fence about whether I was a boy or girl until we found out.  I took whatever piece came next in the line-up.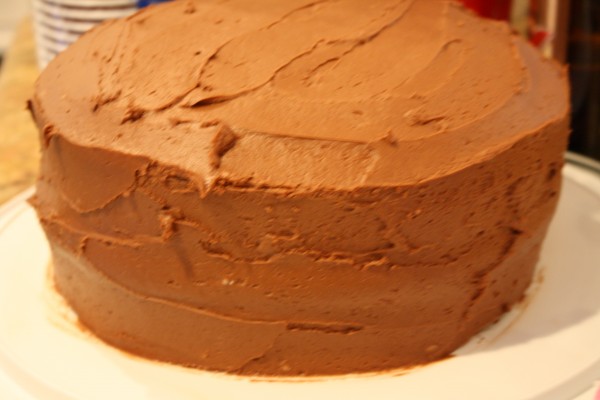 My mom also made this delicious chocolate cake.
Despite us spending the entire day at the vet because of Rascal's stomach issues, he still felt the need to beg for food.  See his shaven sides?  The vet had to shave the hair off the area where he received an ultrasound.
Someone claimed that Rascal was trying to upstage my ultrasound.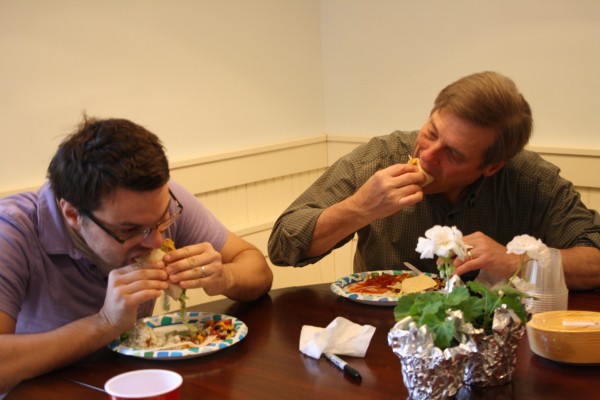 I'm so glad I chose to do a taco bar because it allowed people to make exactly what they wanted.  I have a few picky eaters in my family so this meal was perfect for everyone.
After dinner, we headed outside before the sun went down to do the actual gender reveal.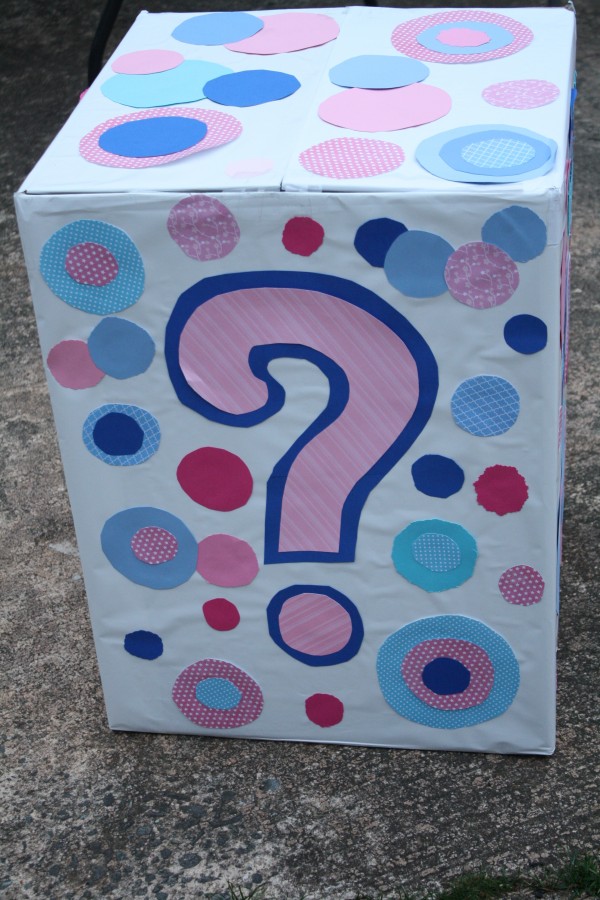 I had originally planned to make my own gender reveal balloon box.  I figured that I could explain what to do to the people at Party City and they could stuff the box I gave them with balloons while I ran an errand, so as not to see the contents of the box.
But my good friend Jes said that I shouldn't have to do my own gender reveal box, and offered to do it for me.
She did an amazing job and made a prettier box than any of the boxes I saw on Pinterest, which is where I got the original idea.
And in retrospect, I never would have had time to make the box the day of the party.  After the day I had, I'm sure I would have resorted to opening the envelope that held the note written by the ultrasound tech revealing the gender in front of my family instead of what I ultimately wanted to do, which was open a box full of blue or pink balloons.
Jes is a godsend.
So, here's are reaction to the contents of the box…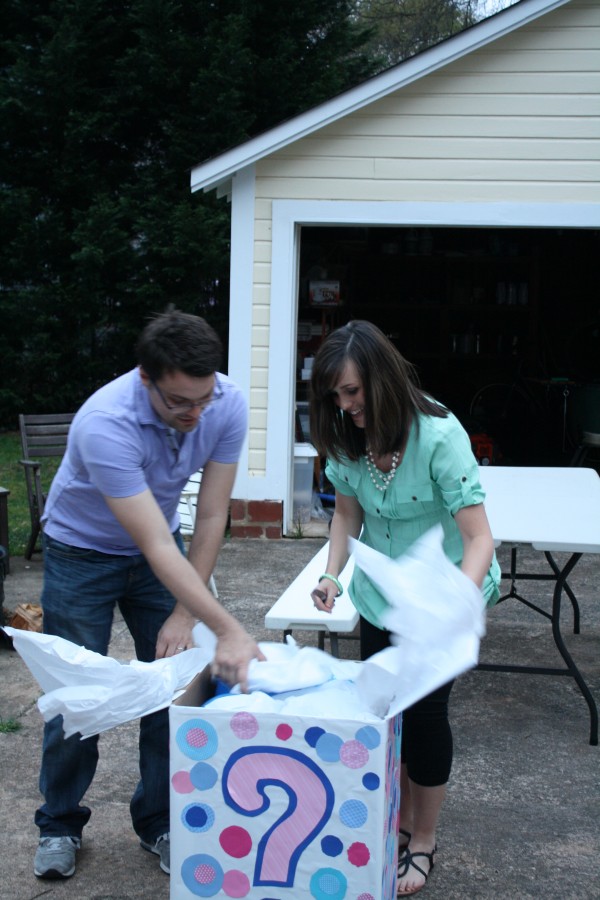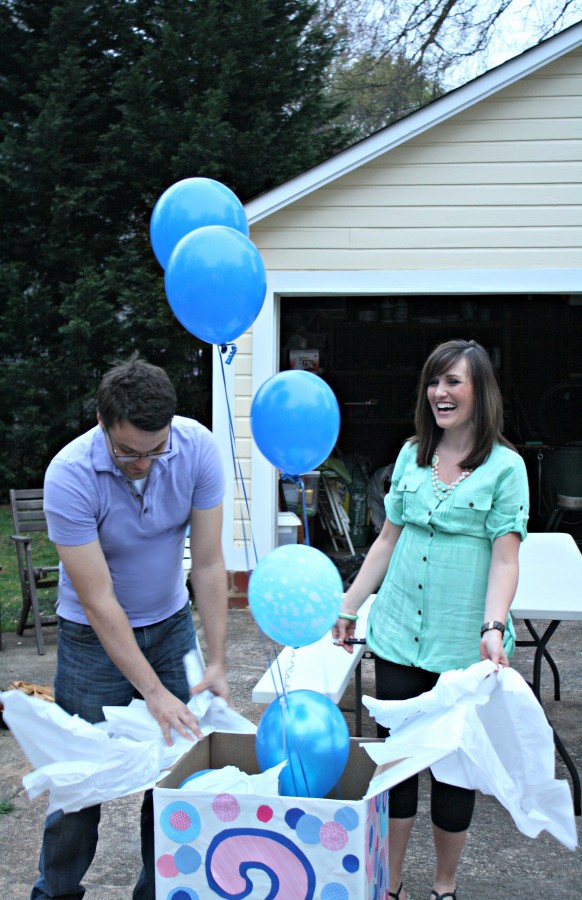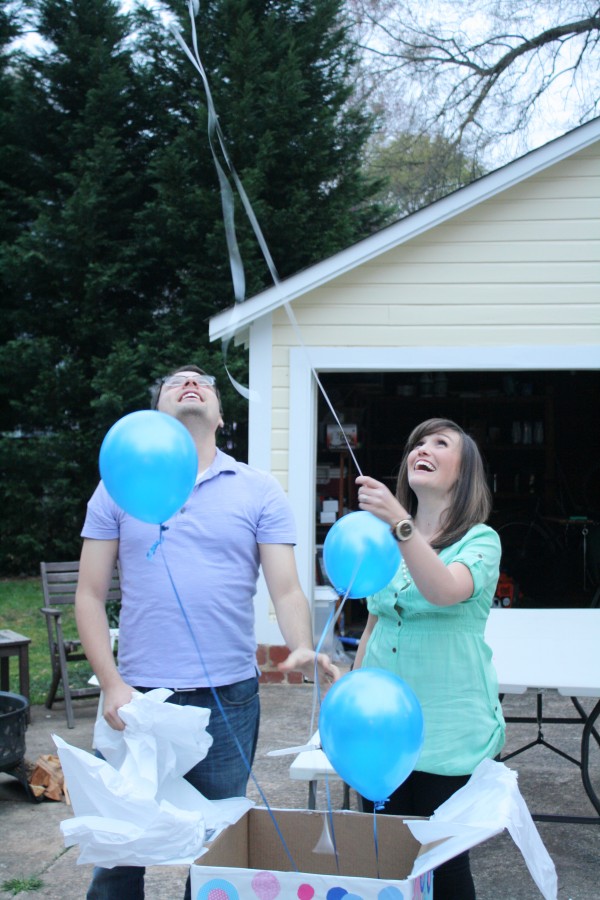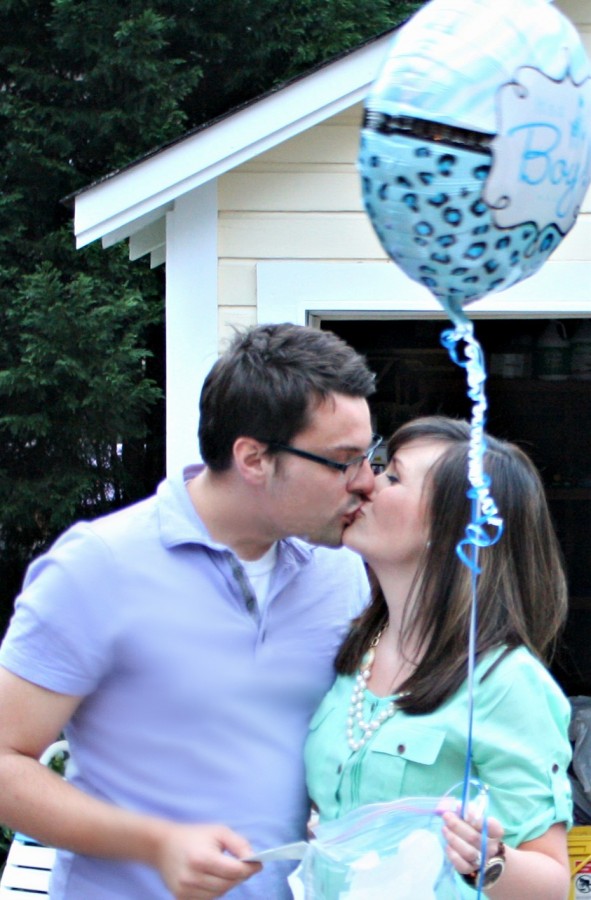 It's a boy!
(The bag I'm holding contained the ultrasound photos which clearly showed that Baby E is a boy. They were taped to the inside flap of the box.)
Celebrating the gender reveal of Baby E was an incredible experience.  Even though I ran out of time and didn't get to do everything I had originally planned, I wouldn't have changed a thing about this party.
I loved that we were able to share this moment of surprise with the people closest to us and I feel so grateful that they wanted to be a part of this experience.