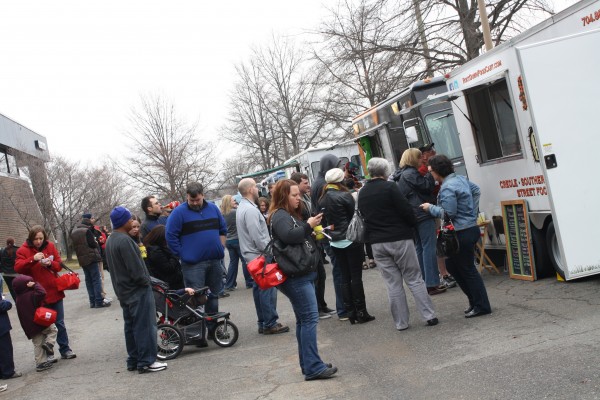 The weekend before this past weekend, I attended a really fun and yummy event that went to support a great cause: The Charlotte Food Fight. This event was a competition between nine local area food trucks to see who could make the best dish(es) and all of the proceeds went to benefit Charlotte Relay for Life.
The day was dreary and cold (way too cold for March in Charlotte), but everyone seemed really happy to be there and enthusiastic to try the food.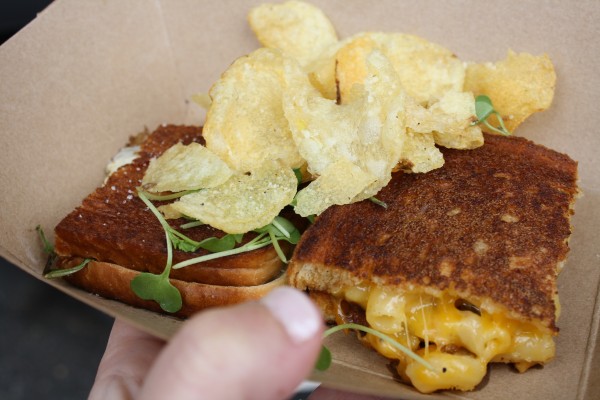 My friend Jess and I were starving by the time we got to the Food Fight and we dove into the two grilled cheese sandwiches at Papi's Queso.  The first was:
– Truffle French onion with roasted onion compote, artisan Swiss blend cheese, organic baby arugula, white truffle oil and black truffle finishing salt
I've actually had the second sandwich before, but I enjoyed it so much more this time.
– The Bacon Mac: souther mac n' cheese, Ashe County cheddar curds and bacon jam with maple bacon hot sauce (for dipping)
The first time I tasted this sandwich, I thought the mac and cheese got lost in the bread, but I think they upped the cheese this time, which made it so much better and cheesier.
This stuff may have played a key role in my enjoyment as well.  This spicy sauce went so well with The Bacon Mac — slightly smokey and just spicy enough.  Yum.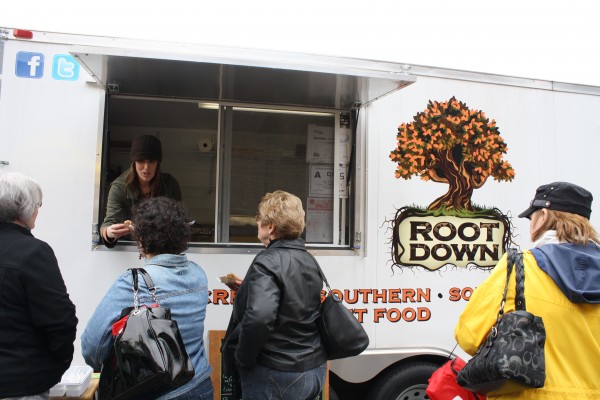 Next up was Root Down, a food truck that I had never tried. Here's what they brought to the table: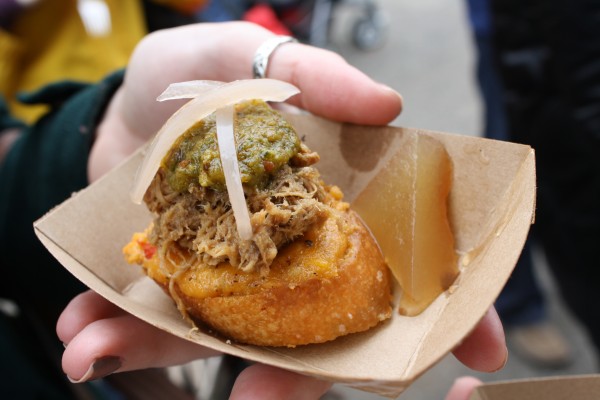 – House-made fire-roasted pimento cheese and 12-hour smoked pork shoulder (from Grateful Growers Farm), topped with 3 different kinds of house-made pickles (bread & butter Onions, dill cucumber pickles, and pickled watermelon rind), topped with a chipotle vinaigrette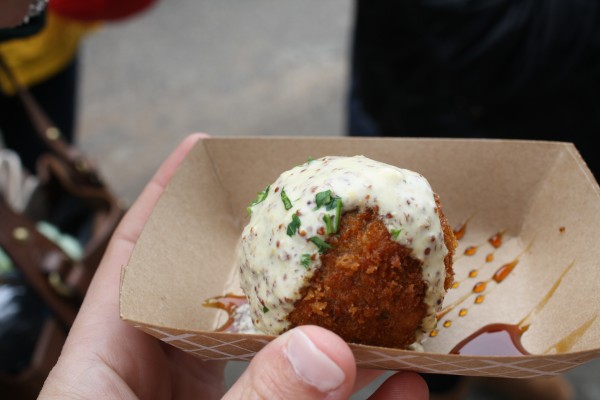 – A Boudin Ball: pork shoulder (from Grateful Grower's Farm), pork Liver, rice and pepper filling, dredged in flour and panko bread crumbs and deep fried, and served with creole mustard sauce and cane syrup.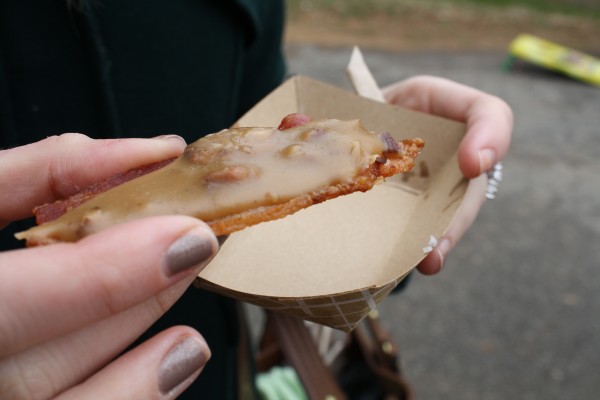 – Praline Coated Bacon
This was one of my very favorite dishes served of the day —  a praline topped slice of bacon.  Sweet and salty is my kryptonite and I could have eaten this like candy.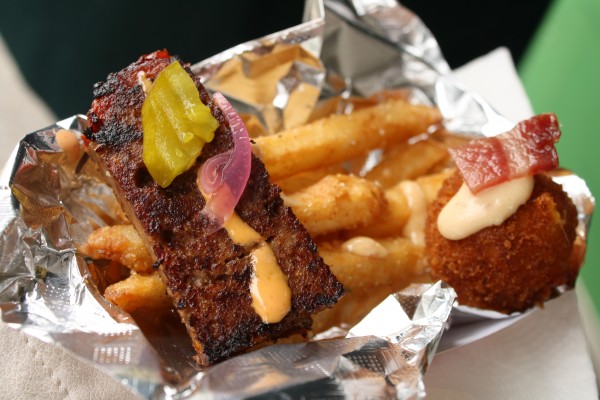 The three dishes served by Roaming Fork won Jess over:
– Bacon infused Four-hour Hickory Smoked Meatloaf with Pickled Onion and Bacon Aioli
– Parmesan Herb fries with Bacon Aioli
– Housemade Bacon Fried Pimento Cheese Balls with Bourbon Maple Candy Bacon on top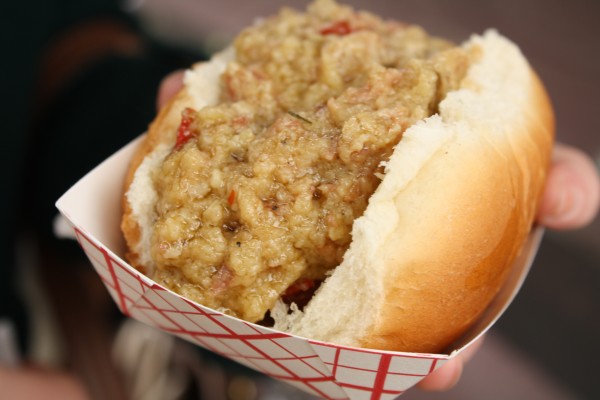 Gourmet Goombahs served…
– The Hot Diggity Dog: Nathan's hot dog topped with caramelized onions and bacons, and stuffed Italian cherry peppers.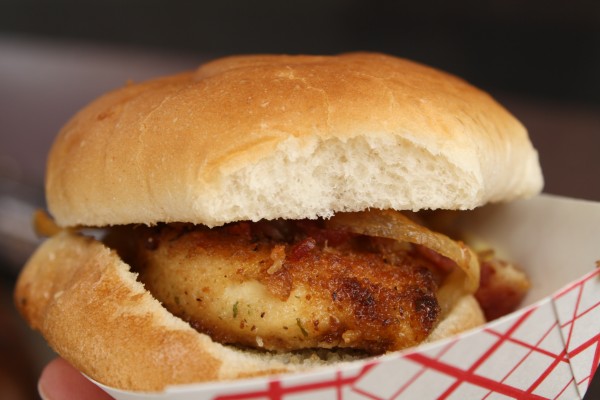 – The Ditomazzo: lightly breaded chicken cutlet with caramelized onions, bacon, and basil topped with melted fresh mozzarella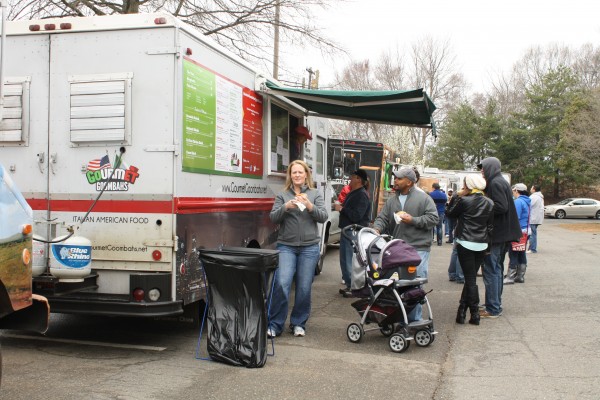 I thought it was cool how Gourmet Goombahs put a creative Italian twist on typical American food.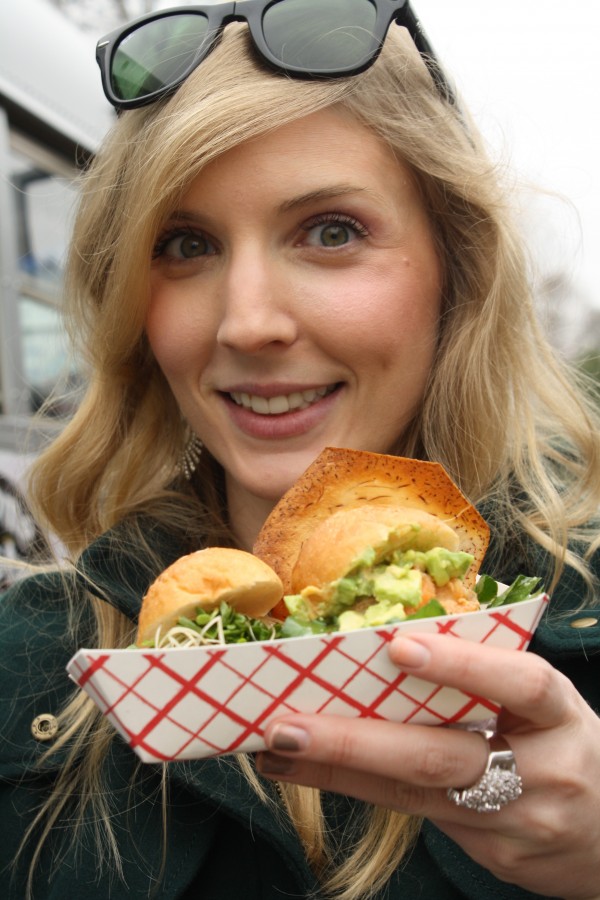 Up next was a new favorite of mine, the Chrome Toaster. They served:
– Shrimp Po' Boy with Avocado and Aji Amarillo Aoli .
– Slow-Roasted Herbed Pork Loin with Bacon Jam Salad and Lemon Zest Sprouts and Herbs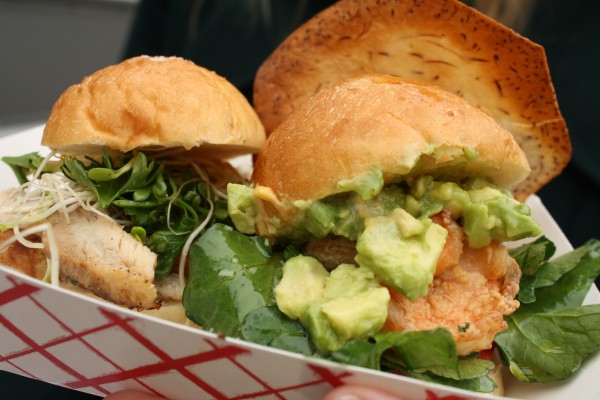 These two "street sandwiches" were served with their yucca chips.  I love these things because their slightly sweet and not greasy like traditional potato chips.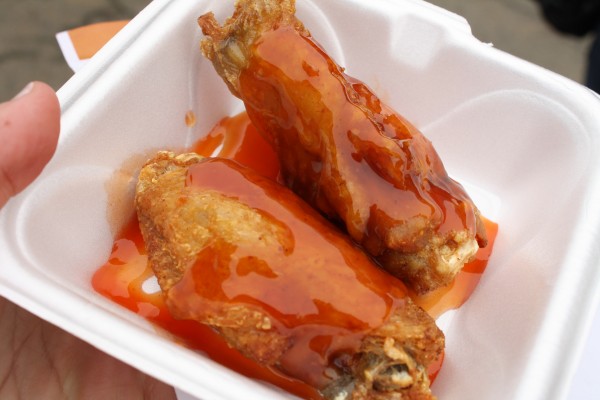 Wingzza served:
– Mambo Wings: crispy fried chicken wings with a sweet, sticky red sauce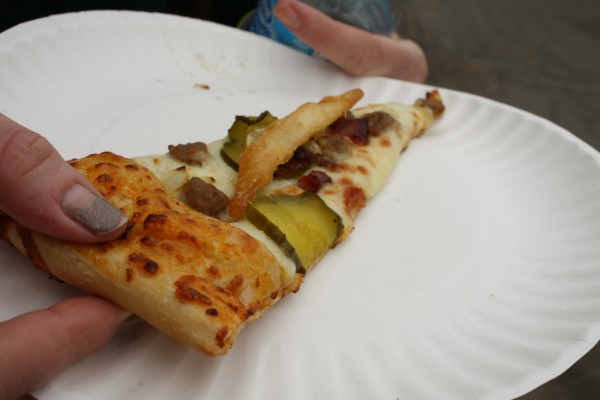 – Bacon Cheeseburger Pizza: ground beef, dill pickles, bacon, mozzarella cheese, topped with a fry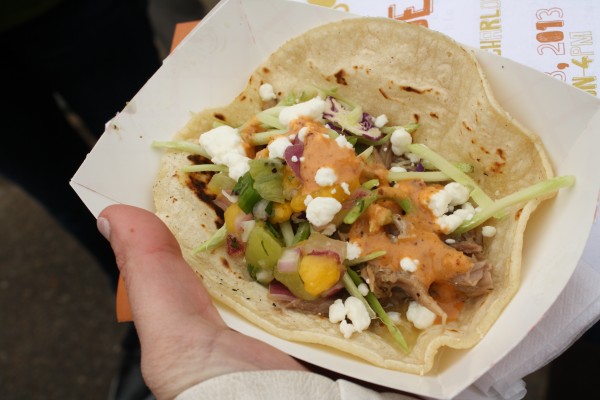 Sals' Roadside Eatery brought only one dish to the competition. I liked that they focused their efforts onto making one really great dish.
– Duck confit taco with mango/kiwi salsa, goat cheese, and homemade remoulade sauce, served on a corn tortilla
The Herben Legend served what I consider to be the fanciest dishes of the day — something you could expect in a creative fine dining restaurant. Their two dishes were:
– Filipino pork belly & pineapple adobo with bacon crusted coconut rice cake.
– Puerto Rico Mofango: cilantro lime Grilled white fish over tostones (a dish made with unripened plantains) with mango salsa.
At first site of their menu board, I said to Jess, "I'm only eating the Mofango because I don't do pineapple.  But because the pineapple was cooked in adobo sauce, I barely noticed them and was able to really enjoy the dish.  The coconut rice cake was one of the most unique dishes I ate of the day.  I didn't taste any shredded coconut so I'm guessing coconut milk made it so "coconutty".  I loved it!
The winners of the day was:
Best Use of Bacon: Herban Legend
Roaming Fork: People's Choice
The Tin Kitchen: Chef's Choice
The Tin Kitchen's dish wasn't pictured because my photo is being featured in the next issue of Creative Loafing.
They served:
– Chipotle-Grilled Chicken over caramelized onions & shitake mushrooms, with goat cheese, bacon, and house-made honey mustard
– Grilled fennel-crusted pork loin over local sweet potato and bacon puree, with granny smith apple, chive, and bacon salad
The Charlotte Food Fight is expected to be an annual event, so keep a lookout for it next year for a great time and some really delicious food truck dishes! And don't forget that this all goes to support a wonderful cause.
Going by appearances and descriptions alone (unless you've tried these dishes of course) which one would you have picked as the winner?