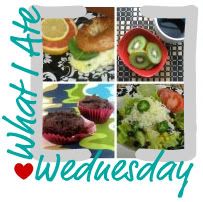 Happy What I Ate Wednesday!
Let's start off with a question…
Do you guys like these kind of posts?
I love seeing a complete picture of what people ate all day, but that's just me.  Everyone is not me (thank God).  The world isn't ready for that much crazy.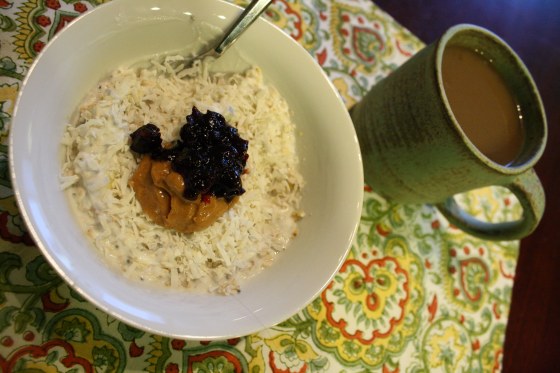 Breakfast –
Coconut 30 minute oats:
1/3 cup rolled oats
1/3 cup Greek yogurt
1/3 cup light coconut milk
1/2 banana
toppings: unsweetened coconut, PB, and Crofter's Europe Superfruit spread
And coffee! (as if you couldn't guess)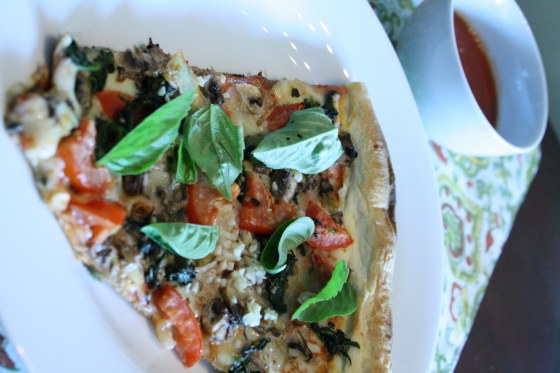 Lunch –
Leftover veggie pizza from Hawthorne's, dressed up with some fresh basil and a side of marinara for dunking
I hearby declare Hawthorne's as having the best veggie pizza out of all the locally owned pizza spots.  It's really good and they're generous with the veggies which I love.  Plus you can customize your pizza – a huge plus for me!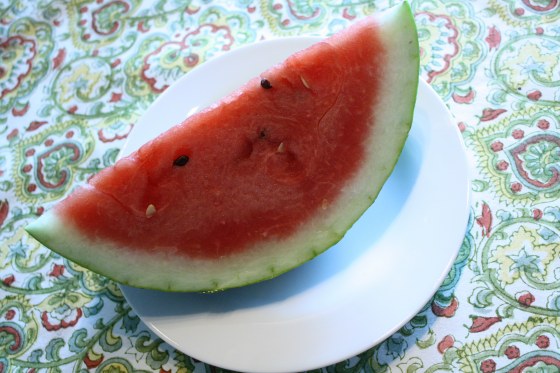 Lunch dessert –
Watermelon
I feel the need to clarify that this watermelon is on a salad plate, even though we all know I could totally polish off a piece of watermelon with the same size ratio to a dinner plate..or a serving platter. 😉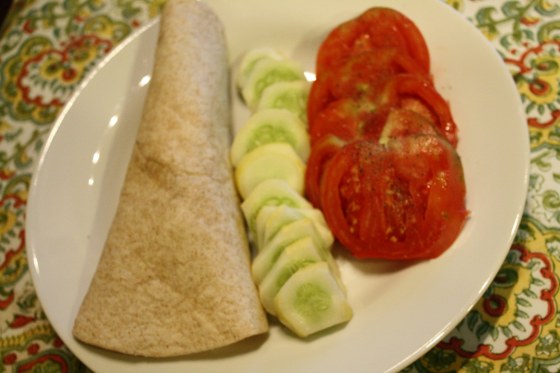 Dinner-
The *most* delicious wrap!
Whole wheat tortilla filled with one egg, spicy lentil hummus, feta cheese, and a variety of lettuces, cukes and maters on the side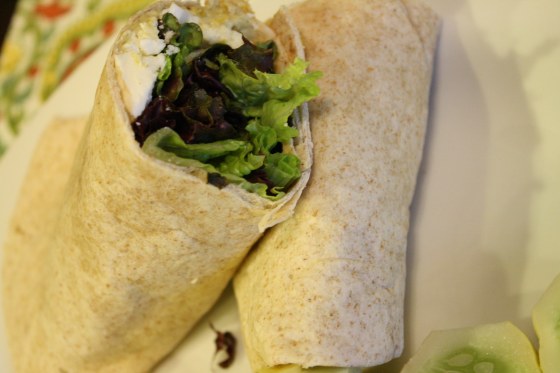 Yum!
I got snacky last night and also had a small snack bag of Tropical Foods sunburst trail mix I snagged at Saturday's race.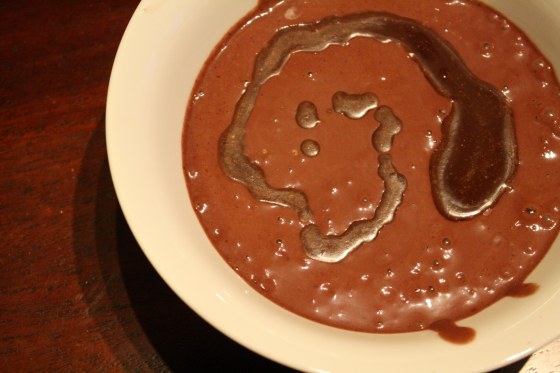 And then I made this…
Dinner Dessert –
1/2 frozen banana
1/2 cup frozen cherries
1/2 cup light coconut milk
2 Tbsp. unsweetened cocoa powder
bit of Stevia
chocolate "shell" – 1 1/2 tsp. coconut butter, 1/2 tsp. cocoa powder, too much Stevia 🙁
This was supposed to be soft-serve consistency but I went a little overboard on the coconut milk, which made it too runny.  It was still runny, but the chocolate shell was much much too sweet.  I added too much Stevia before tasting it.
This dessert definitely deserves another shot. I think it was good in theory and at least I know where I went wrong.
What's the last recipe you tried or made up that was just so-so?