I'm competing for wife-of-the-year award, so I made baked oatmeal this morning.  Brad loves baked oatmeal, but I usually say, "Not on a week day morning. It takes too long."
But sometimes you just want to please the ones you love.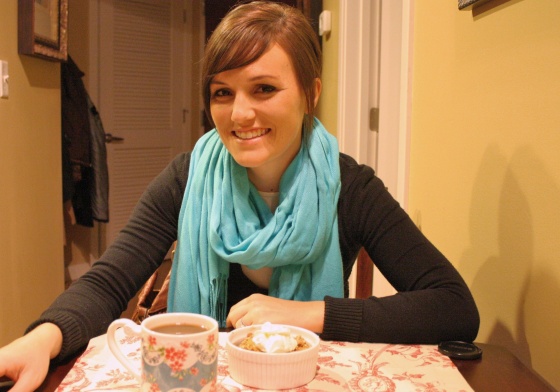 I saved some time in my morning routine by putting my hair into a ponytail.  I'm sure this is so not-exciting for you guys, but my hair has not been long enough to wear in a ponytail to work, since I cut in August.  It's only a 2 inch ponytail right now, but it's so nice to have this option again.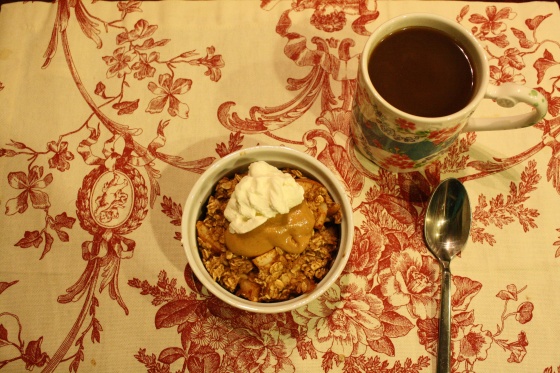 I make all kinds of varieties of baked oatmeal, but something told me I should make pear oatmeal this morning.  That something was a browning pear in my fruit bowl.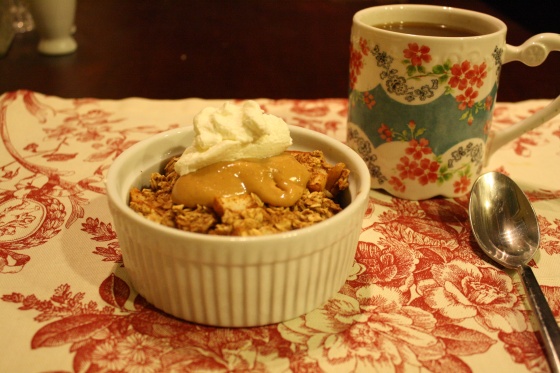 I've posted this recipe before, but I made a slight alteration this time and I think it made it so much better.  Brad said this is one of the best baked oatmeals I have met yet, but truthfully he says that almost every time I make it. 😉 Small changes can make a big difference
Baked Pear Oatmeal (serves 2)
-1 cup rolled oats
-1 large pear, sliced into bite-size chunks
-1/2 cup almond milk
– Stevia, I used 6 tiny spoonfuls of my TJ's Stevia (~1/3 tsp.)
-1 tsp. cinnamon
-1/2 tsp. nutmeg
-1/4 tsp. salt
-1/4 tsp. baking powder
Toppings:
-1 Tbsp. Organic PB
-Greek yogurt
Combine all ingredients in no particular order. Spray two ramekins with non-stick spray or a little butter or oil.  Separate your batter evenly into the ramekins and bake for 20 minutes at 350 degrees F.
Top with toppings of your choice, but nut butter makes everything at least 3 times more delicious.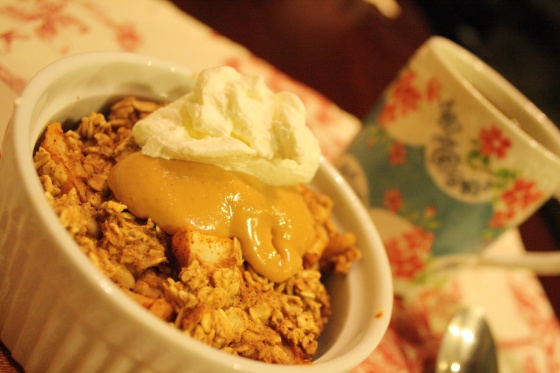 It only looks like I sprayed whip cream on top.  That is Greek Yogurt on my PB mound which just happened to turn out pretty for no particular reason.
Hope you are having a lovely day!  I can see the weekend slowly appearing in the distance. 🙂