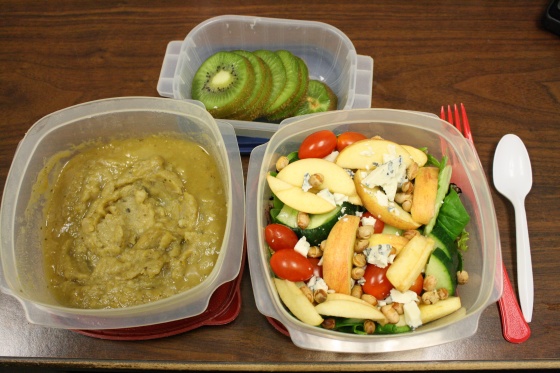 I whipped this spread up right before I left for work this morning.  As much as I love making soup from scratch, a couple of canned soups in my cupboard makes my life so much easier.  This is my very favorite canned soup: Trader Joe's split pea soup.  Yum!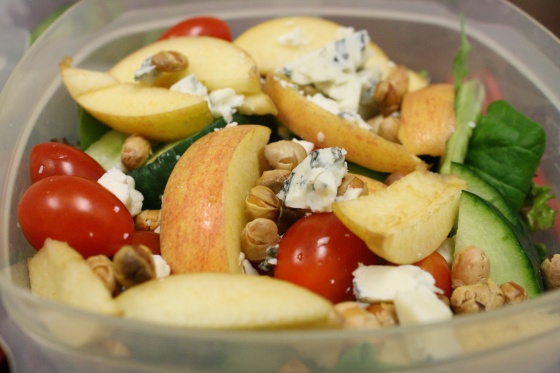 My soup was accompanied by the prettiest salad I've made in a long time.
Ingredients: mixed salad greens, cherry tomatoes, my last tiny apple, cucumbers, soy nuts, and some Gorgonzola.
Good cheese and nuts really make a good salad great.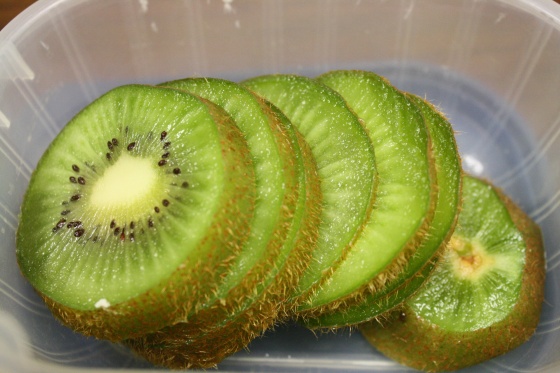 The kiwis I picked up this week at TJ's may be the largest kiwis I've ever seen.  Plus, their organic, which confuses me because I usually think organic fruit is much smaller than standard fruit due to the lack of unnatural fertilizers.
***
I'm always trying to think of ways to spice up my lunch posts.  Because I'm not generally cooking for lunch, I think they can be kind of boring.  Is there anything out there you want to read about, any topics you want me to cover to add some interest to these posts? Anything about me blog-related or not you want to know more about? Any ideas you have would be awesome! 🙂
Fortunately, I do have something to share today.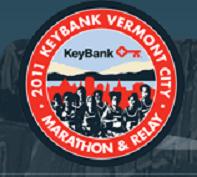 (source)
I am going to run my second marathon and Brad is going to run his very first marathon!
I wasn't too sure if I would want to run a marathon after I completed my first.  I got a little over it at the end of training for Disney.  But the rush and excitement of the actual marathon totally blew me away and it wasn't long after I finished (like a few hours) before I was mulling over doing another one.  Brad has casually said before that he would like to run a marathon as well and I think finishing the Disney half marathon so strong, told him  he could definitely do a full marathon with the proper training.
A friend of ours has been telling us about the Keybank Vermont City Marathon, which she is running.  Brad and I have never been to Vermont and the marathon takes place on May 29, which is enough time for us to both build up our mileage without hurting myself from doing too much too soon.
I'm so excited to have a training partner.  After a lot of lonely long runs last year,  I'm so happy to have someone there with me on my long runs, stride for stride the whole way.  All of our runs probably won't happen together, but I'm sure most of them will and that makes me happy. 🙂
Here is our training plan, which I put together in the car on the way back from Disney because I'm crazy.
We're following a different plan this time around.  I used Runner's World Smart Coach for Disney, but for Vermont we are both using Hal Higdon's Intermediate 1 plan.  I really like that you run more times a week,  but weekday runs aren't as long as my first training plan.  I guess we'll see how I really feel about the more-often weekday runs when I'm fully into training.
I'm a little uncertain about those two 20-milers two weeks apart, but I know I can do them.  I know I can do this race.  If anything taught me that it was feeling less than great when I ran Disney.  It's those really tough runs that tell you that you can get through anything.  I'm in no way an expert, but I learned a lot during marathon training last year.  I hope to apply what I've learned for an even better marathon training experience this time around.
With such a handsome running partner, how could I go wrong? 😉