Last night Brad and I hosted our good friends Casey and King for a little dinner party for four.
On the menu:
-Beaufort boil (or some people call it Low Country boil)
-Jalapeno cheddar cornbread
-Salad
–Lemon bars (made by Casey)
-Vino (brought by Casey and King)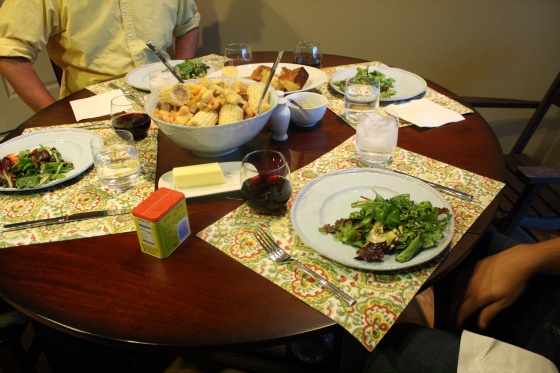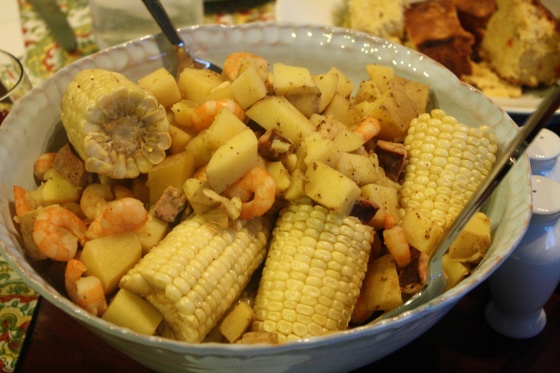 Beaufort boil is so easy.  Basically you bring a huge pot of water to boil and add cubed potatoes, half ears of corn, shrimp, and kielbasa, plus lots of Old Bay seasoning.  I didn't really measure anything except the 1/2 cup of Old Bay I added to the boiling water.  Since some things take longer to cook, I didn't add everything at once.  I added the potatoes first and the corn, letting them boil for about five minutes, then the kielbasa for about 2 minutes (I used Earth Fare all natural kielbasa which is on sale this week), then the shrimp which only took about 2 minutes to fully cook.
Typically you use shrimp still in their shell, but we had frozen shrimp in our freezer and opted to use that rather than buy more.
Once everything is fully cooked, drain the water, transfer to a serving dish or leave in the pot. I really like Old Bay, so I sprinkle more on my serving.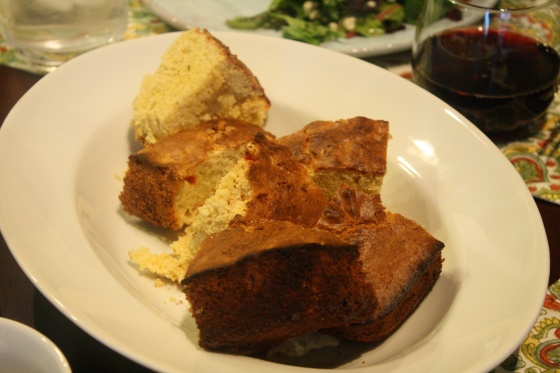 I used this recipe from Food and Wine for Jalapeno Cornbread but I also added about 1 cup of shredded New Zealand grass fed cheddar.  The cornbread turned out really yummy, but I will definitely alter things in my next attempt at cornbread by:
-Using all corn meal and no white flour
-Doubling the jalapeno
-Omitting the cheese (which I added to the recipe anyway)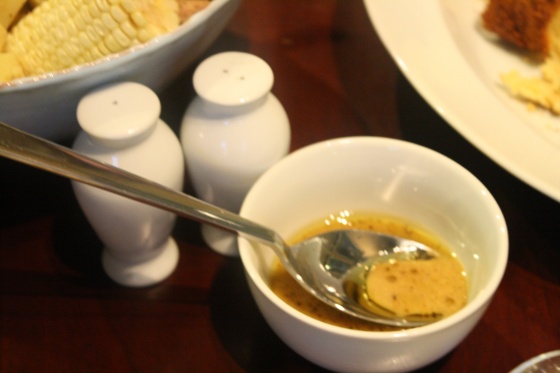 I also made a big salad of:
-Mixed greens
-Roasted red and yellow bell pepper
-Tomatoes
-Cukes
-Raw corn kernels
-Avocado
-Dijon maple vinaigrette
Dijon map vinaigrette:
-2 Tbsp. EVOO
-3 Tbsp. red wine vinegar 
-2 Tbsp. Dijon mustard
-2 Tbsp. maple syrup
-Fresh ground pepper and salt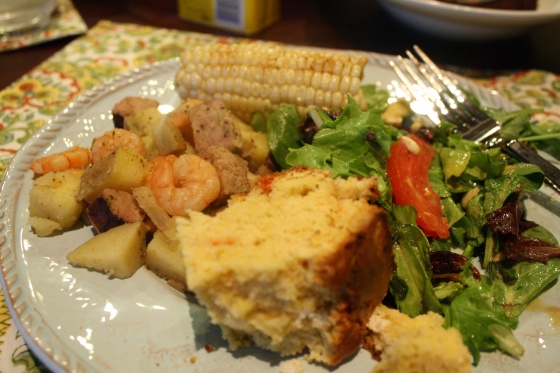 My plate.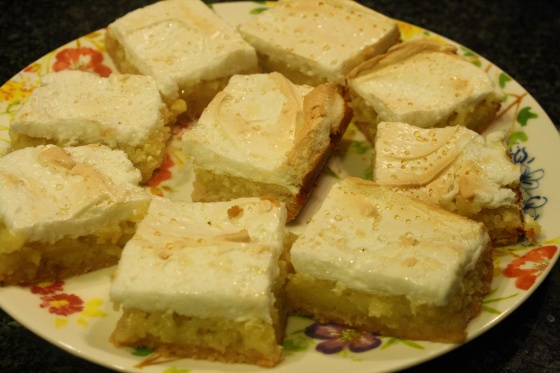 Casey brought over these really tangy and sweet lemon bars with a thick crusty bottom and meringue on the top.  These were so delicious served cold.  I had one small bar.
She left the rest here so you might see these again soon.  I love lemon so these might have to get recreated at some point.  Maybe in the form of a pie?  hmmmm.
Somehow the wine went unpictured.  We had some sort of red which I think was a Cab and the white was a Riesling which went perfectly with the sweet citrusy dessert.
We played games for awhile and talked about Casey's graduate program she just started.  It was a great evening and it was so good to catch up with old friends.