As much as I really enjoy blogging, it's been really nice to get things done the past two days, without worrying about recapping it.  Here's a quick recap of the higher points of the weekend.
Friday night started out at Providence Cafe with blogger friends.  Kath and Matt stopped by on their way to South Carolina for a wedding and several of us met for dinner to catch up.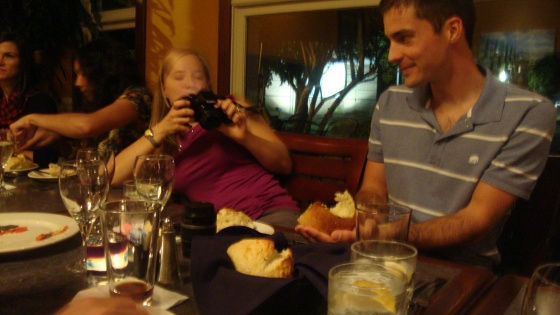 There was a lot of bread and two appetizers.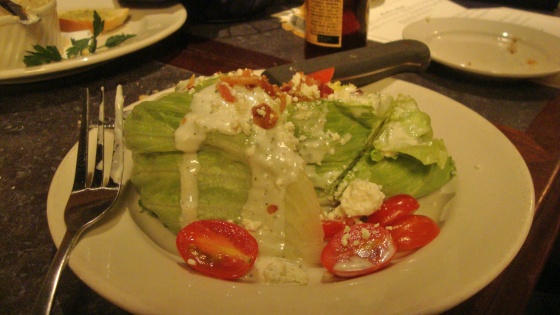 Brad's classic wedge salad — I had three bites.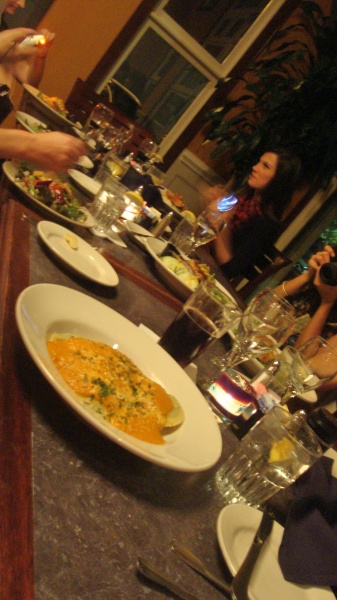 The other end of the table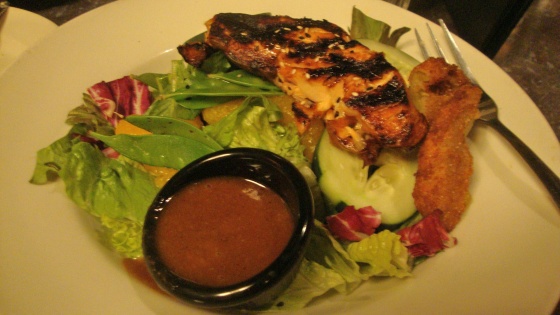 My salad with salmon, fried green tomatoes, mandarin oranges, and cucumbers with an Asian peanut dressing.  Delicious.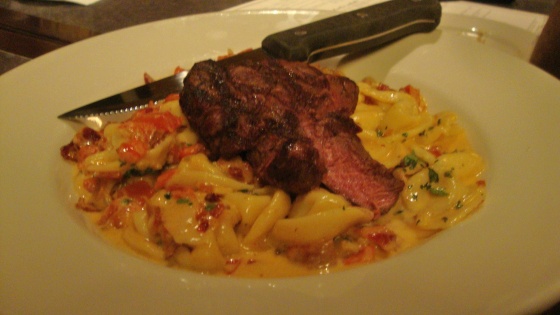 Brad's sirloin with pasta.  I thought the bacon was overkill but I had a bite anyway for tasting purposes.  It was as delicious as you would expect pasta, steak, bacon, and cheese to be.
Saturday involved a quick 30 minute elliptical session with 10 minutes of back and arm strength training + 5 minutes of stomach exercises.
Brad and I spent the rest of the day cleaning and working on the new house.
Saturday night, we were off to Luisa's Brick Oven Pizza for Diana's 30th birthday celebration. .  I still can't believe I didn't know about this place.  They've been in Charlotte for 19 years and the night before had just sold their one millionth pizza!  They might be competing for my favorite Charlotte pizza place, but it will take a few more tries before I know for sure.  😉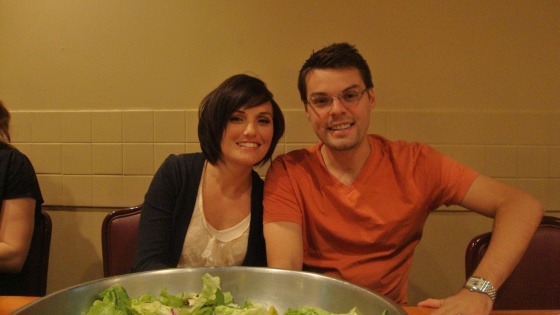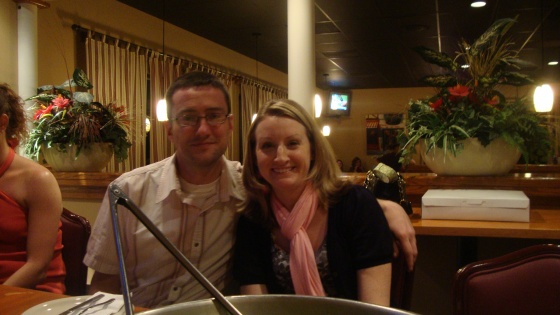 Brittney and Greg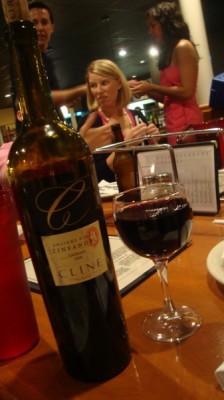 The wine I shared with Brittney and Nicole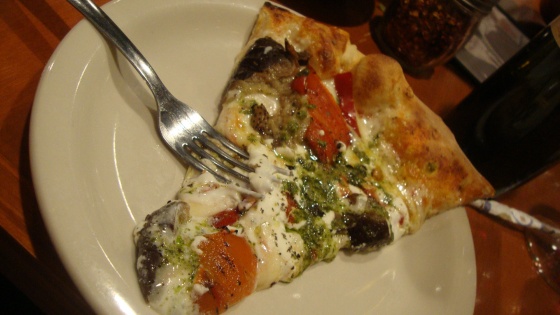 My pizza masterpiece: ricotta, eggplant, roasted red peppers, and pesto.  I love pick-your-own toppings kind of places. 🙂 I had two fabulous slices.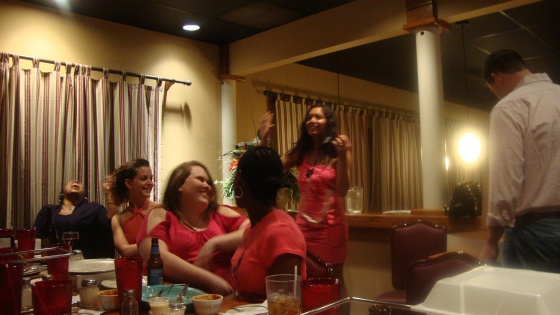 The birthday girl doing a birthday jig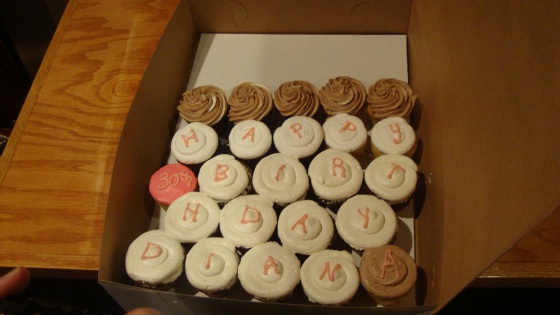 The birthday goodies…
Brad and I split a double chocolate and a white icing on chocolate (once we knew there were enough for everyone to have one).  😉
Next, a lot of dancing ensued at a restaurant/bar down the street, for which I have no photos. 😉
Brad and I met friends for brunch at Bistro La Bon on Sunday morning.  I have to be honest, I wondered about this place because it's kind of inconspicuous and is in a kind of questionable strip mall.  BUT, I had heard great things about it, so I was actually really glad that we were going to try it.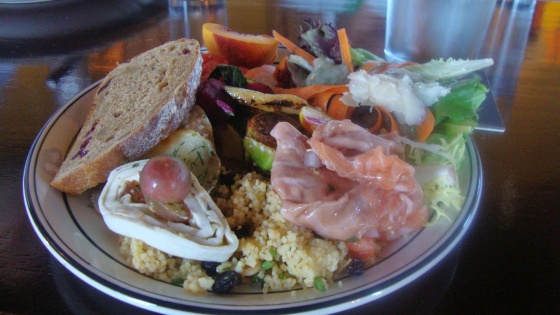 They had an amazing brunch buffet…probably the best in Charlotte since brunch buffets are hard to find (as in I've never found one besides this one).  Somehow I ended up with a salad size plate instead of a regular size plate, so after this I went back for a couple more bites.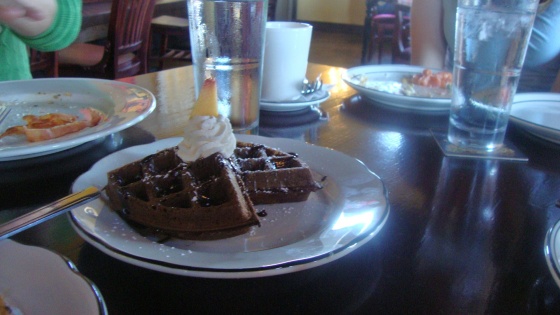 Chocolate waffles and french toast are also included, so the six of us ordered two of each so we could all try them.  I had two bites of each and they were definitely worth trying.  I liked the chocolate waffles best of the two.
The rest of my Sunday was spent cleaning the crevices of windows and doors with a tooth brush at the new house and pruning hydrangea bushes.  I was super productive at home later, making soup and baking tofu for easy meals this upcoming week, doing laundry, cleaning the bathroom, and just being a little cleaning machine.
I don't know if I'm ready for the work week.  It's going to be a super busy one, for sure.