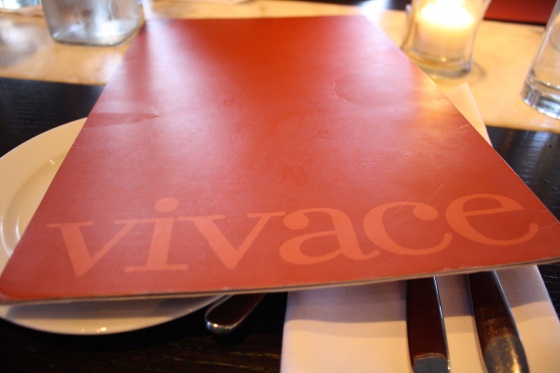 Last night, my parents took me out for a lovely dinner at Vivace, a relatively new Italian restaurant I had yet to try.
The menu online looked amazing so I was very excited to taste their food.  They also have a vegetarian menu and gluten free menu (upon request) in addition to their regular menu.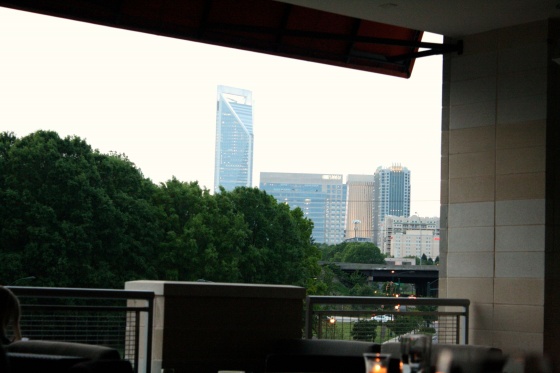 Their north facing wall opens up to create a patio feel to their upstairs.  We had a gorgeous view of the Charlotte skyline.  I could almost see our condo!
In attendance was…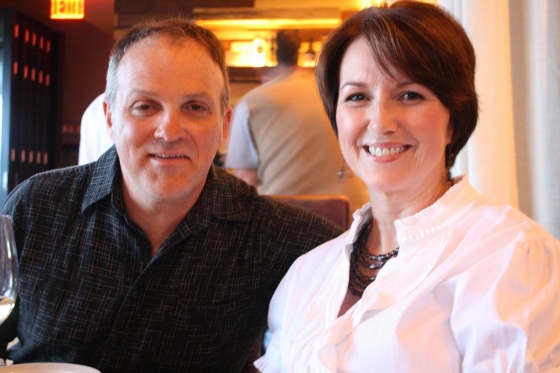 My dad and mom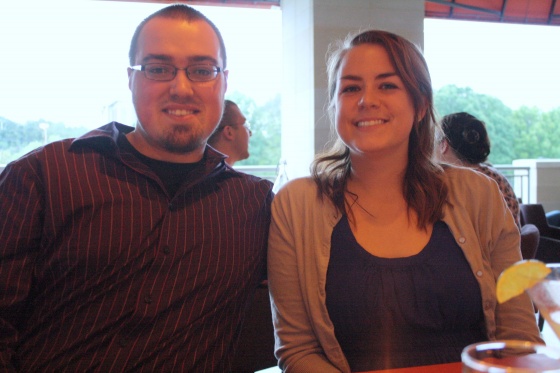 My brother, Wess, and my sister-in-law, Jen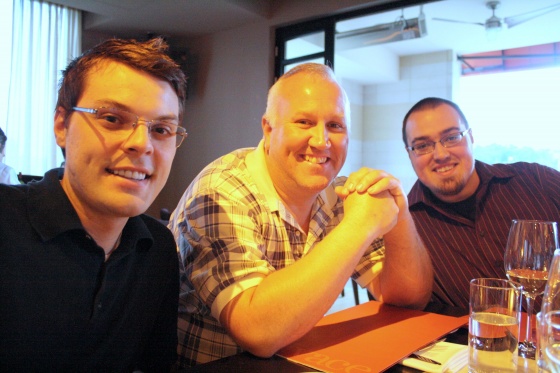 My Uncle Jeff (with Brad and Wess)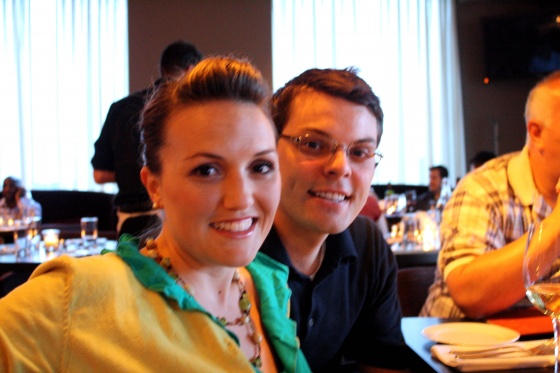 Then of course, Brad and I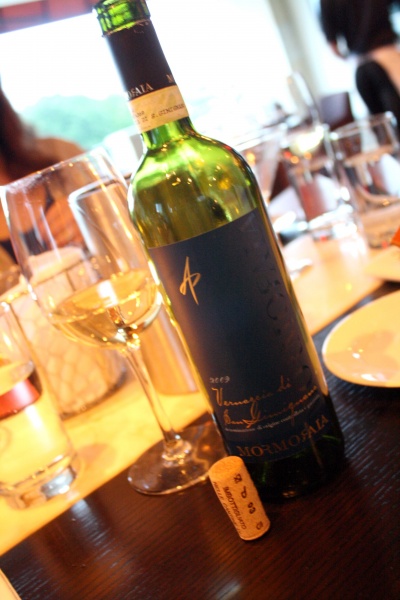 We started out with a bottle of white wine from the Tuscany region, which I ordered.  Even after spending two weeks in Italy, I'm still pretty unfamiliar with Italian wines.  You won't recognize the old American standbys like Chardonnay and Merlot on an authentic Italian wine menu.  So I try to stick with the regions we visited while we were in Italy for our honeymoon.  I figure that since I really enjoyed the wine while we were there, I can't go wrong sticking to these same regions in a restaurant.  We took a wine tour of Tuscany so I typically stick to this region when choosing Italian wines.  Another favorites are wines from Cinque Terre.
We also later ordered the Quattro Mani from Montelpulciano, a town in the Tuscany region where we did a tasting on our tour.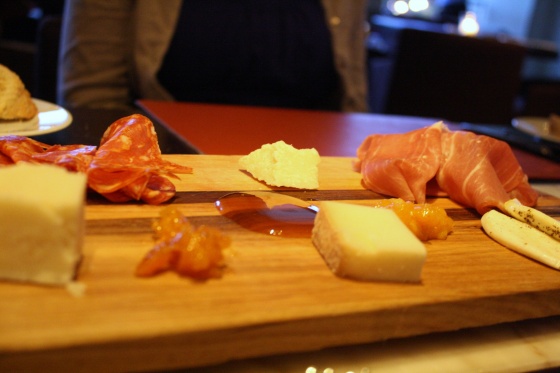 We started out with a cheese plate.  I love restaurants where you get to choose what goes on your cheese plate so Vivace got major points with me for offering choices.
Our meat selection:
prosciutto de parma
sopressata
Our cheese selection:
parmigiano reggiano
pecorino sardinia
quadrello di bufala
fresh mozzarella
The cheese plate also came with apricot preserves, honey, and orange marmalade.
It was a delicious combination of sweet and savory and everyone at the table who tried it was very impressed with the flavor combinations.
I also ordered their seasonal salad.
strawberries, pickled red onion gorgonzola, pistachios, lemon honey vinaigrette
Strawberry salads are my have-to-order in any restaurant and this one did not disappoint.  It was fresh and light.  Just perfect.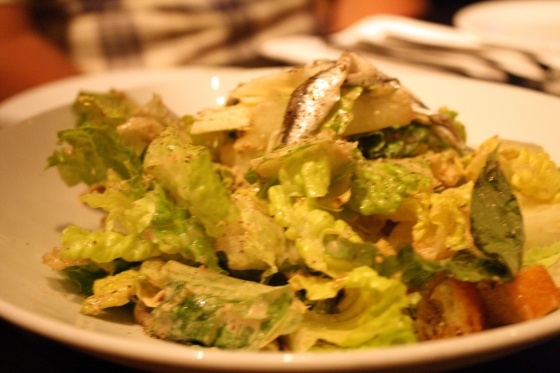 Brad ordered the Ceasar salad, which came with anchovies on top.  Very authentic.
romaine hearts, white anchovies,shaved piave vecchio, croutons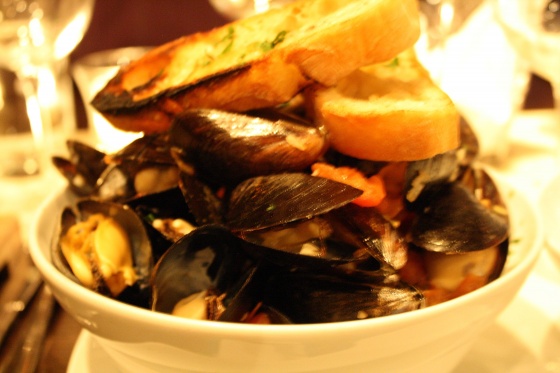 My entree choice came from the appetizer menu: Mussels!
Steamed P.E.I Mussels roasted tomatoes, garlic, grilled ciabatta
I always give my brother a hard time for ordering chicken parmesan wherever we go, but this night I told him that mussels are my "chicken parmesan".
They were perfect and I enjoyed the fact they were in a tomato broth, when typically they're served in a white wine butter broth. I like to mix it up a little and this was a nice change.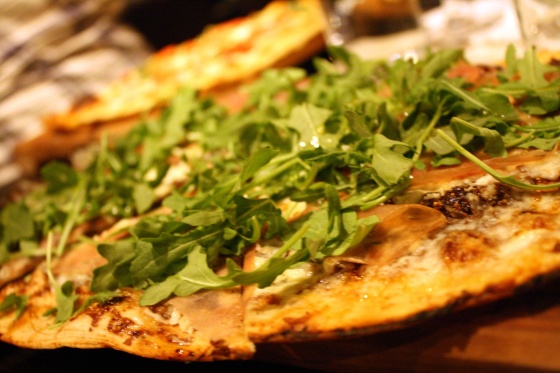 Brad's flatbread choice for his entree was incredibly delicious.
Prosciutto di Parma, gorgonzola, fig purée, arugula
I didn't photograph everyone's meals, but here are a few shots of other plates at the table.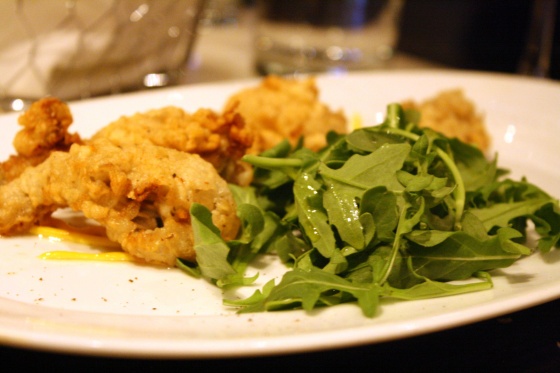 My mom's fried oysters and small arugula salad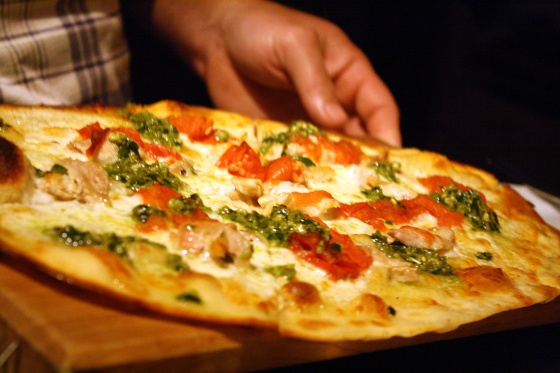 My Uncle Jeff's smoked chicken pizza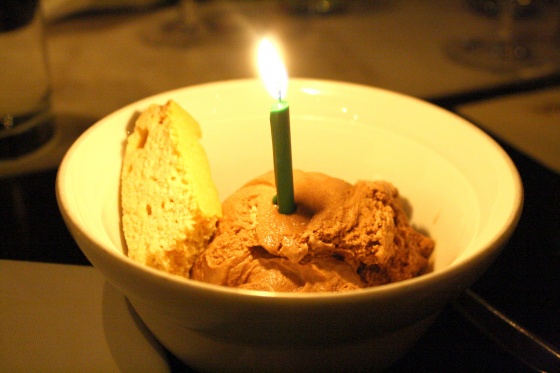 And lastly, since we were celebrating my birthday, our waiter brought out chocolate gelato and almond biscotti for me, complete with a candle.
Gelato > cake
Of course, I shared with the table, but ate at least half all on my on. Delicious and creamy goodness.
Everyone was very impressed with Vivace, including me, who is not so easy to please when it comes to restaurants.  I loved the chic atmosphere, the open air second floor, and the wonderful food; plus the service was incredible.
I definitely will be visiting Vivace again and will admit to being a bit jealous that Raleigh has multiple restaurants owned by Urban Food Group (who own Vivace), while Charlotte has only one.
When we left the restaurant at about 10 pm, it was completely packed by late diners and a mature (read: my age and up) scene at their chic bar area.Hopefully, they will spread some of the restaurant love around in the Queen City when they see how popular Vivace is with the locals.