After being stuck in our hotel in Knoxville for two days, I was antsy to get out and go to dinner on Tuesday night. I was actually climbing the walls like a chimpanzee.   Poor Brad has been getting over an awful cold and I was crossing my fingers all day that he would feel like grabbing dinner out too. Please don't judge me for putting my socializing needs before my husband's health.  I swear I would have pretended to be been happy to stay in if he wasn't up for it.  I swear.
In preparation for this trip, I read this great article in Garden and Gun Magazine about places to eat in Knoxville and used that as my guide.  The restaurant that sounded most interesting to me was The Bistro at the Bijou, but Brad and I couldn't find it.  I'm sure this has something to do with Google Maps and not our sense of direction.  So, we gave up and headed downtown where we planned to wing it.  It was almost 9 pm and we were more than just a little hungry.
While walking around Knoxville's very quiet downtown (as most small cities are on a Tuesday night), we stumbled across Tupelo Honey Cafe.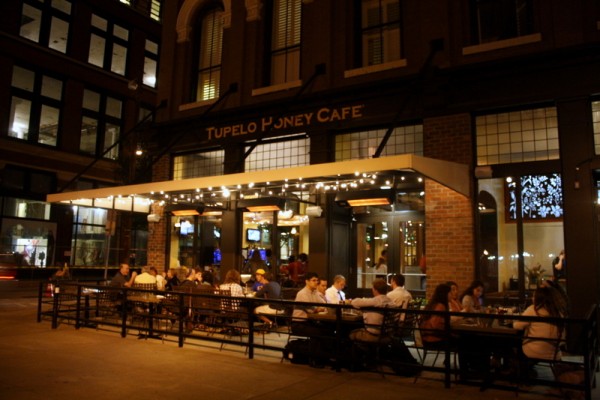 I've been dying to try this place! We've attempted to eat at the the original Asheville location, but we always have Rascal with us.  Tupelo's Asheville location must be the only place in Asheville where you can't take your dog. This location just opened up this past Monday — the day before our visit.
Tupelo, you must have heard we were coming to Knoxville, right?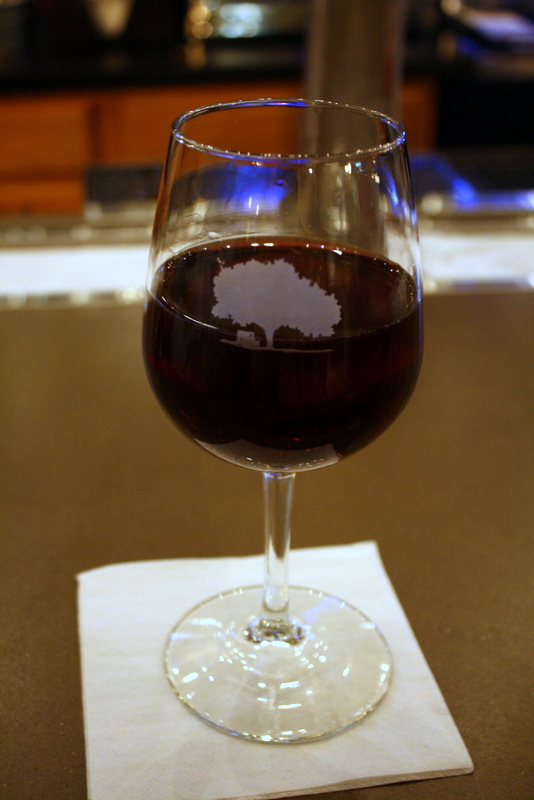 Brad and I grabbed a drink at the bar while we waited five whole minutes for a table to become available.  The hostesses were very friendly.
I chose a Biltmore Estate Pinot Noir.  I'm all about Pinots these days. They're currently my favorite wine varietal.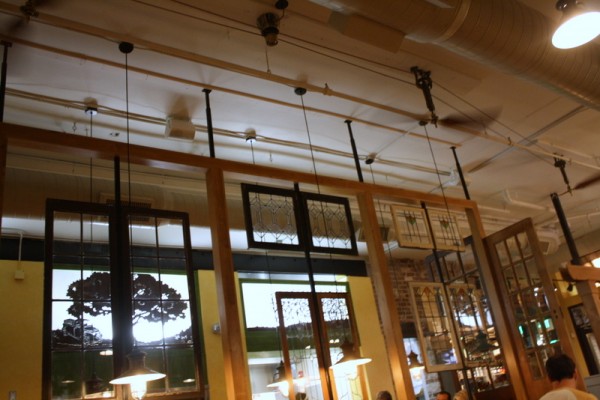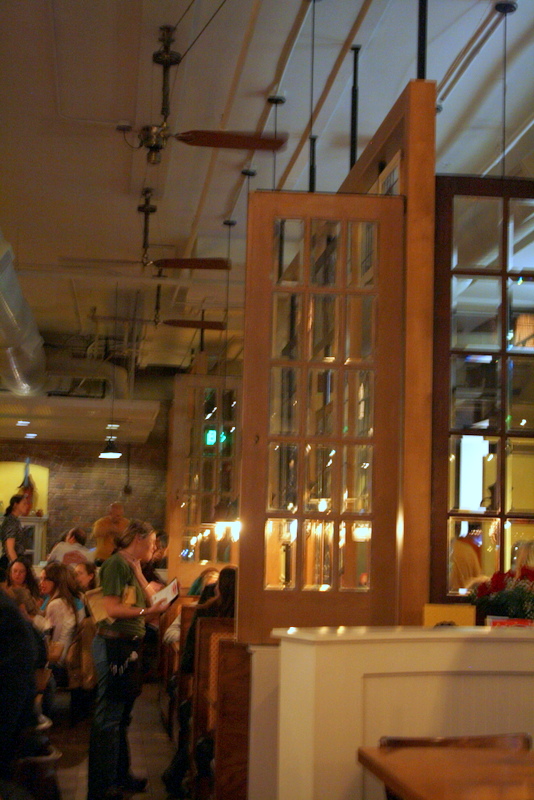 The decor at Tupelo is very craftsman (which I love!) and has a lot of really beautiful pieces that show that the interior design was very thoughtfully considered.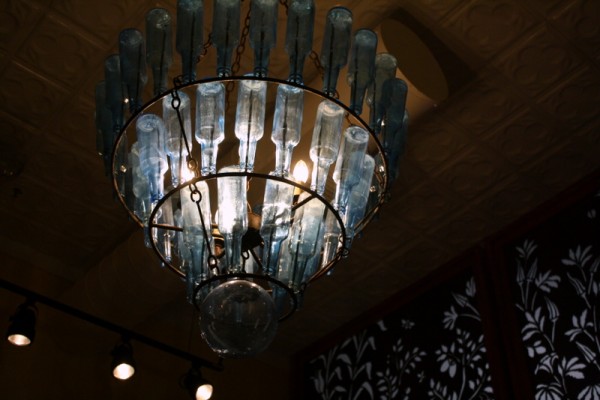 I adore this blue glass bottle chandelier.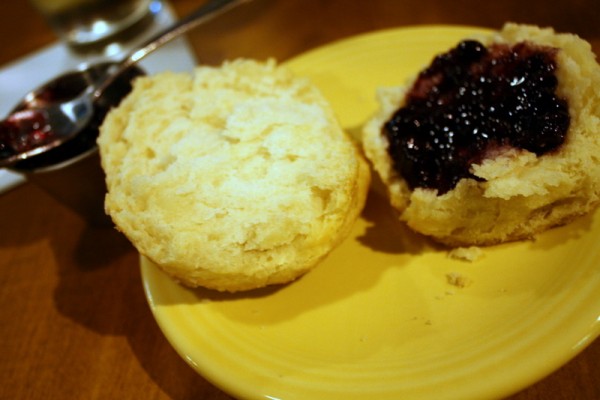 Within a few minutes of sitting down, our waiter brought us each an enormous fluffy buttermilk biscuit with a smattering of herbs scatter on top with jam.  The biscuits were amazing pillowy clouds with crusty exteriors.  I polished off half and greedily pushed the other half to the side to save for the next day.
Brad and I must have the same tastebuds because when I asked if he wanted to share an appetizer, he immediately brought up the exact same starter that I was eyeing: the Appalachian Egg Rolls.
Somehow our dinner entrees came out before our appetizer, which really wasn't that big of a deal, but they three the egg rolls in on the house because of the mixup.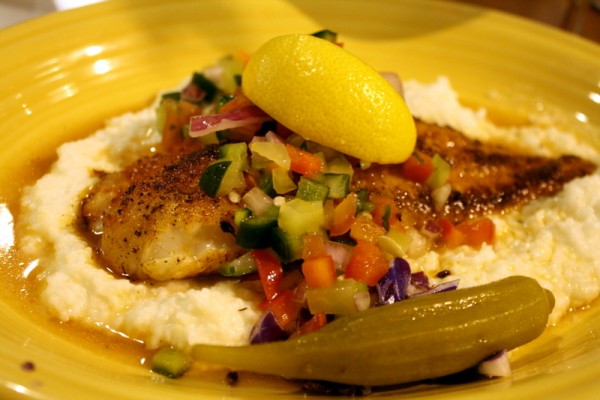 I ordered the Cajun Skillet Catfish. 
Blackened catfish catch is topped with Sunshot Salsa and served over Goat Cheese Grits. Laissez les bons temps rouler
The "laissez les bons temps rouler" comes straight from the description of the catfish on Tupelo's menu and means Let the good times roll in the Cajun French dialect.
The fish was light and flaky and was spiced just right — not too spicy, but just spicy enough. But the real star on my plate was the goat cheese grits.  Their rich and creamy goat-i-ness won me over immediately and now I'm scheming when I'm going to put my own spin on a similar dish.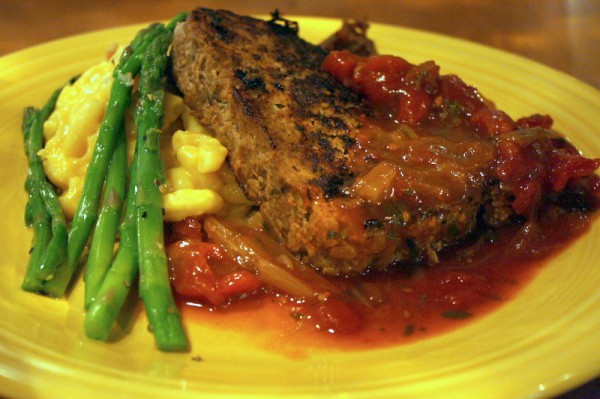 Brad ordered the Not Your Mama's Meatloaf.
Hormone-free mountain-raised beef blended with a little bacon, then put in the oven until it's perfection and topped  with rosemary tomato shallot gravy and served with scratch-made man n' cheese and garnished with asparagus spears. 
Brad really liked the meatloaf.  He said it was very flavorful and he also really liked that it was seared which gave it a nice crust. However, he thought the mac 'n cheese was just okay.  To be fair, he said that nothing can compete with the mac n' cheese served in restaurants in Charlotte.  Apparently, we know how to do mac n' cheese.
Side note: I asked him who had the very best in Charlotte and he couldn't decide between Mac's Speedshop and Midwood Smokehouse.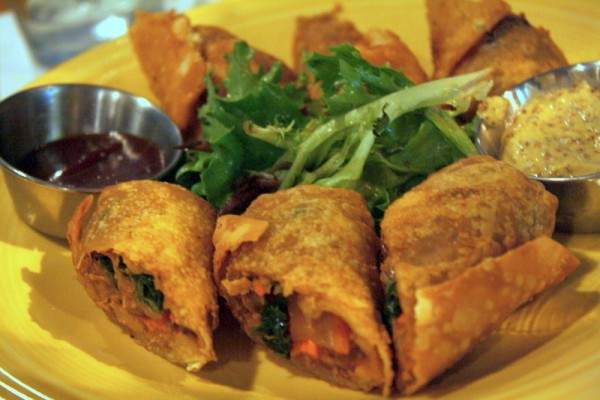 Finally, the  came out and we enjoyed it for dessert.
Pulled pork tossed in smoked jalapeno BBQ sauce rolled with braised greens, pickled onions & shredded carrots served with Dijon and smoked jalapeno BBQ dippin' sauces and a garnish of seasonal greens.   
These were so yummy.  The outside is your typical crunchy egg roll exterior, but the inside is smoky pulled pork goodness.  Brad says that he would have liked a little more braised greens, but I think he likes greens more than most.  For me, the little bite of greens was perfect for me.  These rolls were all about the barbecue, which suited me just fine.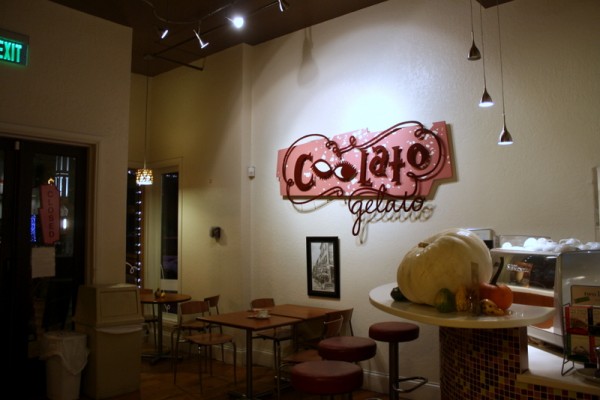 There were talks about going out for a drink after dinner, but my poor Brad was drooping fast.  We walked back to the car, but along the way, I spotted Coolato Gelato, and decided that I needed areal dessert.
Side note: I just checked out their website, which says:
Dog Friendly Patios (Dogs receive their gelato free when they bring their family)
Coolato, you just won my heart and my business the next time I'm in Knoxville.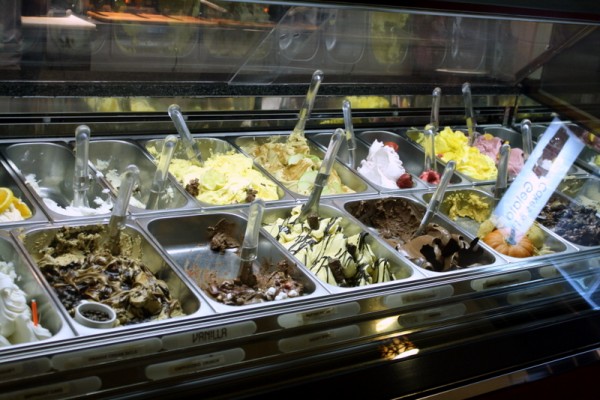 Coolato had a variety of tasty gelato options.  I tasted the pumpkin, but ended up going with the triple chocolate brownie, although in retrospect, I wish I had went with the seasonal flavor.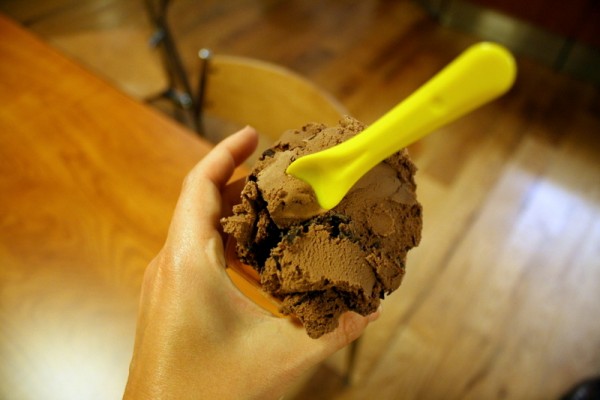 The triple chocolate was rich and creamy, just as I expected it to be, but those seasonal flavors are sweeter because they're only around for a limited time. I wonder where I can get pumpkin gelato in Charlotte…
We turned in early, but this wasn't my only trip out and about in downtown Knoxville.
Stay tuned for my solo excursion.