I took my last day in Knoxville as my last opportunity to soak up the city.  So I dropped Brad off at work and headed to downtown Knoxville with my laptop in tow.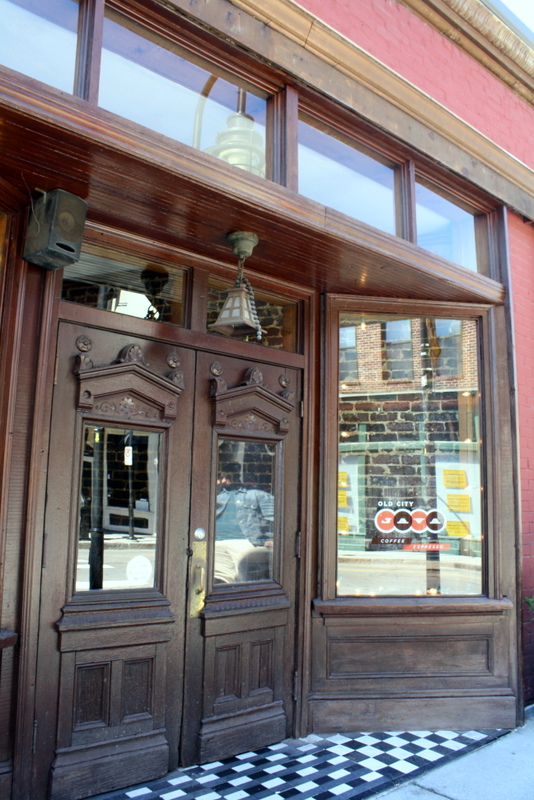 I got turned around a bit in the topsy turvy loops that circle around downtown, but finally found myself at my destination — Old City Java.
This place is super cool.  Like, way too cool for me.
Every single one of the men had a hipster mustache.
I'm not joking.
I felt like the least coolest girl at school.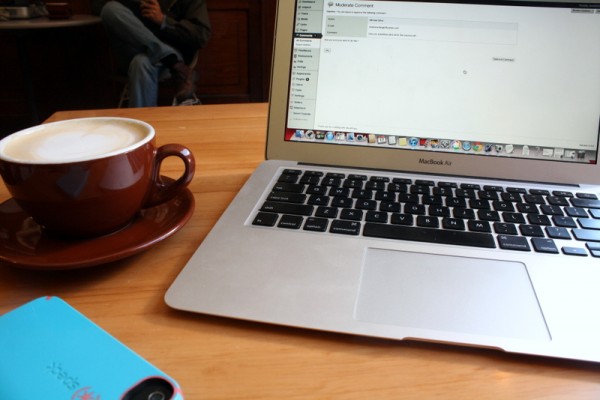 But I got over my lack of hipness and I settled in with a cafe au lait and all of my work, which included:
– Rewriting an article after feedback from an editor.
– Writing my blog post for the day.
– Writing an upcoming events snippet for a local magazine.
– Researching two ideas I'm currently in the middle of pitching to two different magazines.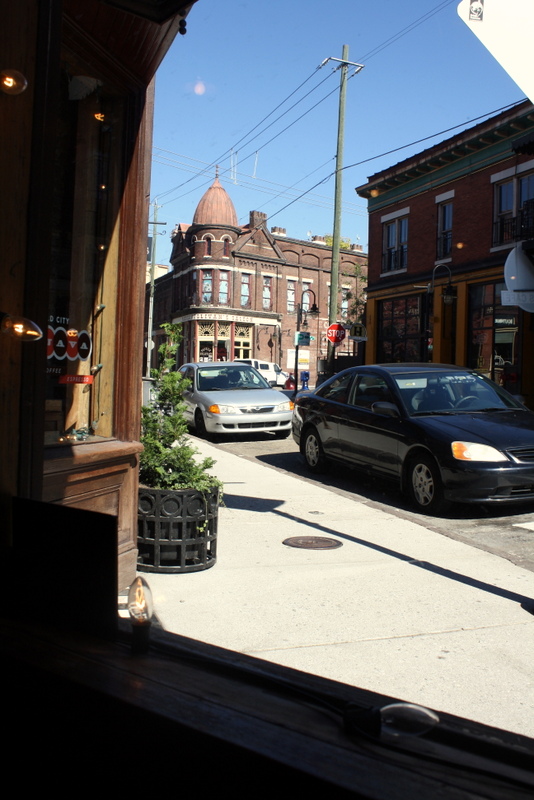 I was a very busy and productive girl, despite sitting next to the window, which used to get me in trouble back in elementary school.  I can be quite the day dreamer.
An interesting dialogue was going on beside me for about an hour where a gentleman about my age was telling an acquaintance about a book he was reading, which somehow led to a diatribe about the use of farmland in the U.S.
Well, I know that diatribe by heart, so I jumped right into the conversation.  I'm one of those people who strangers will strike up a conversation with at any given moment, but the same pretty much goes for me as well.
I'm sure I annoy the hell out of some people.
In case you're wondering, the U.S. creates four times the food that we actually need, even though some people are starving on the streets.  So what do we do with all that "food"?  Well, most of that food is corn, which we turn into high fructose corn syrup, ethenol, and feed to cows, which God didn't even intend to eat corn, which is why antibiotics are necessary to keep them alive…blah blah blah.  End rant.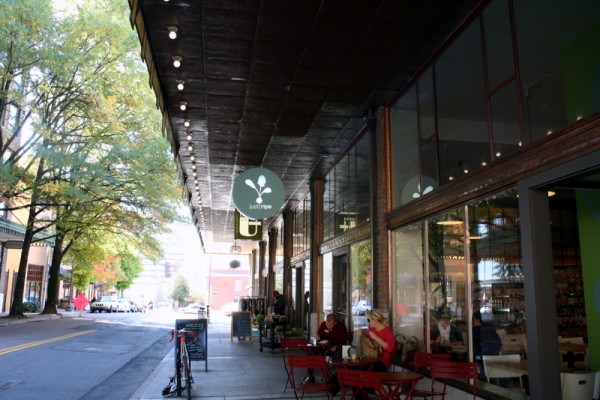 Well all that writing about food made me hungry, so I packed up my stuff and headed several blocks away to Just Ripe.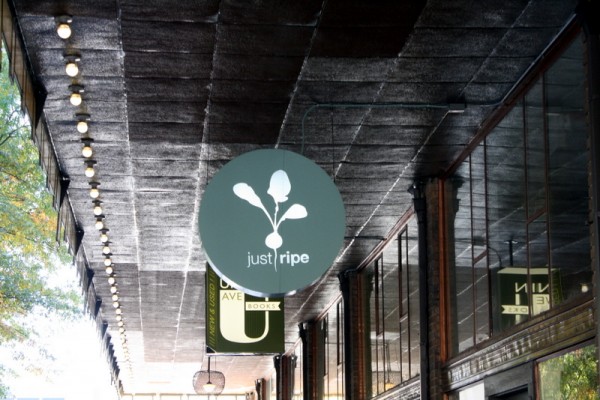 Just Ripe is a cafe where they describe their food as, "real food, locally rooted".  It was kind of like a less hip, but more hippy version of Common Market, sans alcohol.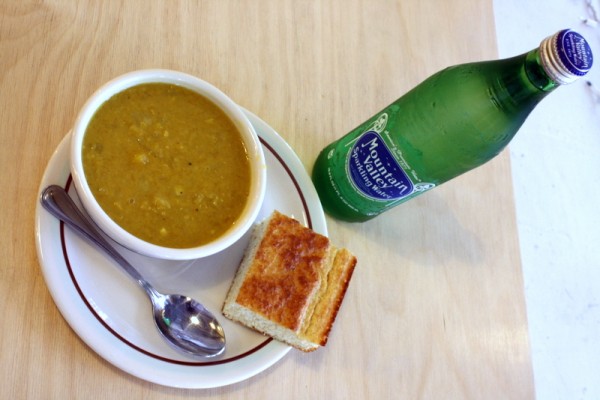 I ordered the curried lentil soup with a side of cornbread.
I must be craving curried soup because this was one of two times I've eaten it this week.  It was the perfect amount and the perfect way to satisfy my curry craving.  Warm, comforting, and full of flavor — just like I like all my soups.
The cornbread was good, but very different than the way I traditionally make it.  It wasn't as grainy and it was pristine white in the center.  Mine is made with yellow cornmeal so it's grainy and obviously not the color of white cake.  It was more savory than sweet (which is the traditional southern way).  I liked it, but I would take my version over it any day.
The one bad thing about Just Ripe is that for the life of me, I could not log onto their wireless.  After struggling the entire time I was eating lunch, I finally gave up and wandered down the street to find an alternative work location.
Just a hop, skip, and a jump away and I found myself at Coffee and Chocolate, which is obviously one of my favorite pairings.
I was smarter this time and made sure I could connect to their wifi before making a purchase and settling down.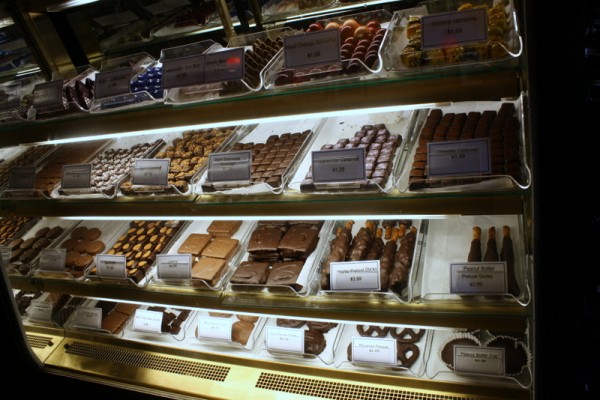 The inside of the shop was very small but they had a wonderful selection of chocolates, just the same.  The dark chocolate chipotle beckoned to me and I succumbed.
I settled into an outside table (It was a gorgeous day) and proceeded to type my little fingers off.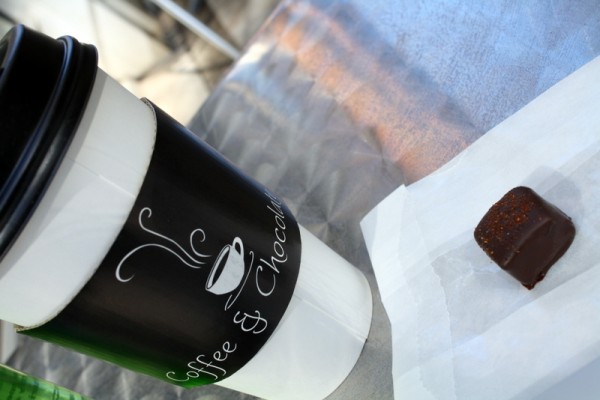 This time, I enjoyed some citrus chamomile tea with my teensy little bite of spicy chocolate — the perfect amount for someone who just wants a taste.
The chocolate was sublime.  Dark and rich with just enough spice to make it interesting.
Tippity tap tap I went until about 4:30, which I decided would be quitting time.  Let me pretend that I'm on vacation, won't ya?
And quitting time calls for a glass of wine.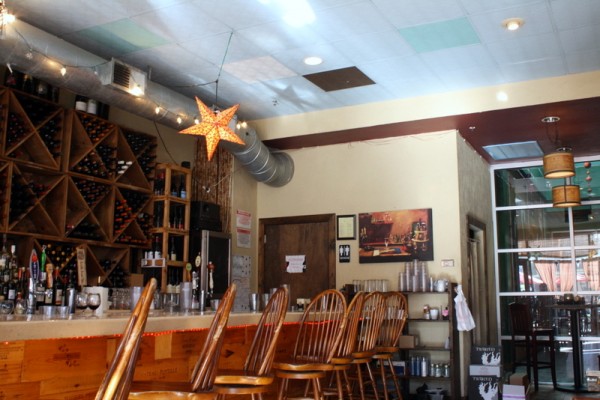 I'm like a truffle seeking pig when it comes to wine bars so of course, I sniffed out a lovely little establishment about 50 yards from Coffee and Chocolate called Oodles Uncorked.
Although this place appears to be a wine bar from its name, it was actually a restaurant specializing in Italian food, which just happens to also have an award winning wine list.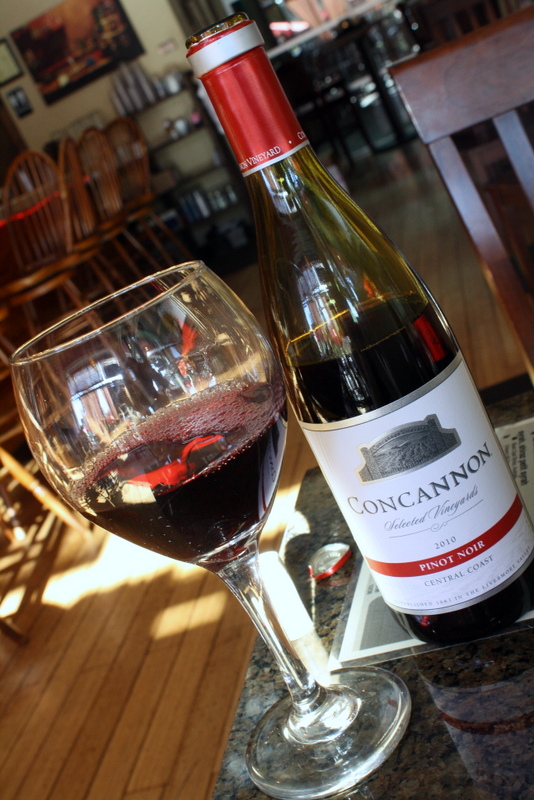 I sat in the bar area and the bartender allowed me to try two different Pinots before I selected this 2010 Concannon Pinot Noir.  I thought I should try to do some more work (since my work is never done).  But lack of wifi forced me to sit and enjoy my glass of wine.  Okay, so there was a little texting and facebooking going on — I still had my phone after all.  But it was purely for fun, not business.
Overall, I really enjoyed Knoxville and I'm really glad I got out of our hotel room and soaked up some of the downtown food and culture. I highly recommend the places I visited, including Tupelo Honey Cafe.  I'm not easy to please, but I seemed to get lucky everywhere I went in this small southern city.