Brad and I began our weekend in California by going to check out our friends' new house, which was only about 20 minutes south of Sonoma.  After telling them goodbye, we headed north to find a lunch spot before diving into wine tasting.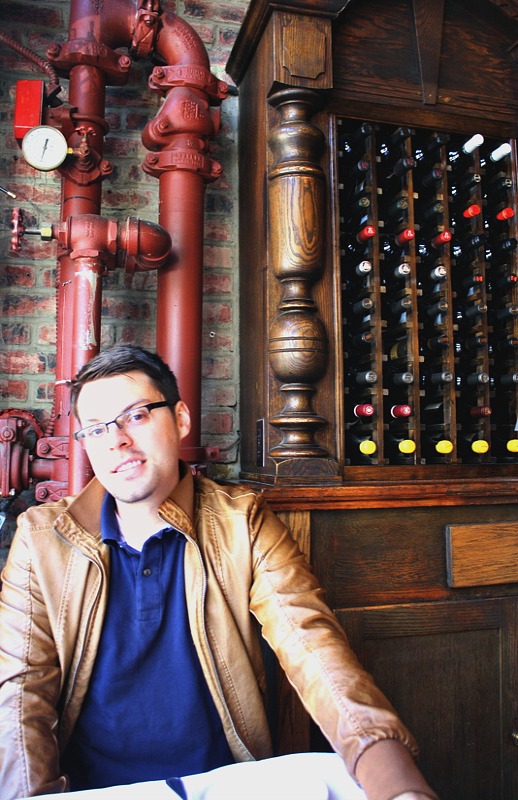 We parked in downtown Sonoma and literally walked into the first place that looked "cute" and like it might serve lunch, which happened to be The Plaza Bistro.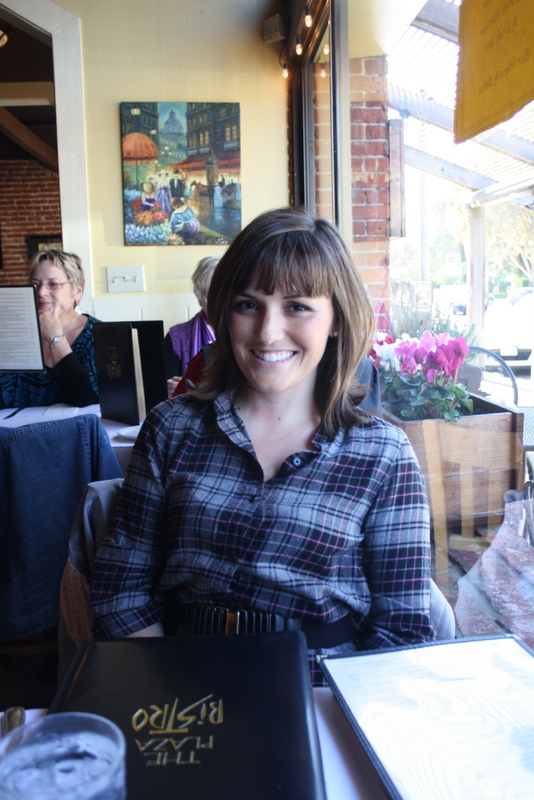 Set in a historic building, the interior is airy and casual with light colors on the walls and large windows, but also rustic with exposed brick and  piping and a large dark oak bar.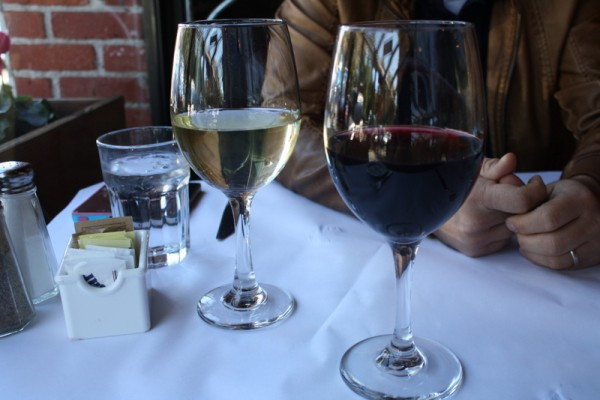 We started off with, what else but wine.  Brad always orders a Sauvignon Blanc and I almost always order Pinot Noir (lately).
Funny enough, I typically order Brad's wine for him.  How's that for role reversal?
Brad ordered a Salmon BLT.
Grilled salmon with applewood smoked bacon, baby arugula, sliced fresh tomatoes and home-made lemon garlic aioli on a ciabatta roll
He admitted to not being very excited about this sandwich, but was pleasantly surprised; he loved it and even wants to recreate it (the highest compliment from Brad).  I tasted it and found it to be really yummy. Bacon makes everything better.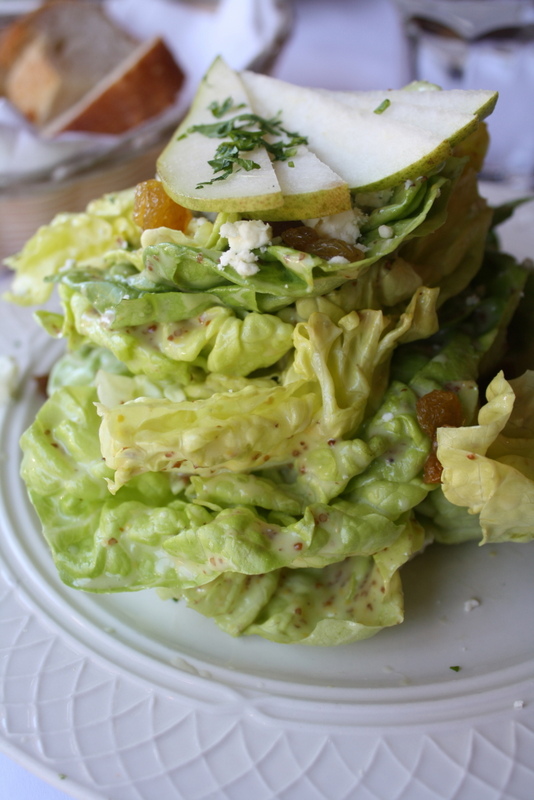 I ordered a salad.
Butter Leaf and goat cheese served on focaccia, tossed with whole grain mustard and honey dressing, topped with crumbled blue cheese, sliced pears, and golden raisins
I love the combination of sweet and pungent and was the best thing about this salad — crispy butter lettuce with sweet pears and sweet dressing with a kick from the mustard and pungent blue cheese. I liked it a lot. 
However, it needed something else — something heartier like walnuts, bacon, or chicken breast.  My suggestion is to order this as a side salad to split between two people rather than a meal.  Also I'm not sure where the goat cheese and focaccia was in this salad.  Perhaps a misprint or the chef left them off?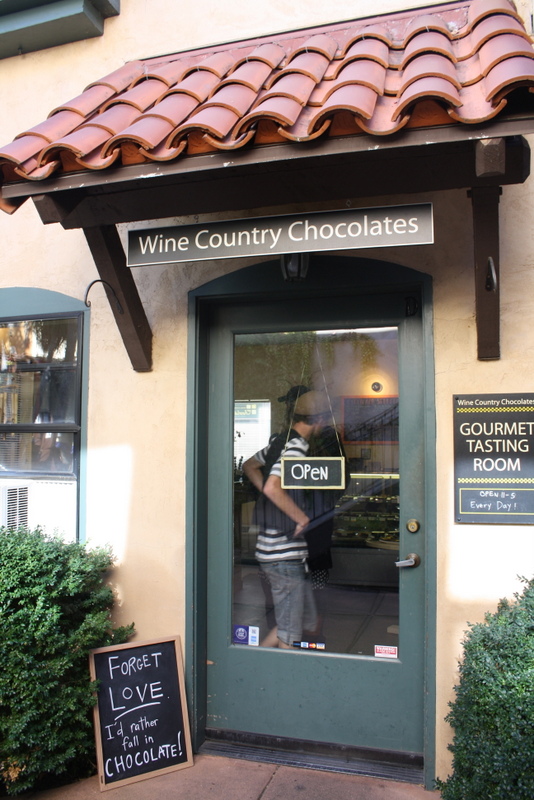 We checked out a local chocolate shop on our way back to our car.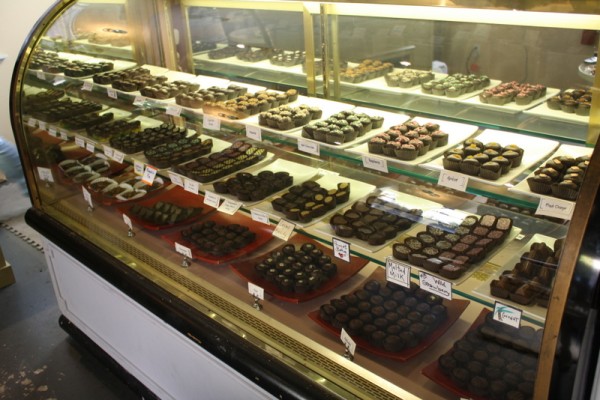 They had quite the selection, but it doesn't take me long to make decisions when it comes to chocolate.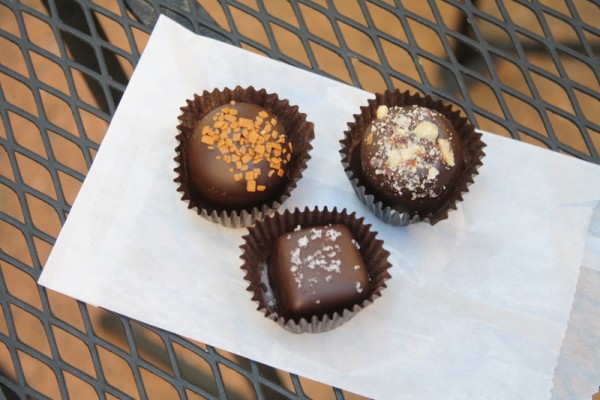 I opted for a dark chocolate sea salt caramel and another filled with peanut butter (the two on the right). Brad chose a turtle and some other chocolate I can't quite remember. Delicious!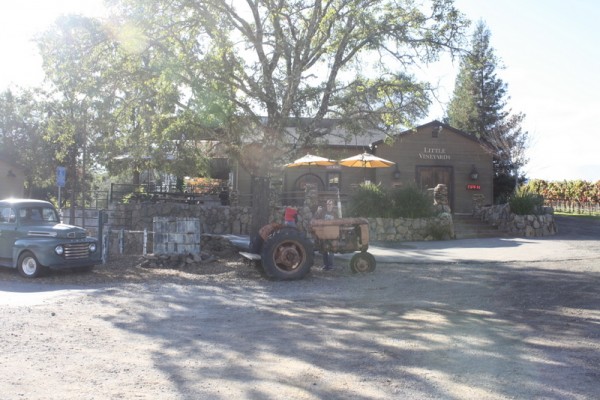 After getting a bit lost on our course off the beaten path, we finally found our way to Little Vineyards.
We did virtually no planning before our trip to Sonoma and literally stopped at the first winery we saw.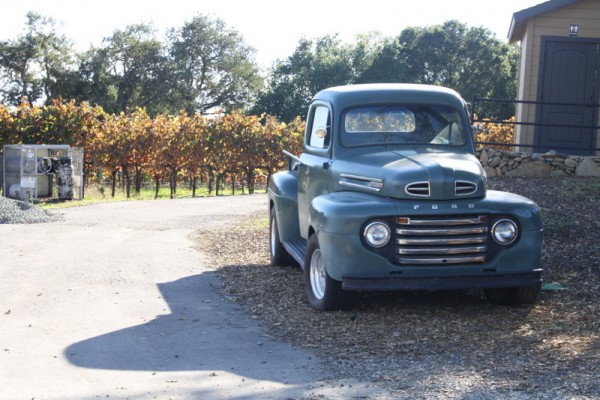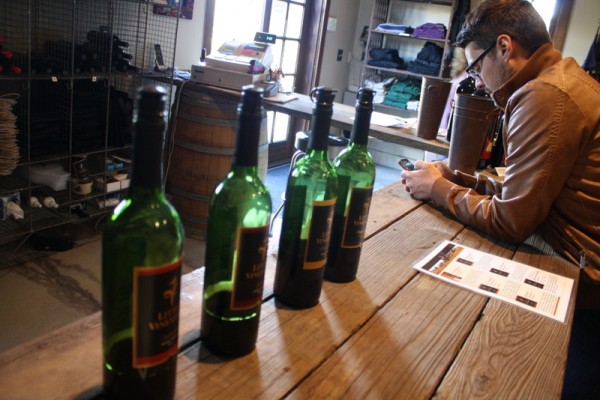 We started inside, but took the pourers suggestion to take the tasting outside.  It was a beautiful day.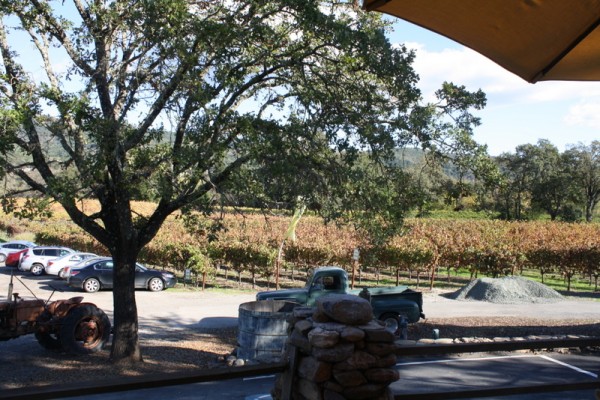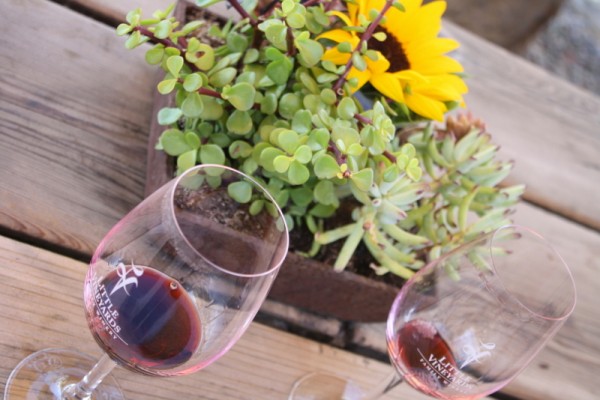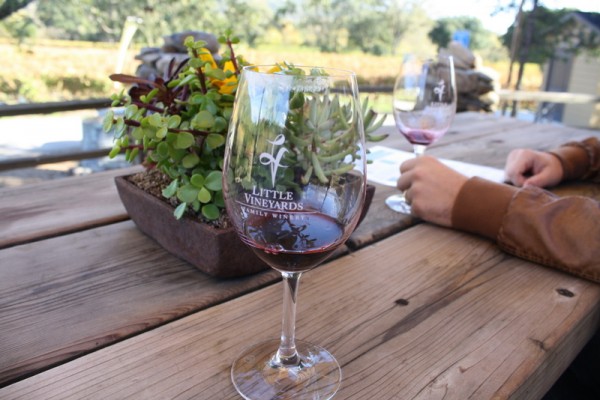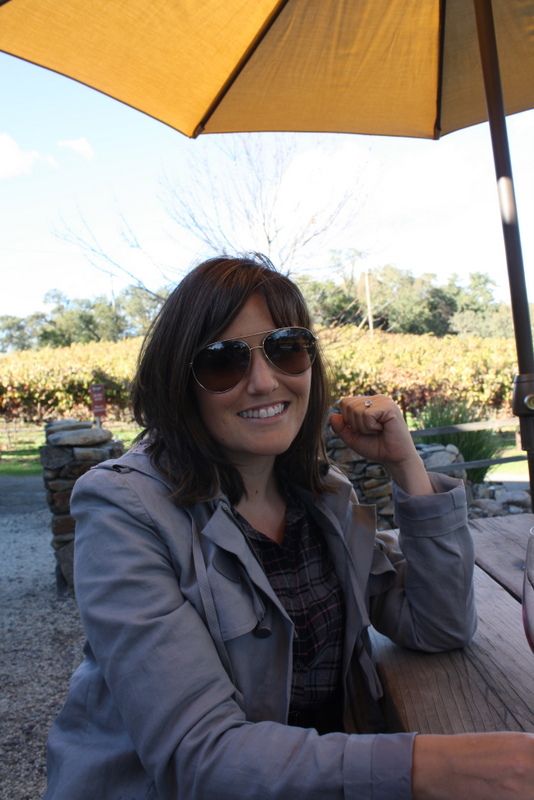 The wine pourers were very friendly and easy going. One of them accidentally poured us the Zinfandel twice so every time he came back over and asked us which wine we were on, we'd say "I don't believe we've had the Zinfandel". haha.
They also gave us several suggestions for dinner and more wineries to try.  I love talking to locals to figure out where to go in new towns.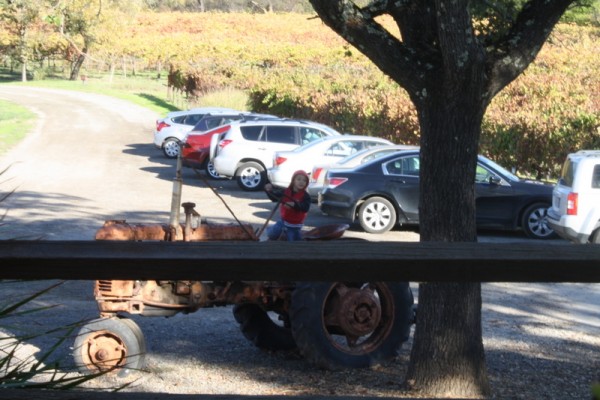 While tasting, I got a kick out of this little boy playing with no supervision on a rusty tractor.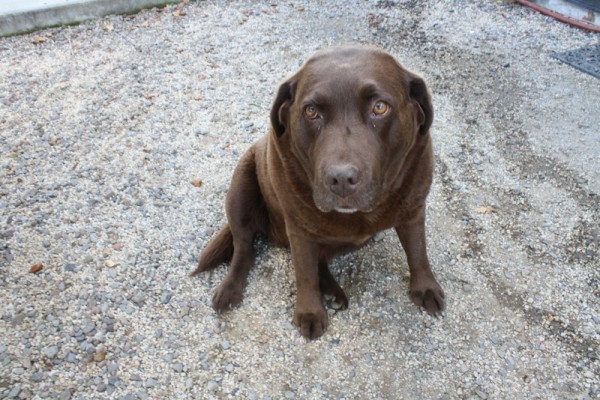 The wines were really tasty and that Zinfandel got better with every pour, but my favorite part was Roma, the chocolate lab. She looks like the brown version of my aunt's dog Christy, except she's much friendlier. She made her rounds to all of the tasters for an obligatory scratch behind the ears.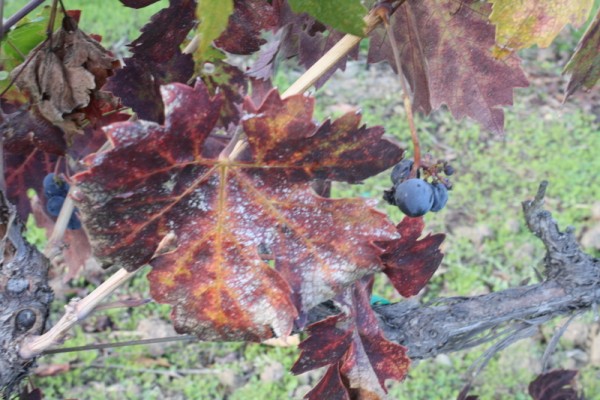 Before leaving, I noticed that many of the leaves on the wine vine were changing colors just like the trees.  Some were red wine and some were yellow.  I wonder if the red grapes turn red and the white wine grapes turn yellow?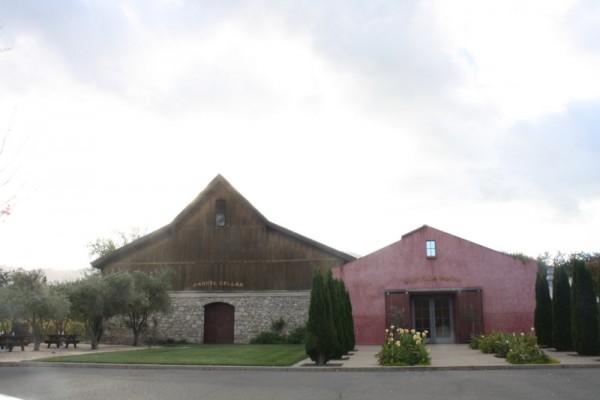 Next, we checked out Valley of the Moon Winery, suggested by the pourers at Little Winery.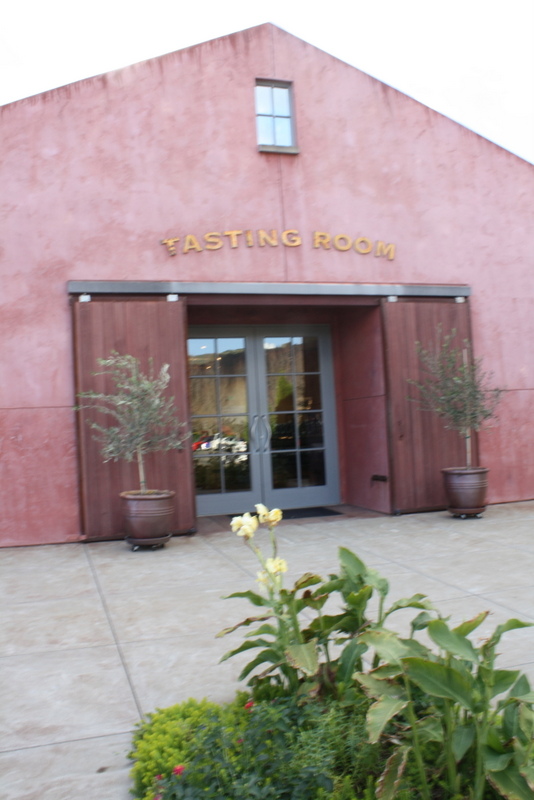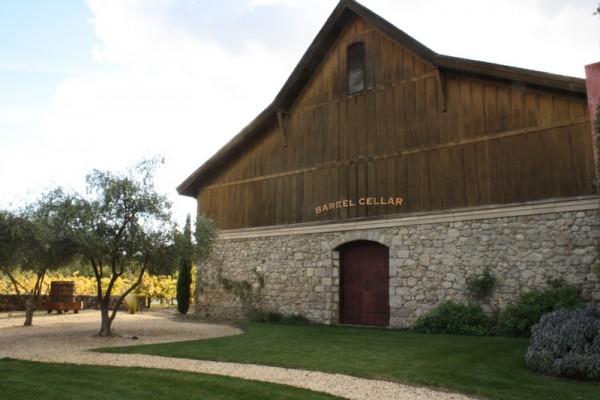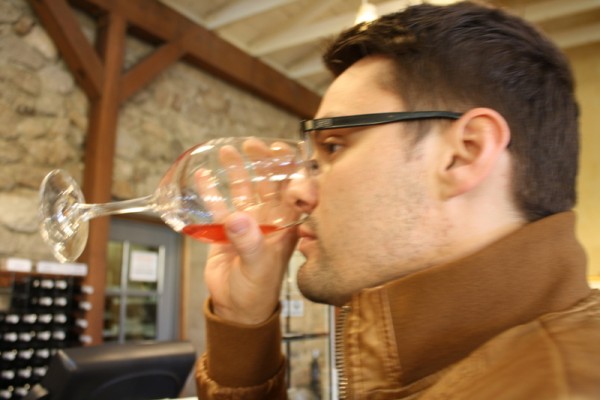 This particular winery had two separate tastings and we opted for both of them and shared a glass.  This is a great way to try everything a winery has to offer without breaking the bank or drinking too much.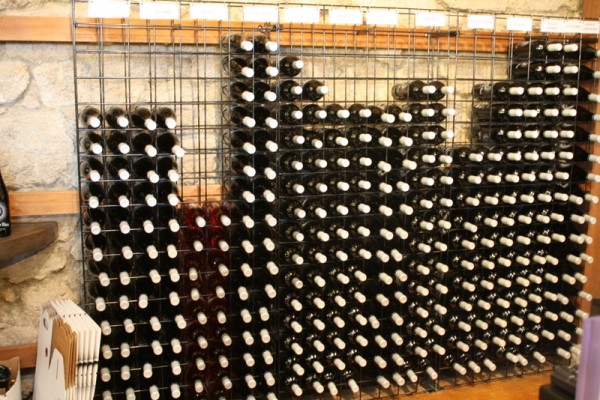 This winery had a large variety of wines, but the feeling was less intimate than Little Vineyards.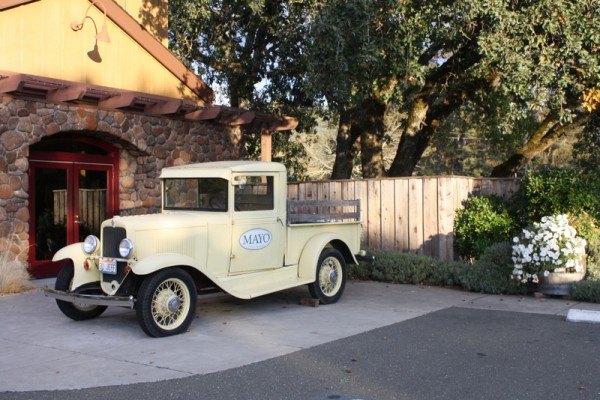 Our last stop for the day was Mayo Winery.
The tasting room was small and cozy and everyone was extremely friendly, even the other tasters.  Well, almost…
Wine dogs are very popular here and Napa, and this was true of Mayo as well.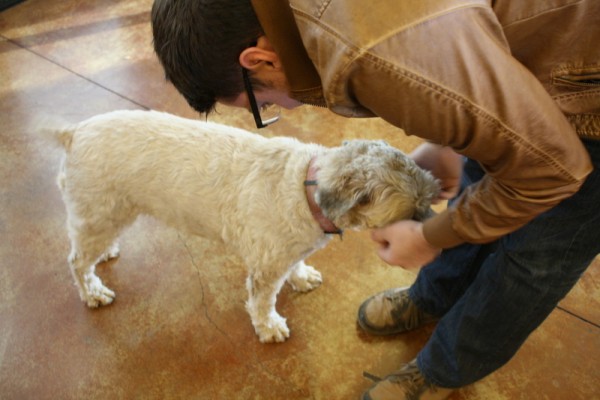 Nibby was a very sweet girl and loved getting her head scratched, but she had one problem.  She was a bit gassy.
She almost cleared the room out at one point.  A group of ladies, who were not very dog friendly, got their feathers ruffled about her stinky disposition.  They actually pushed her out the back door, which I thought was kind of rude.  Poor Nibby.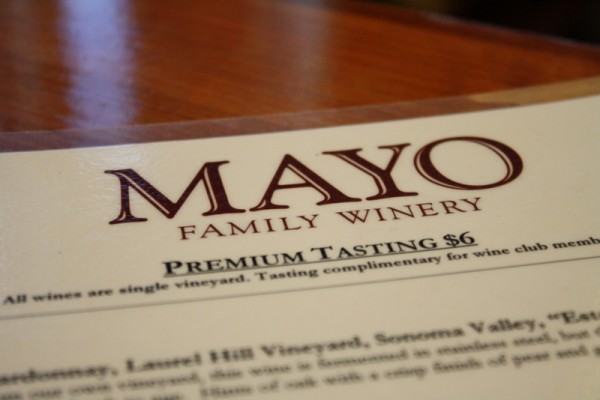 Just like at Valley of the Moon, Mayo offered two tastings and we opted for both and shared a glass again.
And this photo just says it all…
Our first day in Sonoma was a big success.  I really liked all the wineries we visited and glad I didn't spend tons of time researching the "best" wineries.  What's more important is that I enjoyed the wine and the wineries; but also that the wineries weren't very far apart from each other.
From this last winery we headed out to find dinner….