Yesterday evening, I arrived home from work to find this.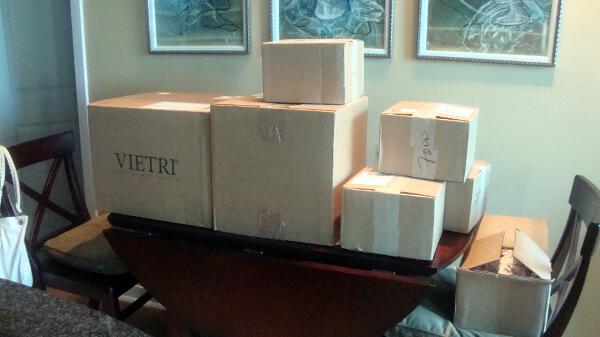 Wedding presents!  I received some of my very first Vietri dishes!
Vietri dishes are made in Italy, but Vietri is a North Carolina company.  I first learned of the company driving back to Raleigh from Charlotte (back when I was in grad school and visiting Brad on the weekends).  I often listen to NPR (because I'm a 80 years old) and while I was driving WUNC (NC Public Radio) did an interview with Susan and Frances Gravely, founders of Vietri.  They told a really lovely story about how they traveled to Italy with the mother in the 80's and loved the Italian pottery so much they started importing it to sell it in the U.S.  You can hear the story here or read a shorter version here.
I just love beautiful dishes so in lieu of "fine china" I decided to go with Vietri's intricate Italian pottery, which is handmade so every piece is just a little different.  It's just beautiful.  I can't wait to make a fancy meal (maybe Italian?) and plate it on my pale blue dishes and show it to you. 🙂  Maybe I'll learn a thing or two on my Italian honeymoon.
After tearing into the boxes, Brad said the magical words for someone who worked all day and spent two hours commuting: "Honey, you shouldn't have to cook tonight, let's go out and get sushi".
Well, if you insist.
To put it nicely, I haven't been extremely impressed with the sushi scene in Charlotte.  Our favorite is Sushi 101 and Ru San's is pretty good too (although they could probably benefit from a new website).  Since we live Uptown, we wanted to walk to a sushi restaurant and decided to try Enso since we've never tried it before.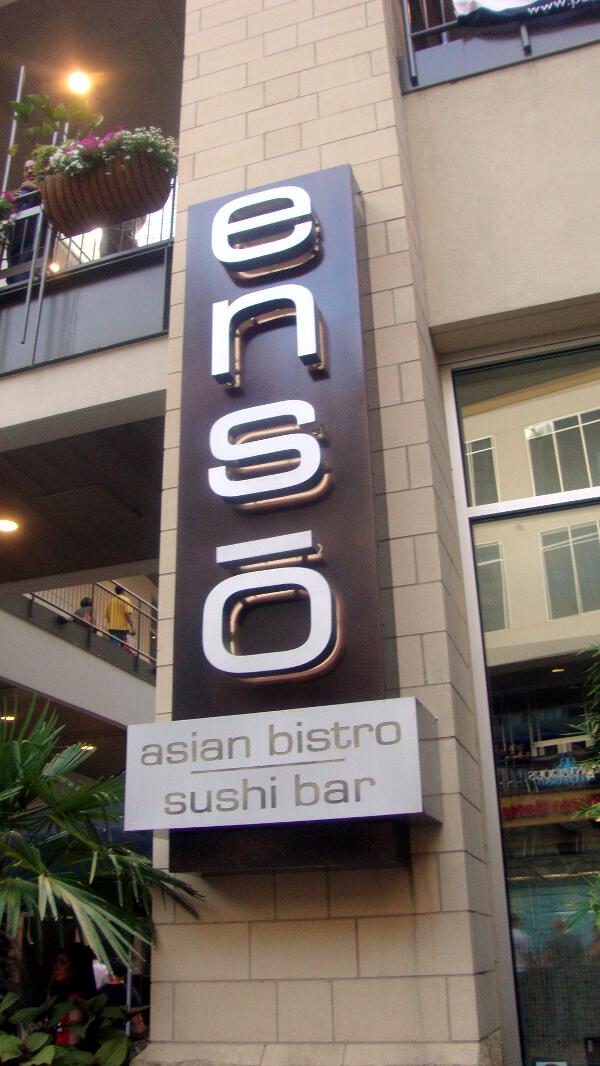 Enso is a part of the Epicentre which is a complex in Uptown Charlotte with some dining, a couple of stores, but mostly bars and clubs.  It's really not our scene, but we go every once in a while to try a new restaurant or take advantage of their movie theater which is 18+ after 7 pm (awesome).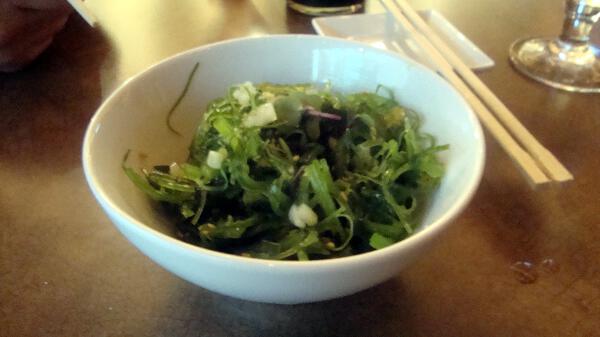 I started off with a seaweed salad that also had some micro greens.  It was pretty yummy.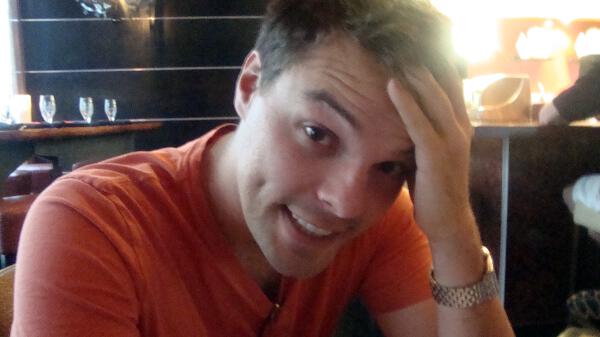 Hi Brad.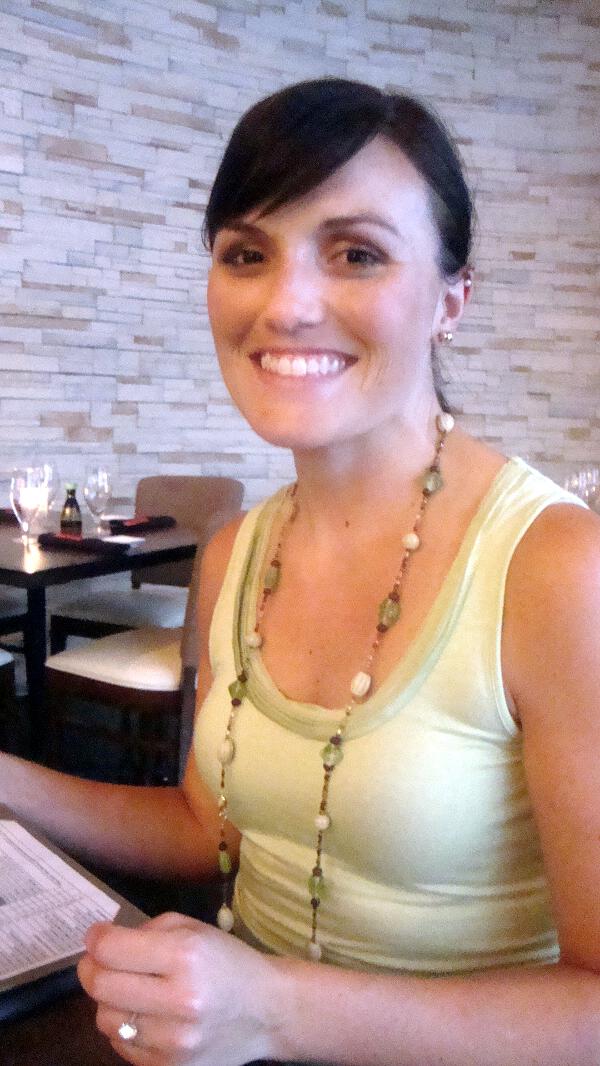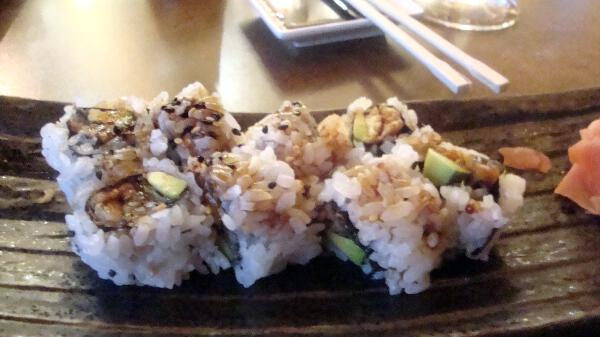 For sushi, I ordered the eel and avocado Maki roll.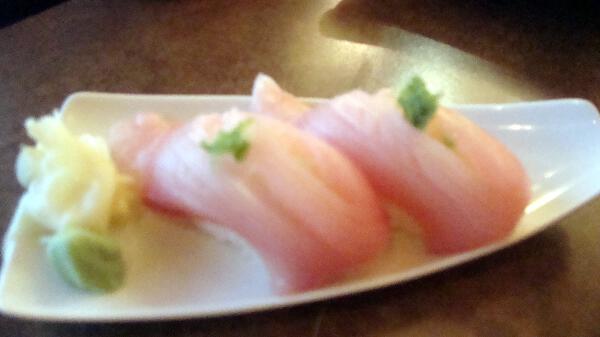 I also had two Yellowtail tuna Nigiri, with plenty of wasabi.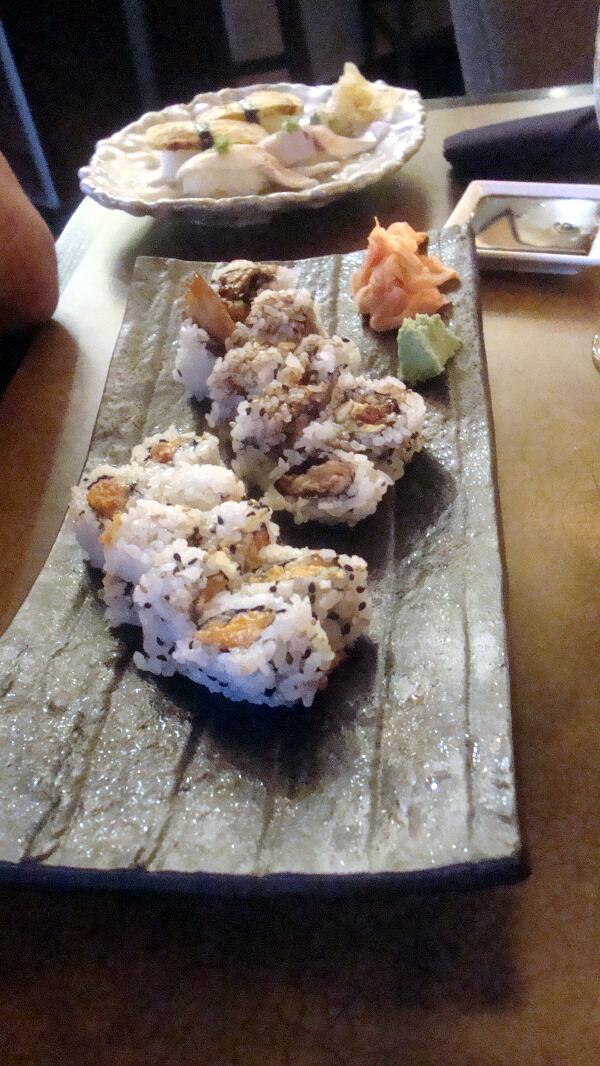 Brad and two make rolls: spicy tuna and the eel and avocado.  He also had the tamago (egg) Nigiri and the mackerel Nigiri.
Enso was very trendy and a little pricey. The sushi was fresh and they had some very interesting rolls I would like to try.  I just wasn't in the mood for huge rolls with tempura and 9 different toppings last night.  Sushi 101 is definitely still my favorite Charlotte sushi restaurant, especially because of their reasonable prices.
After dinner, we dropped by the The Wooden Vine which we went to last Thursday for a Tuscan wine tasting.  We are all about all things Italian lately. 😉  We really loved the Satta Costa Di Giulia (similar to a Sauvignon Blanc) and the La Mozza I Perazzi (a bold Sangiovese blend), so Brad bought a bottle of each.  The had to be ordered and shipped so last night was the perfect opportunity to pick them up.
Soon upon returning home, Brad headed to bed around 9 pm.  He's been traveling for work since Monday and often does not get the sleep he needs in hotel rooms.  I stayed up until just after 11 to do some bloggy stuff, then turned in for the night.
To keep with the theme, here are some interesting Italian proverbs about marriage:
Ne di Venere Ne di Marte non si sposa ne si parte! – Neither marriage nor war will go away once you start
La buona moglie fa il buon marito – A good wife makes a good husband
La moglie e' la chiave di casa – A good wife is the key to a good home
Meglio il marito senz'amore, che con gelosia – Better to have a husband without love than one who is jealous