…for the low-quality iPhone photos.  If I'm going to keep blogging, I've got to stop leaving my camera at work.
When I got home yesterday evening, I decided to forgo workout #2 of the day to spend some time with Brad who was going out of town.
I got a little hungry waiting for dinner so I tried this out.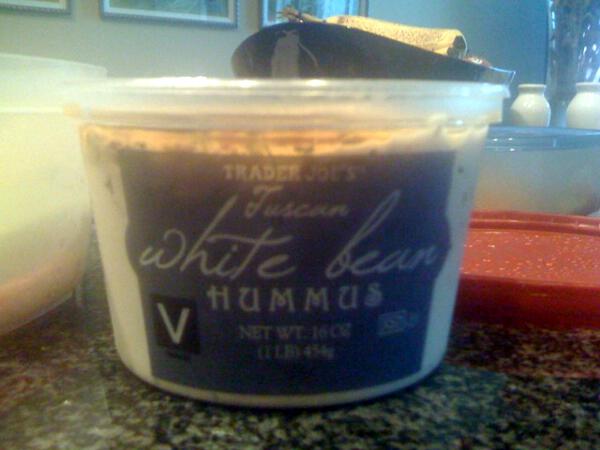 TJ's White Bean Humus.  The verdict?  eh….kinda bland.  Not as thick as humus and I missed the tahini.  I think it could have been improved with stronger herbs and a bit of salt.  I think I could make a much better version.  But now I have a whole tub to eat.  Maybe I can convince Brad that he likes it.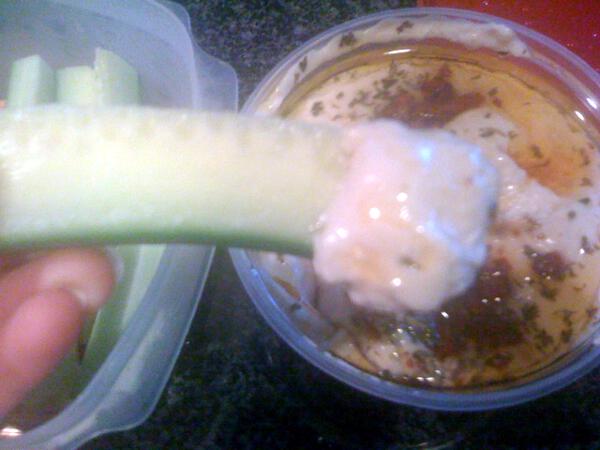 With a few veggies, plus some un-pictured pretzels.
Then I was off to dinner with some lovely Charlotte bloggers.  This time we were meeting up on my end of town: Uptown at Dandelion Market.
In attendance: Jen, Jen, Brittney, Diana, Michelle, Jessie, Jessie (and  husband), and Katie.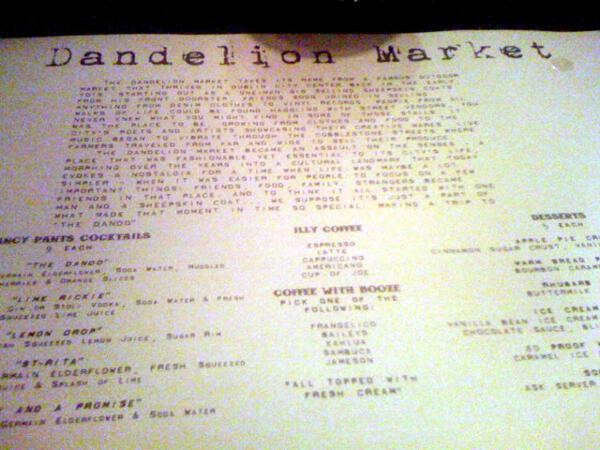 Katie's food came out first and I had to snap a photo of it because the salad is just so interesting.  I had it the last time I ate at Dandelion Market.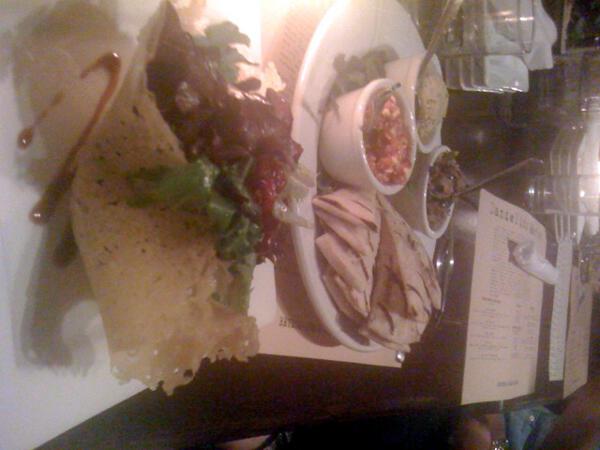 House salad with dried cranberries in a parmesan basket with balsamic vinaigrette.
Then I made myself busy taking blurry photos when no one was looking.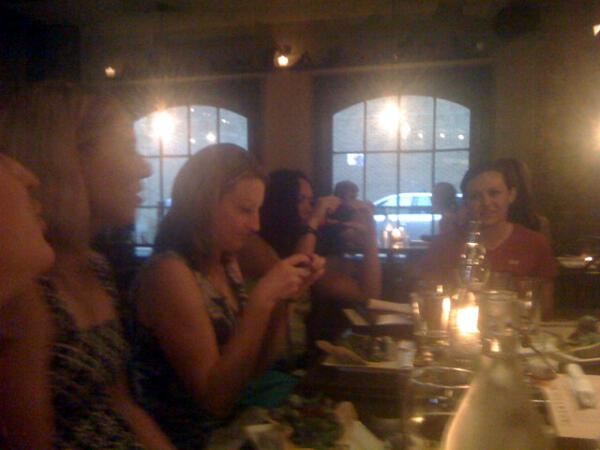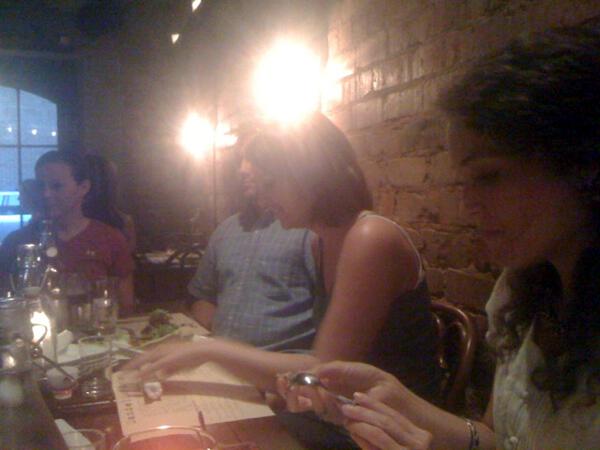 Finally my mussles came out.  They were super tasty probably due to the creamy broth they were in.  I used the bread to sock up the broth and it was delicious.  Tomatoes and garlic garnished the mussels as well.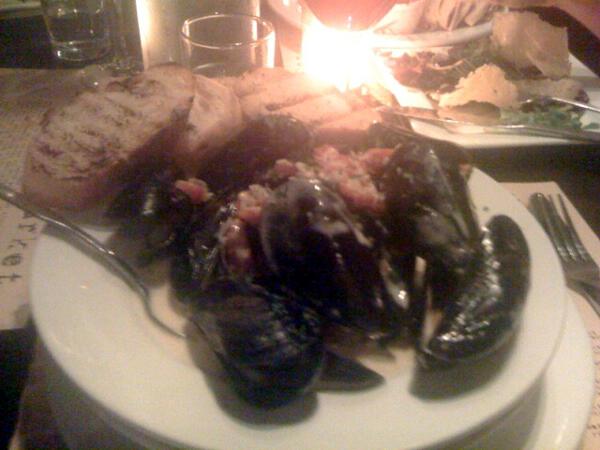 I also ordered the stuffed zucchini which had more stuffing than zucchini and was delicious because of that.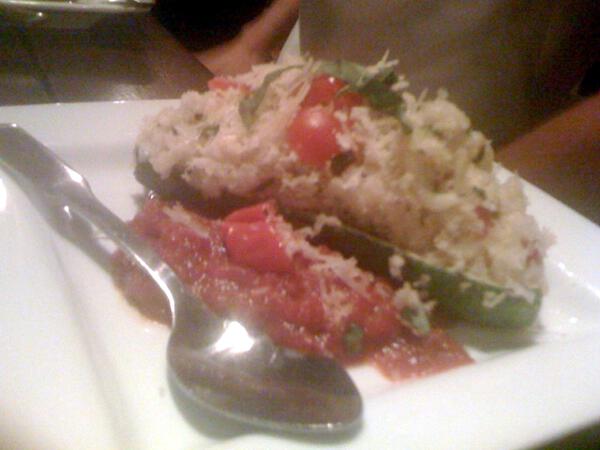 I love anything served with a thick sweet marinara.  The stuffing was parmesan and bread crumbs.  Yum.
I also had a glass of Pinot Noir.  I just couldn't resist.
We had originally planned to go to Dandelion Market because we purchased a Groupon.  Groupons are deals on stores and restaurants in the city you sign up to receive coupons.  This Groupon cost $10 and was good for $20 worth of food.  The news of the Dandelion Market coupon erupted on Twitter and all of us bought one anticipating a blogger dinner  meet-up.   However, when we all went to print out our Groupons, we  noticed that the fine print said we were only allowed to use two Groupons per table.  Poo  poo.
When our bills came I thought What the heck…it doesn't hurt to ask.  So I asked and the manager told our waiter that we could all use our coupons!  Yes!  My $24 bill became a $4 bill, just like that.  Don't worry, I'm sure we all tipped generously.  I used to work in a restaurant and am sensitive to tipping appropriately.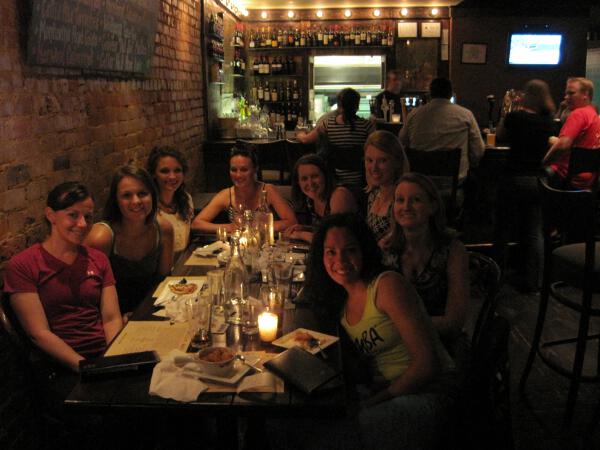 Non-iPhone photo, courtesy of Jessie.
It was a fun night and I'm so glad I got to meet Jen for the first time!
I woke up the today 45 minutes before my alarm clock went off (GEEZ!).  But, I did get to make a delicious breakfast.
I started off making an egg over easy Allie-style.  When I first saw this, I thought…genius!  You don't have to flip the egg and it steams perfectly.  I often pop the yolk when I flip it so this is perfect.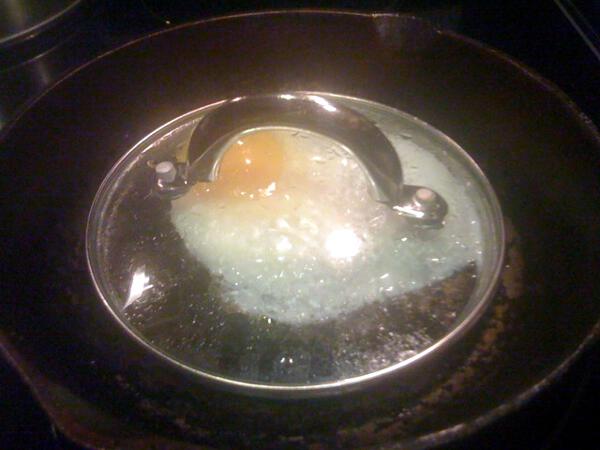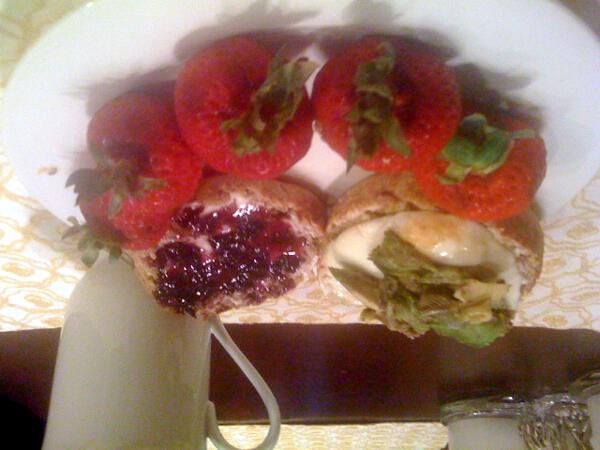 Altogether now…
My last Food for Life sprouted English muffins spread with Laughing Cow.  One was topped with an egg over easy and some slightly browning avocado.  The other with a little blueberry jam.  Strawberries on the side with some much needed coffee.
Somehow even with the early start this morning, I managed to be right on time.  What did I do with the extra 45 minutes?
Back tonight later with a no-photo lunch recap, snacks + dinner and hopefully (fingers crossed) a looooong run!