Last week I polled a group of friends on where they might want to go on Saturday night for restaurant week.  For me, restaurant week is all about trying new places I've never been.  We settled on Fiamma, an Italian Restaurant, that none of us had ever tried.
Yesterday when I was off running, wedding showering, grocery shopping, and gallivanting around town, Brad was coming down with something.  I didn't know until I returned home with my wedding shower loot and two bags of groceries.  Brad was great and helped me carry everything up despite not feeling good.  I headed off to dinner, as planned, and Brad stayed home and rested.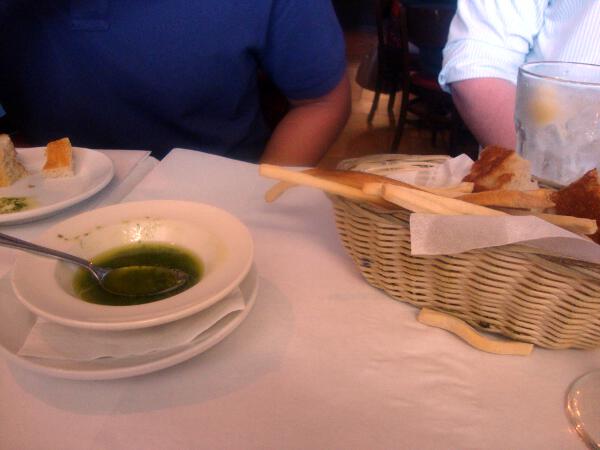 We started off with a basket of bread and thin crunchy bread sticks with a pesto olive oil sauce on the side.  I had 1 1/2 bread sticks with a tiny bit of the sauce.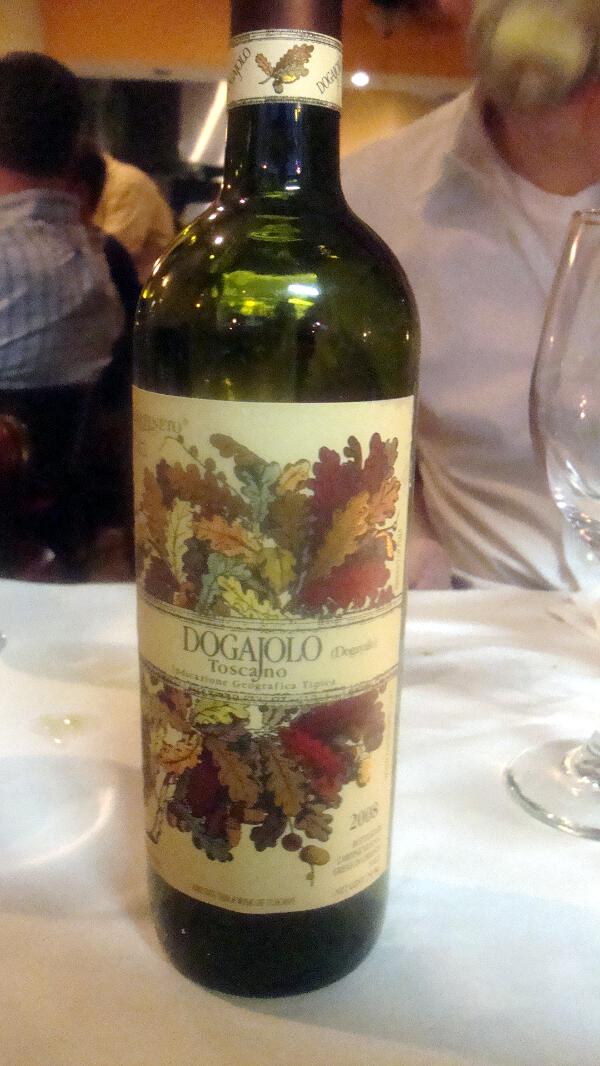 Brittney suggested a Super Tuscan and we all agreed it was delicious.  Plus I'm a sucker for pretty bottles.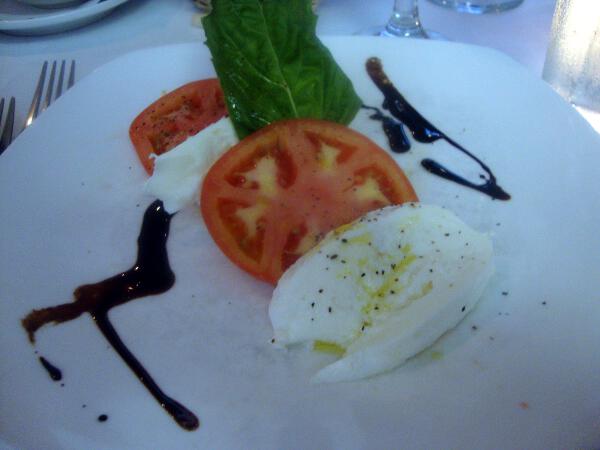 For our insalate course, most of us ordered the Mozzarella di Bufala con Pomodoro e Basilico – bufala mozzarella with tomatoes, basil and aged balsamic.  The basil was very fresh and the mozzarella was perfectly creamy.  Delicious.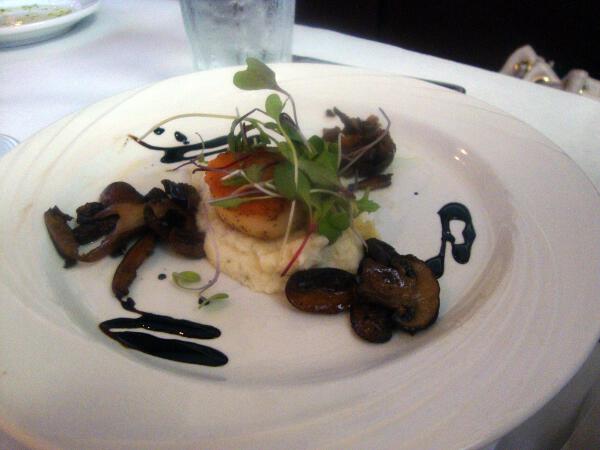 Jessica had the Capesante con Cavolfiori – pan-roasted scallops with porcini and cauliflower puree.
For my main entrée I ordered Corvina Sea Bass – pan-seared and served with string beans and potatoes. The fish was crispy and the vegetables still had that bite that I love.  I hate mushy vegetables.  Everything was deliciously flavored, perfectly salted, and just a bit buttery.  I squeezed lemon juice over everything.  Notice the thin netting over the lemon?  It prevents seeds and pulp from getting in your food when the lemon is squeezed.  I had never seen this before, but now I'm pretty sure I have to find one for my own lemon squeezing.  🙂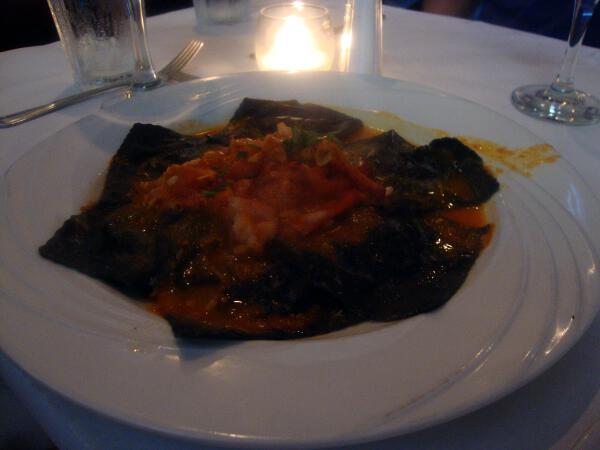 Brittney ordered the Black Shrimp Ravioli – served with fresh lobster sauce. I didn't expect the ravioli to be black.  She shared a bite with me and I thought it was very good.  I love ravioli, but hardly ever order it for some reason.  Maybe it's because I always jump at the chance for fish.  Can't get enough fish!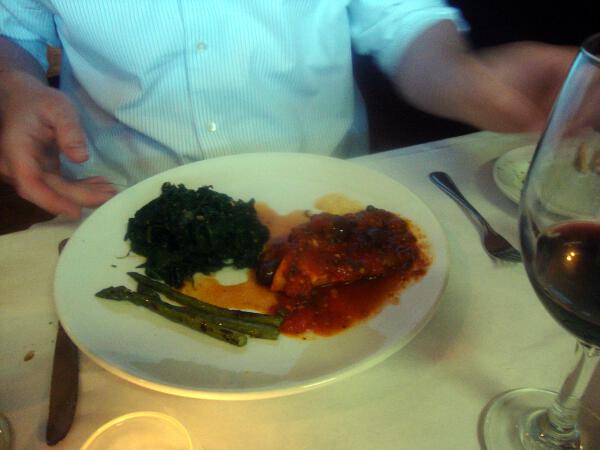 Thomas ordered the other fish option, the Scollar Livornese – white South Pacific fish served with black olives, capers, and a side of spinach. I debated getting this as well but decided on the Sea Bass when I saw that this dish came with black olives.  Not a fan.  Thomas gave me a bite to try and the olives were actually very subtle.  More like a tapenade.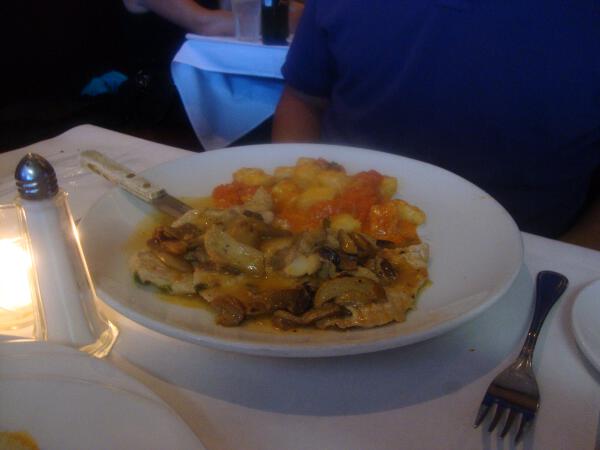 Jason had the Vitello Porcini – veal with porcini sauce served with gnocchi and fresh tomatoes.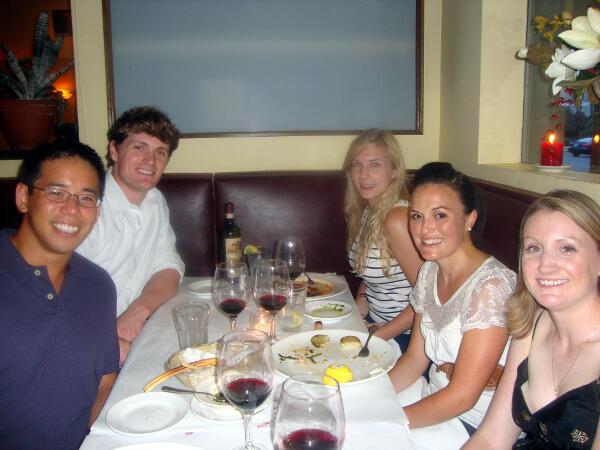 Out waiter kindly took our photo three times (!).  It took us a few tries to find the right setting after taking up-close food photos.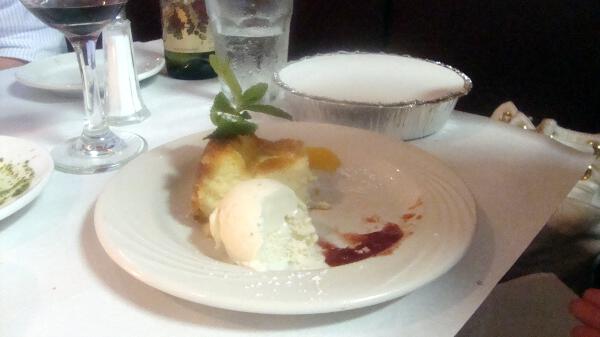 Dessert was quite the decision-making process.  Jess ordered the Torta di Formaggio – Italian ricotta cheesecake with vanilla ice cream and raspberry sauce, which was delightfully lemony and not super rich as a lot of cheesecakes are.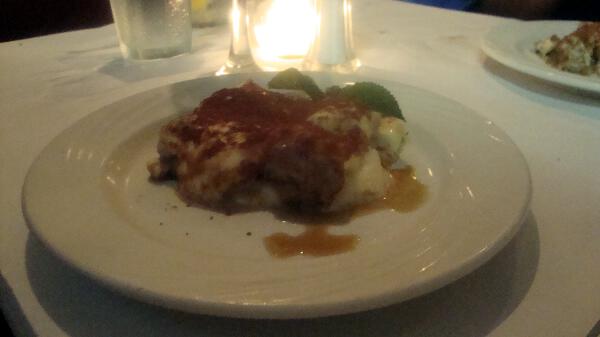 Britt and I both ordered the tiramasu.  I asked them to box mine up before it was brought out.  I snuck one bite and took the rest home to my poor sick Brad.
Fiamma was excellent.  I love Italian places that have more options than pasta and pizza.  I love my fare share of pizza, but it is nice to be able to enjoy more interesting dishes.  I also have to say that Fiamma's restaurant week menu was by far the largest variety of choices than any of the other menus I viewed (and I looked at quite a bit of them).  Some restaurants take their cheapest dishes and stick them on their $30 restaurant week menu, but not Fiamma.  They also treated us wonderfully and even brought out a glass of lemoncello at the end of our meal.  I will definitely be returning to Fiamma to enjoy another meal.