Our tasting lunch yesterday was so filling, I didn't even want an afternoon snack.  And that, my friends, never ever happens.
I spent the afternoon working, cleaning a bit, and also worked in No More Trouble Zones in my afternoon.
Then, Brad's mom and grandmother arrived in town.  They drove six whole hours from the NC coast to attend my bridal shower that my grandmother and aunt are threw me today.  Brad's mom Joy wanted to take us out to dinner so I made reservations at Customshop who is participating in Charlotte Restaurant Week.  I like to try restaurants I've never been to during Restaurant Week, but when showing guests around town, I like to know that they're going to enjoy their food.  We love Customshop so we thought our guests would love it too.
Brad left to go pick up his family and ended up coming back too late to make our reservation so I called to see if they could move our time back 30 minutes.  That was when I found out that I had completely screwed up the reservation.  They couldn't find us on their list and when I double-checked my confirmation email, I saw that I had mistakenly booked a table for Thursday, not Friday night.  Fail.  Luckily they said we could come in at 8 pm.
We headed over to the Elizabeth neighborhood and decided to pop in and have a drink and appetizer at one of our other favorite Charlotte restaurants, Carpe Diem, which is just next door to Customshop.  They are hosting our rehearsal dinner so we thought it might be nice to show the place to Brad's grandmother.
We all ordered drinks: lemonade for grandma, Jack and water for Brad, and Joy and I both got a Syrah; the same Syrach that will be served at the rehearsal dinner.  It was nice to try it before we served it in a few weeks.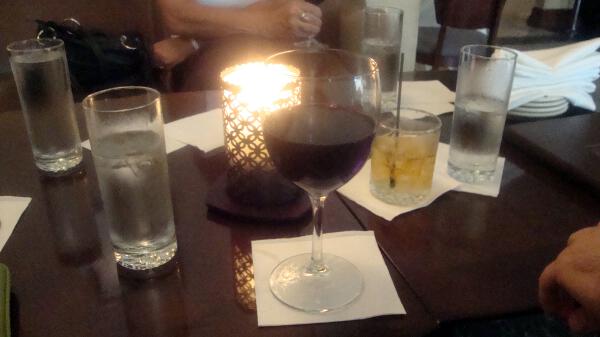 We also ordered a cheese plate because Brad and I are a sucker for cheese.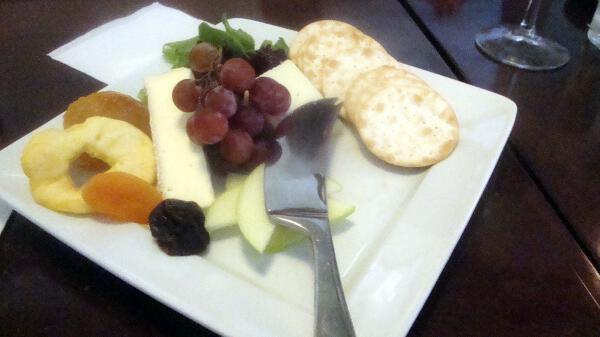 The cheese plate featured triple creme and another cheese called lemon r— something.  I wish I had written it down; something I had never eaten or even heard of.  Carmelized onions and dried pear, date, and apricots, with sliced apples, dried apples and grapes also filled the plate.  I had about three crackers with cheese and fruit, plus a couple more bites of just cheese.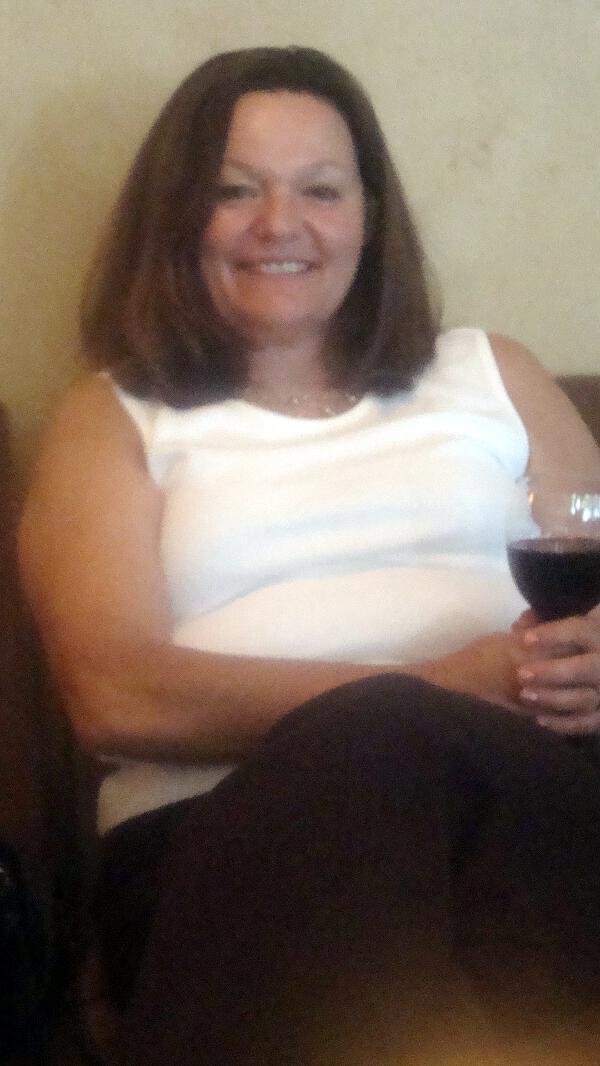 A somewhat fuzzy photo of Joy (Brad's mom).
We enjoyed our cheese plate and conversation, then it was off to Customshop.  I had talked the host into giving us 8 pm reservations, but we weren't sat until 8:25 pm.  We weren't buttered up at that point, but they soon made it up to us.
<– Night
Day–>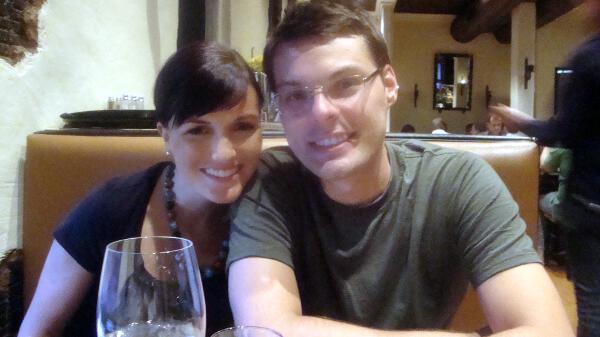 One special touch Customshop added to their menu was a free half glass of wine, which looked more like a full glass when we ordered.  You could choose between white (a Chardonnay) or red (a Merlot/Cab blend).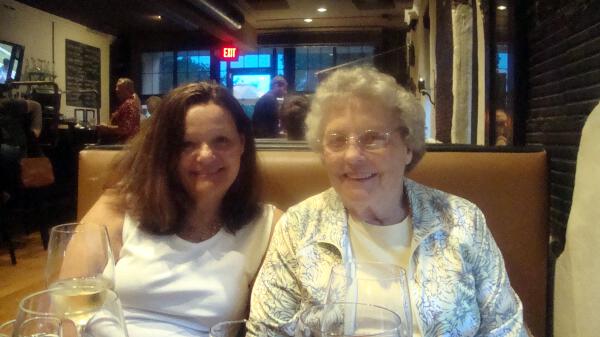 Our lovely dinner companions.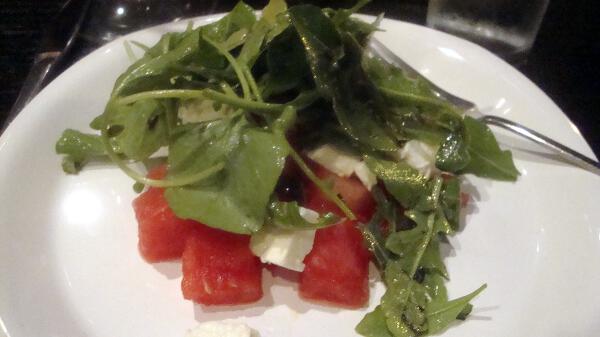 Brad's mom, grandmother, and I all ordered the watermelon, feta, and herb salad.  The herbs were in the dressing, which was so light I didn't really know it was there.  The arugula topping was perfection.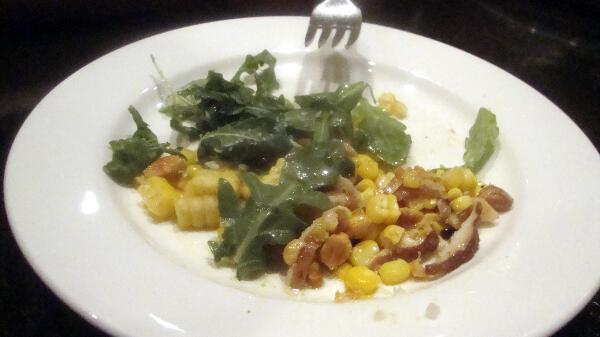 Brad ordered a roasted corn and walnut salad.  It was tasty and interesting, but I much preferred my own.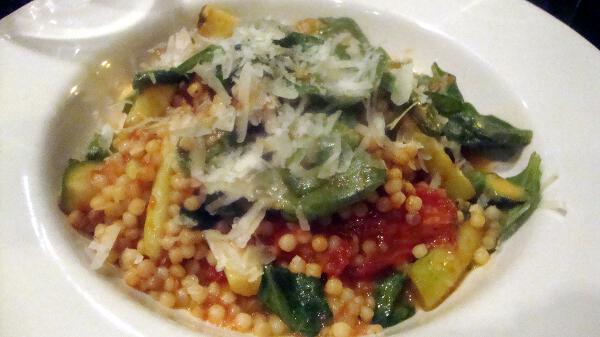 My entrée was a roasted tomato couscous with grilled vegetables.  Very light and yummy. My favorite part was the eggplant but even the asparagus (which I'm very picky about) was wonderful and cooked just enough so it wasn't stringy and fibrous as it often is.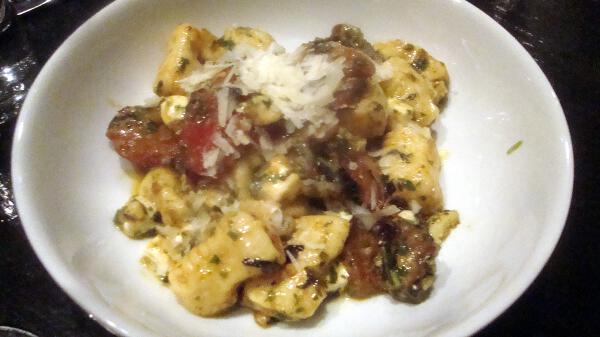 One of Customshop's specialties is their gnocchi.  Both Brad and Joy ordered this, Ricotta gnocchi with eggplant and mushrooms (I think?).  I had two bites and it was delicious.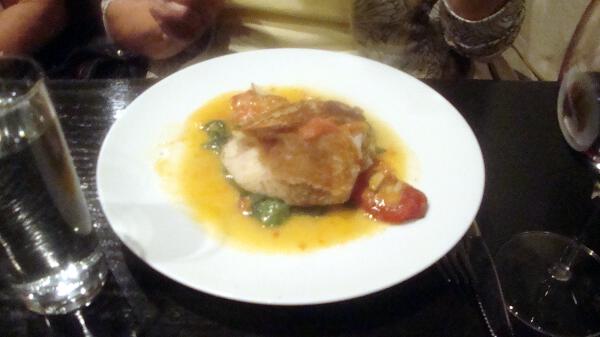 Brad's grandma got the flounder with brioche (a crispy bread on top of the fish instead of breading it) with spinach.  I had a bite of this and it was so buttery and rich.  I always try to weasel my way into tasting everyone's food.  In fact, the perfect menu would be one small bite of every single thing on the menu.  But I can only dream.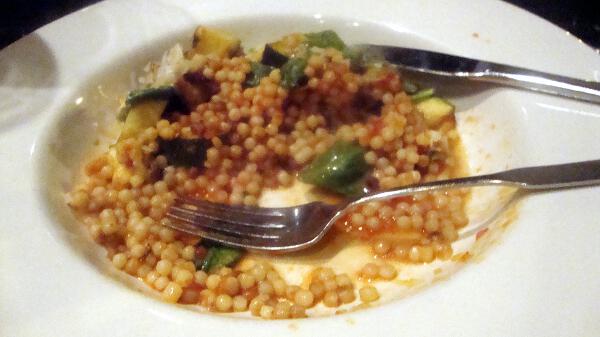 I saved room for dessert.
Chocolate pate was my dessert of choice which was kind of life a firm chocolate mousse. Somewhere between a mousse and a chocolate tart.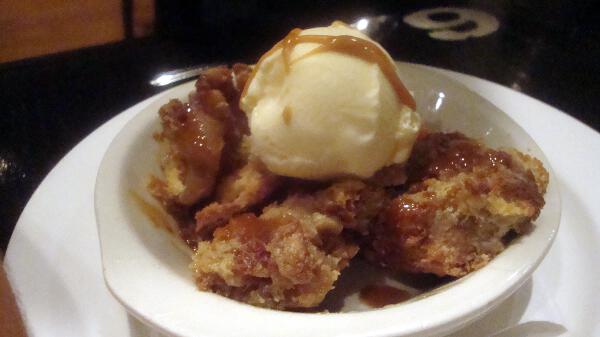 Brad had the apple caramel bread pudding; a delicious marriage of salty and sweet.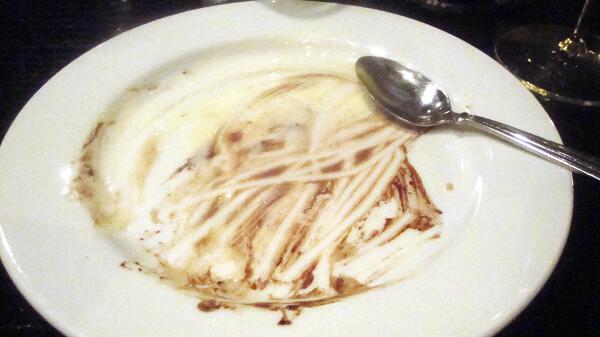 I thought the chocolate pate was gross.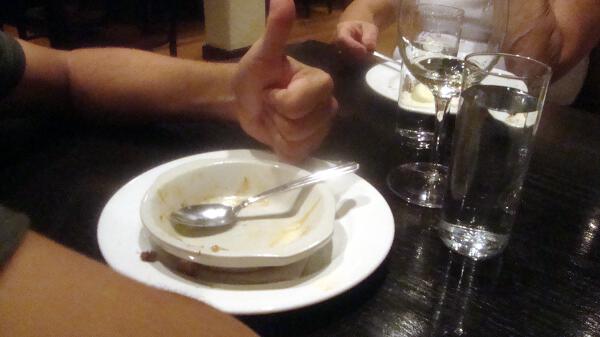 Brad hated his too.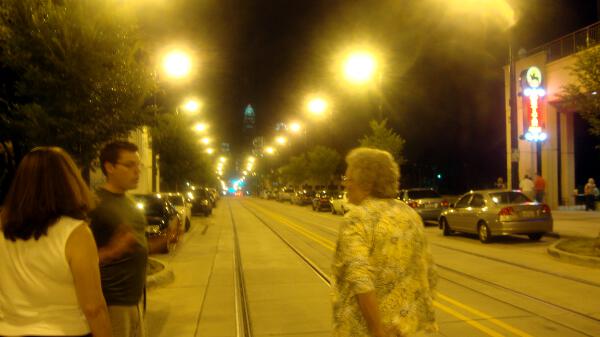 A shot of Elizabeth Avenue with uptown in the background.  See the street?  They're putting cable cars all the way down Elizabeth to connect the community college to uptown.
We had such a wonderful night and Customshop was more than worth the wait.