Brad and I made the trek down to Charleston, SC for the wedding of a coworker of Brad's.  We somehow misread the time the shuttle was supposed to pick us up from our hotel to take us to Folly Beach for the wedding, so we ended up having to get ready for the wedding in 10 minutes (!).
We did it in six (oh yes I did!) and made it downstairs to catch our ride with plenty of time to spare.  But of course, like the newbie blogger I am, I forgot my camera so I have no photographic recap of the beautiful seaside wedding or the southern soul food spread we enjoyed at the reception.
This morning we decided to stay in Charleston, which we love, until after lunch.  Since Brad is a gold member at pretty much every major hotel chain because he used to live in hotels more than at home for his job, we scored a free breakfast.  The last continental breakfast we had at a hotel was extremely basic, but this one was phenomenal.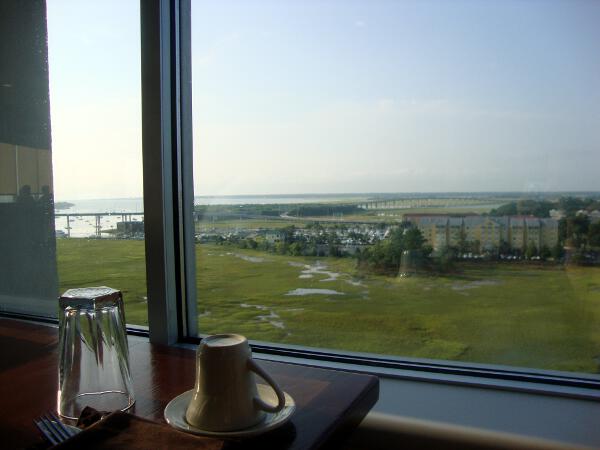 The restaurant was on the top of the hotel, so we had a lovely view of the low lands and the river from our seats.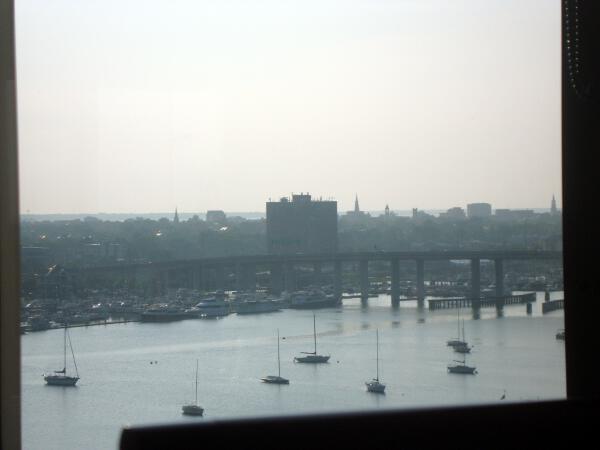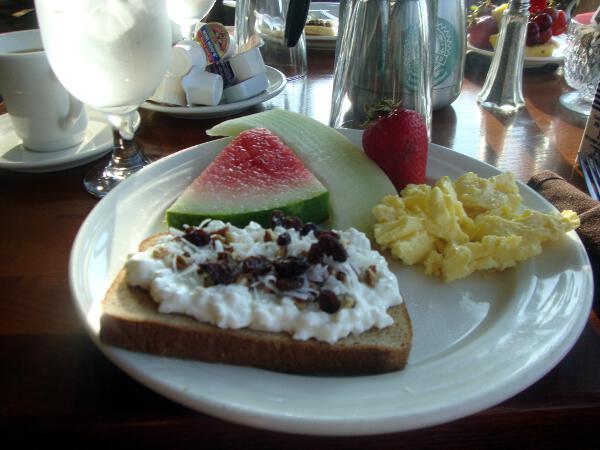 I made a lovely breakfast from the spread: whole wheat toast with cottage cheese and a bunch of toppings (coconut, raisins, and walnuts) a little egg, a slice of watermelon and honey dew, and one strawberry.  Plus, there were copious amounts of coffee.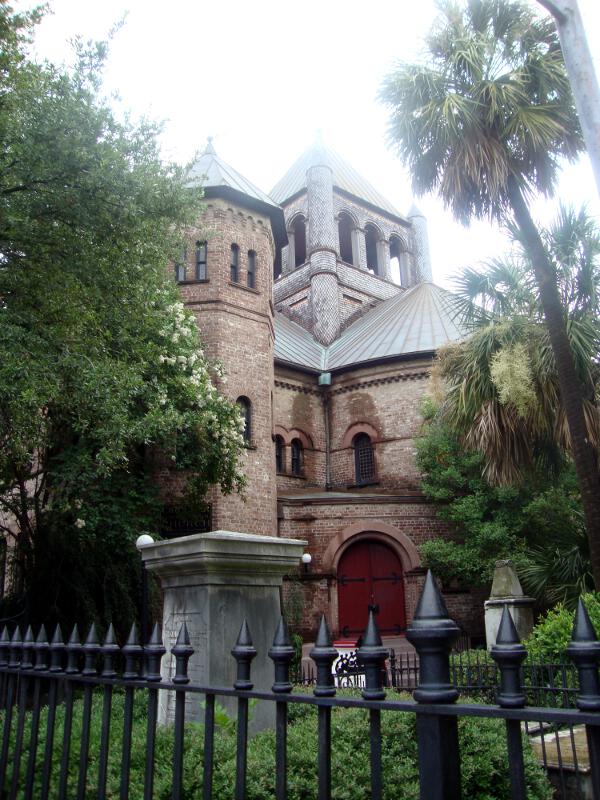 We then set out to explore Charleston, as we did two Valentine's Days ago, when Brad surprised me with a trip to the beautiful city.  I didn't take tons of photos of the architecture, which is my favorite part, because I took so many the last time, but I had to shoot a photo of this gorgeous church.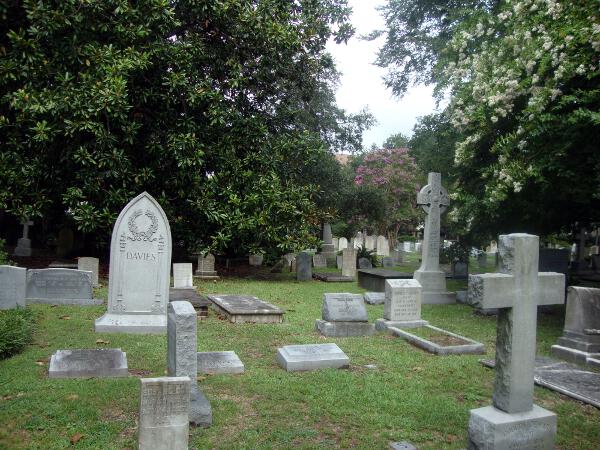 Brad humored me as I drug him through one of the many cemeteries.  Little known fact about me:  I love cemeteries.  I don't know why, but I just do.  There's just something about the history and maybe even the creepiness factor that draws to them.  I also love to look at the names on the gravestones because I really like old fashioned names; names like Eliza and Frances.  I'm probably going to have to explain to my future children that I got their names off an old gravestone.  Creepy right?
One of our missions of the day was to find a Sunglasses Hut so I could get some aviators.  Brad has been saying that he thought I would look good in them for a while and wanted to buy me some.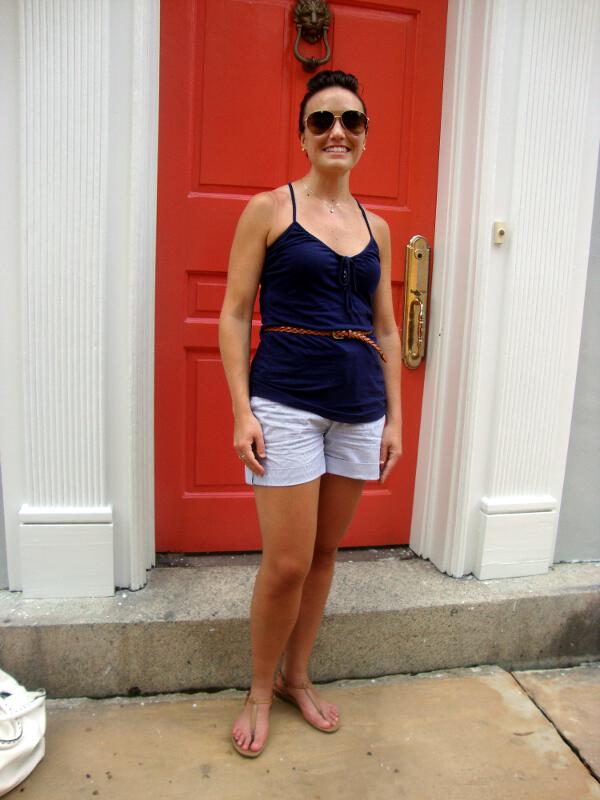 Success!  I really really like them.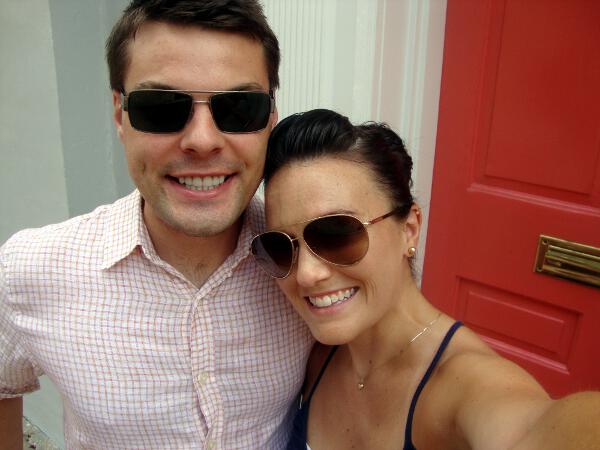 Now we have matching aviators. 🙂
Note:  I really liked this coral door so I thought it would make a good place to snap a photo.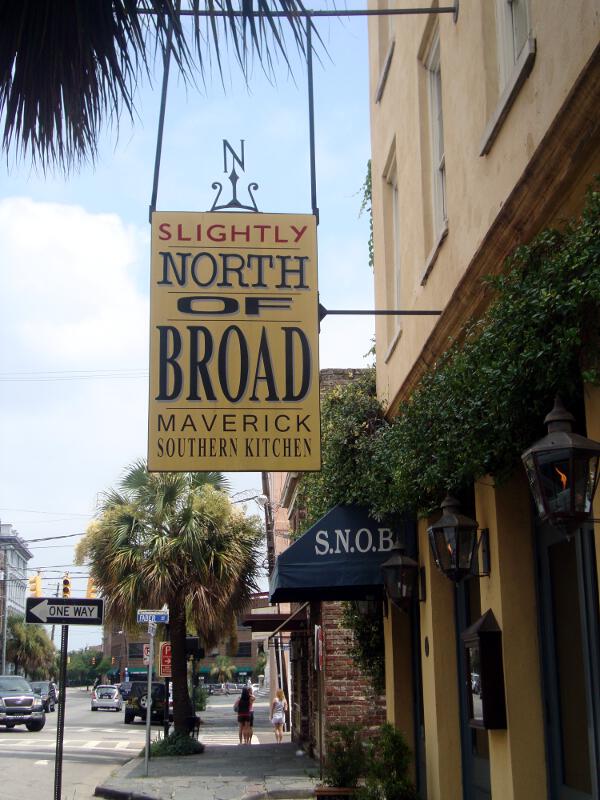 Our second mission of the day was to have some fabulous Charleston seafood. Slightly North of Broad is one of our favorite Charleston restaurants so it was first on our list for lunch.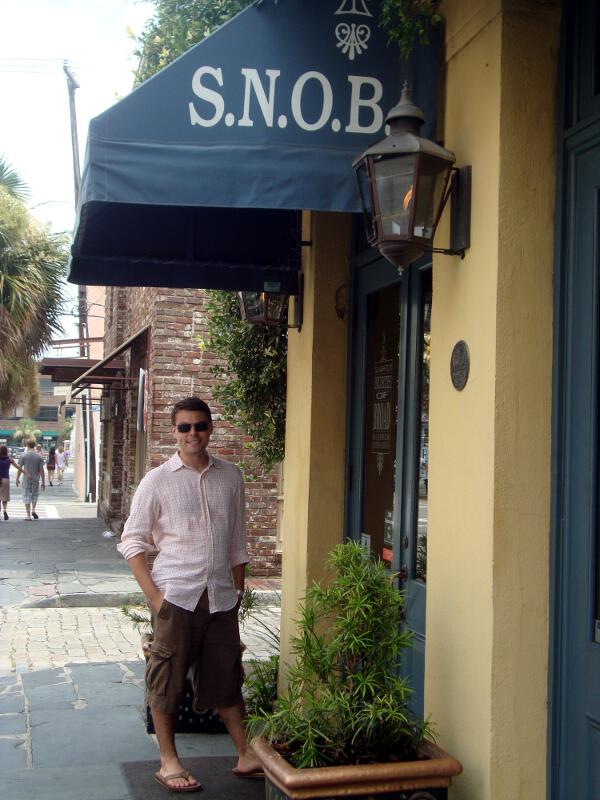 S.N.O.B. for short.
We were all smiles until we saw that the restaurant is no longer open for lunch on weekends.  De ja vu.  This happened to us last time we were here.  And just like last time, we headed over to S.N.O.B.'s sister restaurant, High Cotton.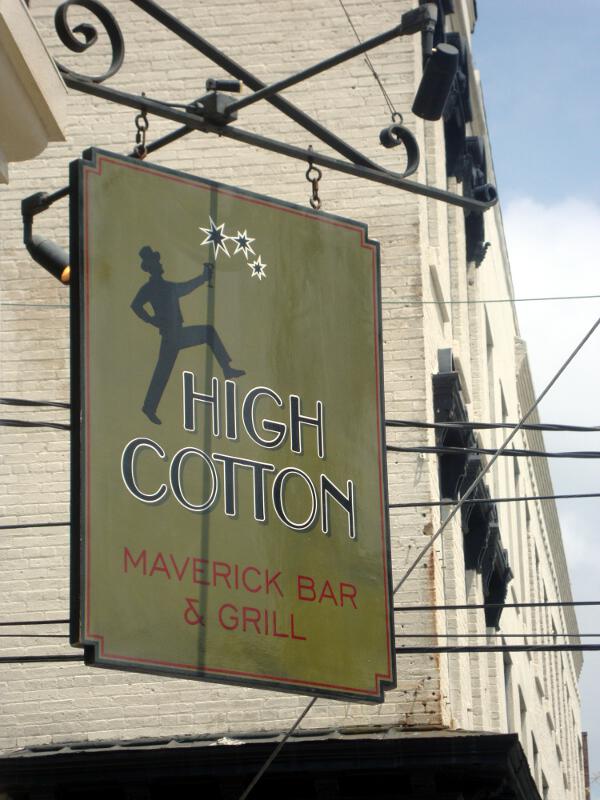 High Cotton is all class.  I really love both restaurants and they're right across the street from each other.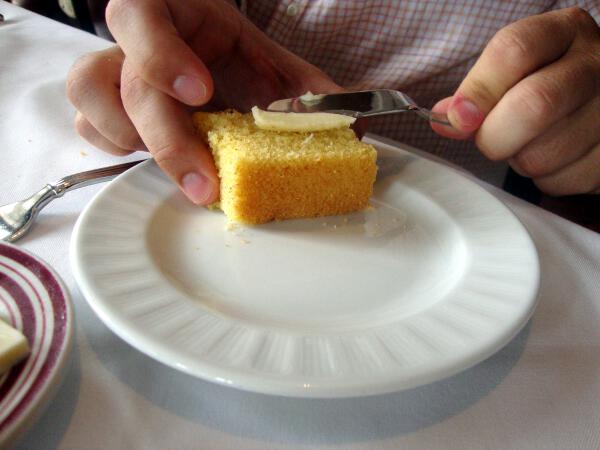 The first bring you out a basket of cornbread, of which I had one slice with a bit of butter.
I started off with the soup of the day; the "local melon gazpacho" which had a kick of spice from jalapeno.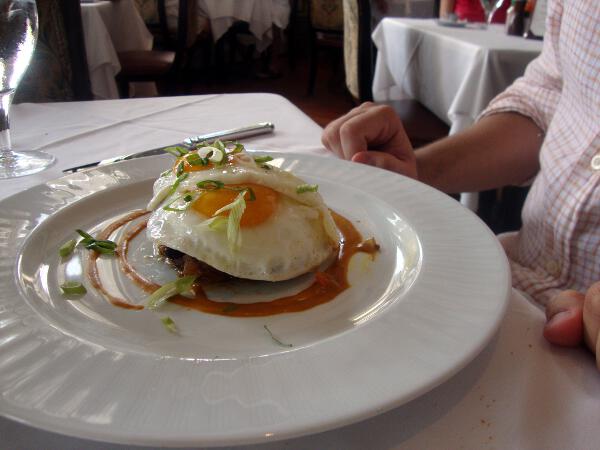 Brad had the duck hash which was served under two eggs over easy.  I had one bit and it was so delicious and buttery.  The duck was cooked like pulled pork barbecue.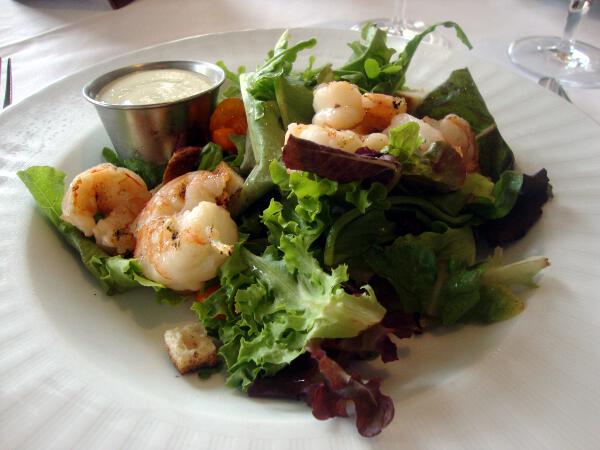 Before: I had the green salad with shrimp and green goddess dressing.
After:  This was pretty light, which was good because the heat kept me from getting very hungry.  The croutons were just okay so I left those.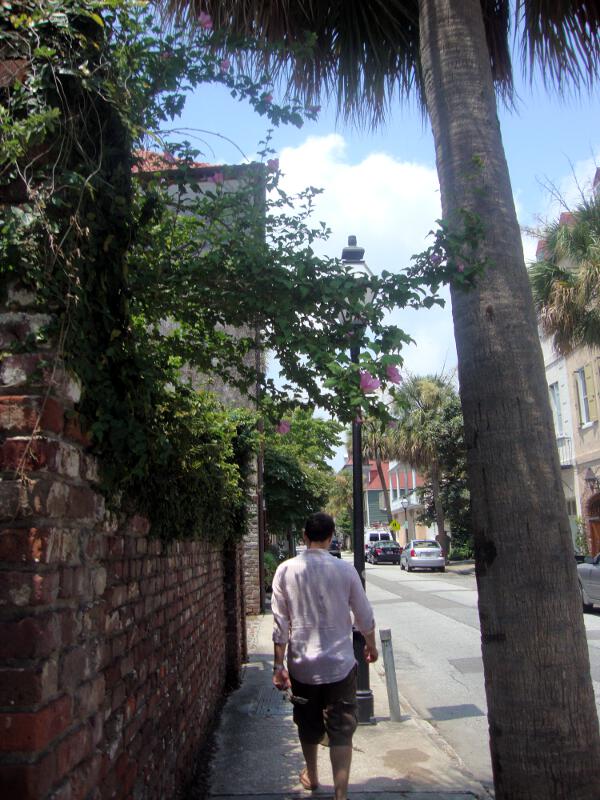 We stopped by a kitchen store.  Charleston Cooks! is a part of the Maverick restaurant group that owns S.N.O.B. and High Cotton.  I saw it last time we were in Charleston and was really glad I went in this time.  We picked up a couple of small kitchen things like a big hand spatula and this little contraption that you clip on the side of a pan or pot to hold the spoon, so you don't have to lay it on the counter or leave it in the pot.
We had a nice morning in Charleston and then headed back to Charlotte to make it back for a relaxed evening before the work week begins again tomorrow.  This weekend was way too short!