Last week, I met my friend Katie for dinner at Fran's Filling Station in Dilworth, but just got a chance to blog about it now.  Fran's is a little inconspicuous.  It's in a little strip-mall area that is also home to Ru San's, which just might have the cheapest and widest variety of sushi in Charlotte.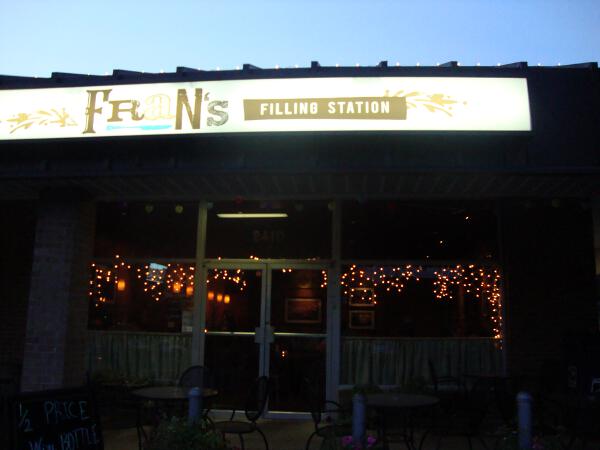 The exterior gives a great impression of what the inside will be like as well: cozy and eclectic.  It was the perfect setting for catching up with a good friend.  She's a teacher and we often do not get to hang out during the school year because of both our crazy schedules.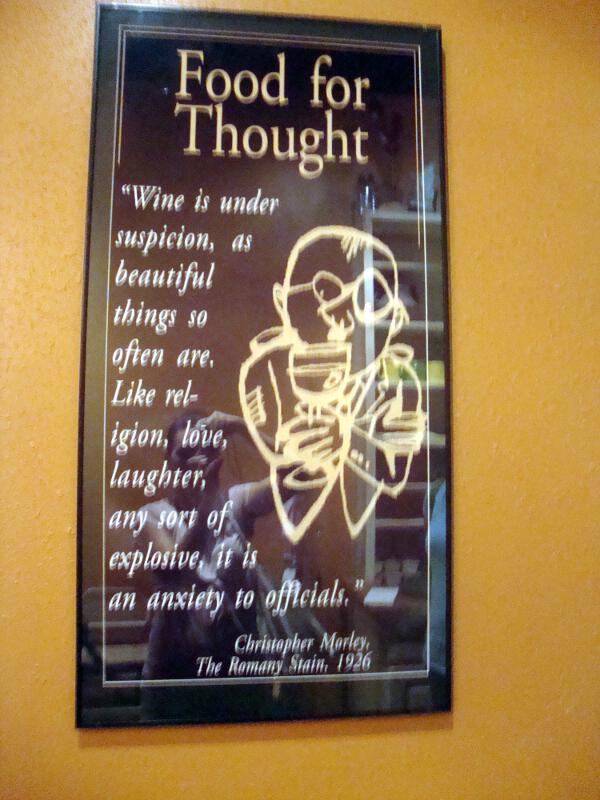 The inside is fairly small, hence the "coziness", but on our way to the bathroom, we noticed that there is a much more expansive area in the back (possibly for larger parties?), which is decorated with these comical quotes. I concur…wine is a beautiful thing and sometimes it does cause anxiety.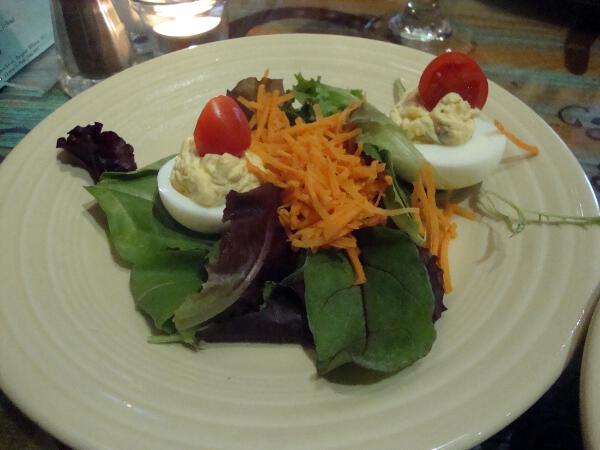 Fran's has a devilled egg special each day which you can order in addition to their regular devilled egg.  You guys know that I am crazy about eggs, but what you don't know is that I'm a devilled egg snob.  I grew up eating my grandmother's devilled eggs and would promptly turn my nose up at any others.  She doesn't use pickle cubes and there is absolutely no paprika.  Her devilled eggs are a mixture of mayo, mustard, a bit of vinegar, salt and pepper, and that's how I like it.
But I went out on a limb here and gave the special a try: Jalapeno devilled eggs.  And I have to say that I really liked them a lot.  They were an excellent addition to my Latin Wedge Salad.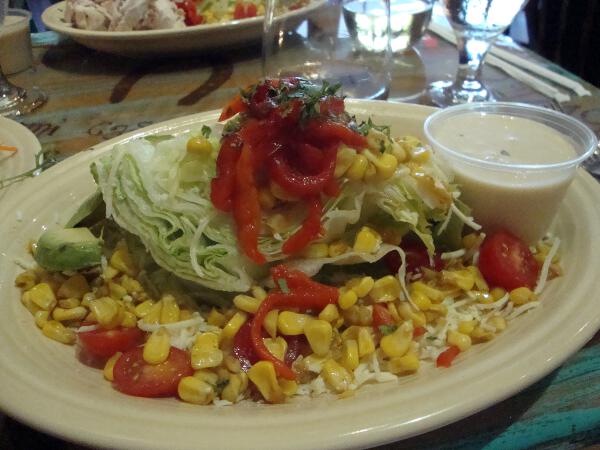 I know, I know, the only thing of real nutritional value in this salad are the tomatoes, red peppers,and maybe the avocado (hey, fat is important too!)  I guess I could have asked for some "real" lettuce.  They do have salads with green lettuce, instead of iceberg, but I didn't think about it.  I saw corn and avocado and I was all over this.  It was really delicious.  Corn and avocado together just makes me happy.  I love the sweetness and the creaminess paired together.
Katie ordered the same, but if you look closely, you'll see she got hers with roasted chicken.
While looking up a link to Fran's (sorry, urbanspoon.com was the best I could do), I found some bad reviews for Fran's customer service on City Search.  I have to say that although this is the only time I've been to Fran's, we had absolutely excellent customer service.  Our waitress was extremely attentive.  I didn't want for anything the entire meal and she promptly brought us our bill without us having to request it.  We did eat there on a week night, but this is my impression and that's what you pay me, read my blog for right?
I love Fran's Filling Station.  I will be going back. 🙂
My last Attune bar: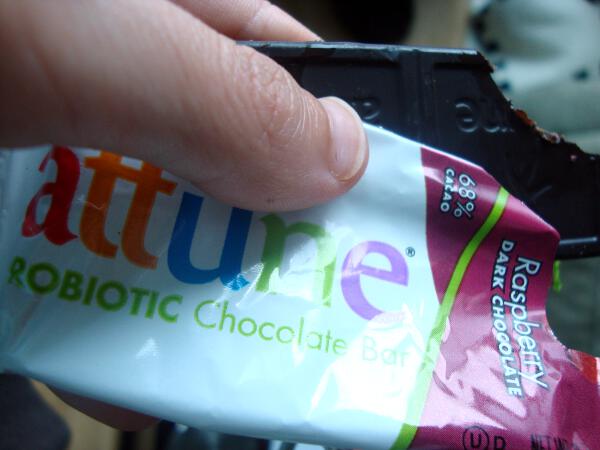 It's probably because this was the Raspberry dark chocolate (one of my favorite combinations) but I think this is the best Attune bar flavor.  It had a nice light raspberry flavor which really complimented the richness of the dark chocolate.
If you want to know more about the other two flavors, see here and here.
Question: Do you ask for substitutions at restaurants to up the nutritional factor or to minimize the calories?  What kind of substitutions do you usually make?