Did anyone hear about the two plans that collided on the taxiway at the Charlotte-Douglas International Airport? (Story here)  That's really a dramatic way of putting it.  Basically one plane grazed the other plane's tail with its wing.  One was parked while the other was being taxied in.  Well, the point is, a couple who Brad and I are friends with were on the plane that grazed the other.  They didn't feel a thing!
But, sadly enough their flight to Florence, Italy was delayed and they lost a day of their vacation.  What to do but call Brad and I to show them a good time in Charlotte!
Previously that night I had been at my best friend (who is also my matron of honor) for a shower…actually a lingerie shower.  I'll spare you the details which can be found here on Brittney's blog.
They met us at our place and we went out to Cabo Fish Taco, which is definitely a favorite of mine and pretty much everyone who has ever visited Brad and I in Charlotte.  Sadly, I did not bring my camera.
The real highlight of the weekend came when we picked them up for brunch on Sunday morning.  In NoDa (stands for North Davidson), the same neighborhood where Cabo is located is mine and Brad's very favorite brunch spot, and let me say there are quite a few to choose from in Charlotte.  It's a tiny cozy little spot called Crepe Cellar Kitchen and Pub.  I have had dinner and brunch there and although I love everything about Crepe Cellar, brunch is my favorite part, hands down.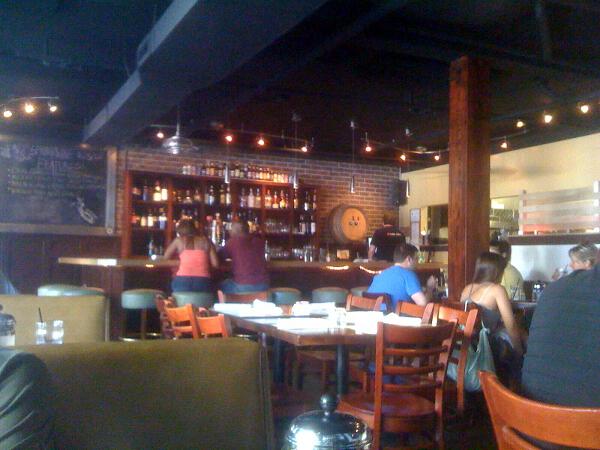 The photo actually shows the entire restaurant.  It is small, but waiting on a Saturday night for a table is worth every minute.
Per usual I ordered the Eggs Florentine…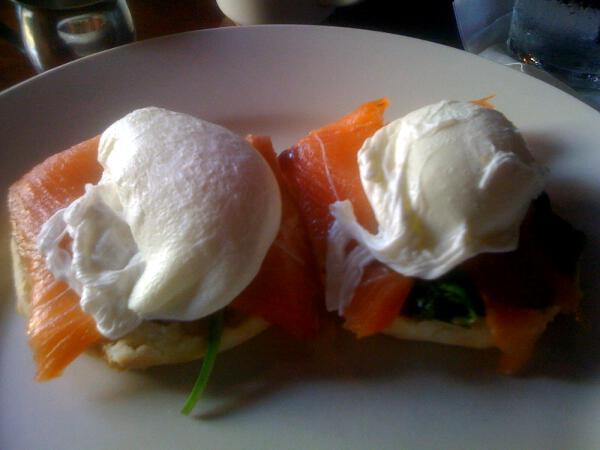 …sans Hollandaise.  If you're not familiar, Eggs Florentine is like Eggs Benedict,  without the ham.  Instead, it has wilted spinach and SMOKED SALMON…one of my all time favorites.  I just learned to like my eggs over easy, so with the runny yolks, Hollandaise is just not necessary.
I also had a green salad.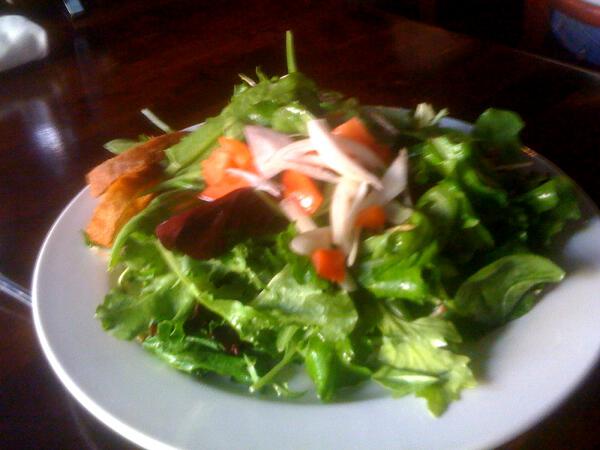 I never make salad for breakfast or brunch at home, but when eating out, it just feels right.  Plus, this way I fill up on my veggies and can save half of my Eggs Florentine for breakfast tomorrow.  Crepe Cellar x 2 is always a good thing.
Brad's choice was definitely the star of our brunch.  It was the special.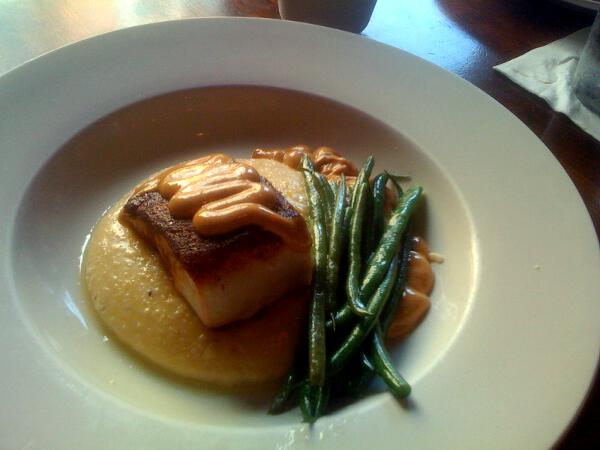 Instead of shrimp and grits, their special was fish and grits, Wahoo to be exact.    Man, this was good.  The grits were so creamy, they might as well have been polenta.  The firm, flaky fish was seasoned perfectly.  This went together so well, I'm just now noticing that green beans were served with it.  Not your typical brunch fair, but I'll gladly eat green beans for breakfast if it is accompanying this handsome dish.
To put it mildly I love love love Crepe Cellar.  If I ever get over my shyness of taking photos of my food when eating out with friends, you'll definitely see their dinner offering sometimes soon.
For you other bloggers out there:  How did you get over the fear or nervousness of photographing your food when eating out with friends? Obviously I felt comfortable to do it with these friends, but that's not always the case.   Then there's always my case of the forgetfulness.  I'll have the most amazing food experience and then kick myself because I forgot my camera.
I have to admit I'm getting a little better at this so hopefully you'll see more of the restaurants I love in the future.  I have a lot of love to share with the restaurants in Charlotte. 🙂