Yesterday was beautiful in North Carolina.  And when Brad and I returned home yesterday evening after our six hour drive from his parents' house on the coast, we 1- didn't want to cook in the small amount of weekend time we had left and 2- wanted to eat outside.  After dropping our bags and Rascal off at the condo, we walked around uptown a bit trying to figure out where to go.  We strolled near Capital Grille, which has a really nice outside dining area.   I had never been to a Capital Grille, which is a chain, and Brad had never been to the Charlotte location.  We decided to give it a try and went inside to request a table al fresco.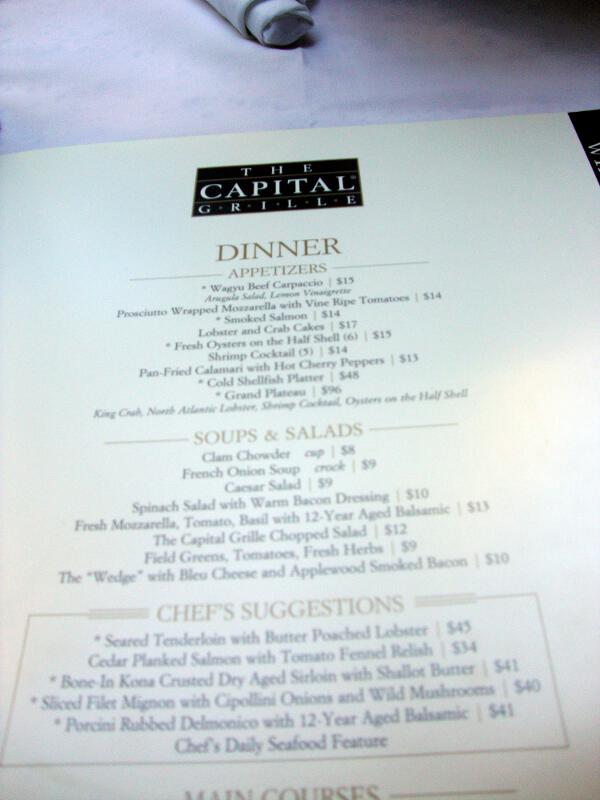 Here is a slightly blurry shot of the menus (top and bottom).  The sun was beginning to set and it was somewhat shady between all of the skyscrapers and I didn't want to use my flash and disturb the other diners.  We asked that the candle on our table be lit, but our waitress didn't remember until we returned the check to her.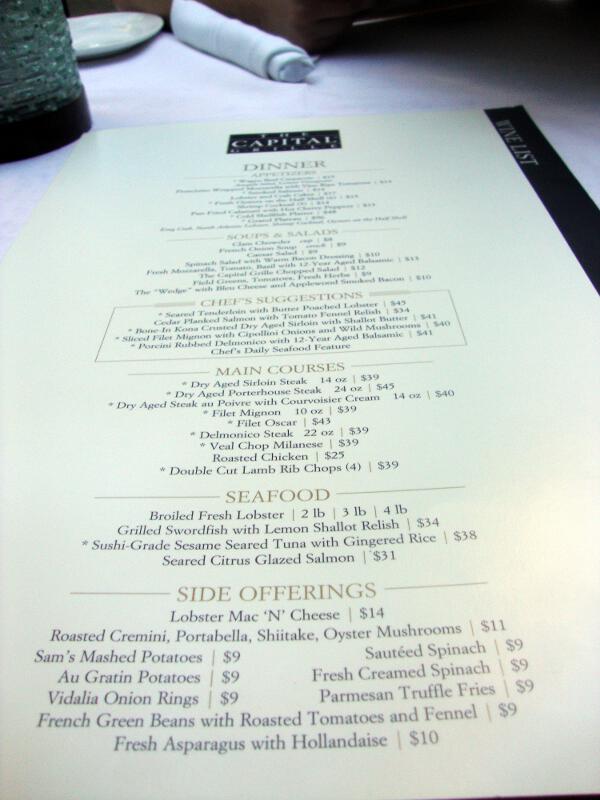 We decided to split everything, starting out with a bottle of wine.  I have been attempting to order Italian wines recently, in preparation for our honeymoon in Italy.  I feel like I know little to nothing about Italian wines and their names are always a lot more complicated and foreign to me, since I'm more familiar with French and Spanish wines.  By familiar, I mean I recognize the grapes and brands – I am no where near being a connoisseur.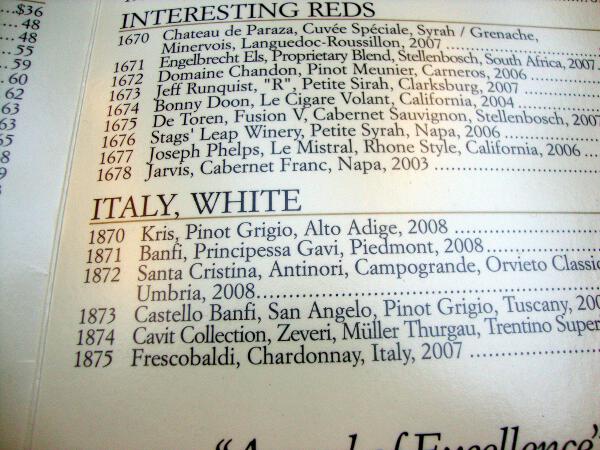 I chose the 1872; the Santa Cristina.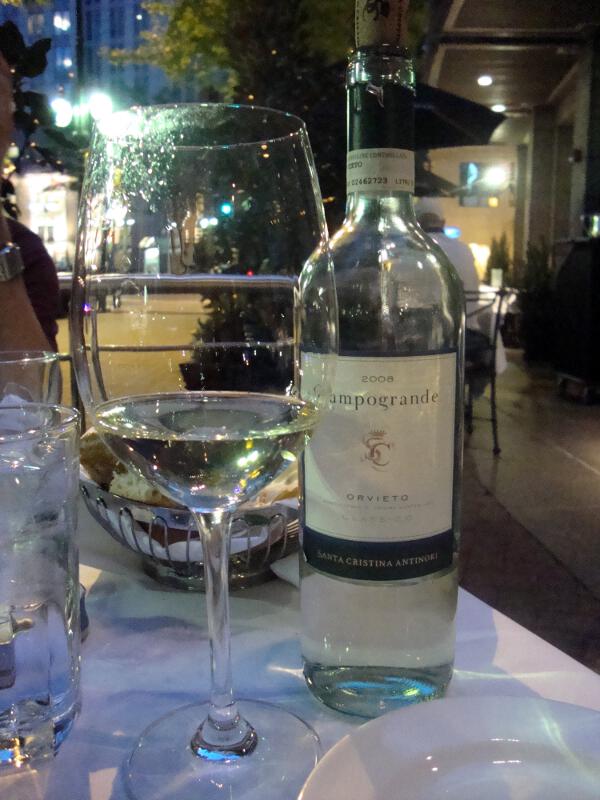 It reminded me of a Chardonnay. We both had about a glass and a half.  We corked the rest and took it home.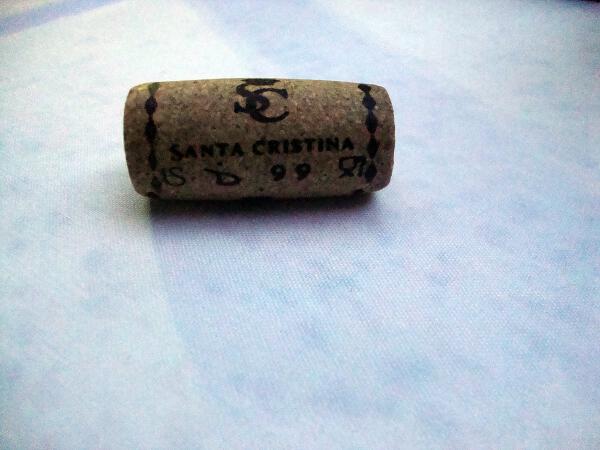 This was the cork.  I snapped this a bit later in the evening.  The candle would have really helped here.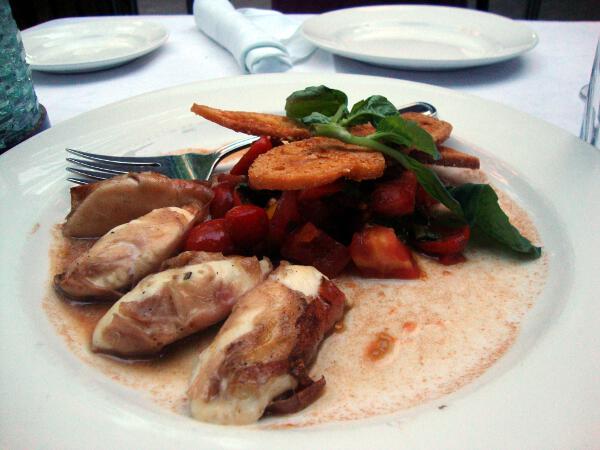 Our first course was a prosciutto wrapped mozzarella with vine ripe tomatoes, described as, "Classic fresh mozzarella wrapped in prosciutto and lightly sautéed. Served with crostini, fresh basil and a lovely balsamic glaze."  The tomatoes and crostini reminded be of bruschetta, which I love.  It's so summery.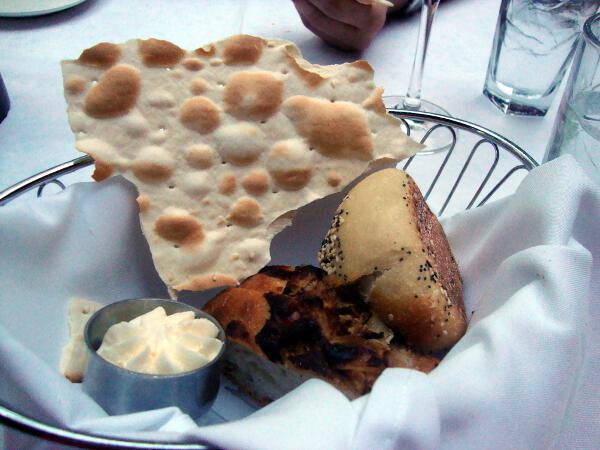 The bread basket: a light and airy cracker, onion bread, and a seeded roll.  I had a bite of each.  Okay, maybe two bites of the onion bread.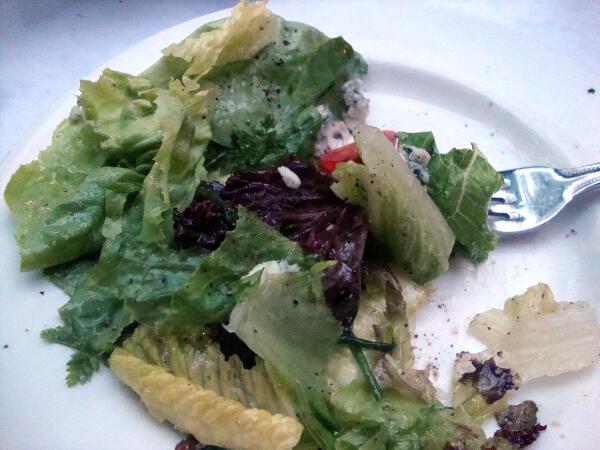 The salad we split, field greens, tomatoes, and fresh herbs, which is described as, "A tempting trio of baby lettuces is the perfect base for juice, vine-ripe grape tomatoes and your choice of one of our carefully blended house dressings."
Now that I am reading the description again, the two words "your choice" stick out to me. I don't remember being given a choice.  The salad was lovely just the same.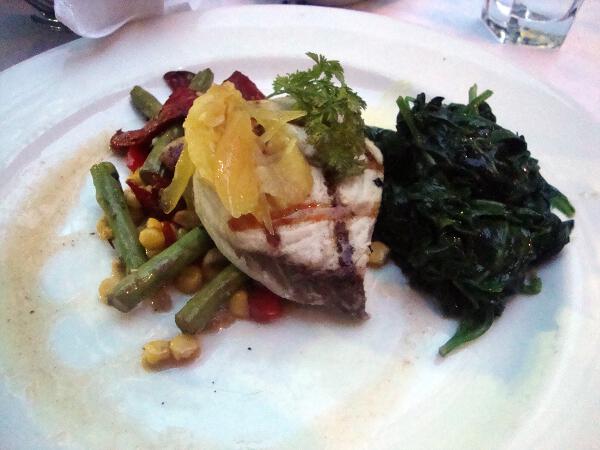 Last was the main course.  A perfect portion; I'm so glad we decided to split this.  Luckily for me, Brad was in the mood for seafood.  I am ALWAYS in the mood for seafood.  So, we got the swordfish.  The Grilled Swordfish with Lemon Shallot Relish is described as "exactly grilled to achieve the perfect texture and moistness.  Served with a delicious mix of fresh lemon, fennel, and herbs."
I am laughing a bit to myself right now after re-reading the description.  When this came out, Brad and I wanted to know what the yellow "stuff" was on top of the fish, not remembering exactly what we had ordered.   Brad had suggested fennel and I threw that guess out to our waitress, who replied that it was yellow peppers that had been cooked in ginger.  It really did taste like ginger.  So much that the actual yellow substance was unidentifiable.  We really didn't think it was yellow pepper, which is confirmed by their menu.  I think our waitress was just trying to be helpful; I don't think she realized I was going check her on it.
To be honest, the Capital Grill is just okay.  The food is good, but I wouldn't call it outstanding.  Brad said it just didn't "wow" him like Blue did the first time we ate there, and he's right.  The main course was probably my least favorite part of the meal.  What the description didn't tell you is that the swordfish is served over corn, asparagus, and sun-dried tomatoes.  Those things just don't "go" together in my mind.  They didn't taste bad together, because they had all been cooked in the same herbs and sauce until they all pretty much tasted the same, except for the sun-dried tomatoes.  I didn't hate it, but I would order something else if I ever returned to the Capital Grille.
However, you couldn't beat the weather or the company. 🙂