I had originally planned to go to hot yoga yesterday afternoon…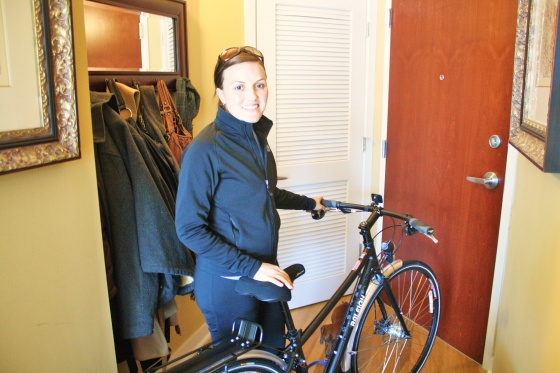 but when Brad returned from REI with my new bike, I changed my mind.  I knew I could bike to yoga, but I really wanted to get more familiar with my bike first.  So I set off to bike around town.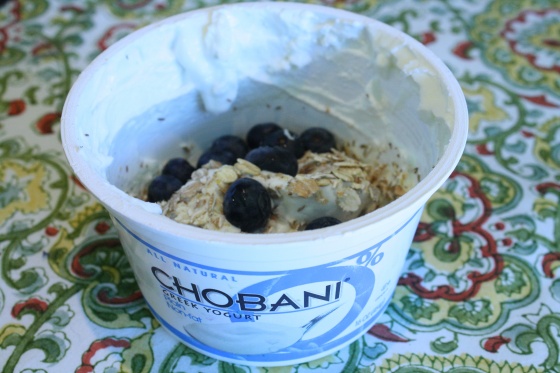 I had the last of the Chobani with 1/4 cup muesli and some blueberries before I hit the road.
I biked for over an hour and also swung by Trader Joe's to do some grocery shopping.  I took my panniers in my cart and the cashier loaded my groceries directly in them so all I had to do was snap them back on my bike.  Pretty handy.  I also swung by Great Harvest to pick up a loaf of bread and managed to get it home without it getting too squished.
I made it home just in time to put groceries away and get ready for dinner.
We had plans with friends to eat at 300 East for dinner, but the wait was way too long.  I never thought to make reservations because I have eaten there so many times and never needed them in the past.
Instead, we decided to hit up Big Ben British Pub and Restaurant, which was very close by.
We had a party of five and ended up sharing a table that was probably meant for four people.  This was completely our choice because we would rather squeeze together than wait 45 minutes for a table.  However, our hostess kind of made a big deal about the fact that we were in the way, even though we were sitting at a round table and didn't take up any more room than if we were a party of four.  It was a little annoying.
Our friends, Chloe and Gibson were there, and my friend Erin showed up later.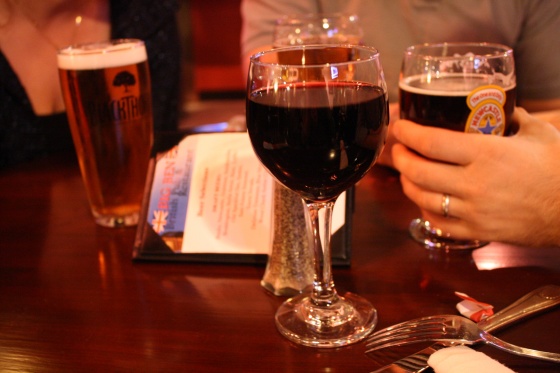 Drinks all around.
I committed the cardinal sin of ordering wine at a beer joint, but the Shiraz was actually quite good.  I was not disappointed a bit.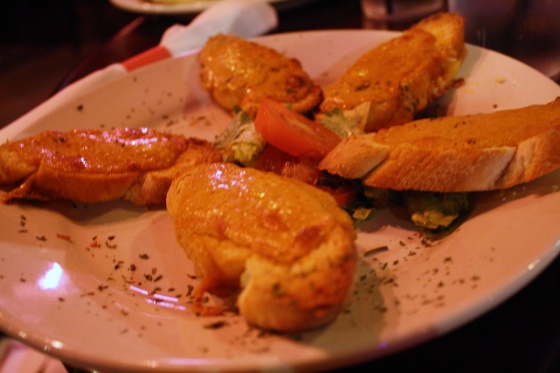 We were starving and ordered appetizer starting with the Welsh Rarebit.
A special blend of Gloucester, Cheshire and Cheddar cheese served on French bread. A rare Welsh treat!
Don't let the fancy name fool you, this was cheese toast.  But delicious cheese toast at that.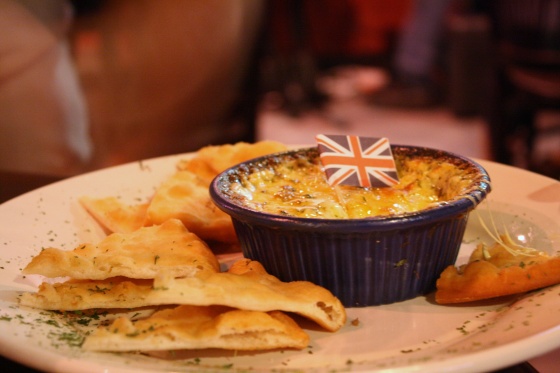 We also ordered crab artichoke dip.  I had two pita points with some of this as well.  Very tasty.  Our appetizers were all about cheese + bread…a winning combination.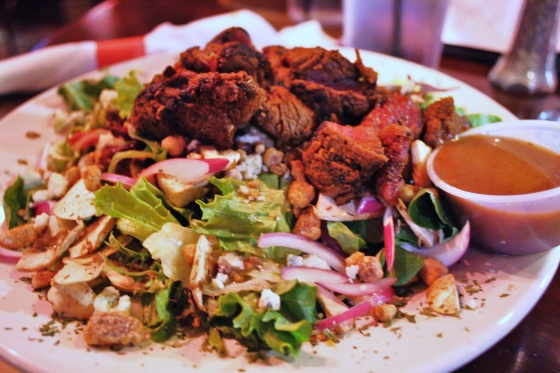 I ordered the black and blue salad.
Romaine lettuce, red onions, mushrooms, praline pecans & blue cheese crumbles, tossed with balsamic vinegar dressing topped with blackened steak strips cooked to your desire.
I don't crave red meat usually and rarely order it, but there's something about a black and blue salad that really appeals to me, so I order it every once in a while.  My day of heavy cardio had caught up with me at this point and I was able to eat pretty much the entire huge salad.  Everything was delicious, except the steak marinade was just a bit much for my taste.  I prefer my steak to be a little more plain so the taste of the steak really comes through in the dish.
We were amused at the size of the lemon slices they gave us for our waters.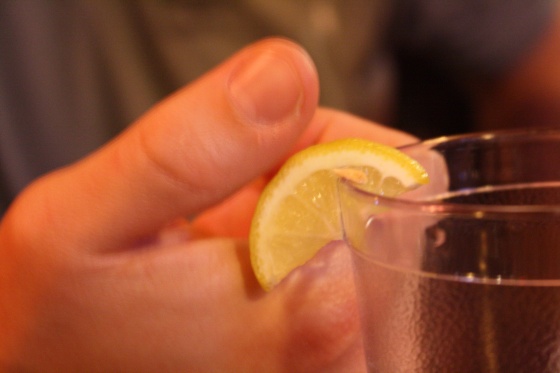 This is a size comparison with Gibson's thumb.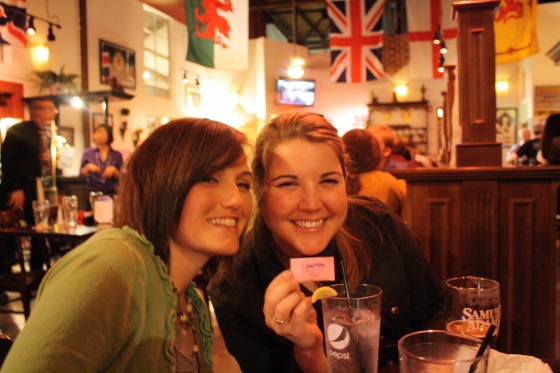 And here is our size comparison with a sweet and low packet.
Yes folks, we are easily amused.
Our dinner at Big Ben was good, but I typically prefer lighter fare over pub food.  This was a nice change of pace, but it probably won't make it on my favorite places to eat in Charlotte list.
After dinner, we headed over to Ed's Tavern, which is a "real" bar in every sense of the word.  They have quite an impressive beer selection.
Our friends Casey and King joined Brad, Erin, and I and we told Gibson and Chloe goodnight.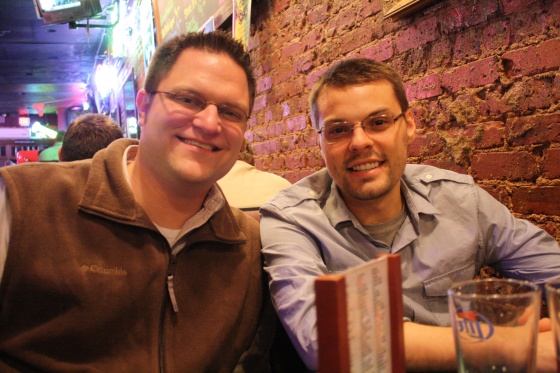 King and Brad
I ordered a Highland Gaelic, but got beer-envy when I had a taste of Erin's Bohemian Beauty.  I actually asked the bartender about the beer, but passed when she told me it was a dark beer.
Guess what.  It was not dark at all.  Bummer.  I guess I'll keep my eye out for it so i can try it another time.
We girls started joking Brad because when I asked him to take a photo of us, he gave us no warning and snapped away.  Of course, the photo didn't turn out so well.  So Erin decided to make his photo taking that much more difficult by refusing to be still, which totally cracked up Casey and I.
Finally, we let King take our photo.  Kings practically a professional, so of course our photo turned out great.
From left to right, Erin, Casey, and I.
Thanks for trying Brad.  It probably would have been easier if we weren't so silly and giggly, which is the challenge of picture taking when three old friends get together.
What a great Saturday night! I hope yours was as fun as mine! 🙂