Question: If you find a fortune on the ground that someone discarded, does that fortune become yours?  Or do you have to break the fortune cookie to be the rightful owner of the fortune?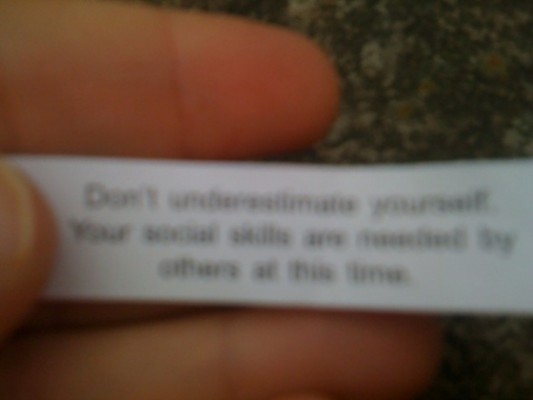 I found this fortune on the ground on my way out to run.  I'm sorry for the blurriness.  The iPhone refused to focus.  It reads:
Don't underestimate yourself.  Your social skills are needed by others at this time.
Goodness knows, I have mad social skills. 😉
Now, about that run.
It was gray outside, but it was a beautiful run.  I had no distance in mind but 6.07 miles in 55:20 is what I ended up doing.  The highlight of my run was running into Jenn and the second best part were the mallards. 🙂
According to my marathon training plan, I was only supposed to run three miles today.  But on my work-from-home day, I like to take advantage of the opportunity to run in daylight.  So I just ran until I wanted to stop.  Those are the best runs, no?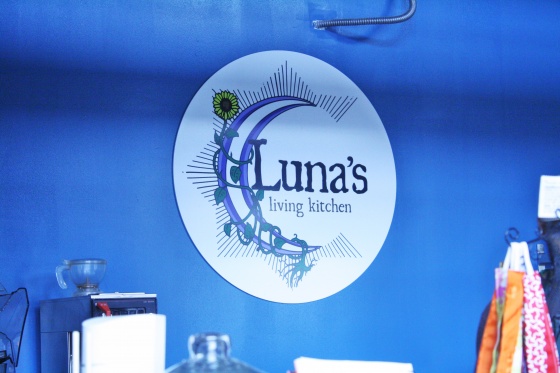 After my run and a shower, I headed over to Luna's Living Kitchen to meet Andrea for lunch.
Luna's offers mainly raw and vegan food.  From my experience vegan food is always so imaginative and I have never intentionally eaten an all raw meal, so I was very curious about this place.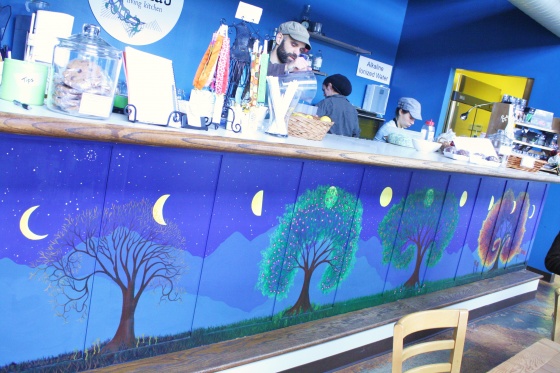 The decor is very earthy.
Both Andrea and I ordered the Lunasagna.
Layers of zucchini noodles served with sundried tomato sauce, spinach, cremini mushrooms, and a green cashew cheese.  Garnished with a local green salad.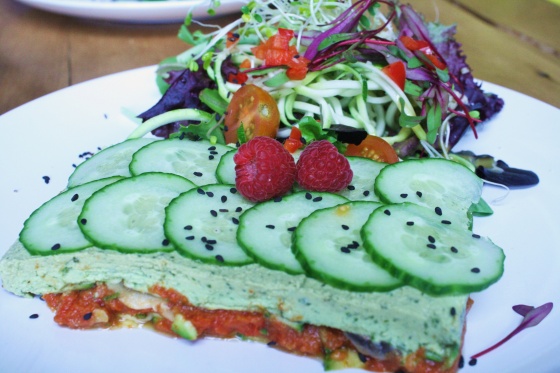 Isn't it pretty as a picture?
I've never had cashew cheese but it's something else I've always been curious to try.  This whole meal was really delicious.  The cashew cheese was green from basil, which made it taste like a cheesier pesto.  The salad was just gorgeous.
I really appreciate pretty food so I to take a million photos of my plate.  After all, I didn't have to worry about my food getting cold. 😉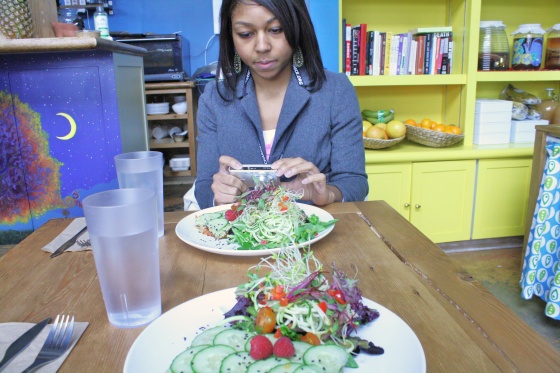 Eating with other foodie bloggers is the best.  I am never sheepish about getting my camera out when my eating companion is taking photos of their food too.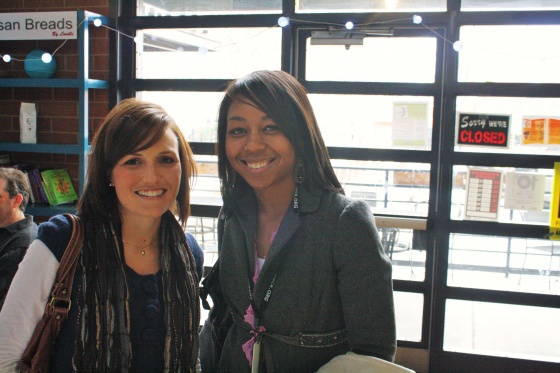 Andrea and I had a great time discussing the things going on in our lives.  It was fun to catch up with her and try Luna's.  I'll definitely be back to try the other things on their menu.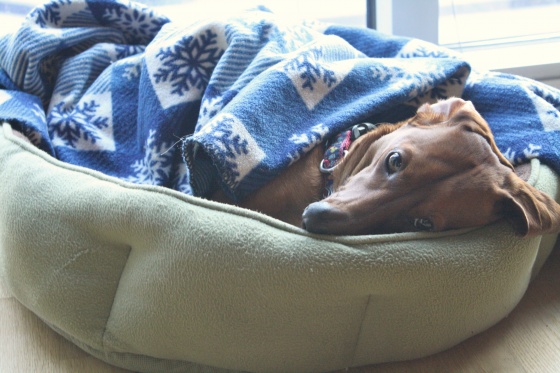 When I got home, this is where I found Rascal.  He says to tell you all thank you for the kind words and that he is feeling much better now.  He spent the whole afternoon sleeping off his tummy ache.
For the rest of the afternoon, I worked and I worked, and I worked some more.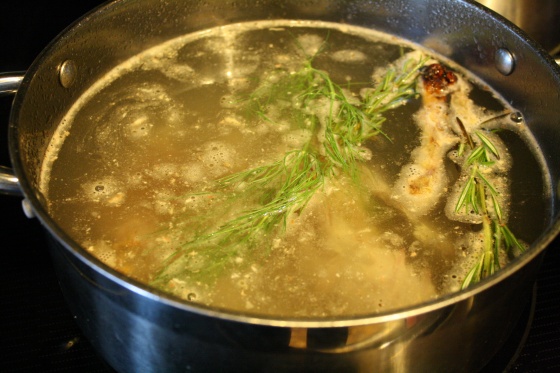 Then at 5 pm, I made chicken stock, homemade, for the first time ever.
But that's another post for another day.
Have you or would you try an all vegan or all raw restaurant?  What do you think of specialty diet restaurants?
***
Thirty-six hours until I pick my Tropical Traditions Virgin Coconut Oil Hair Treatment winner!  You still have time to enter!