I decided that last night really should be a date night, so I told Brad that I would take him on a date and he could choose wherever he wanted to go, my treat.  I asked him to think about it and that we would talk it over once I got home from work.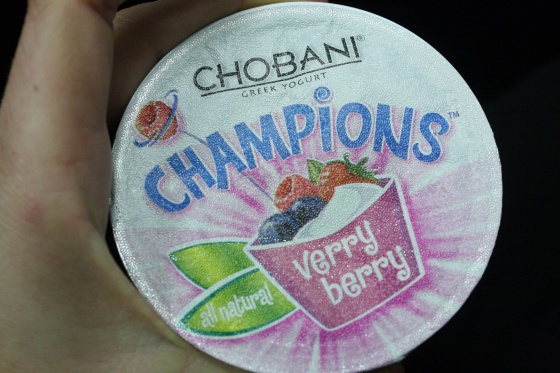 On the drive home, I snacked on Chobani's Champions in Verry Berry.  This is the other flavor of their new 3.5 oz. kids' size Greek yogurt.  I really liked this flavor as well.  Even though these sizes are made for kids, I think it's nice to have varying sizes and can see myself buying these as well as their standard 6 oz. sizes.  I also had an un-pictured pumpkin coconut muffin.
Once Brad got off work, he called me to tell me that he wanted to go to Cabo Fish Taco in the NoDa neighborhood.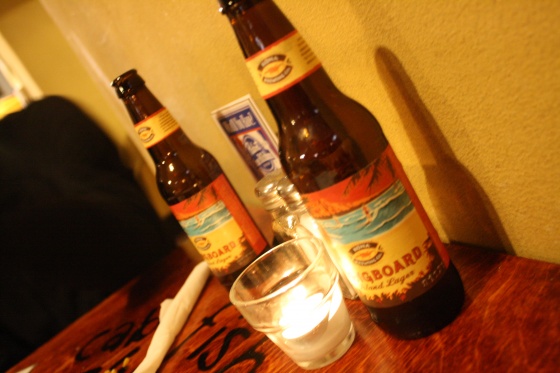 Cabo was hopping so we grabbed two Longboards at the bar while we waited for a table to open.
Once a table opened up about 20 minutes later, our waitress gave us a basket of chips plus their corn salsa, which Brad absolutely loves.
I ordered the salmon guac salad, which was really a leap of faith for me.  I always order the blackened Mahi Mahi tacos.  This may be the first time I've ever ordered something different.  The salmon was very crispy and flavorful.  The dressing was flavorful as well, and I'm glad I got it on the side because it would have been too overpowering otherwise, as my waitress suggested.  My only complaint: I needed more guac.  I love that stuff!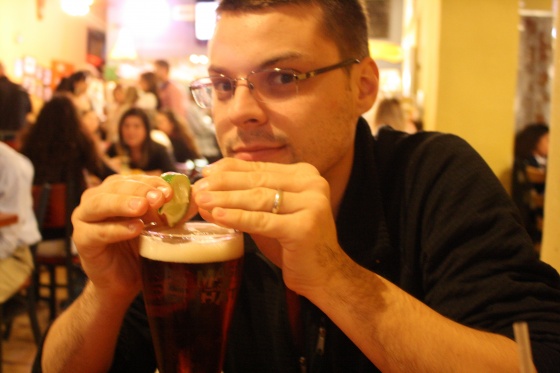 Along with our meal, we also ordered a second beer.  I don't remember what Brad had, but it was 20 oz.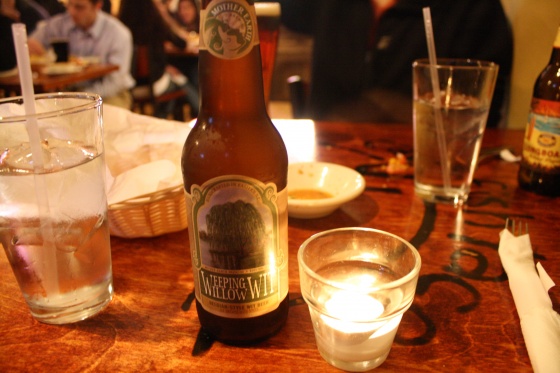 I had a hoppy wheat beer called Weeping Willow, which I really liked.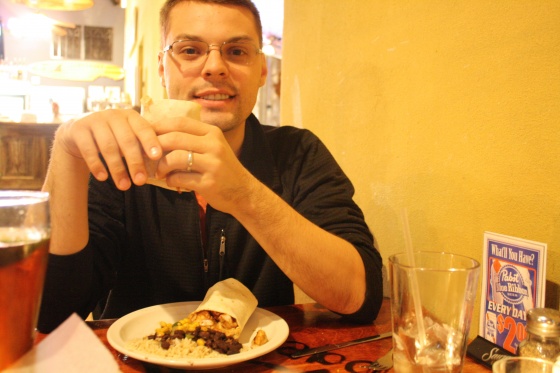 Brad ordered the special: smoked cumin Wahoo burrito.  I had a bite and thought it was delicious.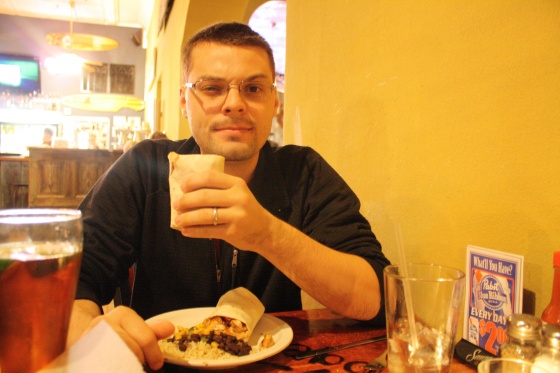 This photo reminds me of a pirate, but I don't know why.  Argggh.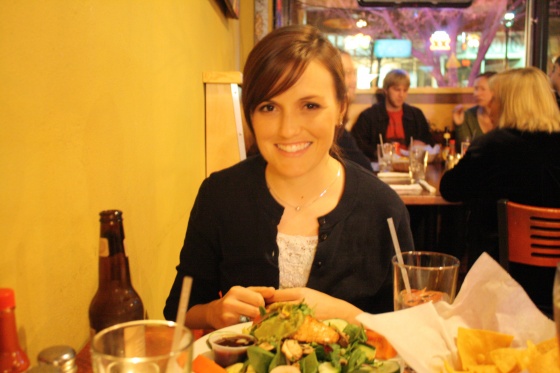 We had a great time on our mid week date.  We needed it!
After dinner, we returned home to hang out with Rascal, who had no interest in us because he remembered a bone he really needed to get chewed by the end of the night.  We turned in early after catching up on Modern Family from the night before.
If you have never watched Modern Family or you have ever wondered what Brad is like in real-life, you really should check it out.  It is hilarious and I swear the writers for the show based Phil's character off of Brad.  I have to look over our shoulder periodically to make sure no one is following us around writing down the things Brad says.  It's definitely one of our favorite shows, and not only for that reason alone.
What TV show is most like your life or what character is most like you? I wouldn't say Modern Family is like our life at all, except for the fact that I'm married to Phil Dumphy. 😉