Last Christmas, I mentioned to my MIL that I wanted to eventually have a small Carolina-themed Christmas tree.  Well she heard me, loud and clear, and has been very busy…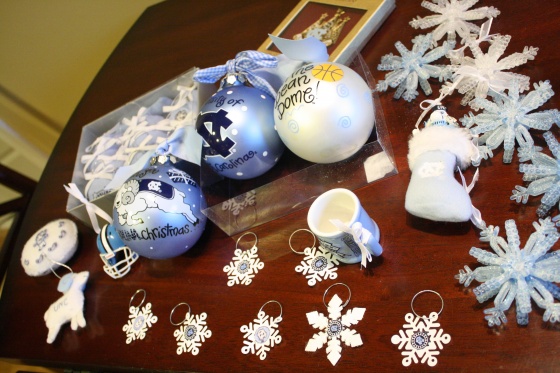 Look at all the cute stuff she brought me!
I'm in Carolina blue Christmas heaven! 🙂  She even handmade some of the ornaments, which makes them extra special.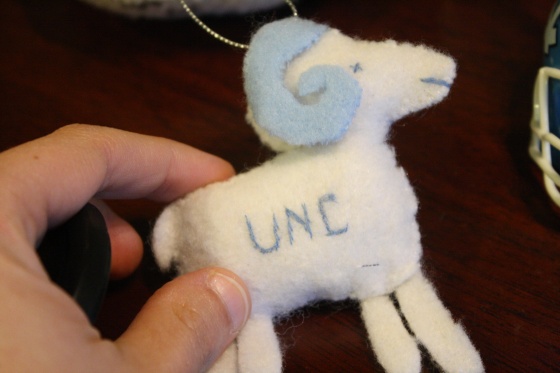 This is my favorite, which she made herself.  What a cute little Ramses.
Now, I just have to recreate the homemade Carolina Christmas wreath I made for a gift exchange in college.  I'm thinking it will be perfect for our back door when we move into our new house before Christmas.  I'm practicing positive thinking, in hopes that the universe is listening.
When Brad's parents told us they wanted to visit us, they also told us they wanted to go back to the location of our rehearsal dinner and where Brad and I got engaged, Carpe Diem.  Apparently their filet of beef made quite an impression on our rehearsal dinner guests and they wanted to try it themselves, since they had ordered duck that night.
I do not need to be asked twice.  I love Carpe Diem.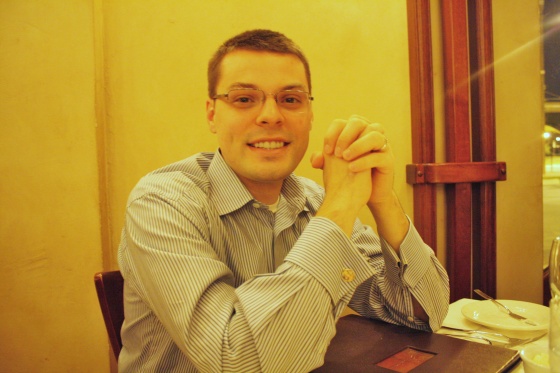 We started off with a little bread.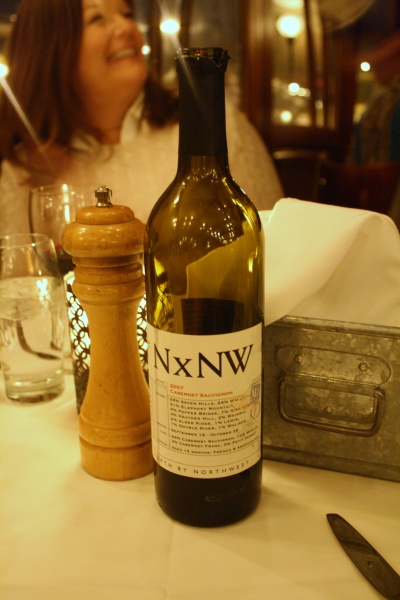 My FIL, Wally, ordered a really tasty Cabernet Sauvignon.
I <3 cheese plates so much.
Eiffel Tower triple cream and daily cheese served with pears, grapes, dried fruit, crackers, cornichons, and a carmelized onion-garlic compote
This one came with two cheeses, one of which was no Brie, but tasted very much like it, so you know I loved it. 🙂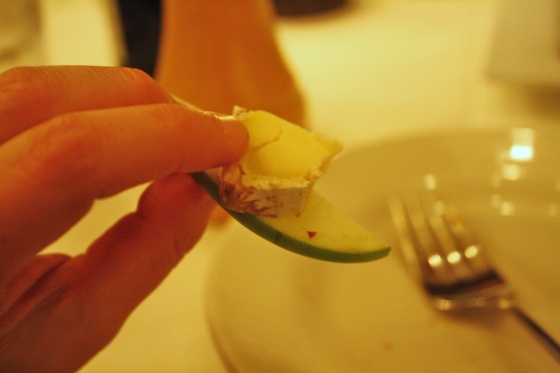 Brie and pear…or er, something that tastes like Brie and pear are one of my favorite flavor combinations.  Yum.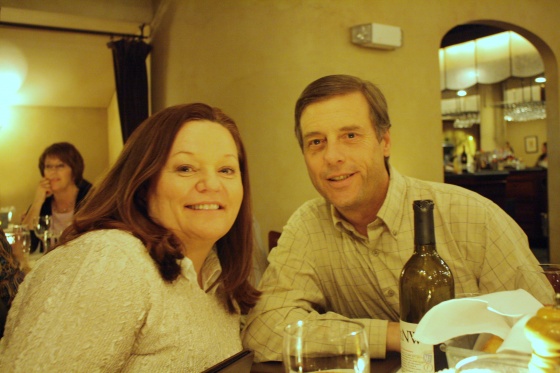 Joy and Wally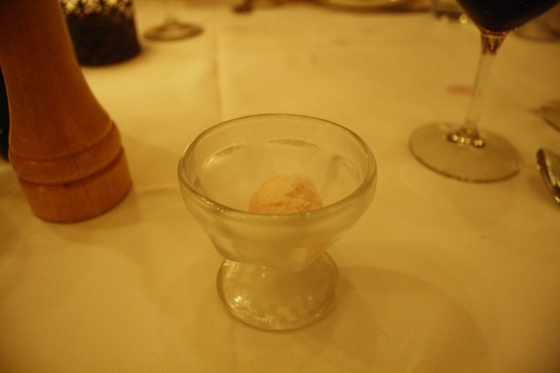 Apple cranberry sorbet for cleansing the palate between courses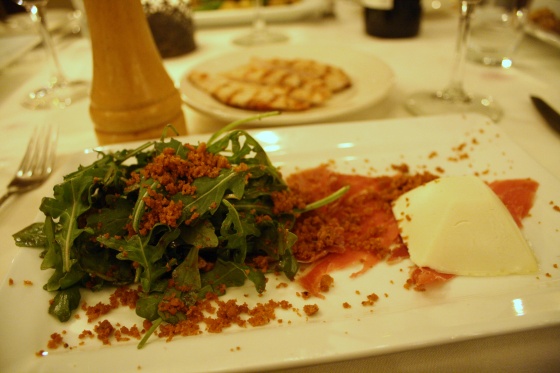 I ordered the Autumn Arugula Salad and added chicken.
Arugula tossed with a port wine vinaigrette with dried apple and figs served with a goat cheese panna cotta, walnut pepper brittle, and prosciutto
I ordered the entree size salad, but the side salad came out.  They made it up to me by brining out a second side salad.  I ended up eating only half of everything including the chicken so I have some lovely leftovers I'm looking forward to later.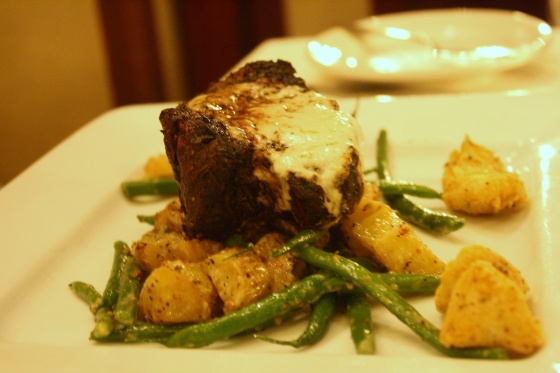 Everyone else ordered the Filet of Beef.
Grilled 8 oz. filet topped with Great Hill blue cheese compound butter and artichoke fritters. Served with roasted Yukon gold potatoes and haricots verts tossed in whole grain mustard vinaigrette
I had two bites of his steak and it.was.good. Delicious, in fact  I like red meat more now than I did a few years ago, but I try to only eat it periodically.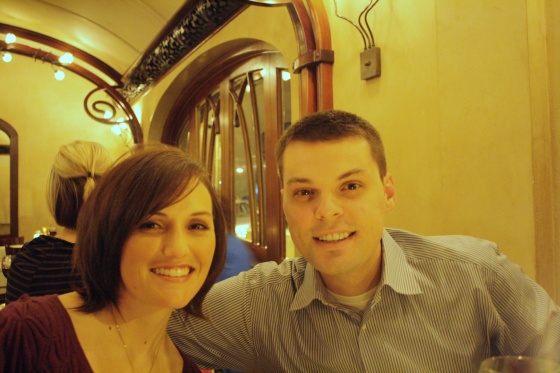 I'm glad I went light on dinner and only ate what I really wanted, because sweets were awaiting back home…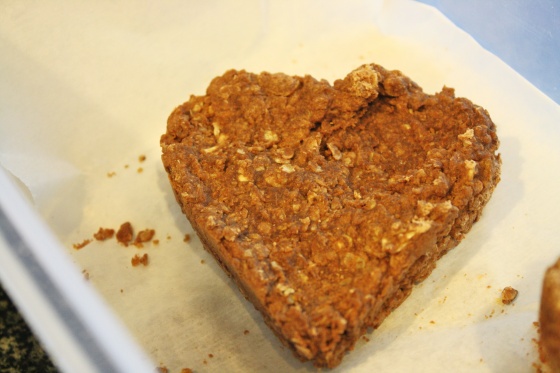 Joy broke out her heart shaped cookie mold for Valentine's Day and make some heart no-bake cookies.  I had about 3/4 of one of these and 1/2 a chocolate chip cookie heart too.  I wasn't exactly in a cookie coma, but I probably should have stopped after half a cookie since these were a little larger than your standard cookie.  They were delicious though.  They taste a little different than my family's recipe, but are very good.
Random Southern fact: Every single southern family has their own recipe for no-bake/chocolate oatmeal cookies.  True story.
At least, I assume this is a southern thing based on the informal poll I took last Christmas during cookie-making season.  🙂
Any northern/mid-west/west coast people out there with their own version of this cookie?