Post marathon's eating is what it's all about, right?  Just kidding.  But it's definitely a perk.  😉
I have a really hard time figuring out what I want to eat after super long runs and at home it usually ends up being whatever is convenient and requires the least amount of time on my feet.  Because my appetite wasn't filling me in on what it wanted, I asked for a suggestion from Brad and he chose burgers.
I did some internet research and found an interesting little burger joint in downtown Orlando called Graffiti Junction.  Graffiti Junction is one of those super popular places (it was packed!) that resembles a hole in the wall but looks like they know how to make a good burger.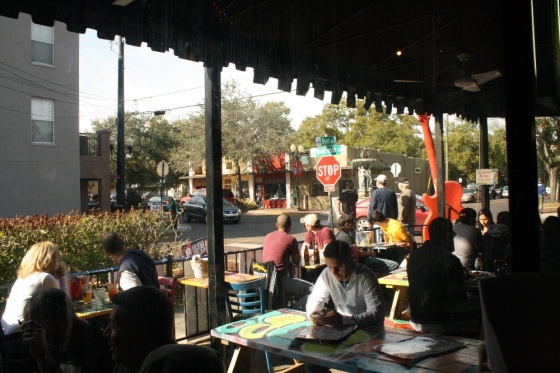 The patio was just as packed as the inside and Brad and I had fun doggie-watching and talking about how much we missed our little man.  I love dog-friendly restaurants.  I want to like them even if the food is just okay, because dog lovers stick together.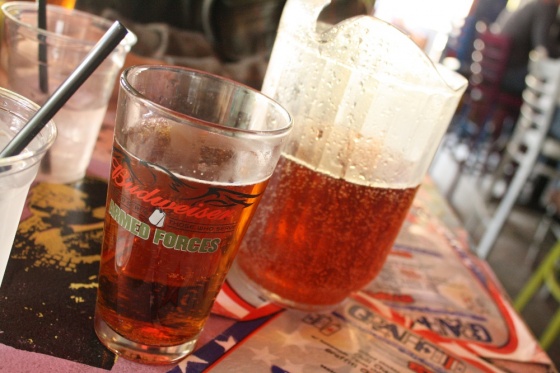 Brad ordered us a celebratory pitcher of Yuengling.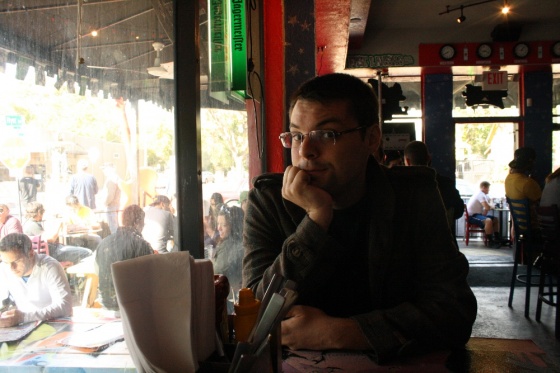 We were in a prime people-watching location and boy was there a lot to see.  The guys behind us were super drunk and rowdy.  I went from being entertained as they swung random girl around (literally, picked them up and swung them around) and flirted with the waitress to being kind of annoyed as they busted out yelling over the already-noisy crowd.
Apparently Brad and I both like the hand on the chin pose.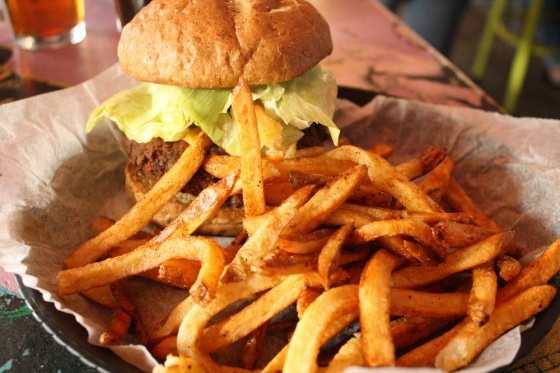 When I saw the veggie burger on the menu, I immediately had a craving for Big Daddy's black bean burgers.
Unfortunately, this was no Big Daddy's and in retrospect, I wish I had ordered the turkey burger.  This burger's biggest issue was that it was more carby than anything.  The oats and whatever else made up the bread-like mixture was overwhelming.  In other words, there weren't enough beans.
Big Daddy's, I might stray, but you're my first burger love.
I ended up eating a little more than half of the fries and the burger, plus some of the bun.  I was really surprised that I wasn't more hungry than this, but I just rolled with it.  I hate forcing food down.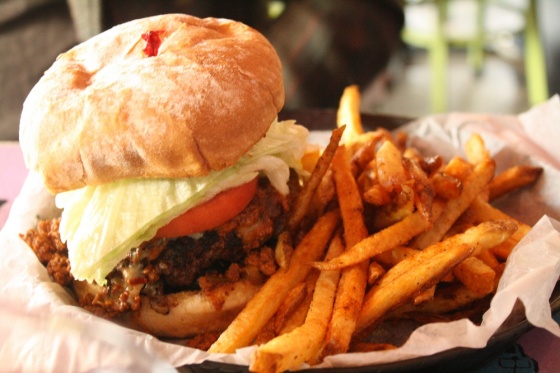 Brad ordered a beef burger with chili and cheese.  He liked his burger more than I liked mine, but was on board with me when I said that this place didn't hold a candle to Big Daddy's.
Before we left, we noticed that one of the guys who was sitting at the table directly beside us on the patio had left his number on his receipt for the waitress.  🙂
After some resting that afternoon, Brad and I went to Kissimmee to visit my dad's cousin Rodney and his family.  I decided not to bombard them with photo taking since we don't get to see them very often.
While were there, we found out our flight the next morning had been canceled.
Ug.
We took the option for the flight the following day (today) and made arrangements to stay with my family the following night. I extended my rental car, called work and my family, and tried to have a good attitude about the change in plans.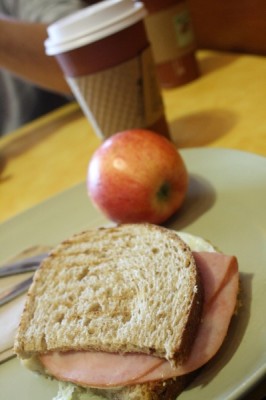 The next morning, Brad and I checked out of our hotel and spent the morning at Panera where I had their power breakfast sandwich (egg, ham, and cheese on wheat), half an apple, and coffee.
I actually got some important stuff done for work and got my Disney World Marathon recap written and posted.
I had dreams of driving north to the closest Whole Foods for some hot-bar lovin', but the black sky opened up and it started to storm.  There went our tentative plans to go to Animal Kingdom that afternoon.
We ended up ordering lunch at Panera also.  I got the half salad + half soup combo.  The chicken Caesar was pretty good but the vegetable pesto soup was just okay.  I was pleasantly surprised to see that the Caesar salad wasn't as nearly as calorie-filled as most other restaurant Caesar salads.  Gotta love restaurants that post nutrition information directly on their menu. 🙂
At this point, as grateful as I was for Panera's free Wi-fi, I was dying to get out of there.  Brad and I decided to hit up the North Face outlet.  I didn't know what to expect because I have never been to a NF outlet, but I was happy to find a lot of different types of clothes.  We walked away with three running tanks for me and three for Brad, plus a pair of causal brown pants for Brad.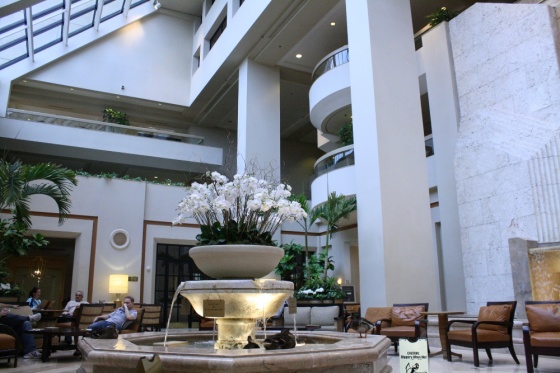 After our brief outlet shopping excursion, we hit up the Peabody Hotel, per my friend Megan's suggestion.  I saw the hotel featured once on a television show.  Its a beautiful old hotel that has been renovated and updated for a more modern look in recent years.
But the real attraction at the Peabody Hotel is the ducks that live in the fountain of their swanky bar.  I love ducks so I had to see this. 🙂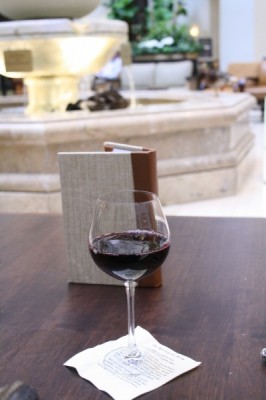 We ordered a drink and waited for the ducks in the fountain to do their daily 5 p.m. promenade from the fountain, down their red carpet, to the elevator, which takes them to  their $100,000 penthouse, the Royal Duck Palace.
I'm not making this up.  These duck have it made!  You can read all about it here.
There used to be more ducks, but now there are only one male mallard and four females.  I was a little disappointed there were no ducklings.  I got to hold a baby duck when one of my students (in my former life as a teacher) brought a box of baby ducks and chicks from his farm to school.  This sealed my love of baby ducks.
I wonder if this sign was for us or the ducks. 😉
A little girl, who was also there to see the ducks, was chosen to be the duck ambassador for the 5 p.m. march of the ducks.  She got to hold the duck cane and lead the ducks down the red carpet to their waiting elevator.
At 5 pm sharp, the red carpet was rolled out, a set of stairs were set up for the  ducks.  One of the female ducks flapped her wings, quacked loudly, and all of the other ducks got in line behind her.  They marched down the stairs, down red carpet, and into the elevator, just like they do every single day.
It was quite a site to see. 🙂  Animals are hilarious.
Brad and I returned to my family's home for dinner and to spend the night.  An extra day in Orlando was a nice break, even if we didn't make it to Disney World.
Little did we know what was in store for us the next day…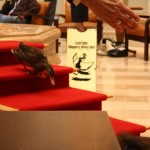 Ingredients
Directions