For those of you who have been reading a while, remember when I got stranded in Orlando after the Disney Marathon and stayed an extra two days while a blizzard reeked havoc on the East Coast?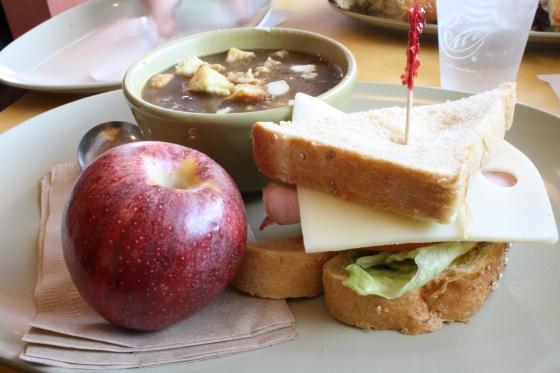 If you do remember that, then you probably remember Brad and I hanging out at Panera Bread quite a bit that weekend.  It was a super chilly weekend in Orlando especially if you were up running or spectating several hours before sunset.  Piping hot soup from Panera, just sounded spot-on.
We went after Brad's half marathon and  we also went back the day after my marathon for breakfast and lunch.  That one day we spent a good six hours there, working and enjoying their food and their free internet.
Panera has always been one of my go-tos when traveling or when I need a healthy delicious meal on-the-go because…
I have always (as far back as I can remember) been able to look up nutrition stats online.
They now even post calories on the menu in the restaurant (even though I'm not typically a calorie counter, I like to see this in restaurants to gauge what exactly I'm eating).
Their food is consistently good.  I've never had a bad experience at Panera.
You can look up their daily soups online, so you're never surprised (although I've never had trouble finding a soup I like at Panera).
They always have several types of soup.  In case you didn't know, I adore soup.
When I was recently given the opportunity to actually review Panera's soups, it was a no brainer.  I reviewed Panera soups for myself years before starting this blog, which is why it continues to be one of the only chain restaurants I frequent on a regular basis.
To review Panera's soup I was given a $10 gift card.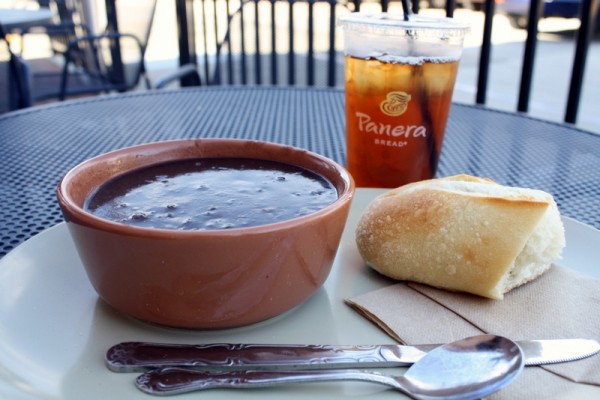 I was in between running errands so it was also very convenient for me to run by the Panera on Providence Rd. instead of driving home for lunch.
Panera has new soups that come out every year, but I went for my old favorite, the black bean soup.  Sometimes I go for an apple, but that day nothing sounded better than a piece of crusty bread to dip into my soup.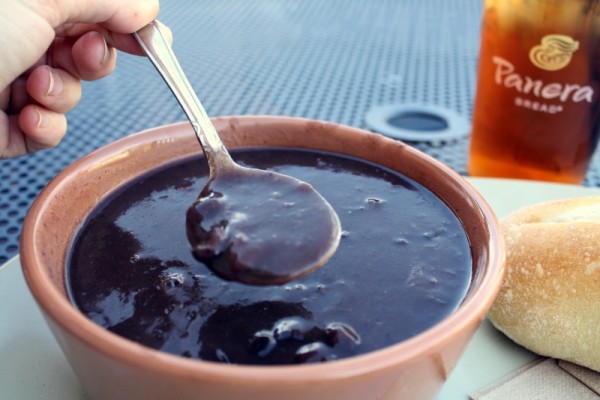 I almost feel silly "reviewing" this soup because I've been eating it for about eight years since Panera opened a location adjacent to UNC Chapel Hill's campus, back when I was in college.
Geez, I feel old.
The soup is creamy, but not from cream or milk, but from pureed black beans.  It has just enough spice without actually being spicy.  It absolutely delicious and in my opinion it's one of the healthiest options on their menu.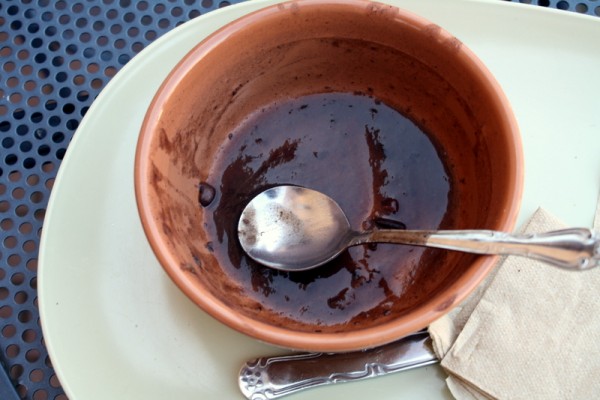 I've never had any trouble finishing a bowl Panera's black bean soup.  It's just as good every single time.
Check out Panera's new soup website to check out their daily soups, new flavors, nutrition stats, and their Feeding America program, which allows hungry people to eat at a cafe, whether or not they can pay.
**I was given a $10 gift card to pay for my lunch at Panera.  Additionally, I was paid for this review.  Opinions, as always, are completely mine. Check out my About page for more information on reviews.