Wow!  I haven't neglected blogging this much in a looooong time.  I don't even know where to begin.  Friday, I basically took the day off from blogging because there was so much going.
Here are some highlights of my day.
Highlight #1: Apple cinnamon oats in an AB jar.  Yum! The wait was long but worth it.
Highlight #2: We closed on our house.  We are now the proud owners of a 1941 historic home with a lot of charm and character, just waiting for us to put our personal touch on it. 🙂
Brad had to hurry back to work but I celebrated with some Yoforia (Highlight #3).  This delicious creation cost $3.20, not $5.41 like it did at Pinkberry.  I've learned my fro-yo lesson for the week.
Highlight #5: Getting to see our good friends Riley and Megan, who traveled all the way to Charlotte, from Greenville, NC to attend Charlotte's Oktoberfest with us on Saturday.  This was Riley's third year going with us and Megan's second.
For dinner I made Tex-Mex Chicken Soup, fresh corn tortillas (which Brad pressed), and a simple salad with cukes, tomatoes, and a honey lime vinaigrette.
Tex-Mex Chicken Soup (serves 4-6)
-2 free range chicken breasts, cut into bite size pieces
-large can of diced tomatoes (~32 oz.)
-small can of green chilis
-2 Tbsp. chopped jalapeño
-4 cups free range chicken broth
-sliced avocado
-1 quartered lime
-1/2 cup brown rice
– salt to taste
-1 Tbsp. EVOO
Sautee chicken in EVOO in a large pot.  When completely cooked, add chicken broth, rice, tomatoes, chili and jalapeño.  Bring to a boil and reduce heat to a simmer.  Allow to simmer for 15 minutes.  Salt to taste.  Spoon into bowls, squeeze lime over soup, and top with a few slices of avocado.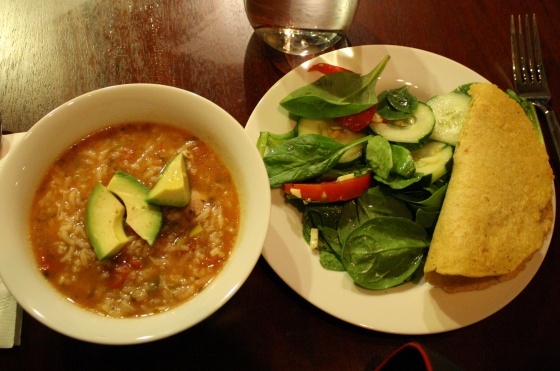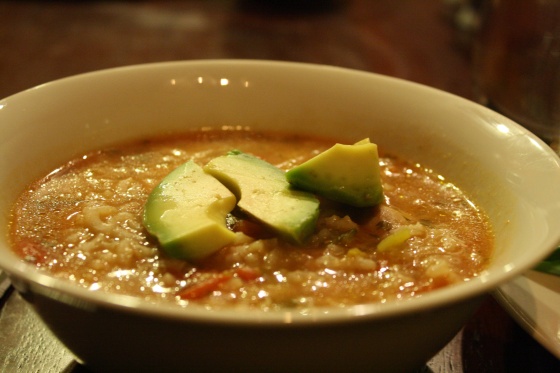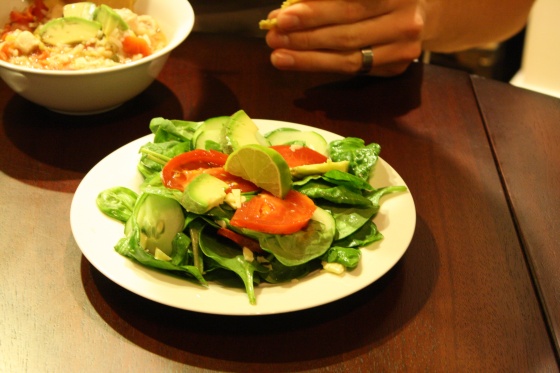 Riley took special care in arranging his salad so it was photo-ready.
Honey Lime Vinaigrette (rough measurements)
– Juice of one lime
-1 Tbsp. grape seed oil
-2 tsp. honey
-2 Tbsp. red wine vinagrette
-salt to taste
Mix all ingredients well with a whisk.  Makes about 6 one Tbsp size servings.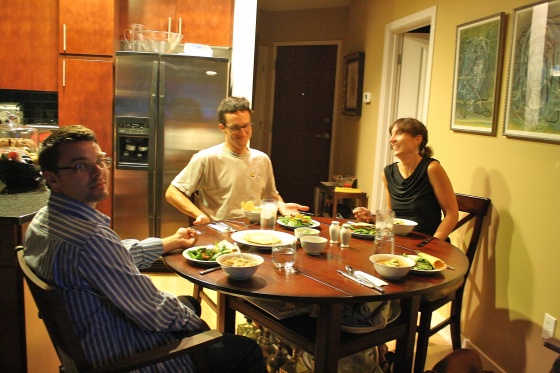 And for dessert….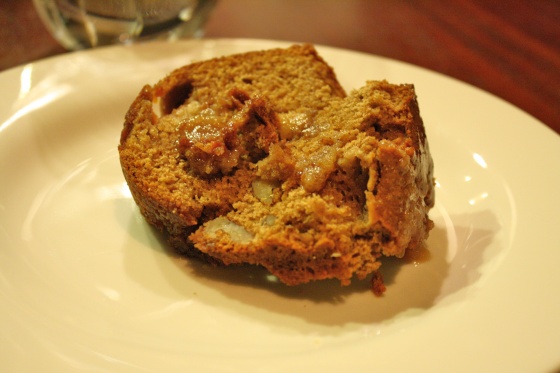 Chunky Apple Bundt Cake
-3 cups whole wheat pastry flour
-1 cup brown sugar
-2 eggs
-6 Tbsp. real butter
-2 Tbsp. molasses
-1 tsp. baking soda
-2 tsp. cinnamon
-1 tsp. nutmeg
-3/4 cups unsweetened apple sauce
-3 cups roughly chopped apples (I left peeling on)
-1 cup roughly chopped walnuts
Brown sugar glaze:
-1/4 cup brown sugar
-1 1/2 Tbsp. butter
-1/4 cup powdered sugar
-1/2 tsp. vanilla extract
-3 Tbsp. milk
Mix dry ingredients, except sugar, (flour,  spices, and baking soda) in one bowl.  Mix wet ingredients (apple sauce, molasses, eggs, butter) and sugar in another bowl.  Add wet ingredients to dry ingredients and mix well.  The batter will be very thick.  Add apples and walnuts and mix well so that these add-ins are spread evenly through out.  Spray bundt cake pan with cooking spray.  Pour mixture in bundt cake pan and use a spatula to spread batter evenly in the pan.  Cook at 350 degrees for one hour or until a knife can be inserted in the cake and comes out clean.  Allow to cool completely.
For glaze, combine all ingredients in a small sauce pan and bring to a simmer (do not allow the mixture to boil). Simmer for five minutes stirring continuously.  Remove from hot burner and allow to cool until glaze starts to thicken.  Remove cake from bundt pan by flipping over on a cake platter.  Pour glaze evenly over the top of the cake.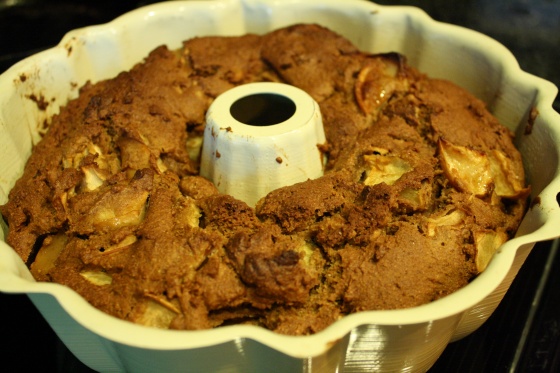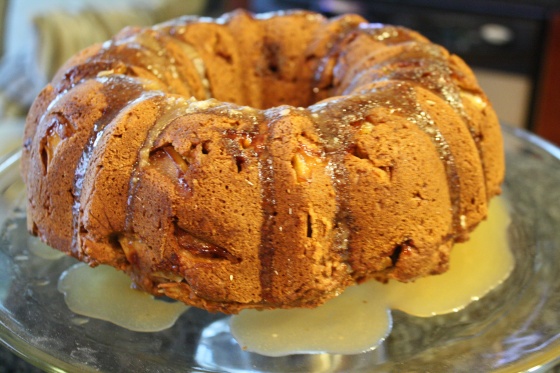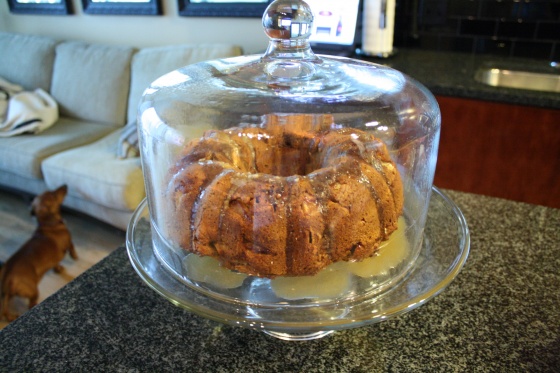 I love this cake!  It's not too terribly sweet, maybe even more sweet bread-like than cake-like.  More importantly, my guests liked it too.
We spent the rest of the night sampling some home brew beer that Riley made.  It was excellent!  We also introduced Riley and Megan to Modern Family, mine and Brad's favorite show, and watched How I Met Your Mother, a show which we all love.
We turned in pretty early to get ready for a full Saturday of beer tasting and fun. 🙂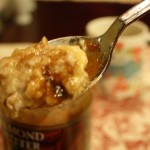 Ingredients
Directions