I mentioned in my earlier post today, that I have been eating the same thing for breakfast, for the past three days.
This is highly unlike me, so it must be good, right?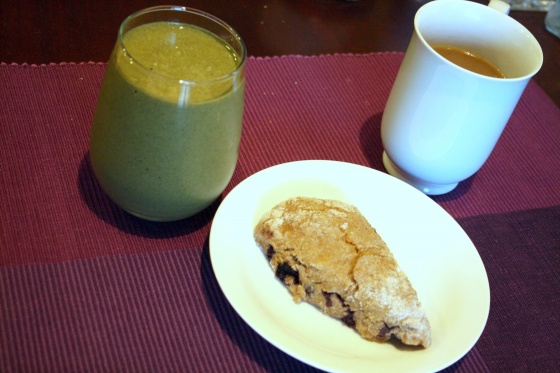 My breakfast of choice has been a mini green monster and a blueberry scone.
Both made delicious by a product that I have been dying to try.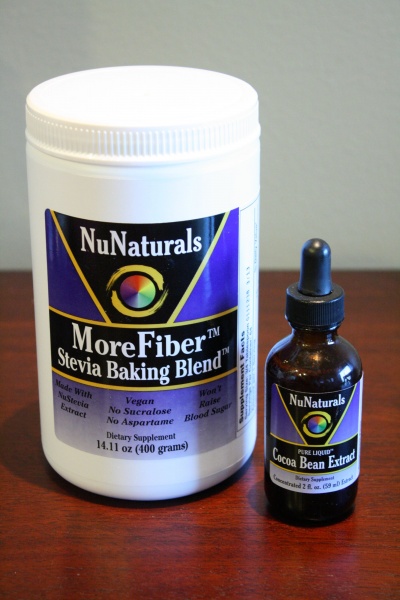 For a while now, I have not-so-subtly been hinting around that I really want to try NuNaturals Stevia products and thankfully they finally sent me a slew of products to try!
Currently I've tried the Stevia baking blend and the cocoa bean extract, both of which I used in this particular breakfast.
I've been using Stevia for a while in certain things.  But I often find that in baked goods it has a very bitter taste that I do not care for at all.  I've heard that NuNaturals Stevia is not bitter so I planned to purchase some eventually.  Then, NuNaturals beat me to it!
Here's how I'm using (and loving) these two products.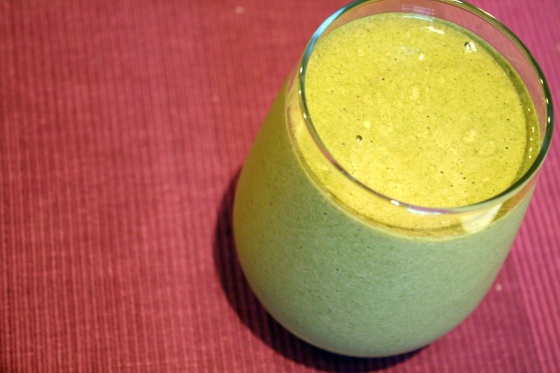 Mini Mocha Green Monster
Otherwise known as my favorite recovery smoothie, I omit the extra fruit and only use 1/2 a scoop of protein powder to make it "mini".  I also cut back on the spinach, sometimes by half, sometimes by a little less, which makes it super green.
1 cup almond milk
1/2 frozen banana
1/2 tsp. instant coffee crystals
1/2 cup frozen spinach
1/2 tsp. chia seeds
1/2 scoop chocolate protein powder
20 drops NuNaturals cocoa bean extract (1 serving)
Blend in your mixer and enjoy.
I always end up with a green mustache. 😉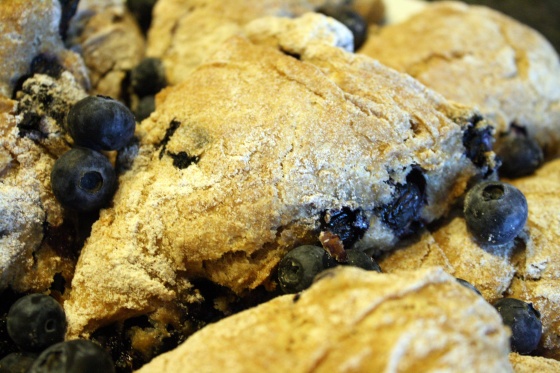 Big Blueberry Scones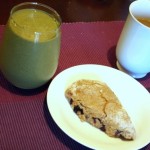 (

Serves 8 Scones

)
Ingredients
Dry ingredients:
2 cups whole wheat flour
1 Tbsp. baking powder
5 Tbsp. NuNaturals Baking Blend (or 1/4 cup + 1 Tbsp. sugar)
1/2 tsp. salt
5 Tbsp. cold butter, cut into pieces
Wet ingredients:
1/4 cup plain yogurt
1/2 cup skim milk
Juice and zest of 1 lemon
1 tsp. of lemon extract
2 eggs
1 1/2 cups blueberries
Directions
Mix together dry ingredients: flour, baking powder, and salt; except for the butter in a large bowl. Add in butter and cut with a pastry cutter until the mixture is course and the butter resembles pellets in the dry mixture. Mix wet ingredients in a separate bowl: sugar or Stevia, lemon extract, lemon juice and zest, and eggs.
Slowly add wet ingredients to the large bowl of dry ingredients. Mix well. If using a mixer, as I did, use a spatula to scrape the sides and the bottom to make sure everything is completely mixed. Stir in blueberries until they are spread evenly throughout the dough.
Prepare a floured surface. Shape the dough into a ball with your hands and place on floured surface. Flatten the ball into a disk-like shape. Cut the disk into eight equally sized pieces.
Use non-stick spray or canola oil to grease a baking sheet. Use a spatula to place each scone onto the baking sheet. Spread evenly apart so the scones will not bake together when they rise.
Bake at 425 degrees for 17-20 minutes. Serve immediately or warm them in the oven just before serving.
You can see step-by-step scone directions here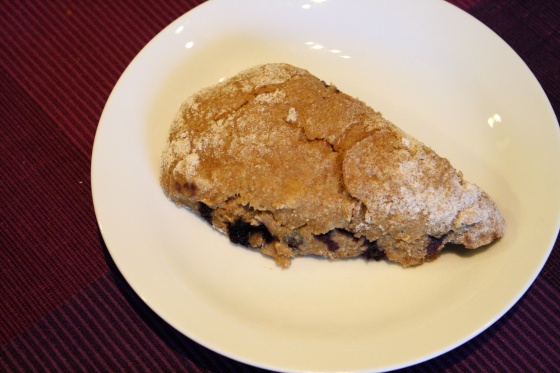 I love these scones! They're so delicious and hearty from the whole wheat; just sweet enough from the Stevia baking blend, but not in that "this is way too sweet for breakfast" kind of way.
Thanks NuNaturals for allowing me to finally try your products! I'm excited to try the rest of them as well, and of course report back here with recipes.
If you want to try NuNaturals yourself, you can purchase all of their products from their website or they will  send you a free sample to try by clicking here.