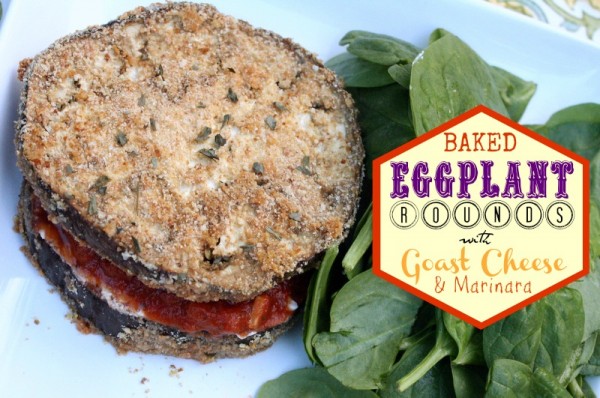 I am up to my eyeballs in eggplant.  And granted my eyeballs are much closer to the ground than your average adult, but it is still quite a lot of eggplant.
Eggplant is one of those vegetables that is very high maintenance.  You can't just chop it up and eat it on a salad.  You could throw it into a stirfry with a bunch of other veggies, but you better bring a hunky sauce with you for the eggplant to absorb — they really have no flavor after all.
Well, there was that one that that my eggplant was terribly bitter.  You can salt them within an inch of their life — think enough to kill a slug — and let them set to draw out the bitterness.
So very high maintenance.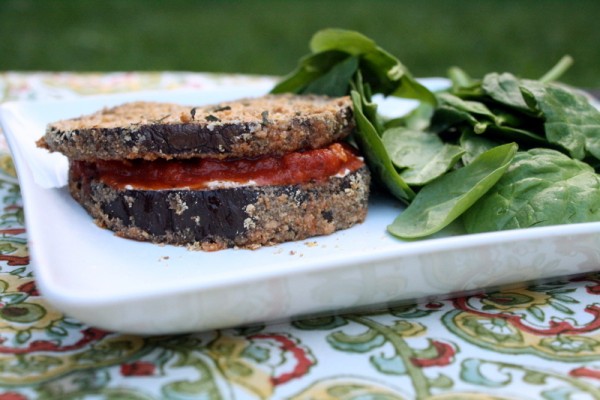 And then there's eggplant parmesan.  It turns out breading and frying anything ensures a delicious result.   I love all the flavors in eggplant parm.  But you know me,  I'm not really into frying my veggies.
Now, lightly breading eggplant and baking it with some basil?
I can get down with that.
And so I did.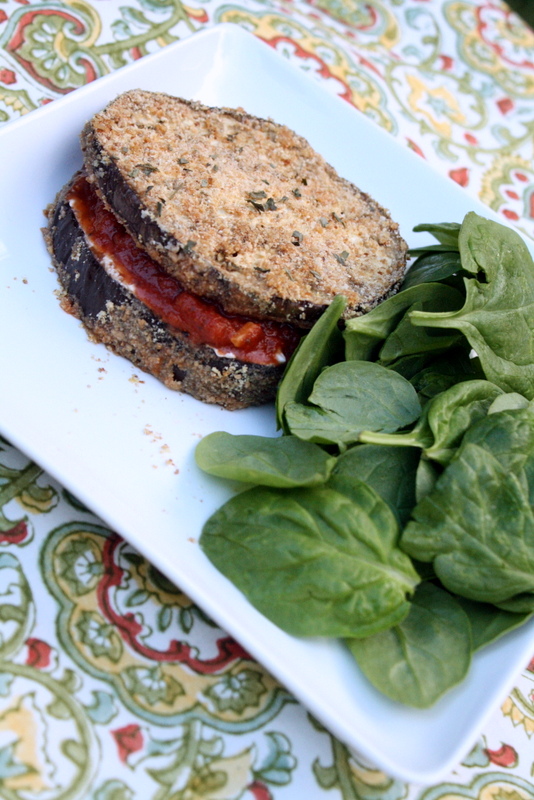 Baked Eggplant Rands with Goat Cheese and Marinara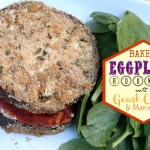 (

Serves 4 - 5 (appetizer), 2 - 3 (entree)

)
Ingredients
1-2 teaspoons extra virgin olive oil
1 large eggplant
1 cup egg whites
1 cup bread crumbs
1 teaspoon garlic salt
1 teaspoon dried basil
1/2 cup marinara sauce
4 ounces goat cheese
Directions
Preheat oven to 350 degrees F.
Grease a baking sheet with olive oil or non-stick spray. Slice eggplant into rounds, about 1/4 inch thick each (you should end up with about 8-10 slices). Pour egg whites and bread crumbs into separate dishes. Dip each eggplant round into the egg whites and then the breadcrumbs. Flip over the eggplant in the breadcrumbs and sprinkle extra breadcrumbs on each side to make sure they are thoroughly coated.
Place eggplant rounds on baking sheet. Sprinkle each side with about an 1/8 teaspoon of garlic salt and basil. Bake for 30 minutes. Remove and allow to cool for five minutes.
Slather goat cheese on half of the rounds, distributing so each round has about the same amount (about 2 Tablespoons). Spoon about 2 tablespoons of marinara on top of the goat cheese. Place the cheese-less eggplant rounds on top of the marinara and return to the oven. Bake an additional five minutes.
Serve hot as an appetizer or as a side.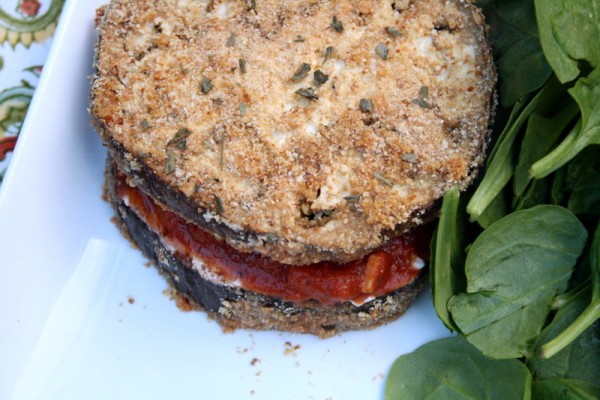 Product suggestions: I used Trader Joe's Goat Milk Creamy Cheese (pictured here).  It's a bit easier to spread than most goat cheese because it has a whipped consistency.
Although the recipe only calls for one eggplant, I used four, which means I have A LOT of baked eggplant rounds.  I'm fairly confident that they will freeze beautifully so you might see another use of them in the near future.
***
And if you haven't seen these already, check out my most recent blog posts on the Eat My Charlotte blog.
– Amp up your smoothie with protein
– Whole Foods Behind the Scenes Sneak Preview (the Charlotte location opened on Wednesday!)
– There's a new Cajun restaurant in Southend Charlotte.